S&P And MSCI May Change The Composition Of The Telecommunications Sector
Includes:
CRF, DDM, DIA, DOG, DXD, EEH, EPS, EQL, FCOM, FEX, FWDD, HUSV, IVV, IWL, IWM, IYZ, JHML, JKD, LTL, OTPIX, PPLC, PPSC, PSQ, QID, QLD, QQEW, QQQ, QQQE, QQXT, RSP, RWL-OLD, RWM, RYARX, RYRSX, SBUS, SCAP, SCHX, SDOW, SDS, SFLA, SH, SMLL, SPDN, SPLX, SPSM, SPUU, SPXE, SPXL, SPXN, SPXS, SPXT, SPXU, SPXV, SPY, SQQQ, SRTY, SSO, SYE, TNA, TQQQ, TWM, TZA, UDOW, UDPIX, UPRO, URTY, USSD, USWD, UWM, VFINX, VOO, VOX, VTWO, VV, XTL
by: David I. Templeton, CFA
In July of this year, S&P Dow Jones Indices and MSCI announced they were considering making changes to the current GICS Telecommunications Sector. Any changes would be announced in November and go into effect in 2018. Currently, the telecommunications sector represents about 2% of the S&P 500 Index. S&P's and MSCI's intent is to broaden the composition of the sector and rename it Communications Services with the sector weight increasing to approximately 10% of the S&P 500 Index. As noted in the release:
"The main proposal set out in the consultation paper is the creation of a Communication Services Sector, comprised of the current Telecommunication Services Sector, Media Industry Group, and specific companies from the Software & Services Industry Group."
Sector weights in other indexes would be impacted as well with a couple of those noted below. As an example, Communications Services would increase to 13.7% from 1% in the Russell 1000 Growth Index. In the S&P 500 Index, the Information Technology sector would decline to 18.4% from the current 23.3% weighting.

One view of what the sector composition might look like is detailed in the below table from a report released by Goldman Sachs Investment Research.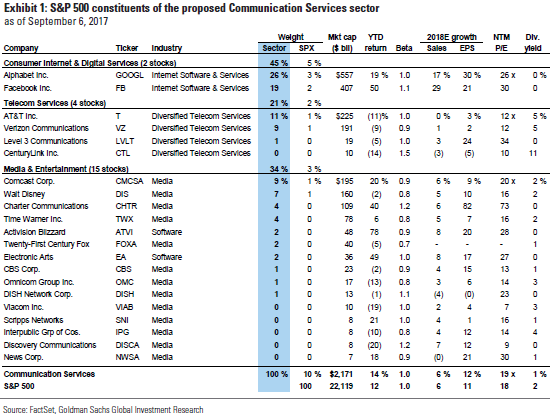 One question investors may have is what will be the impact on individual stocks. Goldman Sachs notes there was not much of an impact when S&P Dow Jones Indices and MSCI created the Real Estate Sector last year. Mutual funds maintained their underweight to real estate subsequent to the sector's creation. Goldman does note in their report, "Large-cap mutual funds are 144 bp overweight Comm Services in aggregate, implying $26 bn in potential outflows if funds moved to benchmark weight following the reclassification."
It is likely investors will be well served to stay abreast of S&P's and MSCI's ultimate decision given the popularity of indexing and the specific companies involved with this potential change. The companies that will ultimately comprise the sector have not have been finalized and there are certainly some firms that fall into a grey area. Just because the Real Estate Sector was pretty much a non-event, this does not ensure the same outcome with an expanded Communications Services Sector.