Target date funds have become a popular way to invest for retirement. These funds are commonly included within the investment menu of workplace retirement plans, and often are used as a default investment option for plan participants that fail to choose their own allocation.
Although they may be appropriate for some, we believe the portfolio risk for most investors across most age cohorts is simply too high, making these instruments dangerous for investors that may not be able stomach a sharp drop the value of their portfolio. This conclusion was drawn following an analysis of the target date index fund series offered by Vanguard and Fidelity, the two largest providers of retirement date products with combined assets of several hundred billion dollars.

Before addressing the issue of portfolio risk, we acknowledge that target date funds are not without benefits. They provide an easy way for investors to get a multi-asset class portfolio that is rebalanced to a particular allocation without any action on the part of the investor. And both Vanguard and Fidelity offer a fund series comprised of low-cost index funds with an overall expense ratio that is no higher than 13-16 bp annually in the case of Vanguard and 15 bp annually in the case of Fidelity.

The primary issue lies in the chosen asset allocation for each target retirement date. The allocation is underpinned by the assumption that investment portfolio risk should be a function of age. The youngest investors with the most distant retirement dates are given portfolios that are almost entirely invested in stocks. The percentage of equity and other higher risk asset classes steps down as investors approach retirement. In addition, most target date series have a fund aimed at retirees with a relatively conservative allocation that includes a higher proportion of cash, treasury-inflation protected securities, and other bonds.

Unfortunately, investor risk tolerance is not entirely (or even mostly) a function of age. And risk tolerance matters since an investor's behavior is the biggest impediment to their own success. Many investors tend to change their investment mix to sell assets with poor recent performance in favor of assets with better short-term results. The consequence of this behavior is that long-run investment performance usually will lag that of any comparable benchmark. This value destructive behavior becomes more likely when there is a mismatch between an investor's risk tolerance and the risk of their portfolio.

Dangerous risk gap for many target date funds
Our ArcPoint Advisor platform estimates that the optimal portfolio for an investor with average risk tolerance has an expected annual standard deviation of return of ~8%. Only the retirement income and target date 2015 funds from Vanguard and Fidelity are at or below this expected level of risk. Having a small mismatch between optimal and actual portfolio risk is not a matter of concern. But once the portfolio risk is roughly 25% above what is recommended (see the dashed line in the chart below), we believe their is a much greater likelihood that an investor will engage in savings depleting "sell low, buy high" behavior. For both the Vanguard and Fidelity target date series, this implies that investors whose chosen target retirement date is 2025 or later may be taking dangerous levels of risk unless they have above average risk tolerance.

Expected annual standard deviation of target date funds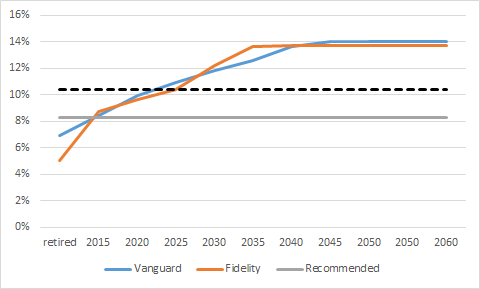 Sources: ArcPoint Advisor and public fund disclosures.

Tickers of target date funds examined
| | | |
| --- | --- | --- |
| | Vanguard | Fidelity |
| retired | VTINX | FIKFX |
| 2015 | VTXVX | FLIFX |
| 2020 | VTWNX | FPIFX |
| 2025 | VTTVX | FQIFX |
| 2030 | VTHRX | FXIFX |
| 2035 | VTTHX | FIHFX |
| 2040 | VFORX | FBIFX |
| 2045 | VTIVX | FIOFX |
| 2050 | VFIFX | FIPFX |
| 2050 | VFFVX | FDEWX |
| 2060 | VTTSX | FDKLX |
Source: Public fund disclosures.


What should the portfolio for the average investor look like?
Our monthly review of the long-term outlook for financial markets includes an optimal asset allocation for the typical investor. If you have an average risk tolerance, our current portfolio recommendation is a 59% allocation to equity, regardless of age. And this includes a heavy tilt toward more defensive equity sectors. The model portfolio below suggests allocating 31% of your holdings to four global sector ETFs including to the iShares Global Consumer Staples ETF (KXI), the iShares Global Consumer Healthcare ETF (IXJ), the iShares Global Telecom ETF (IXP), and the iShares Global Utilities ETF (JXI). If you prefer broad-based equity funds only (or only have access to such funds in a 401(k) plan, for example), the optimal allocation to equity would be modestly lower.
The Model Portfolio for an Investor with Average Risk Tolerance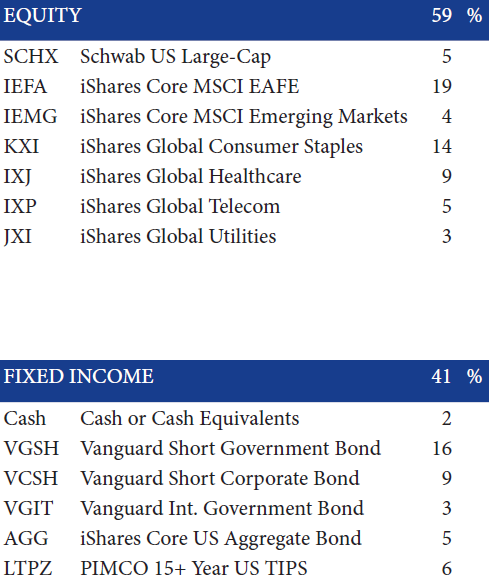 Source: arcpointadvisor.com
Disclosure: I am/we are long SCHX, IEFA, IEMG, KXI, IXJ, IXP, JXI, VGSH, VGIT, VCSH, AGG, LTPZ. I wrote this article myself, and it expresses my own opinions. I am not receiving compensation for it (other than from Seeking Alpha). I have no business relationship with any company whose stock is mentioned in this article.