Whenever a company is selling for less than its Net Current Asset Value (NCAV), I have to have a closer look, particularly if that company has been profitable and has declared a dividend in each year since going public.
Lewis Group Ltd. (LWSGF) is a JSE-listed entity that owns the largest group of furniture retail stores in South Africa by revenue and net income. These are 513 Lewis stores, 123 Best Home & Electric and 125 Beares stores. At the time of writing it was trading at R31.38 a share (R3 billion market cap) yet its net asset value is R5.4 billion. Its Net Current Asset Value stands at R4.4 billion or R45.60 a share.
Why would the leader in an industry selling such basic goods as furniture in Africa's largest economy be selling at such a low price?
An entire industry in decline…
The disasters of the unsecured lending market in South Africa have been so well-documented, I will not repeat the gory details here. The furniture credit market was not spared in this chaos.
An industry giant, Ellerines Holdings, was forced into bankruptcy in 2014 following the explosion of the untenable bad debts situation at its parent company, Africa Bank Investments Limited (ABIL). Ellerines operated 1040 furniture stores out of an industry total of 3500-4000 stores. Some stores were acquired by stronger competitors including Lewis, the majority were closed outright.
This epic collapse forced the remaining players to sell their goods at discounts as the Ellerines stock was auctioned off all over the country. The JD Group which had 1123 stores downsized in the ensuing 2 years to around 834 stores.
Revenue per store for all major players has been declining since then.
Hostile regulatory environment
As the furniture retailers fell on hard times credit regulators, sympathizing with the debt-laden South African shopper, became increasingly hostile. Retailers have been castigated for over-extending credit to vulnerable LSM 4-7 groups and charging them exorbitant credit life insurance premiums. Lewis's customer base comprises of 60-70% of this group.
A steady stream of negative news flow has come from this sector since the credit bubble burst and investors have fled in droves. Another small player in the industry, Nictus Ltd. is also trading below its net current asset value.
Meanwhile,
Lewis grew its store count by 16% to 760 as it acquired Ellerines' failed stores. However, revenues have only risen by 5% cumulatively since 2014 as trading densities (Revenue per m2) suffered. Lewis has maintained its ability to generate cash, albeit at a lower rate, by restructuring its insurance product offering and tighter cost controls. Its balance sheet is stronger now than it was at the height of the credit crisis.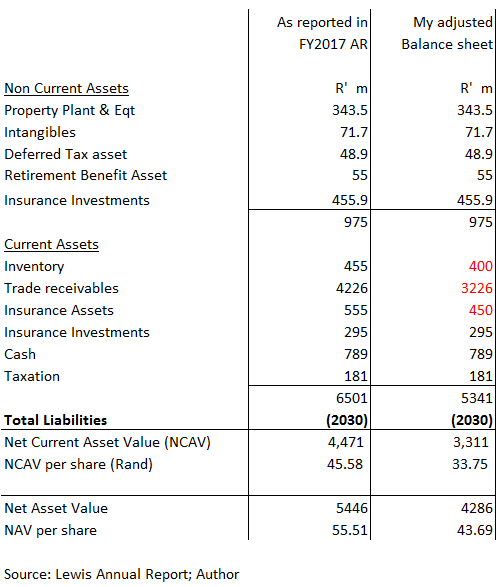 Am I missing something here? Even after hair-cutting the receivables by R1 billion, the share price is still lower than NCAV. The market must think Lewis' Debtors book is worth much less. Let's investigate that.
Adequacy of provisions for impairment
Lewis has net instalment receivables (Gross less unearned provisions) of R5.6 billion. Of this amount nearly R2.4 billion are in arrears, with R1.8 billion, 90 days past due. Lewis has a provision for R1.56 billion which essentially covers 87% of the arrears in the slow-paying and non-performing accounts (NPA's) while only 4.7% of the R0.6 billion arrears in the satisfactorily-paid accounts (SPA's) are provisioned for1.
With no end in sight for this credit crisis, we might as well provision for 100% of all arrears in the NPA's and write off all receivables past 90 days in the SPA's. Total arrears, based on SPA>90days plus all missed payments in the NPA's, are R2.06 billion which leaves a provision shortfall of R0.5 billion. As a margin of safety, we will provision for a further R0.5 billion in bad debts. The receivables on the balance sheet can then receive a total hair-cut of R1.0 billion (Our R2.56 b nn provision less R1.56 bn provisioned by Lewis management)
While we think management's provisions are adequate based on their track record and our analysis, even if we conservatively value them at ¾ of their stated book value, the company still looks attractively valued.
It's possible that the quality of the debtors' book will deteriorate even further as the SA economy continues to limp. However a look at industry-wide stats shows that while the situation is critical, ailing South Africans debtors are taking the necessary medicine to cure their debt problems.
South Africans deleveraging...
Credit granted per year, in the secured lending market and furniture retail sector in particular, to LSM 4-7 income groups has been steadily dropping since 2013. Unsecured credit granted per annum to this income group has also declined significantly and is at levels last seen in 2010. Accounting for inflation, it is much less. This means the worst of this credit market nightmare is behind us rather than ahead.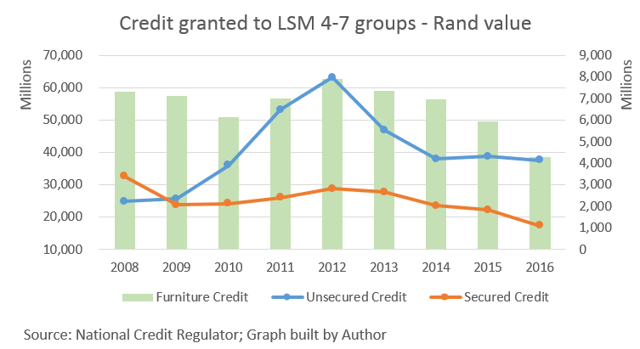 Further still, the National Credit Bureau has reported that the number of credit accounts with impaired records have been falling steadily since 2013.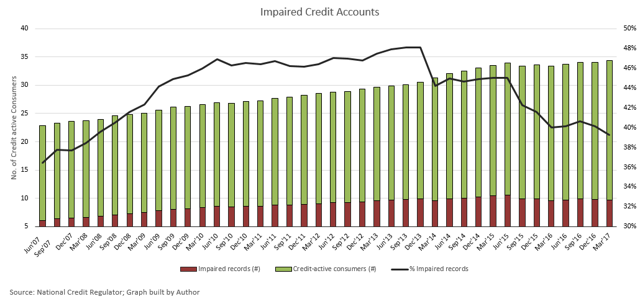 However, I must warn that although these macro figures are showing an improving trend, they solely cannot be the basis of sound investing. For Lewis to be a true bargain, its conservative balance sheet must be supported by continued profitability and strong cash generation in order for it to stand a good chance of weathering the current storm.
Earnings Outlook
By its nature Lewis is 2 businesses in 1 i.e the furniture retail and the insurance business T/a Monarch Insurance Ltd. Although these two income sources depend on each other, they need to be looked at separately to have a clear understanding of how Lewis comes out on top in the current market environment.
Like other large furniture retailers, Lewis sells insurance to its customers as part of its credit sale package. Insurance products include credit life, theft/loss/damage to items purchased. These insurance revenues have minimum non-claims costs (Monarch Insurance has no staff! Literally) because unlike the mainstream insurer, Lewis does not have to maintain a team of insurance salesmen, brokers and large back-office. They simply cross-sell these products to customers that buy their furniture.
With 2017 Net written premiums coming in at R822 million, I roughly estimate the contribution to the bottom line to be somewhere in the region of R300-400 million or R3-4 per share. With reduced insurance assets as a result of the change from term to monthly policies, I expect investment income to come down by around 40% to between R60-75 million or R0.6-0.75 per share. Investment income is fairly predictable as Monarch's portfolio consists purely of fixed income and money market assets.
The cap on credit life insurance rates recently instituted by the NCR will reduce insurance revenues by a cumulative R110 million in the next 3 years. We can expect the more expensive monthly premiums to roughly make up for this loss in revenue.

On the furniture side, Lewis management have been working hard to sweat their assets. Average store size has reduced from 366 m2 to 326 m2 between 2013 and 2017. Furthermore, the number of employees per store has fallen by 19% from 12 to 9.7. Lewis also takes pride in its decentralised management approach in which all except credit granting processes are given to the branch manager. Stock is stored at the respective stores meaning there are no large corporate warehousing costs. Inventory levels are kept at a minimum and delivery times are less than 24 hours.
An interesting case in point is the Beares acquisition. Under Ellerines in 2013, these stores had an average size of 650m2 and since they were taken over by Lewis in 2015, the store size has dropped to 400m2 at the end of FY2017. Beares swung from an operating loss of R28 million to a profit of R30 million as revenues increased by 111% and 67% in FY2016 and FY2017 respectively.
Beares posted merchandise sales of R497 million in FY2017 and total revenues of R730 million. Because Beares appeals to a higher income segment, it can afford to raise its credit sales fraction in order to bring its total revenue:merchandise sales ratio to the typical 2:1 currently shown by Lewis and Best Home & Electric stores. If Beares' merchandise sales grow and stabilize around R550-650 million, we can reasonably expect total revenues of between R1100-1300 million in the near term. With an operating margin of 10%2, operating profits of R110-130 million and net earnings of R75-90 million (or R0.75-0.9 per share) can be expected. This represents an earnings lift of 10-15% per year for the entire group.

Operating margins are currently suppressed by the high level of bad debts and depressed credit sales. In FY2017, Lewis wrote off almost 19% or R1 billion of its entire debtors book. This is not small change, however, any reasonable person with a long-term view realizes that there will be a reversion to the mean as the business cycle continues to turn. Nobody can successfully predict when this will happen but it will. It's possible that trading conditions may get worse for furniture retailers and they may have to write off more billions in the short-to-medium term but as sure as the sun rises in the darkest hour of the morning, business will pick up and bad debts will fall below 10%. For the few that will survive, there will be a windfall of profits to be made.
Lewis's debtors costs in a normalized environment will likely drop to between 5-10% of the debtors book, adding some R300-500 million in present money terms to the bottom line. However, assuming the worst case scenario, in which bad debts never again go below 15%, bad debts will settle at R850 million which is a savings of R150 million or R1 a share allowing for taxes.
Tallying up the present value of expected earnings: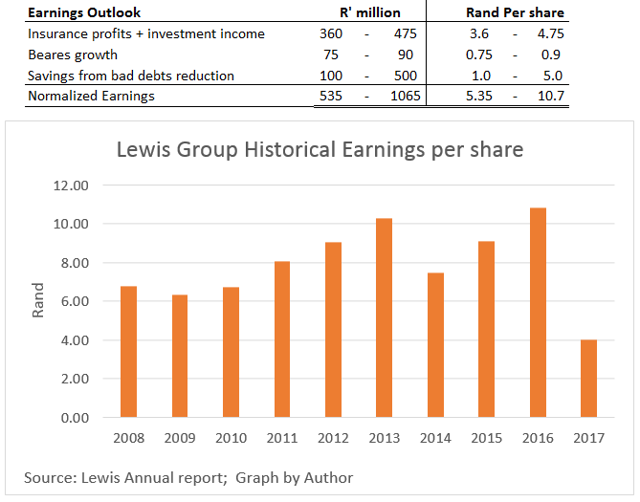 On very conservative terms, the stock is currently trading at less than 6x normalized earnings. This is a great price for a company of Lewis' caliber.
Conclusion
The furniture retail industry in SA is very concentrated with 3 players, JD Group, Shoprite OK furniture (OTCPK:SRHGF) & Lewis3, accounting for 80% of market share. So if 80% of the industry – and by extension the smaller 20% - isn't making any economic profits, all will eventually go bankrupt and South Africans will therefore import 100% of their furniture. This is what Lewis' current share price implies. Nothing could be further from the truth.
Isn't it interesting that in 2012 when unsecured lending was at its peak, Lewis has a share price above R70 but now as the corrective actions are being taken by the industry and consumers, no one seems interested in the stock. Please note the stock charts are in South African cents (ZAC). 100 ZAC = R1 or 3,138 ZAC = R31.38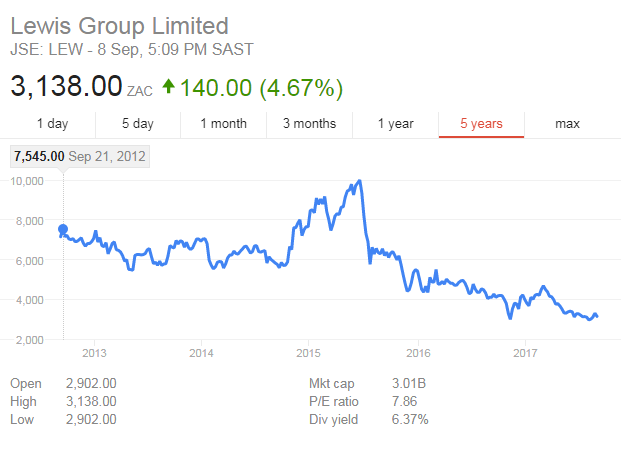 It seems as though the market doesn't seem to know how to value these retail debtor books with excessive debt write-offs. The share price has gyrated wildly, swinging down by as much as 33%, twice inside of 52 weeks. This is typical of Mr Market's irrational tendencies. The level-headed investor will surely benefit!
---
[1] Please refer to page 26 of Lewis Group's annual financial report to view the debtors' book and age analysis. Click here to view it.
[2] Lewis stores and Best Home stores had operating margins of 10 and 15% respectively.
[3] Their financial results are publicly available
Disclosure: I/we have no positions in any stocks mentioned, but may initiate a long position in LWSGF over the next 72 hours.
I wrote this article myself, and it expresses my own opinions. I am not receiving compensation for it (other than from Seeking Alpha). I have no business relationship with any company whose stock is mentioned in this article.
Editor's Note: This article discusses one or more securities that do not trade on a major U.S. exchange. Please be aware of the risks associated with these stocks.