Hopefully, this article will help you grow your assets.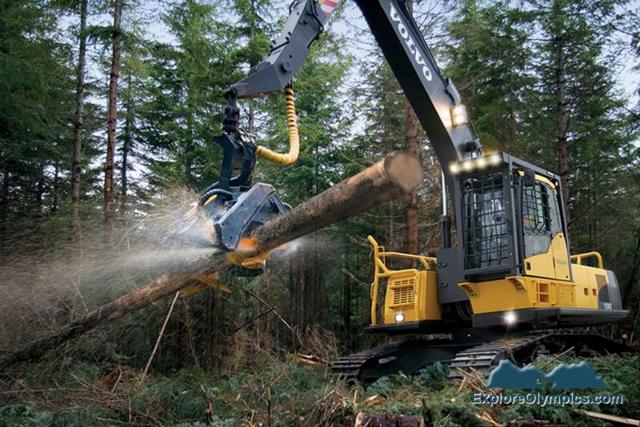 The repair and remodel demand has been steadily increasing even without the help of hurricanes (see chart below). The $150B - $200B in damages from hurricanes Harvey and Irma (estimated by Moody's) should provide a significant extra push upward for companies such as Louisiana-Pacific Corp. (NYSE:LPX) in the business of providing materials for rebuilding (repair and remodeling).
The geography of LPX's assets is important to the evaluation of how much LPX's business will benefit. The chart below shows that LPX's businesses should be almost completely untouched by hurricanes Harvey and Irma. That should lead to a huge extra profit situation from these natural disasters.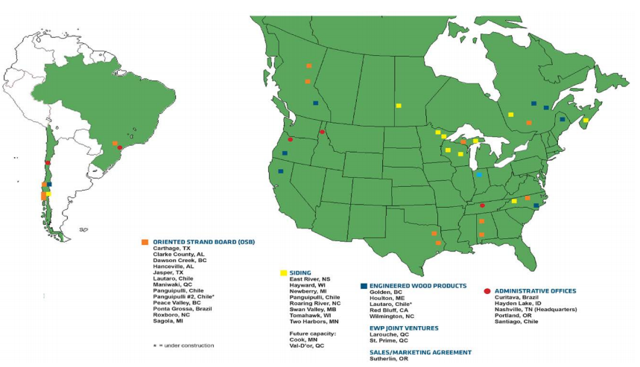 It is instructive to take a look at Louisiana-Pacific's major products (see table below).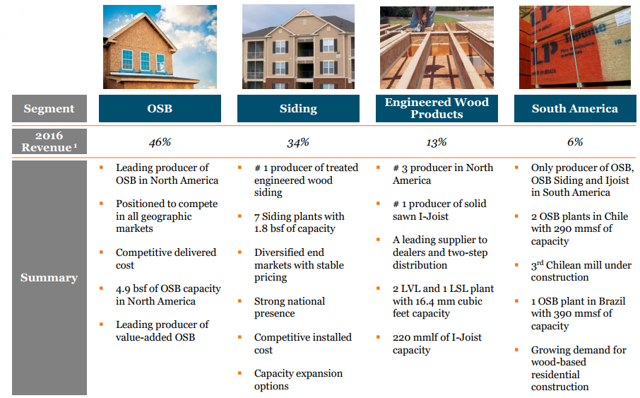 OSB in the table above stands for Oriented Strand Board. This is a type of engineered lumber. It is made by adding adhesive to wood strips. The strips are then compressed in specific orientations. The resultant boards have better strength and better energy insulation performance in housing than plywood. The exterior OSBs are available with a radiant barrier pre-laminated to one side. Most people have likely seen such boards being used in newly built housing in their area. In addition to OSB, essentially all of LPX's other products are used in building and rebuilding such as would occur after hurricanes. Wow! I can see the extra dollars rolling in!
LPX's recent earnings results have already been good to great. Q2's sales were $694.1 million, which was up +19.2% from $582.4 million in the year ago quarter. Net Income was $94.5 million compared to $31.7 million. Diluted EPS were $0.65/diluted share compared to $0.22/diluted share in the year earlier quarter. Adjusted Net Income was $84.1 million compared to $40.0 million in the year earlier quarter. Adjusted EBITDA was $163.5 million compared to $98.9 million in the year earlier quarter. Adjusted EBITDA Margin was 23.6% compared to 17.0% in the year earlier quarter. The above are all good numbers. The two charts below for siding revenues and siding adjusted EBITDA show the numbers cited above are not just flukes.
The chart for Siding Revenues is below: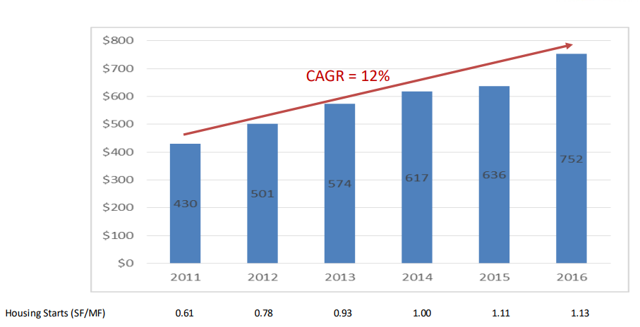 The chart for Siding Adjusted EBITDA is below: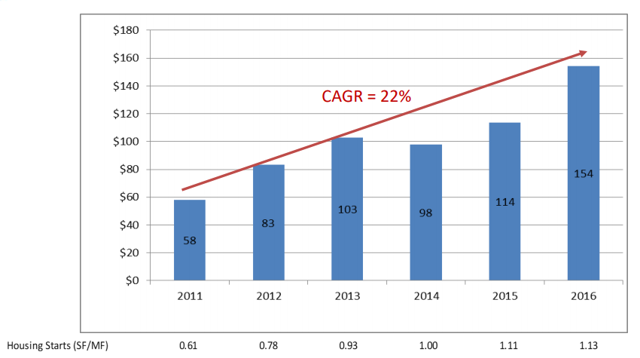 The above are good average annual growth numbers. The dual major hurricane situation should pump up those numbers considerably for both revenues and adjusted EBITDA for the coming 1+ years.
The chart below gives a picture of LPX's market.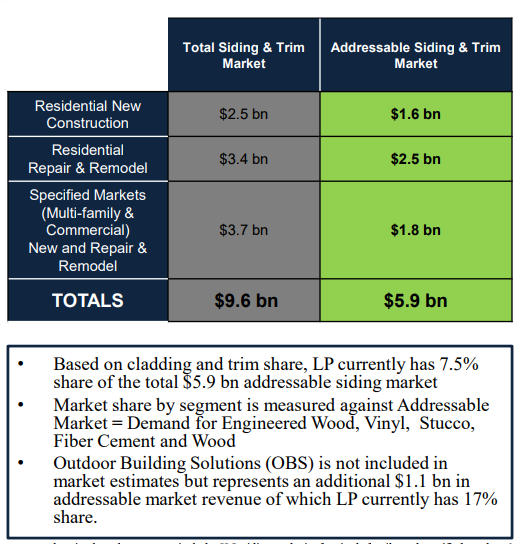 If the damage from hurricanes Harvey and Irma is expected to be in the $150B - $200B range, then LPX's market for the next 1+ years should rise considerably. It may even come down to how much LPX can produce for the next 1+ years. It would seem reasonable that LPX's revenues could at least double for the next year. This should further provide LPX with the opportunity to demonstrate its great products on a wider scale. Therefore, it should gain long-term market share at a rate higher than the 11% CAGR cited in the chart further above.
If sales potentially double, profits could potentially triple or quadruple. Longer term profits should rise far above their current long-term growth rate. When you have superior products, you have to thank God for the chance to show that superiority on a wider scale. We will have to wait to see what actually transpires; but it seems a sure bet that LPX's earnings numbers will be significantly higher than has been recently estimated. Those estimates were already good with a PE of 15.22 and an FPE of 15.01. The actual PE for the next 1+ years may well end up to be half or less than the figures cited above. That should lead to stock price appreciation in almost any type of market. The Price/Book ratio is a reasonable 2.87. In an overpriced market, LPX is a buy.
The two-year chart of LPX provides some technical direction for a trade/investment.

The chart above shows a strong uptrend. This is what you would expect from the longer term fundamentals depicted by the siding sales CAGR and Adjusted EBITDA CAGR charts above. The current highly stimulative situation for LPX should only make the uptrend rise faster for the next 1+ years. This stock does not appear to be grossly overvalued. Hence, there is good room for growth in the stock price. It is a BUY.
Disclosure: I/we have no positions in any stocks mentioned, but may initiate a long position in LPX over the next 72 hours.
I wrote this article myself, and it expresses my own opinions. I am not receiving compensation for it (other than from Seeking Alpha). I have no business relationship with any company whose stock is mentioned in this article.