Big Lots, Inc. (NSYE: BIG) is a discount retailer that specializes in delivering products to customers at a steep discount to traditional retail. Their competitive advantage comes from their supply chain, 80% of which is derived from closeouts. That is, production overruns, packaging changes, discontinued products, order cancellations, liquidations, returns, and so on. This business model, which accounts for approximately 80% of goods sold, produces extremely high gross margins for the company.
Recently, the company began sourcing the remaining 20% of goods from traditional vendors in order to maintain consistency in products offered to the customer – part of an ongoing strategy to improve the customer experience. Despite the gloom and doom often associated with brick-and-mortar retail stores, I am bullish on Big Lots, Inc. and believe the equity has a 30% upside potential.
Note: FY2017 refers to the operations of the year ending January 28th, 2017. FY2018 is the current period.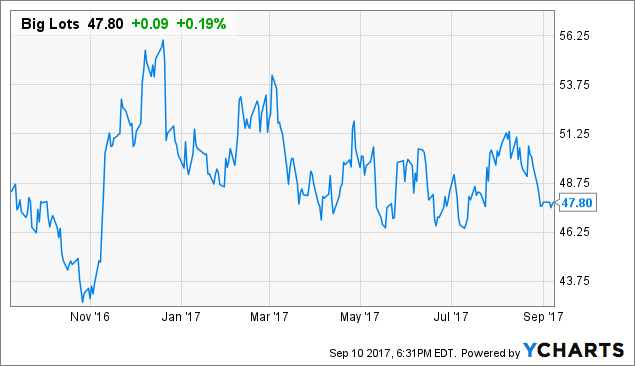 BIG
data by
YCharts
The price of BIG has fluctuated over the past few years. My thesis is that the overwhelmingly bearish opinion of the retail sector has turned investors away from Big Lots, which is why it hasn't reached its potential trading value. Regardless, the firm has many enticing factors, such as its market cap and growing dividend, which make it an attractive investment.
Locations
The company has 1,432 locations nationwide in 47 states, almost all of which are leased; 54 of these real estate properties are owned by the company
26 locations were closed in 2016 in an effort to increase overall profitability – this was successful
The closures are designed to help the company focus on improving the customer experience at core locations
This stands in stark contrast to other retailers, who believe that incessant expansion is the driver of growth; in reality it is a precursor to overgrowth
Cutting Expenses
The company is undergoing various initiatives to decrease costs
Notably, many locations are transitioning to LED lights in their stores, which is expected to save 15-20% of total lighting overhead per store
Similar cost savings have been exhibited thus far. For example, quarter one of this year missed on revenue expectations by $10 million, but beat net income guidance; projections estimated $0.95 to $1.05 per share, while actual results were $1.15 per share
This represented a 40% increase from Q12017, which was $0.82 per share
Re-investments
The company plans on spending $150 million on capital expenditures in FY2018. This includes $75 million towards "the store of the future," a project whereby the company hopes to enhance and personalize the customer experience
Each store being renovated is expected to receive a $500k-600k makeover
See below for more detail
Dividend And Buybacks
After the most operationally efficient quarter to date, in Q1 of this year, the company decided to raise their dividend from $0.21 per share to $0.25 per share
This is in addition to spending $34 million on a 700,000 share buyback in the same quarter, all aimed at driving shareholder wealth
These factors can be meaningless to many who refuse to invest in retail. I would like to address these concerns given the rise of Amazon (AMZN) as an alternative to brick-and-mortar shopping. In my analysis, I believe that Big Lots is healthy enough to weather this storm.
For example, the most common fear concerning online retailers is that prices are simply less expensive. This is not the case with Big Lots. The most dramatic instance I found was a "Wilson & Fisher Tan Triple Vent Market Patio Umbrella with Base," which can be found on Amazon.com for $236. The very same 15' patio umbrella can be found in Big Lots for $180. On Wal-Mart's (NYSE:WMT) website, I could not find the same exact umbrella.
However, the largest umbrella I found was 10', and that alone, despite the size difference, was nearly $100. This is a recurring theme. The supply chain that Big Lots utilizes allows for higher margins and lower prices, as 80% of goods are sourced from closeouts and not the traditional vendors that Amazon and other online retailers would use.
The broad (but not overly diversified) product lines offered at Big Lots provide customers with consistently less expensive options in the most essential departments. Their main product categories are as follows: Furniture (23% of total sales), Food (16%), Consumables (15.8%), Soft Home (14.3%), Seasonal (14.2%), Hard Home (8.4%), Electronics, Toys and Accessories (8.3%).
Recently, the firm began adding sales reps to the floors in their furniture departments (23% of total sales) in order to move product more efficiently, and thus far have been successful. This is part of an initiative to focus on the "Ownable and winnable" categories (Seasonal, Furniture, and Hard home), which the firm believes will drive growth through 2018. The focus on these categories is intended to draw more customers into the store.
I believe that this fiscal year in particular will be strong for the firm, as the cost-cutting initiatives and "store of the future" model is unveiled in September 2017 at the company's investor day. The model is expected to include simple changes that enhance how the customer feels when entering the store. These changes range from softening of design elements, de-cluttering signs, and adding greeters to changing the floors, paint, and lights.
The company has a proven track record of capitalizing on the expectations of the customer, which management incessantly refers to as "Jennifer;" they have created a fictional person whom they constantly aim to please. All published documents from the company are littered with comments on how best to please Jennifer, scantly using the word customer.
Valuation Model
I began my model with an estimate of yearly sales for the next five years, producing the following revenue schedule.

(Source: Bloomberg/Author's valuation model)
In FY2018, I assume that sales will grow at the same rate they did this past year, 0.19%. To better understand sales growth, I applied the sales data onto a regression curve, which allows us to estimate the slope on which sales are growing. In FY2018 into FY2019, the company will strategically renovate certain locations according to the store of the future plan outlined above. I believe this will positively impact sales, and apply a 0.75% growth rate to 2019 accordingly. In the past three years, sales grew on a slope that provides year-over-year changes of 0.22%, which is the rate I apply to the years 2020-2022.
The guidance provided by management implies a net income margin of 3.47%, which in my opinion is quite high for BIG. However, there are enough unusual factors at play in FY2018 to justify this inflated margin:
Cost cutting measures in many locations across the country
Improvements in net income margin in Q1
The roll-out of the new model in September 2017
A 53-week operating period, as opposed to the typical 52-week period
After 2018, I predict that margins will stabilize at 3.02%, which is consistent with historical trends for profit.
Based on these assumptions, I produced the following net income schedule:

(Source: Bloomberg/ Author's valuation model)
I then proceeded to build out the statement of cash flows as I predict it will look over the next 5 years for each line-item. The result is the following free cash flow schedule:

(Source: Bloomberg/ Author's valuation model)
Management's guidance estimated a FCF of $180-190 million for FY2018, however, I could not justify this without making assumptions I am not comfortable making given the data at hand.
The following chart shows how FCF has grown for the past 5 years, and then my projections until 2022: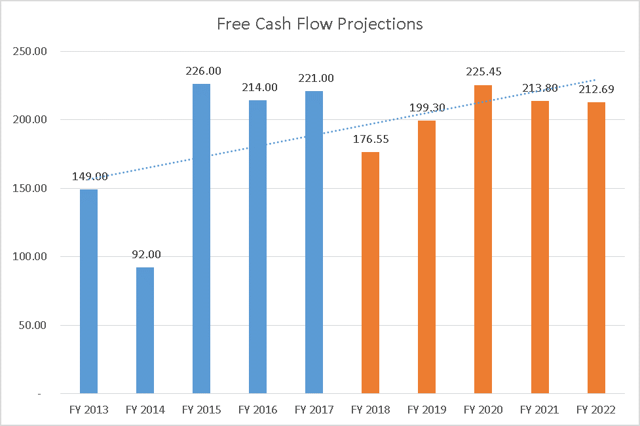 (Source: Bloomberg/ Author's valuation model)
Next, I estimated the WACC, which I will be using as a discount rate in this model. I first calculated the beta based on weekly returns for the last three years regressed against SPX. This yielded a beta of 1.07. Based on a market return estimate of 7.2% (from BNY Mellon's 2017 Capital Market Assumptions) and a risk-free rate of 1.8% (based on the yield of the 5 year T-Bill), I found a Cost of Equity of 7.61%.
Based on interest expenses over the last five years and a tax rate of 38%, I found an after-tax Cost of Debt of 2.69%. Given that 95.3% of BIG's capital structure is equity, I calculated the WACC as 7.38%.
With these assumptions, I produced the following DCF model:

In calculating a perpetuity growth rate, I have selected a rate of 0%. This is based on three factors:
Already low year-over-year growth rates
Decline of the retail segment in general
Increasingly high number of stores leaves little room to grow further after 5 years
With the given inputs, my model produces an implied value per share of $62.04. This would provide upside greater than 30%.
Multiples Comparison
Big Lots' peers are trading at multiples much higher than its own. For example, the following screen shows how BIG has an EV/EBITDA multiple of 5.1x, which is nearly half of the peer group average. It's also trading at a price 10.9x its earnings, which again is nearly half the average.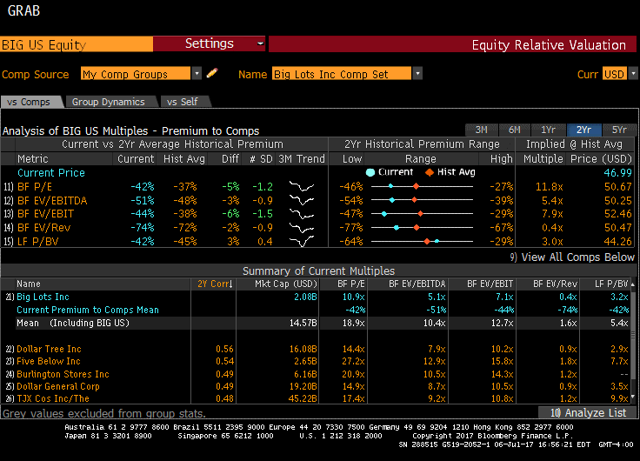 There are several reasons for this phenomenon. Firstly, I will again reference the distaste with which many investors look at retail. For this reason, smaller discount retailers have been left in the dust while investors flock to the bigger names (WMT, Costco (COST), etc.). This, however, does not change the underlying fundamental value of BIG. Big Lots' business model is still superior to other discount retailers, but anti-retail sentiments have dragged on its price.
The other factor leading to the discount at which BIG trades is its market cap. Many investors see that BIG's capitalization is nearly seven times smaller than the peer mean. For many (and to a certain extent, rightly so), smaller market cap justifies a smaller trading multiple. However, this relatively smaller size also provides BIG with the opportunity to grow, an attractive feature which other retailers are lacking.
If BIG's stock price appreciates to $62 as I suggest it will, the EV/EBITDA multiple will rise to 7.59x. Its P/E ratio will rise to 17.9x. Both of these figures are in line with the industry averages as they currently stand.
There are also downsides to these factors. Having such a small market cap renders BIG susceptible to a squeeze from those same large competitors that investors have been attracted too. There is a very real possibility that in the future, retail sales will consolidate to those bigger discount retailers. If this unsettles the market, we would see investors leaving these smaller retailers behind.
Likewise, many investors would posit that the low multiples at which BIG trades are indicative of decreasing value. That is, the multiples are low because Big Lots is not worth a higher price. This is also a possibility.
I do not see these factors in this way for a variety of reasons. Chiefly, we have seen many discount retailers be dragged down by these sentiments, only to rally once they release earnings that significantly beat expectations. I suspect the same is true for Big Lots.
Based on these factors, I maintain my fair value estimate of $62.
Thank you for reading this Seeking Alpha PRO article. PRO members received early access to this article and get exclusive access to Seeking Alpha's best ideas. Sign up or learn more about PRO here.
Disclosure: I/we have no positions in any stocks mentioned, and no plans to initiate any positions within the next 72 hours. I wrote this article myself, and it expresses my own opinions. I am not receiving compensation for it (other than from Seeking Alpha). I have no business relationship with any company whose stock is mentioned in this article.