The fact that shares of Brinker International Inc. (EAT) are down about 40% over the past year represents an enormous buying opportunity for shareholders in my view. I admit taking a particular delight in revisiting a company that has provided my subscribers and I a 34.62% return on call options back in May, but I'll not let my euphoria at revisiting this name cloud my judgement. In my view, the shares represent enormously good long term value at these levels and I'll go through my reasoning below by focusing on the financial history here. I'll also update my (excessively pessimistic) dividend forecast. I'll conclude with an appeal to authority.
Financial Snapshot
Since writing my latest article on the company they have released full year earnings. Both revenue and net income have declined (by 3.3% and 24.8% respectively), which is obviously distressing. On the back of a declining share count, though, EPS dropped by "only" 14%. This decline relative to the record breaking 2016 should come as no surprise, as the company was under performing 2016 after the 3rd quarter. For investors with a longer time horizon, though, this is short term pain in my view. The long term trends remain firmly in place, with the total number of restaurants up to 1,674.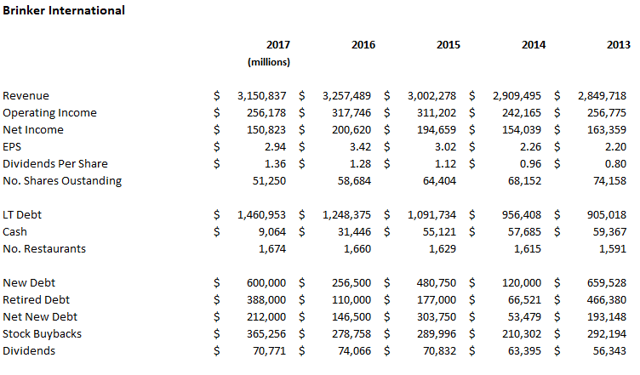 The debt remains a difficulty for me, but I no longer feel that it will put a significant break on dividend increases. First, 81% of debt is due in 2022 or later. Second, and far more importantly in my view, the weighted average interest expense is only about 3.4%, which suggests to me that there's little reason for management to cut down on the level of dividend growth.
Modeling The Dividend
As I mentioned earlier, I was too conservative in my view dividend forecast in my previous article. I felt the level of debt here would cause the dividend growth rate to be nearly shaved in half. In my view, this excessive conservatism is unrealistic and therefore less helpful. After all, the payout ratio remains below 50%, suggesting that the risk of dividend cut in the next few years is moderate. I'll remain conservative by dropping the dividend growth rate, but I'll do so by the rate of decline in EPS over the past year (14%).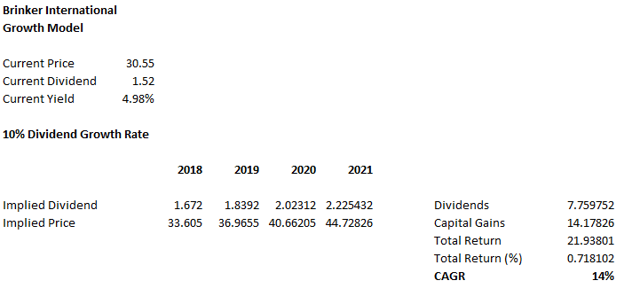 When I drop the rate of dividend growth by 14%, I still infer a CAGR of about 14% over the next four years. Most interesting of all is the fact that 35% of the return comes from dividends. In my view this is a strong positive as dividends are a far less capricious source of returns than volatile stock price gains. Taking all into account, I feel that this is a more than adequate return for a company with these (moderate) risks present.
Technical Snapshot
As per our ChartMasterPro Daily Trade Model, the trend for EAT turned bullish with a daily close above $30.50 on September 8. This signaled a bullish breakout above a downtrend line which began on August 16. From here, we see the shares rising to $35.50 over the next three months.
Today, we will buy EAT call options which will provide us with approximately 10x leverage on our long trade. Our initial stop loss exit signal will be a daily close below $29.50.
For investors in the shares, we recommend that you hold for three months or $35.50, whichever comes first. For longer-term investors (years, not months), we believe EAT is a solid addition to any dividend growth portfolio over the next four years.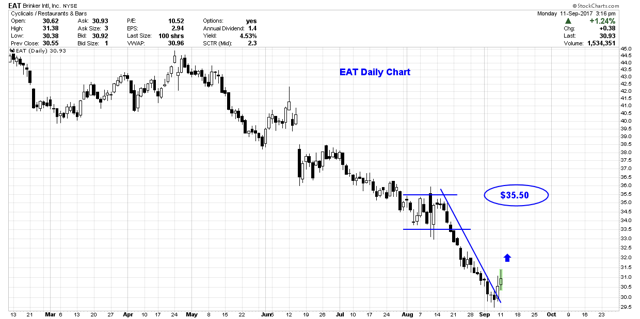 Conclusion
We investors are cursed to access the future cash flows of a given business via the public markets, and sometimes the public markets act according to rules entirely their own. The market can become excessively optimistic and drive shares to dangerous levels, and it can become pessimistic and drive them to levels where the shares represent good value. In my view, the latter case holds with Brinker Int. The shares are far less expensive than the overall market, and therefore represent relative safety as long as the company doesn't go out of business. There's nothing on the horizon suggesting that that will happen in the near term.
Another fact about public markets is that not all investors are created equal. Some simply have greater insight into a given business than others. Insiders, for instance, live and breathe a given company and therefore know more about it than a more casual investor. Institutional investors are also typically better informed than the average retail investor. It makes sense to follow what insiders and institutional investors are doing therefore. As of the end of June, the likes of Joel Greenblatt, George Soros, and David Dreman have all either added to pre-existing positions or initiated positions in Brinker.
In addition to smart institutional investors, an insider (Michael George) has recently purchased an additional 16,450 shares for about $500,000. When an insider uses their own capital to acquire shares, that speaks volumes in my view and we should at least take note of it.
In my view, it makes sense to acquire shares of this dividend grower at these levels. Not only is the stock inexpensive relative to the overall market, it is cheap relative to its own past . In my view, the current valuation makes no sense for a company that is growing dividends at this pace and that has such institutional and insider support. Brinker International represents a strong buy in my view.
Disclosure: I/we have no positions in any stocks mentioned, but may initiate a long position in EAT over the next 72 hours.
I wrote this article myself, and it expresses my own opinions. I am not receiving compensation for it (other than from Seeking Alpha). I have no business relationship with any company whose stock is mentioned in this article.
Additional disclosure: We trade options. Sometimes our trades last a few days, sometimes a few weeks, sometimes a few months. Please review our trade history listed in our Seeking Alpha BlogPost to get a feel for our trading style.