PayPal's (PYPL) growth has been phenomenal in the last few years as the company continues to notch up 20% growth quarter after quarter. What are the key drivers of this growth? What forward-looking areas has PayPal latched onto that will support a prolonged period of YoY growth? Is this a good time to invest in this payments company that is still a relative newbie in a world of lumbering giants that are still growing?
What makes PayPal's growth phenomenal is that, despite being a new entrant to the payments processing industry and being pitted against formidable and well-established players, PayPal did a lot better than Visa (V) in terms of revenue increase over the last five years. Between 2012 and 2016, PayPal added $5,180 million to its top line, compared to Visa's $4,661 million and MasterCard's (MA) $3,385 million.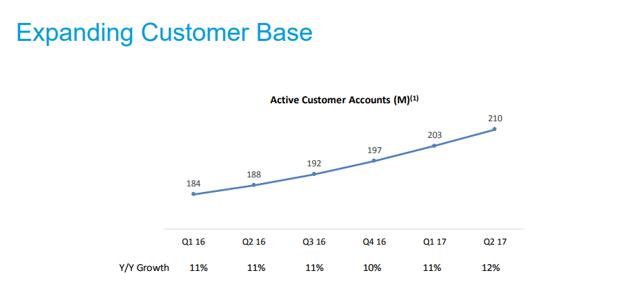 Source: PayPal Q2-17 Earnings Slides
This industry topping revenue increase in the last five years was no stroke of good luck, and there is one metric that clearly shows that PayPal's moat is steadily widening, and that it will keep the company in the lead for many more years to come: PayPal's merchant services.
By the end of the first quarter of 2016, PayPal had 14 million merchant accounts, which grew to 17 million by the end of the recently concluded second quarter of 2017. The three million additions in merchant accounts has resulted in a nearly $25 billion increase total payment volume.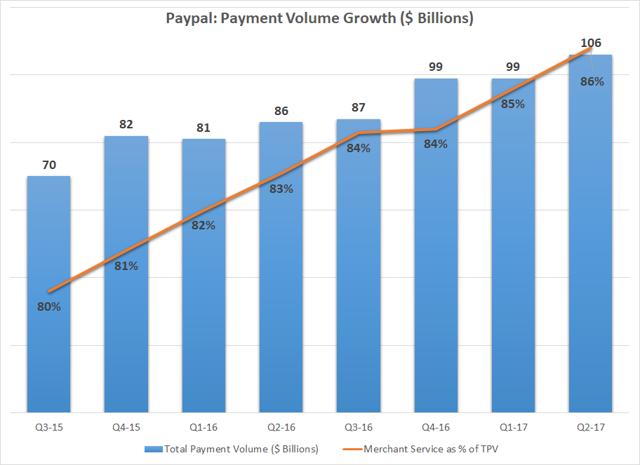 Though the number of active customer accounts keeps increasing as well, the truth is that most of the payment volume growth is actually coming from merchant services. As you can see from the graph above, from accounting for 80% of Total Payment Volume during the third quarter of 2015, merchant services now account for 86% of the company's total payment volume.
Engagement on the Rise
The metric also shows that merchants have been increasing their engagement with PayPal. It could be due to several factors, such as increased trust, PayPal continually adding more services and more customers, and so on. During the first quarter of 2016, PayPal's total payment volume was $81 billion, with 82% - or $66.4 billion - contributed by merchant services. During the second quarter of 2017, PayPal's TPV was $106 billion, with 86% - or $91 billion - contributed by merchant services.
In other words, during Q1-16, 14 million merchant accounts led to a TPV of $66.4 billion, and several quarters later, in Q2-17, 17 million merchant accounts led to a TPV of $91 billion.
Additionally, the fact that average payment volume per account increased from approximately $4,773 to $5,353 during this period further validates increased engagement, with merchants transacting a lot more now than they did six quarters ago.
Cross-Border Trade
The other important factor to consider is PayPal's cross-border trade. According to PayPal, 22% of its TPV is due to cross-border trade. That's more than one-fifth of merchant services TPV coming through due to cross border trade. This was the opening in the payments market that PayPal has made use of, thanks to eBay, and now, the company is sitting pretty with 17 million merchant accounts and nearly 10 million merchants engaging in cross border sales.
"At PayPal, we've been helping to connect sellers and buyers from around the world since 2003. Since that time, more than $400 billion in cross-border purchases have been made on our platform. In 2016 alone, we saw more than 9.8M merchant active accounts sell at least one item and 106M consumer active accounts purchase at least one item cross-border via PayPal. These transactions spanned more than 19,000 global trade corridors, 45 verticals, and 25 currencies, with roughly 60% of the transactions processed between countries outside the U.S." - PayPal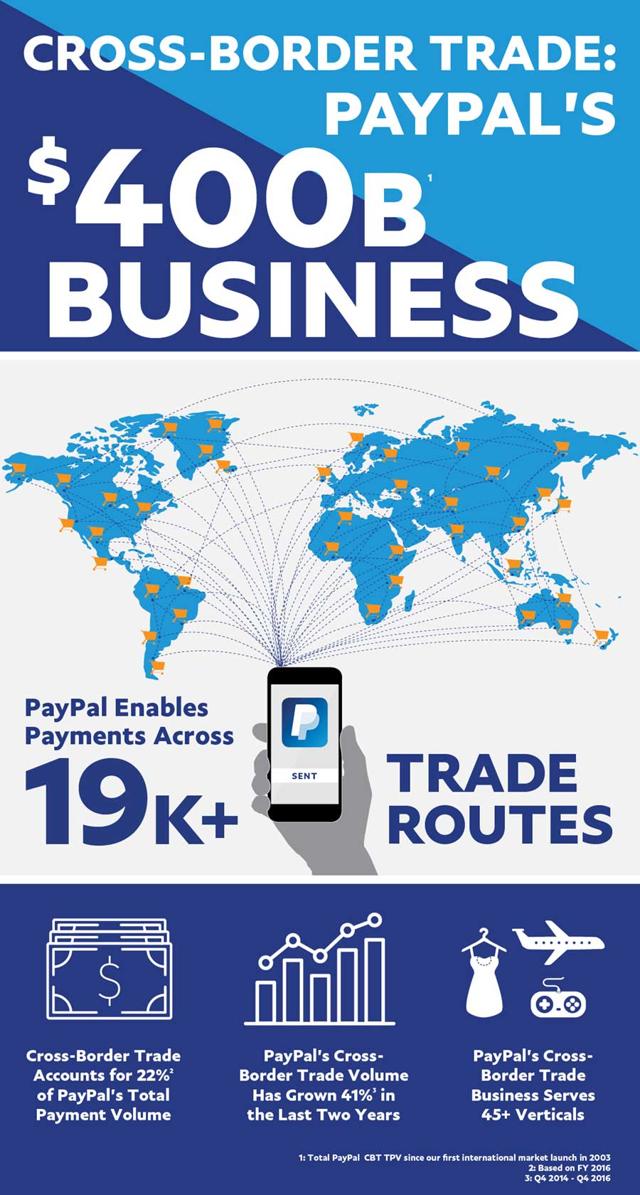 Source: PayPal
The combination of merchant accounts, ably supported by cross-border trade, is a wide moat that will be extremely hard for its competitors to break. These customers who are already using the PayPal platform are not going to switch services that easily unless the competitor's offering brings some tangible additional benefits. And that's easier said than done, because PayPal will move swiftly to negate any incremental benefits its competition puts out.
Investment Case
PayPal knows that this moat will keep its ship moving steadily forward, and the company has been smartly adding service after service - Venmo (Digital Wallet), Xoom (Money Transfer/Remittance), TIO (Bill Payment and Financial Services) - with an aim to add more customers to its platform, which will make the platform even more attractive for current merchants and also draw new merchants into the fold.
The growth of e-commerce already has shrunk global markets, and it will continue to connect merchants and customers all over the world. PayPal has made it extremely easy for merchants and customers to conduct their trade in a transparent manner, and the company has earned their trust.
The more services PayPal adds to its repertoire, the more customers it will bring under its umbrella, increasing the opportunity for merchants to grow their average transactions and making the platform extremely attractive for even more merchants to keep signing up.
It's a self-feeding cycle that PayPal has been constructing over the past several years, and that's going to fuel the company's growth over the next decade at least. With such a long growth runway and a robust ecosystem of products to keep customers and merchants coming in and coming back, this is one of the better investment opportunities in the payments industry.
Disclosure: I/we have no positions in any stocks mentioned, and no plans to initiate any positions within the next 72 hours. I wrote this article myself, and it expresses my own opinions. I am not receiving compensation for it (other than from Seeking Alpha). I have no business relationship with any company whose stock is mentioned in this article.