3 Things In Biotech You Should Learn Today: September 13, 2017
Summary
Bristol-Myers nails down which of its drugs is best in melanoma
Celgene makes its cases in non-metastatic pancreatic cancer
Curis gives a peek into its oral immune checkpoint inhibitor
Welcome to another edition of "3 Things In Biotech You Should Learn Today," a daily digest dedicated to helping you keep pace with the fast-moving world of pharmaceutical and biotechnology research!
Bristol-Myers nails down which of its drugs is best in melanoma
Metastatic melanoma has been ground zero for the entire field of immune checkpoint inhibitors, and it was Bristol-Myers Squibb (BMY) who dropped the warhead with its first approval of ipilimumab. The subsequent approval of nivolumab kicked off the revolution we've been watching over the past several years.
Melanoma was also the first disease area to see some initial benefit from combining ipilimumab and nivolumab, with improvement in progression-free survival and overall response rate, which led to the approval of this combo.
But BMY have yet to nail down exactly which treatment option is best: PD-1 inhibition, CTLA-4 inhibition, or the combination of the two.
In a presentation at ESMO 2017, published in tandem in The New England Journal of Medicine, BMY showed that nivolumab plus ipilimumab definitively led to better overall survival than did ipilimumab alone. Nivolumab alone was also associated with better survival.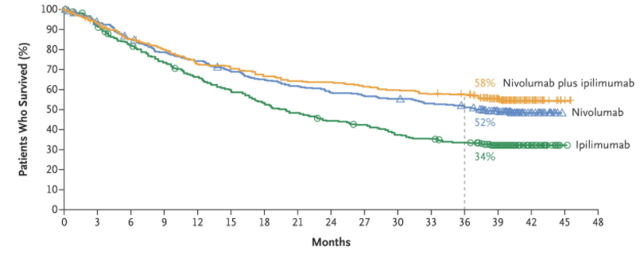 From Wolchok, et al. The New England Journal of Medicine, 2017
Looking forward: It's not terribly surprising to see that nivo and nivo+ipi ended up being superior to ipilimumab alone, the latter now representing a touchstone in cancer development rather than a preferred option in melanoma. It's also worth noting that the combo is associated with a greater risk of toxicity than nivolumab alone, so there will continue to be some decision making for patients and doctors as to whether you go for a possibly incremental benefit at the cost of significantly worse toxicity.
Celgene makes its cases in non-metastatic pancreatic cancer
Celgene (CELG) has cemented itself in the management of metastatic pancreatic cancer with its albumin-bound paclitaxel (nab-paclitaxel, branded Abraxane), which is a lynchpin of one of the two standard chemotherapy regimens currently in use for the disease.
At ESMO 2017, CELG presented a poster detailing preliminary results of the phase 2 LAPACT trial, which is assessing the use of Abraxane and gemcitabine in patients with locally advanced pancreatic cancer, which could be followed up with surgery.
Source: ESMO Abstract Book, page 212
Safety-wise, nothing particularly surprising was observed, and the doublet regimen led to a disease control rate of 82%, with 35% of patients achieving a partial remission.
Looking forward: These are indeed encouraging findings for a novel treatment space. Currently, it is relatively unclear which chemotherapy regimen is best for patients with metastatic disease, so moving to earlier stages of the disease could be a differentiating factor for Abaraxane. The fact that 4 of 42 patients were able to go on to receive surgery that left no evidence of the disease is encouraging, as well. So this strategy is going to be well worth watching!
Curis gives a peek into its oral immune checkpoint inhibitor
Long-time followers of mine will know about my interest in following Curis, Inc (CRIS), including a recent follow-up article I published on Seeking Alpha.
And for me, one of the most intriguing parts of the CRIS pipeline is CA-170, an orally bioavailable inhibitor of two immune checkpoint molecules: PD-L1 and VISTA. This is already an intriguing proposition for therapy, as oral treatments offer different possibilities in terms of therapeutic regimen, including maintenance therapy.
At ESMO 2017, CRIS and Aurigene presented phase 1 findings for CA-170, which included data on 34 patients. The therapy was well tolerated, with favorable pharmacokinetics. Most interestingly, in the 21 patients who had response-evaluable tumors, 13 experienced disease stabilization, presenting an early glimmer of efficacy.
Looking forward: These findings bode well for the continued development of CA-170 in cancer treatment. In the same press release, CRIS announced plans to initiate a phase 2 trial in India. So the program is moving forward. CA-170 definitely remains the biggest piece of the CRIS puzzle that I'm looking out for in the future, as it's the most intriguing thing the company has in development at this time (in my opinion, of course).
Thank you for tuning in to this digest! If you found it helpful at all, I hope you'll consider becoming a follower of mine on Seeking Alpha, as this will allow you to receive real-time email updates when new articles of mine go live, including new editions of "3 Things."
Regardless, I appreciate the time you've taken to read this particular article. Have a great day!
Disclosure: I/we have no positions in any stocks mentioned, and no plans to initiate any positions within the next 72 hours. I wrote this article myself, and it expresses my own opinions. I am not receiving compensation for it (other than from Seeking Alpha). I have no business relationship with any company whose stock is mentioned in this article.