Welcome to the natural gas storage forecast edition of Natural Gas Daily!
We expect a +90 Bcf change in the storage report for the week ended Sept. 8. A storage report of +90 Bcf would be compared to +58 Bcf last year and +63 Bcf for the five-year average.

Source: ICE
Our storage forecast is currently 1 Bcf higher than the ICE settlement report of +89 Bcf.
We saw no change to our storage forecast from last Friday. Physical balance did deteriorate versus the week prior, and the drop in LNG demand materially worsened the weekly injection figure.
Over the last two-days, natural gas has recovered the sell-off we saw from last Friday. We noted that last week's Friday was the result of uncertainty from Hurricane Irma and traders forcing stops.
In today's fundamental news, US gas exports once again breached the 7 Bcf/d level thanks to a surge in LNG exports.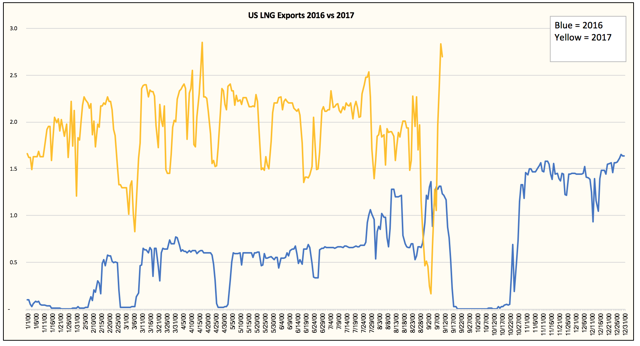 Source: HFI Research
This has pushed overall US gas exports back above 7 Bcf/d.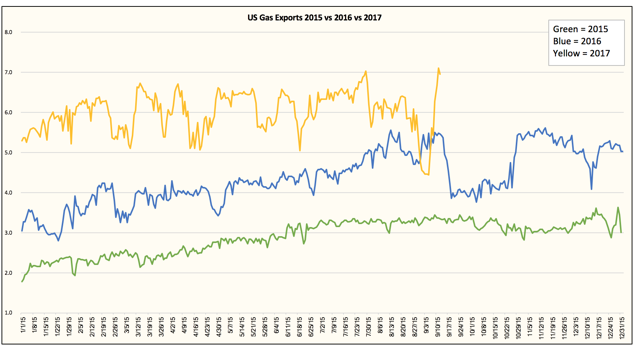 Source: HFI Research
Implied balance this week as a result have been equally messy as last week. Lower 48 production is increasing versus last week thanks to Rover operating at capacity, and demand drop due to Irma continues to weigh on physical balances.
However, the good news is that weather forecasts currently point to "normal" temperatures for the second-half of September, so we expect storage injections to fall below the 5-year average.
Overall, we expect a bearish relative storage injection figure for the week ending 9/8. Physical balance is improving, which should support natural gas prices going forward.
For readers who would like to start receiving daily updates on natural gas fundamentals and trader commentary, we think you should sign up for HFI Research Natural Gas, a dedicated natural gas publication offered to readers interested at a discounted price. For more information, see here.
Disclosure: I/we have no positions in any stocks mentioned, and no plans to initiate any positions within the next 72 hours.
I wrote this article myself, and it expresses my own opinions. I am not receiving compensation for it (other than from Seeking Alpha). I have no business relationship with any company whose stock is mentioned in this article.