It really does not take much at all to send Tesla Inc (NASDAQ:TSLA) bulls rushing to hit the "buy" button. But before everyone rushes to follow suit let's review some facts that make this "announcement" by a Chinese vice minister of Industry unrealistic for at least 30-35 years. Of course, he gave no timetable during his comments with the press. But the press blamed the TSLA price spike on this "news."
China already has announced the following time tables:
2018: 8% of all vehicle production to be New Energy Vehicles (NEVs).
2020: 2% increase to 10% of 2018 goal
2022: An additional 2% bringing the total to 12% of all vehicles sales to be NEVs
2025: 20% of all new cars sales to be NEVs.
2050: 100%?
That is the official time table at this point that manufacturers are marching toward. It is the same one they are all grumbling about for the simple reason they do not want to be forced to build more cars than buyers are ready to purchase. I actually believe these numbers could be realistic, with some incentives, for a country that leads in NEV production. So what is a realistic timeline for 100%? Certainly no time soon.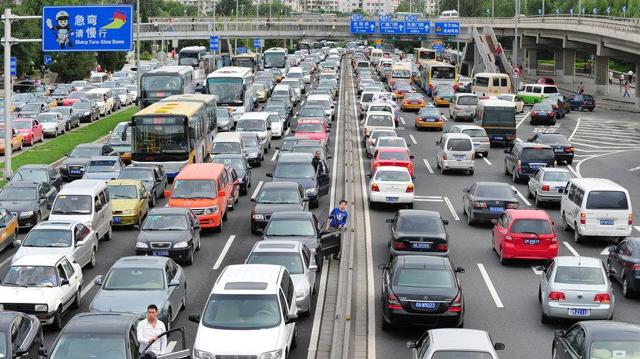 (Chinese traffic jam. Source: NPR)
So exactly what is a New Energy Vehicle? Wikipedia has the definition here. NEVs include both hybrid and pure BEV models. They are any car that gets at least some of its drive energy from a battery.
China leads the world already in this area. In 2016 sales of NEVs totaled 507,000, up from just 8,159 in 2011 and 352,000 in 2015. The Chinese Association of Automobile Manufacturers estimates sales could hit 800,000 units in 2017.
In 2016, China's car sales topped 28,000,000. That means NEV sales were just 1.8% of all sales. Sales are only expected to grow 5% this year to 29,400,000. So for 2017 we could see NEVs make up 2.7% of all sales. This translates to sales in 2018 of NEVs will need to triple their 2017 numbers. The kicker is it is not based on production, but sales. To meet the 2018 goal it remains to be seen how the Chinese government will either incentivize or "force" NEV sales to meet their stated target. Will they force manufacturers to reduce prices and lose money on each sale? Will they place new taxes on ICE vehicles? Will new sales incentives be needed?
If China cannot get buyers to meet the 8% target how will that affect future targets for 2020, 2022 and 2025? What infrastructure demands will a growing NEV population put on charging and electricity generation? These are issues every country with a stated all-EV goal should be assessing now. Throwing goals at the wall, hoping they will stick, is all fine and dandy for politicians to pacify their environmentally minded constituents. But since these same politicians will not be around to witness or be responsible for the results, are they just blowing hot air up everyone's derrières?
I would consider this Chinese minister's comments as just that. Hot air intended to get some press. We have seen no official confirmation of this position. Nor will we. China is not going to paint themselves into a corner any more than they already have. China has the largest and fastest-growing NEV industry. They are not going to do anything to kill what they see as their potential to dominate the future auto industry. What China lacks in ICE technology, they more than make up for in less expensive EV technology.
Conclusion
Tesla's July Chinese sales were just 310 combined units. Their standing is at 14th and 16th place in NEV sales respectively for the Model S and X in YTD sales of just 5,295 and 4,664. So why is Tesla stock soaring on this Chinese news? It is because it is EV news of any kind that might somehow, in some way, maybe affect Tesla? It sure seems so.
The biggest selling models in China have annual numbers in the 22,000s YTD with July sales of 3,000 and 4,000. The top seller's BYD (OTCPK:BYDDY) and BAIC Motor (OTC:BCCMY) stock prices did not have big jumps on the news, so why did Tesla's? It seems buyers of TSLA stock do not know how to filter real news vs. politicians just blowing smoke. We should expect to see this spike upward to be short lived.
Editor's Note: This article discusses one or more securities that do not trade on a major U.S. exchange. Please be aware of the risks associated with these stocks.