Edison (EIX) has quite a good exposure to the electrical utilities and solar energy sectors through its Southern California Edison (SCE) and its SoCore Energy subsidiaries. With the growing awareness to switch towards renewable energy sources and a favorable, I believe the company has a notable growth potential for investors with a renewables portfolio.
Financials
Edison has attained a similar size in term of market capitalization compared to its peers standing in the $20-$30 billion range. Revenue grew on average 5.22% annually excluding 2015 and should continue its growth as demand for electricity expands and base rates rise. Net income followed the same path topping $1.41 billion in 2016.
| | | | |
| --- | --- | --- | --- |
| | | | |
| Ticker | EIX | DTE | PPL |
| Market Cap ($ billion) | 26.31 | 20.24 | 27.13 |
| Revenue ($ billion) | 11.87 | 10.63 | 7.52 |
| Net Income ($ billion) | 1.41 | 0.83 | 1.90 |
| Stock Price | $80.74 | $112.84 | $39.55 |
| P/E | 19.13 | 19.29 | 16.55 |
| P/B | 2.19 | 2.25 | 2.72 |
| Total debt to assets | 24.29 | 36.77 | 50.24 |
| Dividend | 1.92 | 2.96 | 1.52 |
| Dividend yield | 2.38% | 2.62% | 3.84% |
| Payout ratio | 45.50% | 50.60% | 63.60% |
Edison International has a market capitalization of $26.31 billion. The company's P/E and P/B ratios remain similar to those of its peers suggesting identical expectations for Edison and DTE Energy (DTE) from the market contrary to PPL Corporation (PPL). In fact, Edison is positioned to benefit from the above average Californian economic expansion. Other utilities in different states should see a lower increase in electricity demand as the local economy lags the national average.
Debt levels are lower than those seen with competition at 24.29% for Edison, half of what PPL Corp. currently holds. As a result, the company still has room to finance its development projects including its grid modernization plan.
The company has maintained an annual dividend growth rate of 8.20% for 12 years in a row. The dividend payout ratio should remain within the 45-55% range of earnings as outlined by the company's documents. Additionally, its management has expressed its commitment to keep raising dividends every year.
Stock Performance
Edison's stock price has performed well for the last five years closing 81.93% above its 2012 level. It did not perform as well as DTE, which closed 89.04% higher but better than PPL, which lagged with a 38% rise.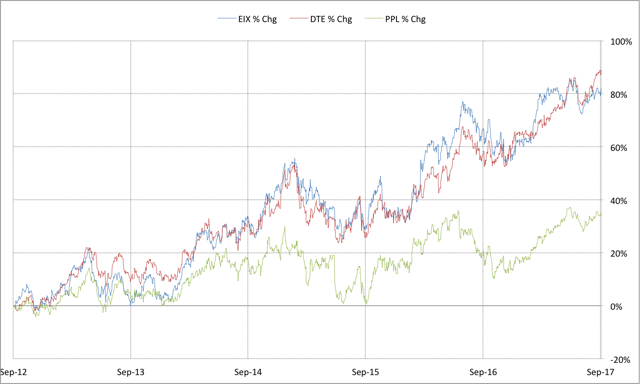 In the last 12 months, however, Edison's stock underperformed compared to its peers. It rose 13.08% compared to 24.00% and 17.60% respectively for DTE and PPL. Edison outperformed its benchmark the Philadelphia Utilities Index, which rose 10.63% and came close to the S&P 500, which climbed 13.52%.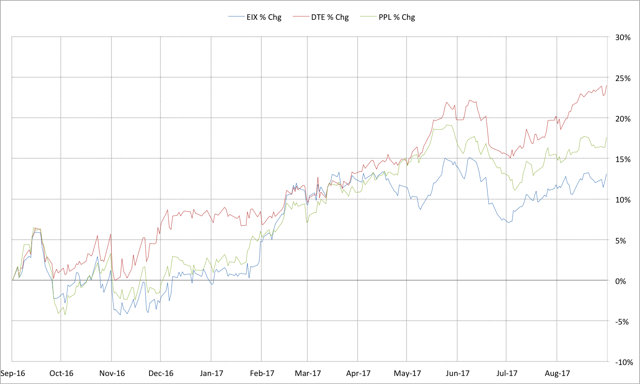 Edison is recovering from a minor correction within a larger uptrend. It rebounded at $76.28 after hitting an all-time high of $82.82. It is heading toward the $88 bar and should pass its previous peak during the week.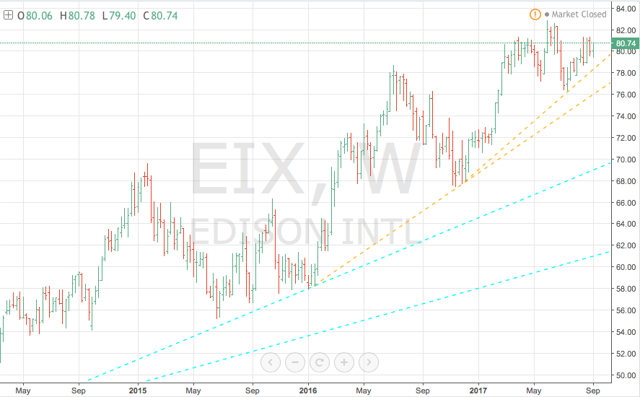 Positive Prospects
California's economic growth has outpaced the rest of the U.S. with a GDP growth rate at 2.9% in 2016 compared to the 1.5% nation-wide average. The solid state of the economy should boost electricity consumption and the revenue of Southern California Edison. Electricity consumption is expected to keep rising at an annual pace of 0.67%-1.42%, providing a revenue growth cushion of the same amplitude.
While being a hurdle in the short term, California's greenhouse gas emission goals should be beneficial to the company over the long-term. The adjustments and investments it will make to comply with the state's policy will enable it to bank on the growing renewable energy trend. Building a competitive advantage in this area should open expansion potential inside and outside the United States and in particular in Europe where climate change concerns are the greatest.
The electric car popularity and growing adoption rate should play in favor of electrical utilities in general and California-based ones in particular where Tesla (TSLA) is leading the trend. Electric vehicles sales are growing fast and are currently concentrated in California where 49% of U.S. sales happen, which will increase demand for public and private charging spots driving a shift of revenue from oil companies to electrical utilities.
Edison International has laid out a $3 billion additional capital expenditures program for the 2018-2020 period to modernize its grid and adjust to the multiplication of power sources, including residential rooftop solar installations, as well as the need for more numerous outlets notably for electric cars and a more important energy storage capacity.
Electricity prices are expected to continue rising 3.5% in 2017 and 3.2% in 2018 nation-wide and at 8.3% on average annually for SCE through 2020. SCE's revenue is expected to trail the rise in electricity rates.
Some risk remains relative to Edison's operating expenses due to its exposure to the change in natural gas prices, which fuels 20.51% of its electricity generation capacity. Natural gas price have a limited upside potential and are expected to remain within $3-$3.5 per million Btu by the end of 2018 compared to $2.9 currently.
Bottom Line
At $80.74, Edison presents a very favorable buying opportunity with strong fundamentals and technical momentum align. Its strong prospects combined with the management's policy of increasing shareholder value and dividend distribution can be looked on as insurance against any downside.
Disclosure: I/we have no positions in any stocks mentioned, and no plans to initiate any positions within the next 72 hours.
I wrote this article myself, and it expresses my own opinions. I am not receiving compensation for it (other than from Seeking Alpha). I have no business relationship with any company whose stock is mentioned in this article.