Summary
The MLPs are more interesting today than in many years.
Yield is a big reason.
And dispute the dangers, it's worth a closer look.
The ZIRP (Zero Interest Rate Policy) set many investors up for failure, especially in historically high-yielding MLPs (master limited partnerships). The low-rates that other assets offered following the financial crisis helped push investors into MLPs, seeking low-risk, high-yield. Then the bottom fell out of oil prices, causing most major MLPs to tumble and leading to dividend/distribution cuts.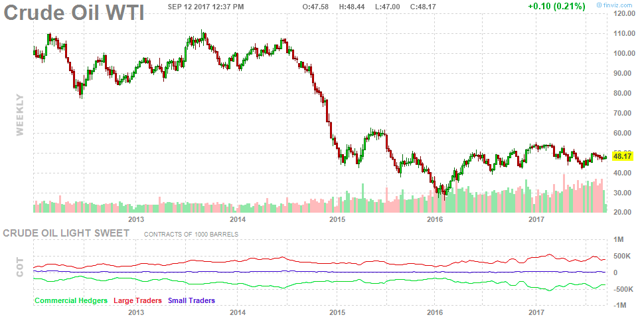 Now that interest rates might be on the rise, is there another washout in MLPs coming - as investors will abandon the few MLPs they do own for safer, and now higher yielding, investments like bonds? Let's add some context. As of the time of the publication of this post, these are some of the yields that we can find in the current market: US 10Y: 2.11%
France 10Y: 0.67%
Germany 10Y: 0.379%
Spain 10Y: 1.467%
SPDR Utilities (XLU): 3.85%
iShares US Real Estate (IYR): 3.99%
SPDR Barclays Capital High Yield Bond (JNK): 5.84%
iShares US Pref Stock Index (PFF): 6.09%
Magellan Midstream Partners (MMP): 5.28%
Energy Transfer Partners (ETP): 11.10%
Kayne Anderson MLP Investment Co. (KYN): 10.11%
Duff & Phelps Select Energy (DSE): 13.27%

MLPs are in italics above, with KYN and DSE considered as MLP "funds," as they consist of a variety of MLPs or MLP-like instruments. All the MLPs above still offer hefty yields, especially compared to bonds, utilities and preferreds. Despite the fallout in oil prices and threat of higher interest rates, there are MLPs worth taking a closer look at especially as many other investors are shunning (read: afraid of) the space.

Investors were 'set-up.'
As mentioned, the MLP index, AMJ (JPMorgan Alerian MLP Index) and its ancestors have gained serious popularity, especially right after the financial crisis as the Fed lowered rates to 0 and yield-starved investors looked for return.

The index nearly tripled from its IPO in 2010 to its peak in the summer of 2014 before its malaise when oil crashed. Most investors were blindsided by the sudden $60 drop in oil prices, but they were also unaware of the inherent risks. To make matters worse, when the dominoes started falling in 2016, these tax advantageous instruments quickly turned into tax nightmares if they filed for bankruptcy or restructured their debt.

For example, when Atlas Resources Partners LP filed for bankruptcy in July of 2016, not only did the stock price fall to 0, but the stockholders were liable for a $900 million debt reduction when the company emerged from bankruptcy. If all this seems a little complicated, that's because it is.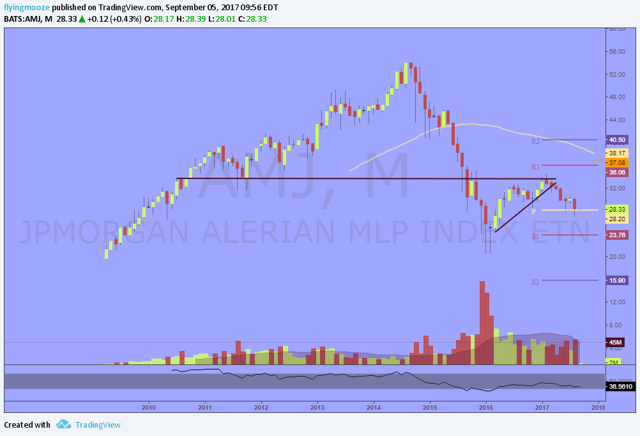 The index more than halved from late 2014 to early 2016. You should consider yourself lucky to have escaped with only a 50% hit. The industry is littered with bankruptcies including Linn Energy, EV Energy, Vanguard Resources, and others. The bigger players like Kinder Morgan (KMI), which hit a 52-week high in 2014 of $49, had to cut their dividend when they hit $11 in 2016 to deal with the mounting pressures. However, today, things seem to have stabilized some.
Today's industry - be studious and you shall be rewarded.
Fast forward to the fall of 2017, and MLPs continue to hover around the depressed levels of the oil crash. The bounce in crude from the mid 20s has been less than impressive, as it has bounced between the low 40s to the mid 50s. Many companies began adjusting their businesses for a bit of a stronger bounce in oil which failed to come, which is why we continue to see dividend cuts such as Plains All American Pipeline (PAA) last month.
Then there's also worries over peaking refined products demand and rising interest rates (which makes other assets more attractive from a yield perspective). But is peak gasoline demand really upon us? Despite all the talk of electric cars, gasoline still powers some 80% of cars on the road and will be the dominant fuel source until at least 2040.

More importantly is the complete lack of common sense from hopeful investors and delusional CEOs. A business as commoditized as energy comes with serious risks, especially given inherent volatility in crude prices. Double-digit yields in a zero interest rate environment is too good to be true, and too much of a fantasy to live up to.

Since the majority of these companies are simply not making any money, their payout ratios are off the charts, and simply too risky to invest in. On another note, the higher the yield, the more likely it is that a dividend cut is still in the mix. DSE is one of the candidates for an eventual dividend cut, as leverage and deterioration in the underlying components continues to weigh.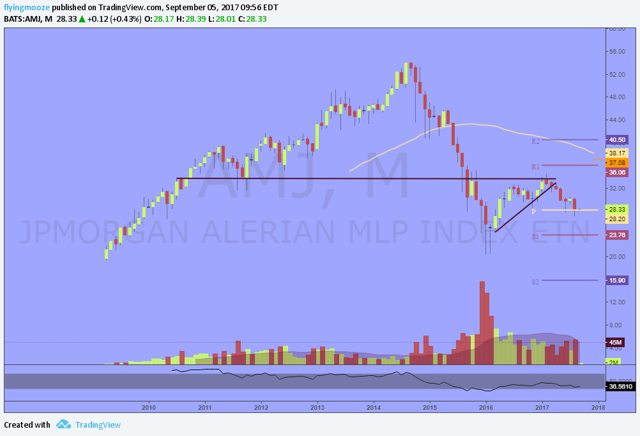 The top pick.
MMP continues to be a favorite in the industry. A healthy balance sheet, a respectable and safe yield of 5.5%, and fee-based operations that keep it generating stable income. I'm concerned about the 6-year trendline that MMP just breached, but MMP is the company to own in this space if we continue to see weakness. I'd love to start adding at 61 while the low 50s looks like an even better long-term opportunity.
It's entirely too early to declare the oil woes behind us, since companies like Chesapeake Energy (CHK) look like their debt loads could cause systemic issues in the high-yield markets, which is mostly comprised of energy. Meanwhile MMP has high-quality assets and stable earnings. It has a simple business model of connecting refineries to gas stations and railroads.

A solid business that MMP runs well, and it has scale that most MLPs don't have, giving it an inherent moat, providing some 40% of the refined products to 7 of the 15 states it operates in. For growth going forward, MMP is shifting away from refined products and focusing on its marine terminal projects and crude - with its pipeline connecting the Permian Basin and Gulf Coast already being a big winner for them. Revenue has remained strong, hitting $1.77B in 2012, then $2.3B in 2014. Now, over the last twelve months, that's up to $2.4B. Operating cash flow over the last twelve months is up to $1.13B - the highest we've seen in five years. Keep an eye on Magellan and stay patient. This is still a dangerous sector.
Disclosure: I/we have no positions in any stocks mentioned, and no plans to initiate any positions within the next 72 hours. I wrote this article myself, and it expresses my own opinions. I am not receiving compensation for it (other than from Seeking Alpha). I have no business relationship with any company whose stock is mentioned in this article.