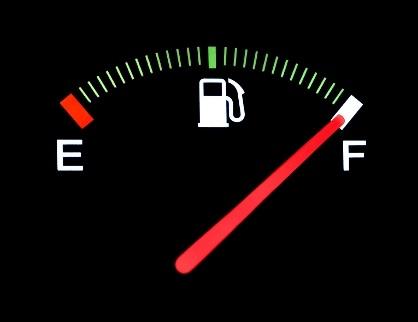 In our public post back in February, we cautioned Seeking Alpha readers against betting on the "storage underfill" thesis for natural gas that appeared surprisingly prominent in the trader community at that time. We argued that forecasts of deep year-on-year storage deficit by November - including those offered by some highly reputed natural gas consultancies - were dramatically off the mark and could lead to overly optimistic price expectations.
As an example of such forecasts, we mentioned a February report by Platts Analytics. The report used Bentek's production estimates to arrive at a 3.4 Tcf estimate for the end of October storage. Specifically, Platts wrote in February:
…production throughout this summer's critical injection period is only expected to grow 1% above last year, Platts Analytics' Bentek Energy data shows. This supply-demand imbalance may spell trouble for natural gas stocks going into next winter ["stocks" means "inventories" in this case, not equities - RZ].

According to the latest Platts Analytics projections, working gas storage levels are expected to rise to just 3.4 Tcf at the end of injection season [emphasis is mine - RZ]. That is 12% below the corresponding level last year, 5% below the 5-year average, and the lowest ending-October level since 2008.
Platts's 2017 storage forecast, which referenced Bentek among sources, is the dark-purple curve on the graph below. The 2017 curve was shown as tracking far below the light-purple 2016 curve.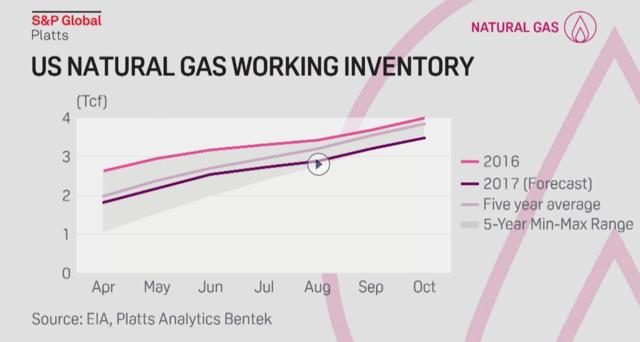 The implications for natural gas prices were quite significant, in our view. Platts's model, for instance, implied an extreme ~0.6 Tcf year-on-year underfill at the end of injection season, despite the abnormally warm 2016/2017 winter season. Most importantly, the forecast appeared to imply slow production growth going into the new annual cycle for natural gas.
The market was likely to expect a significant increase in demand during the new November 2017-November 2018 natural gas year, we argued (barring a scenario of a third in a row abnormally warm winter). The combination of the low storage projections and slow production growth effectively implied by such projections - going into a year when demand was expected to show a big increase - predicated a highly favorable price environment for natural gas. Premium prices for an extended period of time would have been needed to stimulate an acceleration in production.
However, in our view, such rosy scenarios were unattainable from a macro perspective, regardless of the weather pattern during the summer season. We argued that storage was highly unlikely to end the season with a significant underfill. Moreover, we saw a reasonable probability of storage being full or almost full by November. In our view, a 3.4 Tcf end-of-season storage outcome was near-impossible.
Please note that Bentek and Platts are sister companies owned by S&P Global. Both are highly reputed. Their services are used as sources of primary data and analysis by many professionals in the industry.
We expressed a concern that natural gas traders relying on the "underfill" thesis - which appeared surprisingly prominent, despite being blatantly unrealistic - were vulnerable to a disappointment.
In retrospect, production has proven somewhat slower to ramp up than we initially estimated, but the shape of the ramp-up has been in line with our February forecast. As a result, we have adjusted our projections on the supply side lower by ~100 Bcf to reflect the actual production volumes.
In the meantime, summer cooling demand disappointed in August and early September, leading to a comparable revision to our demand projections.
With storage at 3.22 Tcf on September 1, the "underfill" thesis may still find some believers. Our model, however, leaves no room for a significant deviation from what we consider the economic norm for storage: this year, storage is likely to end the season almost full (or, possibly, full, subject to October-November weather). This is exactly in line with our initial estimate from February that we have discussed continuously with OIL ANALYTICS subscribers throughout the year.
We define "full" as 3.95-4.0 Tcf.
About OIL ANALYTICS
OIL ANALYTICS remains one of the most active offerings on Seeking Alpha's Marketplace, with 400+ exclusive materials posted for its members since the beginning of this year alone (a total of over 1,000 non-public materials available to members).
Our macro and company-specific views are continuously illustrated in our Model Portfolios and Best Stock Ideas modules.
To illustrate some additional aspects of our work, through our analyses OIL ANALYTICS more than once accurately anticipated technical corrections in crude oil and technical corrections in natural gas, as well as the "bounces" that followed.
Disclaimer: Opinions expressed by the author in materials included in Zeits OIL ANALYTICS subscription service or posted on Seeking Alpha's public site are not an investment recommendation and are not meant to be relied upon in investment decisions. The author is not acting in an investment, tax, legal or any other advisory capacity. The author's opinions expressed herein address only select aspects of potential investment in securities of the companies mentioned or commodities and cannot be a substitute for comprehensive investment analysis. Any analysis presented herein is illustrative in nature, limited in scope, based on an incomplete set of information, and has limitations to its accuracy. The author recommends that potential and existing investors conduct thorough investment research of their own, including detailed review of the companies' SEC filings, and consult a qualified investment advisor. The information upon which this material is based was obtained from sources believed to be reliable but has not been independently verified. Therefore, the author cannot guarantee its accuracy. Any opinions or estimates constitute the author's best judgment as of the date of publication, and are subject to change without notice. The author explicitly disclaims any liability that may arise from the use of this material.
ETFs: UNG, DGAZ, UGAZ, BOIL, GAZ, KOLD, UNL, DCNG
Disclosure: I/we have no positions in any stocks mentioned, and no plans to initiate any positions within the next 72 hours.
I wrote this article myself, and it expresses my own opinions. I am not receiving compensation for it (other than from Seeking Alpha). I have no business relationship with any company whose stock is mentioned in this article.