With the S&P 500 (SPY) making new highs, one might expect that U.S. stocks are broadly performing strongly. There is one corner of the U.S. equity market, though, that has continued to generate strongly negative returns. In a risk-on environment, one might expect small caps and high beta stocks to outperform; however, domestic small-cap high beta stocks have delivered very weak returns in a strong year for equities globally.
In yesterday's article, I demonstrated the long-run outperformance of low volatility small-cap stocks (XSLV). In that same article, I showed that the highest beta small-cap stocks have generated negative returns in a period stretching back to Kennedy's Camelot.

Small-cap high-beta stocks have again lagged the market in 2017. The graph below depicts the total returns of the S&P Smallcap 600 High Beta Index, which captures the performance of the 120 highest beta stocks in the S&P 600 Index (IJR) versus the S&P 500 so far this year.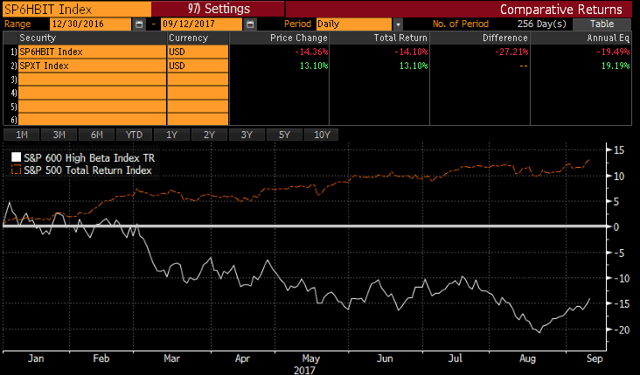 Source: Bloomberg, Standard & Poor's
Not only has this trade lagged in 2017, but small-cap high beta stocks have underperformed across long time intervals. Small-cap stocks have outperformed large-cap stocks. Low volatility small-cap stocks have outperformed more still. The outperformance of small-cap stocks has been in spite of the high beta portion of the market as graphed below.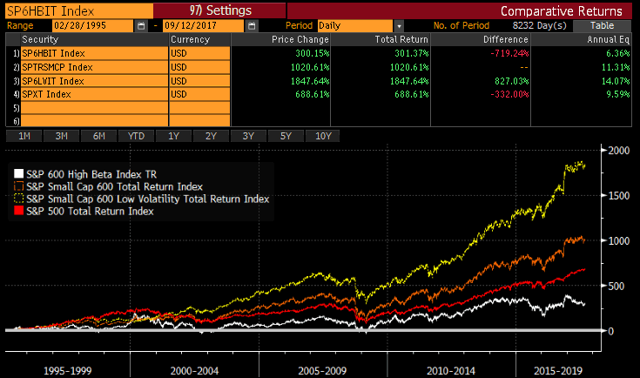 Source: Bloomberg, Standard & Poor's
It has been a strong year for stocks, but investors in high beta small-cap stocks have generated negative returns. I hope this article illustrates that this underperformance is the rule rather than the exception.
Disclosure: I am/we are long IJR,XSLV,SPY. I wrote this article myself, and it expresses my own opinions. I am not receiving compensation for it (other than from Seeking Alpha). I have no business relationship with any company whose stock is mentioned in this article.