Overview
In Step 1 of this series, I used the Dividend Aristocrats list as a starting point in building a foundation for a long term dividend growth portfolio. For Step 2, I am going to use Dave Fish's Dividend Champions list. Actually, I'm going to use the Dividend Champions, Dividend Contenders, and Dividend Challengers lists. Dividend Champions are similar to Dividend Aristocrats in that they have seen 25+ years of consecutive dividend increases without the requirement of being a S&P 500 stock. Dividend Contenders have seen 10+ years of dividend increases and Dividend Challengers have seen 5+ years. The stocks I'm going to be focusing on within these three lists should be obvious based on the title of the article. I am going to be looking at utility stocks.
Utility stocks are often thought of as defensive investments, but they can offer significant returns. Looking at the charts below, you can see that the Dow Jones Utility Average (which tracks the performance of 15 prominent utility companies) has performed slightly better this year and looking at the past three years has performed comparable to the market in general.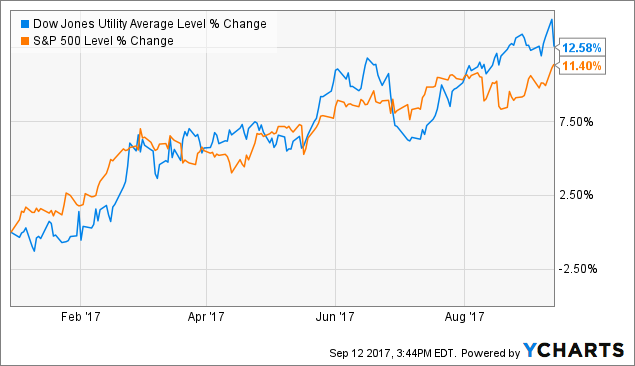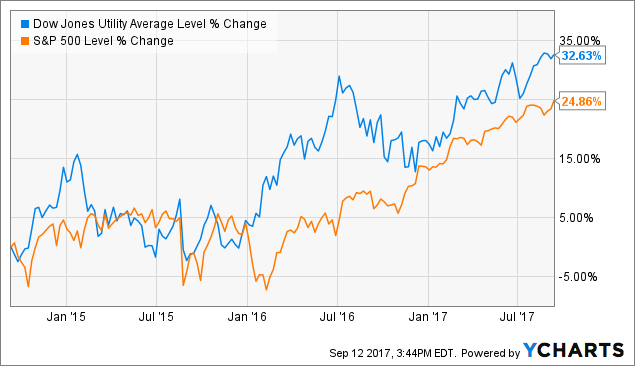 And while utilities are considered defensive investments, no investment is fool proof and this can be seen by past poor performances of the Dow Jones Utility Average. One of the worst of these performances was between 1965 and 1974 when the average went from a 153.32 level to a 57.93 level. It currently sits at a 741.56 level.
Champions, Contenders, and Challengers
There are 56 utility stocks within the Dividend Champions, Contenders, and Challengers lists. When looking at a large number of stocks, I have found that using YCharts Fundamental Score and Value Score calculations has proven to be a useful tool in finding the strongest investment options. To limit the number of stocks to review further, I am only taking into consideration stocks that have a combined fundamental/value score of 16 or higher. These stocks include:
By choosing stocks with only high fundamental/value score averages, I reduced the number of potential investment options from 56 to 18.
Dividend Growth
Because utility stocks are considered defensive in nature and I believe that each of these stocks are solid companies overall based on their fundamental and value scores, to limit the list of possible investments even further I am only going to consider the 10 stocks that have seen the highest dividend growth over the past five years. These stocks include:
WEC Energy Group - 73.33% growth
NextEra Energy - 63.75% growth
Idacorp - 44.74% growth
NorthWestern - 41.89% growth
UGI - 38.89% growth
CMS Energy - 38.54% growth
Eversource Energy - 38.48% growth
Sempra Energy - 37.08% growth
Xcel Energy - 33.33% growth
DTE Energy - 33.06% growth
From Ten To Nine
Looking at the chart below, you can see that each of the ten remaining stocks have all performed well over the past decade (each averaging double digit yearly price appreciation during that stretch) outperforming the S&P 500 during this time by a significant margin.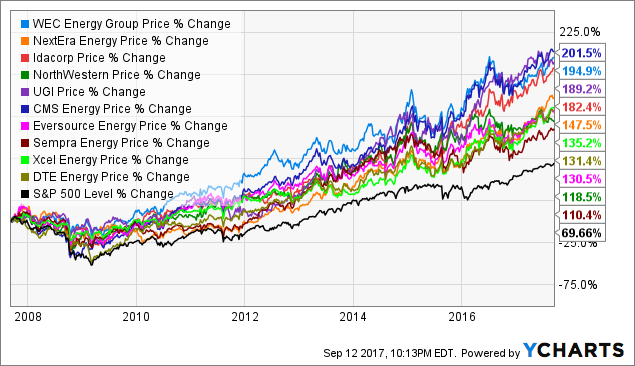 While each of these stocks are overall fundamentally sound and have performed well compared to the market in general, there is one stock that I am removing due to its high debt level and high valuation compared to its peers. Looking at the charts below, you can see that CMS's debt to equity level is significantly higher than the other nine stocks and its PE ratio is higher as well.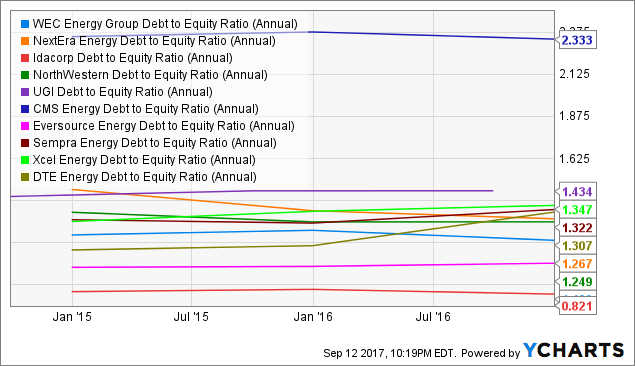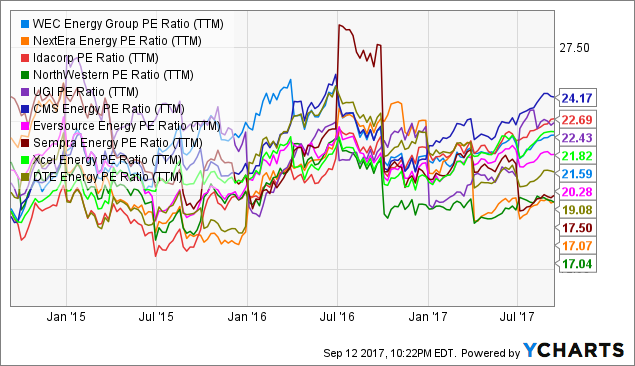 Out of the nine remaining stocks, I looked at recent news of each to see if there was any reason to remove it as a solid long term investment option for dividend growth investors.
WEC Energy Group
WEC currently yields over 3% and during its last quarter, beat both revenue and earnings estimates. With more customers and a proven ability to control costs, WEC appears well positioned to deliver significant returns to dividend growth investors.
NextEra Energy
NextEra also beat revenue and earnings estimates in its previous quarter. The company made Morgan Stanley's Byrd's top 5 Utilities list, but was the only one to be on there for two different reasons: (1) cash flow generation and (2) above average EPS growth.
Idacorp
Idacorp missed its earnings estimates its last quarter, and has seen relatively low earnings growth over the past several years (6.45% over the past three years). When you compare this to a company like NextEra and it's over 90% earnings growth over the past three years, it's hard to make the case that Idacorp deserves its 22.69x PE ratio. Because of this, it is one stock I am not including in my final recommendation for long term dividend growth investment options.
NorthWestern
NorthWestern also missed its most recent earnings/revenue estimates, but unlike Idacorp, it has seen significant earnings growth over the past several years (24% growth over the past three years). One problem is that NorthWestern faces ongoing challenges with regulations. Signs of this come not only from the downgrade from Williams Capital due to these concerns, but also from the company itself during its last earnings call.
Speaking to that point, and one thing I mentioned in the past, we continue to speak to this on a going-forward basis as long as we continue to see headwinds from a regulatory standpoint, we are anticipating to be at the lower end of our 7% to 10% long-term earnings guidance range
While I do think NorthWestern remains a solid company, and I think its current valuation puts the stock at an acceptable level of risk. While it is definitely a stock to keep an eye on, I still think it is worth considering as a long term option.
UGI
I look at UGI as very similar to NorthWestern in that it also missed recent revenue/earnings estimates, and it also faces specific challenges. While NorthWestern's challenges relate to regulatory factors, UGI's challenges are market conditions.
Additionally, the company experienced declining LPG costs in Europe in the prior year that provided a temporary margin increase, a trend which reversed in this quarter as propane and butane costs in Europe were 22% and 28% higher, respectively, than the prior-year levels.
The difference is that NorthWestern has had stronger earnings over the past three years and while its revenue growth has been slow (5.93%), UGI's has been in a downward spiral during that stretch.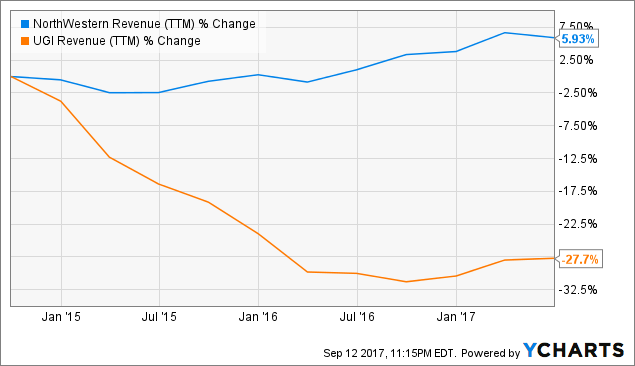 Because of this, I can't recommend it as a strong long term investment option, especially when you take into its low yield compared to many other utility stocks.
Eversource Energy
The company beat its recent earnings estimates and is well positioned to deliver on its long term earnings guidance.
We continue to project 2017 earnings of $3.05 to $3.20 per share, a level that is consistent with our 5-7 percent long-term EPS growth rate.
Sempra Energy
Sempra beat its recent earnings estimates by a significant margin and is closer to completing its proposed merger agreement with Energy Future Holdings. I have no reason to believe Sempra will not continue delivering nice long term results to investors moving forward.
Xcel Energy
Xcel also beat its recent earnings estimates and reaffirmed its ongoing earnings guidance. Some recent developments that will help Xcel Energy succeed moving forward include:
The Minnesota Public Utilities Commission recently approved Xcel Energy's plans for seven new wind farms in the Upper Midwest, part of the largest wind energy expansion in the country, and the Colorado Public Utilities Commission approved the settlement regarding the company's proposal to deploy new and innovative technologies on the distribution grid.
DTE Energy
DTE had a very strong recent quarter beating both revenue and earnings estimates. This caused the company to raise its future guidance. With a yield of just under 3% and strong dividend growth, DTE remains a solid long term investment option.
Conclusion
Out of 56 Utility stocks within the Dividend Champions, Contenders, and Challengers lists, I have selected seven especially worthy of installation into a long term dividend growth portfolio. While these stocks do pose risks, especially in an environment of possible future interest rate increases, I believe they are great long term investment options for dividend investors. These stocks are:
WEC Energy Group
NextEra Energy
NorthWestern
Eversource Energy
Sempra Energy
Xcel Energy
DTE Energy
When combined with the eight foundation stocks from Part 1 of this series, I believe that these 15 stocks serve as a great beginning to a successful long term dividend growth portfolio. The next article in this series will detail Step 3: Forging the Frame of your portfolio.
Because this series of articles deals with dividend growth investing, I feel that focusing on stocks that have a strong history of raising dividends consistently is the only way to build such a portfolio, the remains steps (articles) will focus on different subsets of the Dividend Champions, Contenders, and Challengers stocks. As always, I suggest that individual investors perform their own research before making any investment decisions.
Disclosure: I/we have no positions in any stocks mentioned, and no plans to initiate any positions within the next 72 hours.
I wrote this article myself, and it expresses my own opinions. I am not receiving compensation for it (other than from Seeking Alpha). I have no business relationship with any company whose stock is mentioned in this article.