Rifco - Small-Cap Auto Lender With Heavy Insider Ownership Trading At A Significant Discount To Fair Value
Summary
Strong management and improving fundamentals.
Management holds 23% of the Company.
Estimated net fair value per share of $3.61.
Company is a prime acquisition target.
Investors have dumped Rifco shares (CVE:RFC) after the Company reported a decline in loan originations and an increase in credit losses. Rifco shares are down 79.8% from their peak in 2013. I believe investors have over-sold this small cap, Alberta based, auto lender.
The thesis for Rifco is straightforward. Rifco presents investors with an asymmetric downside/upside bet. The Company has little downside with significant upside potential. Rifco's downside is protected by a strong management team with heavy insider ownership, combined with improving business fundamentals. The upside of Rifco stems from the significant discount to fair value and acquisition potential.
Business Overview
Rifco has been in the auto financing market since 2002, providing auto loans to customers with sub-prime credit ratings through its dealership partners. In Canada this is a $4 billion market dominated by two large banks, TD and Scotiabank. Rifco aims to compete in this market by providing a higher service level to its dealership partners than can be provided by the larger banks. Due to its smaller size the Company is often able to assign a specific account manager to its dealership partners. This results in faster response times and greater flexibility for the dealerships' customers (the individuals purchasing the vehicles). Rifco benefits from these closer working relationships since its dealership partners are more likely to choose Rifco to provide the financing to its customers where possible. Rifco generates income primarily through interest on its loan portfolio, as well as through securitization proceeds.
Investment Thesis
1. Strong management and improving business fundamentals
Over the last several years' management has had an outstanding track record. Rifco has been profitable every year for the last 11 years, including during the 2008-2009 recession. In its peak years from 2012 to 2014 the Company was generating returns on equity between 44%-61% (Source: Capital IQ). Return on equity has since declined to around 9% (Source: Capital IQ) due to a decline in the Alberta economy and an increase in competitive pressures (which management claims to be due to unsustainable pricing of risk by competitors). Despite these recent developments management appears to be managing the business rather well. Since 2015 management has significantly reduced the percentage of Alberta based loans its portfolio. Alberta based loans previously comprised half of the loan portfolio, while today these loans comprise only a third of the loan portfolio. In addition, loan originations appear to be increasing once again, in 2017 loan originations were $100.1M for the year and $29.4M in Q1 2018 (approximately $117.6M annualized) (Source: Rifco Financial Reports).
2. Management's interests are heavily aligned with shareholder interests
Management currently holds 23% of the Company (Source: SEDI Filings). The CEO, Bill Graham, as well as other directors and officers of the Company not only hold a stake in the Company in their personal accounts, but also in the accounts of their children and spouses through RESPs, spousal RRSPS and spousal TFSAs. The heavy vested interest by management significantly reduces the risk of management taking on riskier loans when their competitors are pricing risk more aggressively. In the short run such a strategy results in lower loan originations and a reduction in market share, but in the long-run I believe this strategy will prevail as competitors begin to feel the after effects of underpricing risk.
3. Rifco's reported book value per a share is severely understated and the Company is actually trading a significant discount to net fair value per share.
The following graph shows the historical share price compared to the reported net fair value per share (NFVS) and reported book value per share: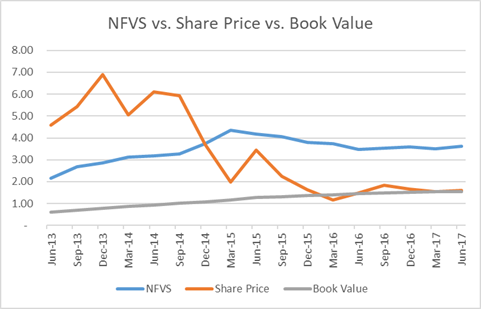 (Source: Rifco Financial Reports)
Accounting standards require Rifco to carry all finance receivables for its auto loans, including those that have been securitized, on its balance sheet. These finance receivables are not recorded at their fair market value, which has resulted in the reported book value of the Company being severely understated (see the above graph for the NFVS compared to Book Value). As at June 30, 2017 the Company's reported Book Value per share was $1.55, while management's reported net fair value per share (NFVS) was $3.61.
The NFVS is management's best estimate of the Company's equity value today. Accordingly, I will compare the NFVS to the Company's share price. As shown in the above graph Rifco began to trade below NFVS after September 2014 (from June 2013 to September 2014 the Company was actually trading at approximately a $1.94 to $4.05 per share premium to NFVS). Prior to September 2014 Rifco was picked up by many growth investors for the significant growth the Company had been experiencing and its high ROE. Naturally, these same investors were quick to dump Rifco when the Company began to report a decline in annual loan originations and an increase in credit losses. The result was a collapse in the Company's share price. I believe this sudden sell off by investors caused Rifco to be over-sold.
Today investors can pickup Rifco for only $1.41 per share, which implies some pretty significant upside if management's reported NFVS is accurate. The two key risks an investor faces are:
A. Errors in management's reported NFVS, causing the NFVS figure to be overstated: At the current trading price of $1.41 Rifco provides a significant level of margin of safety for any overstatement in management's reported NFVS, while still providing a handsome return. At the current trading price of $1.41 Rifco is trading at a 156.0% discount to management's reported NFVS! Even fairly sizable errors in management's reported NFVS would provide a decent return to investors.
B. Future value destruction: This does not appear to be a major concern given management's heavy insider ownership and the recent performance of the Company in fiscal 2017 and Q1 2018.
4.) Rifco is a prime acquisition target
The industry has seen numerous acquisitions in the last few years. The most recent of which occurred in 2014 when Banco Santander S.A. purchased Carfinco (another Alberta based sub-prime auto lender) for 4.1x book value (Source: Capital IQ), while Rifco currently trades at only 0.93x book value. In multiple investor presentations management has made note of other transactions which have occurred in the industry and the significant premium paid (including the acquisition of VFC by TD in 2006 and the acquisition of Travelers Leasing Corporation by Scotiabank in 2007). This combined with the fact that management holds 23% of the Company leads me to believe there maybe a possibility for investors to cash-out along side management at a significant premium in the future through an acquisition by a competitor.
Risks
Management's reported NFVS is significantly overstated due to estimation errors (including future credit losses and prepayments).
Persistent weakness in the Alberta economy and the Company not being able to adequately diversify its loan portfolio.
Catalysts
Industry consolidation.
Continued improvement in business fundamentals as the Alberta economy recovers from the oil downturn.
Conclusion
Rifco is trading at a significant discount to net fair value and maybe a prime acquisition target, providing investors with some significant upside potential. The downside seems to be adequately protected through a strong management with heavy insider ownership and recent trends in business fundamentals. The catalysts for value realization appear to be medium to long-term, making this investment highly rewarding for those with a longer term investment horizon.
Disclosure: I am/we are long RFC. I wrote this article myself, and it expresses my own opinions. I am not receiving compensation for it. I have no business relationship with any company whose stock is mentioned in this article.