As Hurricane Harvey and Irma dominated the news headline in the past few days, it made me take a closer look at if my family and I were prepared to handle a natural disaster if it hit here in California. It was a definitely a water cooler talk at work the past a few days. The key points I took away from the discussion with fellow colleague were that my family has to make sure to have plenty of drinking water or water in general, food and clothing. Now, there are plenty of others items that would come in handle during a disaster and that can be found here. I highly recommend fellow Seekingalpha readers to review your current living condition and take necessary measures to prepare. You never know when the next disaster can hit you and your love ones. In addition to preparing for the next disaster to strike, it caused me to think critically about how does preparing for a natural disaster relate back to investing in great companies. Of the three items everyone would need during a disaster, I researched companies that I believed would be great companies to buy during or before a natural disaster strikes. The criteria I looked at were
Stalwart company - Company that have been around 25 plus years.
Dividend income - Strong dividend track record for the last 25 years.
Valuation & Dividend Growth Potential
Bonus Criteria - Why this company

over its peers.
The three companies that meets the criteria above were Tyson Foods (TSN), Aqua America (WTR) and Wal-Mart (WMT). In this article, I will provide data and research as to why these were the best three companies that meet all the criteria listed. The goal of this article is to provide you, the reader, with data points of companies that would performed well before or when a natural disaster strikes.
Tyson Foods: Leader in Meat Producer
Although there are so many selection of choices for meat and food nowadays, it would be a safe bet that you had a Tyson product at some point in your life. Tyson Foods is the current leader in the U.S for meat producer ranging from chicken, beef to pork. The following figure and statistic describe an overall summary of how big Tyson Foods are and their impact on the meat producer market share.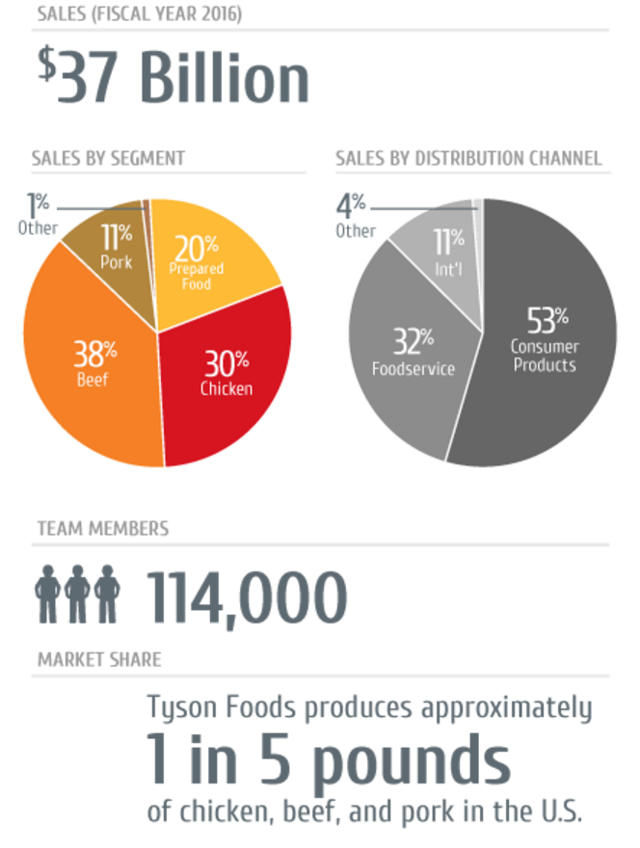 Source: Tyson Foods
Figure 1 - Tyson Foods Overview
As shown by the figure above, Tyson Foods has a dominate position in the meat producer in the U.S but that also hasn't stopped them from expanding into more territory such as China and emerging markets. From their latest annual report in 2016, they said " we sold products in approximately 115 countries in fiscal 2016. Major sales markets include Canada, Central America, China, the European Union, Japan, Mexico, the Middle East, South Korea and Taiwan." Now, let's examine how this company stood out to the rest of the competition in the food industry and exceeded the criteria listed earlier in this article.
Stalwart company - Company that have been around 25 plus years.
Tyson Foods is an established company that have been around since 1935 and debut on the New York Stock Exchange on January 13, 1978. Tyson Foods has a market capitalization of roughly 23.49 Billion which characterize it has a large cap company.
2. Dividend income - Strong dividend track record for the last 25 years.
Per Yahoo Finance dividend tracker of Tyson Foods here, the company have been paying its shareholders a dividend since 1987. Although the company is not a considered a dividend aristocrats, the company has rewarded their long term shareholder consistently with income.
3. Valuation & Dividend Growth Potential
The potential in Tyson Foods valuation and dividend growth lies within the need of the overall population demand for meat product. Based on the fact that the company has been aggressively acquiring its competition and efficiently running their operation, it safe to conclude that the company will continue to perform reasonably well. It also helps that Wal-Mart is considered to be their biggest customer with Wal-Mart accounted for 17.5% of their sales in 2016, If we look at time of crisis or even just normal every day activities, everyone need meat since majority of us need meat to live comfortably and Tyson Foods are positioned to meet the need of the consumer. Taking a step back, one can conclude that Tyson Foods has a large market to expand not only in more supermarkets but restaurants and emerging markets. No matter what happens in the world whether it is a recession or a crisis, you always going to need food.
4. Bonus Criteria - Why this company over its peers.
Last but not least, why I chose Tyson Foods over other food companies such as General Mills (GIS), Hormel (HRL), Campbell Soup (CPB), J M Smucker Company (SJM) and others. While the other companies listed are excellent food companies, Tyson Foods stood out against the rest because historical the company has outperformed each of its peers as shown in the chart below.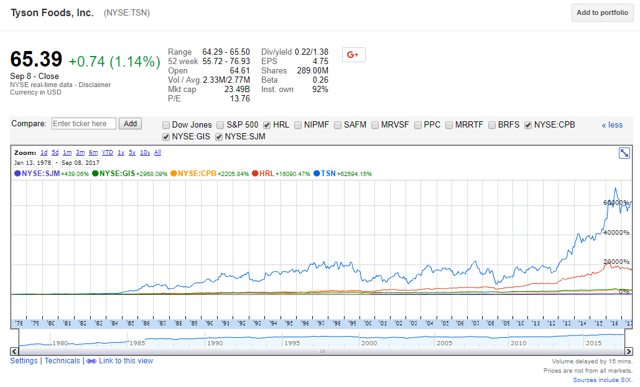 Another reason why Tyson Foods is a unique company compared to the others is because of what they do which is a meat producing company. They will stay in business as long as they are able to meet the demand of the consumer and adjust to the changing food demand such as producing organic food. As the market leader, they are able to compete with its competitors through the strategies they set as a company. From their 2016 annual report, those strategies are:
identifying target markets for value-added products;
concentrating production, sales and marketing efforts to appeal to and enhance demand from those markets; and
utilizing our national distribution systems and customer support services.
Although the whole food industry are going through a downturn currently due to Amazon and their acquisition of Whole Foods in addition to not meeting quarterly earnings, the industry as a whole have the potential to recover due to event such as natural disaster or changing economy resulted a recession. Historically, food companies are recession proof due to their demand during recessions.
Aqua America: A Steady Water Utility Company
Next on the list of item that a person would need during a natural disaster would be the access to water and/or drinkable water. That takes us to take a look at Aqua America and how this company is the best company in its industry to meet all criteria listed.
Stalwart company - Company that have been around 25 plus years.
Aqua America has been around since the 1886 and it is a water and wastewater utility company that serves about 3 million people along the east coast. This means that they are responsible to make sure that water are flowing through your house and eventually take wastewater away as well as replacing and upgrading water system. Their IPO date was June 5th 1981 and they have a market capitalization of 6 billion dollars. Although they are not considered a large cap company, they have perform well over since the recession by returning a total of 178% and have a strong track record as a utility company to continuously grow and pay their shareholder dividend.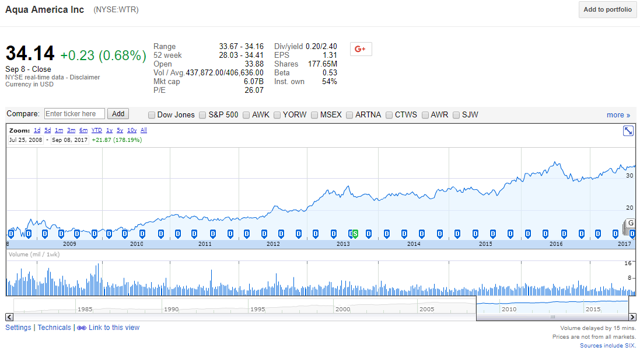 Source: Google Finance
2. Dividend income - Strong dividend track record for the last 25 years.
Aqua America is not considered a dividend king but they have been paying a dividend since May 1987. With the consistency in dividend payment and the return they have shown, this is a double win for both a growth investor as well as a value/dividend investor. Another added bonus to WTR is that it current holds the highest dividend yield with 2.4 as compared to its peers.
Table 1 - Dividend Yield and P/E Ratio for Water Utility
| | | | |
| --- | --- | --- | --- |
| Company | Market Cap | Dividend Yield | P/E (TTM) |
| American Water Works (AWK) | $14.6 billion | 2% | 30.96 |
| Aqua America | $6.07 billion | 2.4% | 26.07 |
| California Water Service (CWT) | $1.81 billion | 1.9% | 31.39 |
| Middlesex Water (MSEX) | $636 million | 2.2% | 29.55 |
| Connecticut Water (CTWS) | $654 million | 2.1% | 28.28 |
| York Water (YORW) | $431 million | 1.9% | 35.85 |
3. Valuation & Dividend Growth Potential
Aqua America have great valuation and dividend growth potential based on President Trump's infrastructure plan that could help to promote updating old water system. The company could also ramp up their acquisition of smaller water utility company to expand their market niche.
4. Bonus Criteria - Why this company over its peers.
Lastly, the reason why I chose WTR over the rest of the water utilities goes back to looking at the valuation of the stock. From the P/E ratio table mentioned above, WTR has one of the lowest P/E ratio compared to its peers and highest dividend yield to go along being the 2nd biggest water utility in the U.S. This give this stock plenty of potential to not only grow in the future but also reward their shareholder handsomely.
Wal-Mart: Retail Stalwart Company
Last but not least, when a natural disaster about to hit or even to when someone just need to run to the store to pick up a quick item, Wal-Mart is the retail you can put your money behind. Whether you need to stock up on water, food, clothes or first aid kit, Wal-Mart is a reliable store you can count on to have these items. While there are much hype around Amazon and their Amazon Now where you get the item within a few hours, sometime in preparing for a large storm, hurricane or tornado, time is crucial, and you need access to the item right away, Wal-Mart is the store people tend to turn to. Let's take a look at why Wal-Mart meet the criteria very well.
1. Stalwart company that have been around for more than 25 plus years
Wal-Mart has been around since the July 1962 and the company went public on October 1970. The company has a capitalization of 237 billion. Wal-Mart has been slowly growing for the past 25 years and rewarded their shareholder handsomely. They have been in a heated battle with Amazon to win over customers. They have been proactively improving and enhancing their shopping experience to attract customers. Since 2008, the company has returned a total of 61.68% and performed well during recession.
2. Dividend income for investors for more than 25 plus years
In addition to being a stable growing company, Wal-Mart also has a strong dividend history. They have been paying shareholder a dividend since March 1974.
3. Valuation & Dividend Growth Potential
The valuation and growth potential with Wal-Mart lies upon how they are able to advance their shopping experience to match Amazon (NASDAQ:AMZN). I believe they will be able to do so based upon their recent improve not only in their online shopping experience but also by offering new free 2 day shipping. Over the past recent years, they have been aggressive in how they compete with Amazon. First with the acquisition of Jet.com to now offering exclusive sales for items shipped to store. Through this, Wal-Mart is taking the battle to Amazon by continuing to innovation all while sticking to their core values of being a brick and mortar retail store their customers known them for. The true advantage with Wal-Mart that Amazon cannot compete with is the positive of having store available for people to go to when they need something right away. Although the trend is moving toward everyone shopping online, when it comes time of emergency or natural disaster, customer will not wait for items that they need.
4. Bonus Criteria - Why this company over its peers.
The reasons why chose Wal-Mart over Amazon, Costco (NASDAQ:COST) and Target (NYSE:TGT) are due to few reasons such that Wal-Mart is a company that I have seen continuously innovate to keep up with Amazon innovation. Wal-Mart Innovates by offering free 2 day shipping, discounted item that are shipped to store to more recently testing a new shopping experience through their app to eliminate checkout stand. When comparing P/E ratio between Wal-Mart to Amazon, Costco and Target, Wal-Mart has a reasonable P/E ratio of 19 while Costco score 27 and Amazon score 247. Target scores a lower P/E ratio with 11 but their future outlook appear to be bleak with recently cutting prices on thousands of items.
Conclusion
Due to the recent hurricane that have hit the U.S, it is wise of us to take a look at our own living situation and assess if we are ready and prepared for a natural disaster to hit. The three items I believed we need to prepare for a natural disaster are food, water and clothing. In the investment world, the companies that are best position to help everyone during these times are Tyson Foods, Aqua America and Wal-Mart. Through the criteria I set and research I found, these three companies set themselves apart from the rest and will continue to stay in business for a long time. I recommend readers to investigate these companies more in depth and see if you agree with my assessment on whether or not these companies deserve to be in your investment portfolio. Last but not least, many expert recommends for us to be prepare now so that we are well equipped to handle a natural disaster when they strike.
Disclosure: I/we have no positions in any stocks mentioned, and no plans to initiate any positions within the next 72 hours. I wrote this article myself, and it expresses my own opinions. I am not receiving compensation for it (other than from Seeking Alpha). I have no business relationship with any company whose stock is mentioned in this article.