Opinion seems mixed on whether this week's Apple iPhone event was a disappointment or a roaring success. I won't enter that debate as much of it comes down to a matter of personal preference and taste.
Instead, I prefer to look into how iPhone events actually affect Apple prices. Is there a pattern? And more importantly, is there a trade?
Previous releases
Apple follows a fairly regular schedule for new iPhone releases. New models launch at two-year intervals, with upgrades in the intervening years. This was the norm until the iPhone 8 event this year.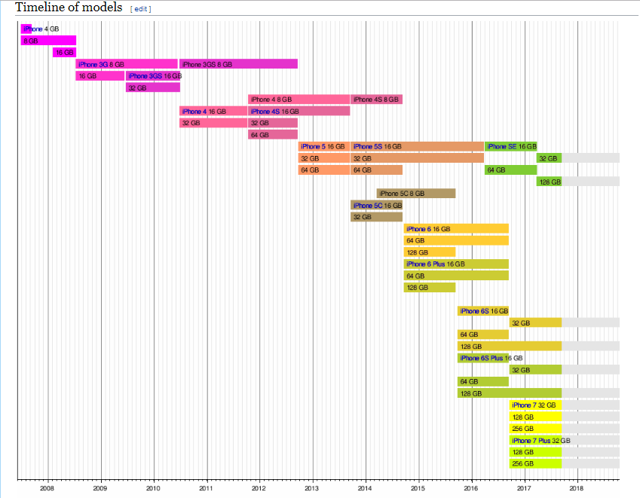 Source: Wikipedia
But this doesn't tell us much from an investing perspective. An overlay of price reveals much more.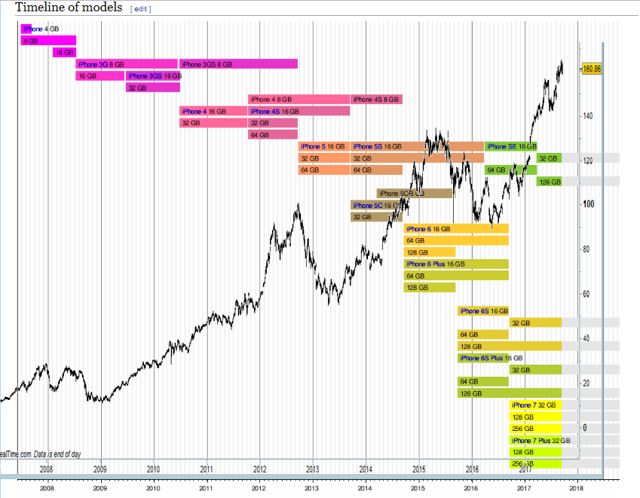 Is there a pattern? Does the price action leading into and following a major release have any repeating characteristics?
Well, you could say Apple usually rallies into releases, and more often than not rallies afterwards too. But then again, Apple usually rallies anyway. There is very little edge to be had from this information.
But perhaps we are looking at things the wrong way round. The reaction to an event is decided by two things: obviously the event itself is a major catalyst (I will leave readers to research the many good articles on this subject themselves), but of equal importance is the price action and positioning leading into the event. This latter point is precisely why we get 'sell the news' type of events. If prices have rallied significantly and everyone is already long, who is left to buy and carry prices higher?
In other words, we cannot look at each event and expect a similar outcome when the context is completely different.
A closer look
Buying AAPL in early May leading into a September event worked well in 2012, 2014, 2016 and 2017. In fact, buying 3 months before an iPhone event and selling on the event day has never lost money. Will it work again? Well, nothing is guaranteed in trading, but it is logical for there to be a lead in rally as excitement builds, and it seems probable this will repeat.
But what about after the event?
AAPL is now nearly 100% higher than the 2016 lows and pushing new all-time highs. For this reason you can't really compare the iPhone 8 event to the iPhone 7 unveiling in 2016 which came when AAPL was only 20% off the lows and trying to recover from a bear market. The reactions are likely to be different in the medium term.
The price context of the iPhone 8 event is most similar to iPhone 5, 6 or even 4, which all took place after significant rallies.
Perhaps the closest comparison comes from 2012, when AAPL rallied strongly into the September 12th iPhone 5 event.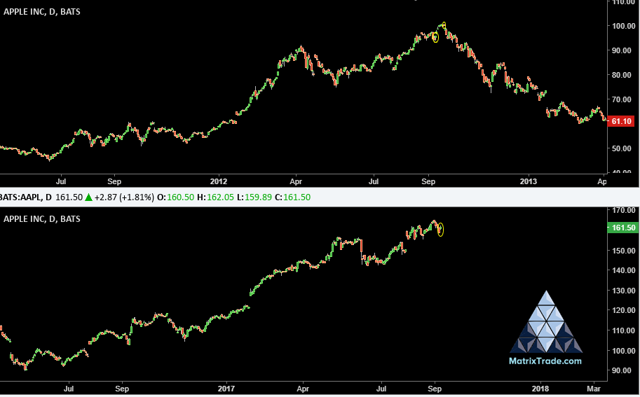 Even the very recent price action is comparable, with the rally leading to consolidation into the actual event day.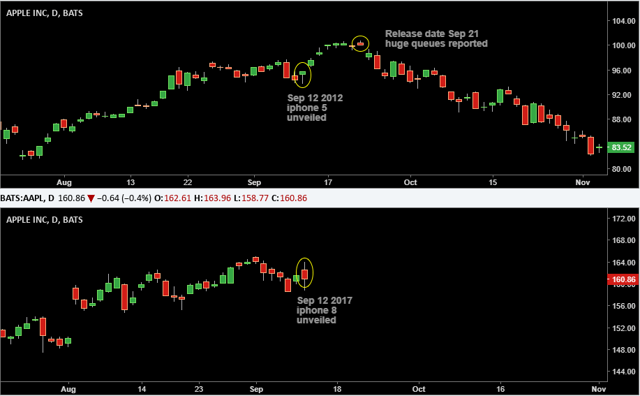 I think it is worth monitoring a move into any new highs and the release date of September 22nd. It's possible prices will take a similar path and the hype will lead to another top.
The Supercycle
The success of the iPhone 6 coined the term 'supercycle' to describe a boom in replacement demand. Apple is hoping this supercycle will repeat and boost iPhone 8 sales, but there are skeptics.
When the iPhone 6 was announced on September 9th, 2014, it had rallied for around 16 months and 80% from the 2013 lows. This is practically the same duration and size as the current rally at yesterday's close.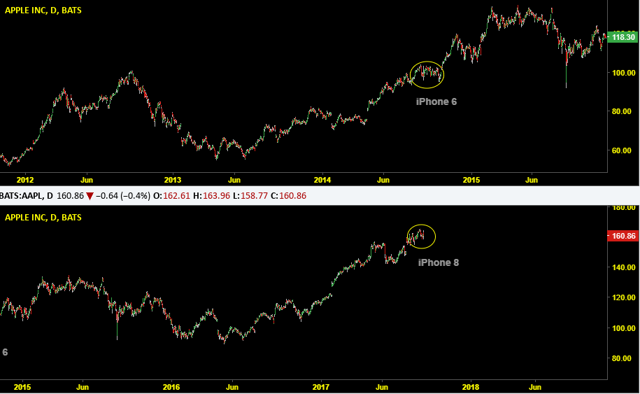 This suggests buyers are not necessarily exhausted. AAPL went on to rally another 36% after the iPhone 6 release and only topped the next April. Perhaps this really is a supercycle? A worrying prospect for potential shorts.
However - and I am talking from a technical perspective - the iPhone 6 release came when prices were at lower highs. There had not been a fresh all-time high for over two years, and when AAPL finally broke, it carried more momentum than it has now. If I were to make a comparison independent of iPhone events and based on price structure alone, it would look like this.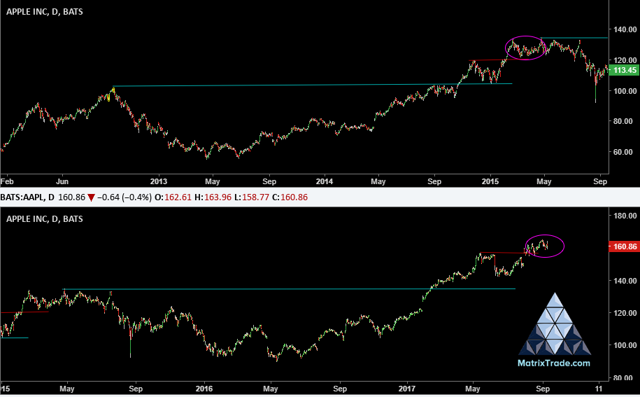 Obviously, this has a very different outcome, more in line with the 2012 top, but I think it is a better match structurally. Price breaks out, re-tests, then makes one final attempt at a rally.
Other releases
Looking at earlier releases such as the iPhone 4 on June 24, 2010 reveals quite a familiar pattern. The break-out before the event looks very much like today's chart.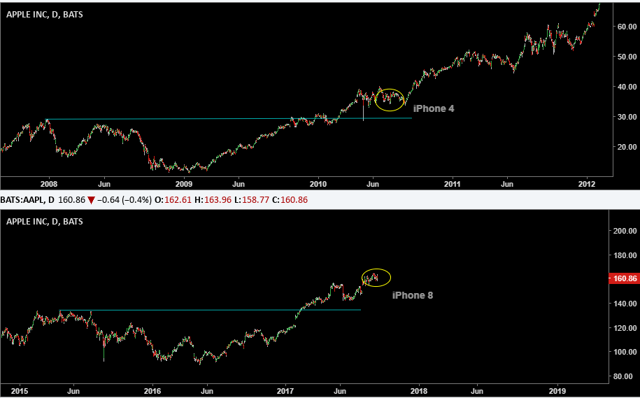 Following the 2010 event, AAPL rallied continuously for 200% into the 2012 high. However, I think it is important to look at the conditions. Smartphones were relatively new, Steve Jobs was still alive, and AAPL and the broader market were significantly lower than they are today. Two events can never be the same, but we must be careful not to compare apples to oranges.
Takeaway
This article looks at whether there is a conclusive trading edge to be found either leading into, or following an Apple iPhone event.
One thing all iPhone events have in common is there is at least a 10% rally in the 3 months leading into the unveiling event. This is perhaps the only firm conclusion I can make, but it is perhaps enough of a trading edge to make money from in future.
Beyond this we can say the price following each event seems independent and fairly random, but adding the context of price action may provide further insight.
This leads to more subjective conclusions, but I would say the current iPhone 8 event is most similar to the iPhone 5 in terms of price action. This doesn't necessarily mean the outcome will be the same, but it is something we can monitor, and even trade. It suggests we should be long in the short term for new highs, and to look for a longer term reversal around the release date.
Disclosure: I/we have no positions in any stocks mentioned, and no plans to initiate any positions within the next 72 hours. I wrote this article myself, and it expresses my own opinions. I am not receiving compensation for it (other than from Seeking Alpha). I have no business relationship with any company whose stock is mentioned in this article.