We are long-term shareholders of Apple (NASDAQ:AAPL) with a renewed conviction to buy more shares for the long term for two very big reasons. First, we believe Apple Watch with cellular will prove to be the tipping point for a lot of new Apple Watch owners in the coming years. And second, we believe Apple's stickiness allows it to release technologies "late to the game" and still be successful. And with the launch of these technologies, Apple is finding ways to push pricing higher. We estimate iPhone ASP could eclipse $700-plus for the first time, in full-year 2018.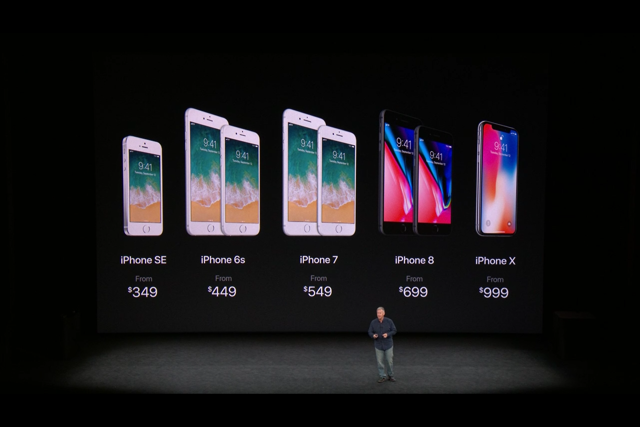 Source: Apple Keynote
Apple Watch
Apple introduced a new standalone Apple Watch which we believe has the potential to eventually reach the scale of the iPhone. Just two years ago when the Apple Watch was first introduced, we never thought Apple could sell 12 million Apple Watches in 2015 and 2016. Apple continues to add more functionality to the Watch, just as it did with the iPhone. With cellular functionality, Apple Watch users will be able to leave their iPhone at home. We believe cellular is going to prove to be the tipping point for a lot of new Apple Watch owners.
We believe cellular is going to prove to be the tipping point for a lot of new Apple Watch owners.
But will Apple Watch eventually cannibalize the iPhone?
No. At least not yet. Since it still lacks a lot of the full-screen features of the iPhone. It's like giving up a desktop or laptop user interface completely. Some can do it, but many still need it. There may be a time in the next few iterations where an Apple Watch will replace an iPhone for days at a time. But that time is not now. If that time were to come to pass, we believe Apple would gradually increase pricing as new significant features are integrated. Similar to the price increase for the iPhone X at $999.
While the Watch is at a lower ASP than the iPhone, it now has the potential to be as big a product as the iPhone. But Can Apple sell 200 million Apple Watches in a year?
We believe the answer is yes, but not yet. Canalys estimates the total market for cellular smartwatches will only get to 40 million units by 2021 (total smart watch sales of 52-53 million units). If historical market share persists (50% for Apple) that's only 20 million cellular units and 6 million non-cellular units in 2021 (26 million units per year by 2021).
When can Apple Watch reach the same heights as the iPhone?
Telecom companies are jumping on board. In Canada, it only costs you $5/month to add your Apple Watch to your existing iPhone plan. And in the US it's $10/month.
The barrier to entry is significantly low enough. It took iPhone eight years to break the 200 million unit per year mark. If Apple Watch takes 16 years, that would still be an amazing feat and provide a long-term diversification to Apple's product base.
What would 200 million Apple Watches do for revenue and EPS?
At a starting price of $399 for cellular capabilities, and options going beyond $1,000 it's hard to say how much revenue this could mean for Apple. But suppose the ASP for Apple Watch is $500. At 200 million units, that is a $100 billion revenue per year opportunity. If the net profit margin is 21% (as it was in 2016 for the entire company), then this would contribute $21 billion to the bottom line. This compares to our forecast of $48 billion net income in 2017.
Is this too aggressive?
Perhaps. But consider the iPhone's first year sold nearly 12 million units and third year sold 40 million units. According to Canalys, Apple sold about 12 million Watches in each of 2015 and 2016. With the introduction of cellular, it will be interesting to see how consumers react. We believe this is a tipping point worth betting on.
iPhone
Apple has something other smartphone companies do not have. Apple has in-person customer support at its retail locations. Every non-tech person knows how hard it is to get help with something as precious as their phone (with all their pictures on it). This differentiation creates a stickiness that is unmatched in this category. It is this stickiness that allows Apple to introduce technologies that many would consider "late to the game." Customers are willing to wait though. Only 5% of iPhone users expect to change to Samsung and 79% expect to buy another iPhone (vs. 63% for Samsung and 31% for other Android brands). This gives us conviction that despite introducing an "expected product launch" and technologies that are "late to the game." Apple's install base is so strong and so sticky that Apple can afford to be "late to the game."
With the introduction of three new phones (iPhone 8, 8 Plus and X), Apple ascends to an all-new higher price point for the iPhone X starting at $999. In our analysis we find that iPhone ASP could increase into the $700-plus range where in 2016 it was $645. This could add $2 to EPS for 2018.
The main features Apple introduced that are "late to the game" include wireless charging, Face ID, and no bezel display. They are certainly not the first to come to market with any of these features. But we believe these features have been in development for a number of years and only once they have poured time into every little detail do they bring it to market.
Apple's R&D budget is huge, to say the least. In 2016 they invested $10 billion in R&D, and since the iPhone was launched they have invested nearly $50 billion in R&D. They are able to invest in advancing technology to a level more than just to a fad. They can walk down the path of "what their competitors are doing" to see if it's something they should do too. Unlike BlackBerry (BBRY) which just shrugged off the iPhone. They have tested Face ID against fraudulent access to the point where it is 20x more secure than Touch ID. It requires more than just a picture of a face like Samsung (OTCPK:SSNLF) has been known to fall victim to.
It is technologies like this that are released "late to the game," but with a higher robustness that makes us believe Apple and its huge install base will endure the test of time. 79% of Apple users are willing to wait for Apple to bring the latest technology to market in an iPhone, rather than defecting to another brand. Apple has that level of trust and customer satisfaction to be slower to market. Customers want "expected" and Apple is delivering what consumers have been waiting for and craving.
Looking at the numbers, we previously expected 2018 iPhone ASP to tick up to $667 from $655 (~2%). With the iPhone X pricing starting at $999, we expect this will drive even higher ASP than we expected. If all previous models make up 10% of sales each, the iPhone 8 and 8 plus each make up 15% of sales and the iPhone X makes up 20% of sales, we estimate ASP could be $729 for iPhone in the full year 2018. We expect this will be the first time Apple breaks the $700 ASP level for iPhone. This could add $2 to EPS for 2018. At the current P/E multiple of about 15x, this is worth about $30 per share in incremental share value.
Bonus - Gaming
Apple TV continues to push into the gaming console space. So far it hasn't quite shown the ability to compete on the same level as PlayStation, Xbox, Nintendo, and Desktop games, but in a few iterations, the console category could have a new major competitor.
Conclusion
The announcements this week renewed our long-term conviction on Apple stock. We are long-term shareholders and would consider adding at today's price. We believe iPhone ASP has the potential to make new highs above $700. This alone could be worth $30 per share in incremental value. In addition, we believe Apple Watch with cellular functionality will be the tipping point for its widespread adoption. With telecom costs of as little as $5-$10 per month and price points starting at $399, we think the value proposition is extremely compelling to a much wider user base. With this trend, we believe Apple Watch could eventually reach the same heights as iPhone.
Author Recommended Articles
Apple: Buy Dollars For Less Than 70 Cents
Apple: 'Single Product Company'... It's Not The iPhone
Follow us if you like our insight.