Apple (AAPL) was largely in the news Tuesday night with its Apple Event that showed off a new watch and the highly anticipated iPhone 8. It may take some time to discover the big winners from the event when breakdowns of the iPhone 8 devices take place. This will give investors an idea of who the big suppliers are that win with the continued dominance of Apple smartphones. There was a winner that was put right in front of people at the event.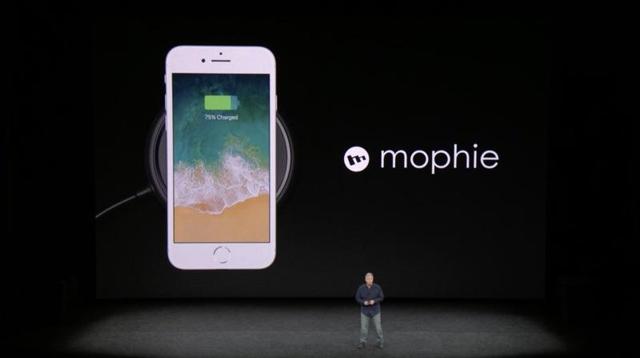 (Source: MacRumors)
There it was, right on the big screen at the Apple Event, Mophie. For those unfamiliar with Mophie, it is a leader in portable charging that was purchased by the publicly traded ZAGG (ZAGG) in 2016. Not surprisingly enough, shares of ZAGG got a slight bump after the mention going into the close. Shares were actually higher earlier in the day when the rumors of Mophie being involved popped up. This is when I decided to provide shares for myself and outline the reasons why ZAGG is a great continuing growth story, particularly through the Mophie brand.
The new iPhone 8, iPhone 8 Plus, and iPhone X devices all support Qi wireless charging. Apple has a wireless charging pad in the works called the AirPower, but it won't be available until sometime in 2018. In the meantime, people buying the new iPhones will have to buy third party charging devices. On the stage, Apple highlighted Belkin and Mophie as the two charging device makers that have created products exclusively for the new iPhones and will see their products available in Apple stores (or Town Squares as they will now be known).
ZAGG confirmed with a press release of its own Tuesday night that the Mophie wireless base for the iPhone 8, iPhone 8 Plus, and iPhone X would be out soon. The device charges phones by placing them on the pad. ZAGG says the wireless base "represents a significant achievement for our team while strengthening our position in wireless charging."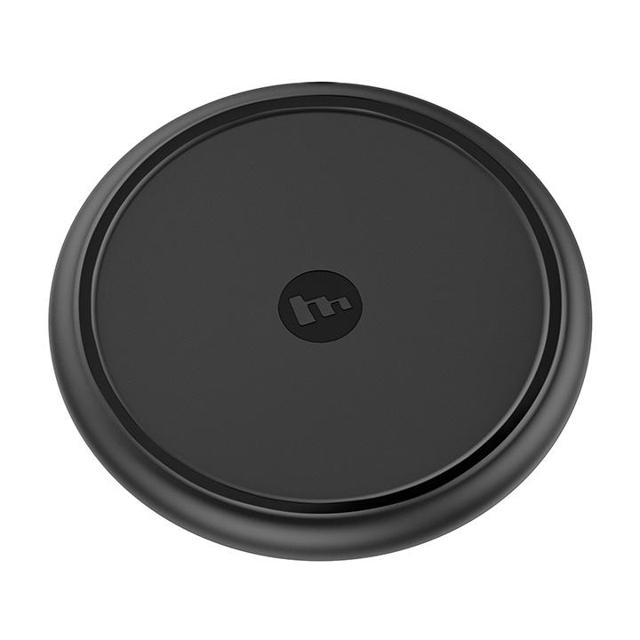 (Source: Mophie)
The wireless base from Mophie will begin taking pre-orders soon and will be available for sale in Apple stores (Town Squares) shortly as well. The device will retail for $59.95 and boasts that it is 50% faster than a standard wireless charging device.
Even if not everyone shells out the $59.95 to buy the Mophie wireless base, the technology in phones moving rapidly to wireless charging is a bullish sign for a company like ZAGG. The Wireless Power Consortium was overly bullish on the Apple Event and offered up this,
"With Apple's announcement to include Qi wireless charging in the iPhone 8, iPhone 8 Plus and iPhone X, we expect to see rapid acceleration in consumer adoption and an increase in category innovation. We're closer to the day of ubiquitous access to wireless charging, giving people a convenient, always-charged experience."
ZAGG hinted at some new products and possible guidance upside on its recent second quarter earnings call. ZAGG said it anticipated some new OEM device launches in the second half of the year that could help it. ZAGG said it was not given a date but believed some new products it was "very encouraged with those". More importantly, when asked about the new products and guidance, ZAGG said that it would be "mostly incremental" and went on to say further "some of these projects have come along and matured since that time (initial guidance), so they will be incremental."
The acquisition of Mophie has given ZAGG an even bigger relationship with Apple through its range of phone accessories. When asked to break out what percentage of revenue is contributed to Apple, ZAGG CEO Randy Hales said, "I will comment and tell you that relationship continues to strengthen then, that was something the Mophie brand brought to the table through the acquisition and so we continue to foster that relationship and make sure that it's healthy." A chart further below shows that Apple's category makes up 39% of ZAGG's revenue.
Since acquiring Mophie, ZAGG has seen strong sales gains and been able to post gains from its own products as well. The big surprise was the Mophie segment becoming EBITDA positive in the second quarter, ahead of the company's own goal. Inventory is sharply decreasing for Mophie to levels the company believes are record lows. ZAGG did not break out revenue for Mophie in the second quarter. In the first quarter, the segment represented revenue of $35.8 million of the company's $92.9 million total.
During a recent presentation, the path to growth under Mophie was:
Expand distribution
Leverage brand strength
Good-better-best product strategy
Adoption of ZAGG S&OP business practices
Unconstrained supply chain
ZAGG posted a strong second quarter recently. Overall revenue was up 15% for the company, led by strong domestic growth "and even more overseas". International revenue increased 56% in the second quarter, following up the first quarter, which posted a gain of 49% for international sales.
ZAGG's guidance for the full year is revenue of $470-500 million. The company expects adjusted EBITDA to be $71-75 million, including a positive contribution from the Mophie segment. I would think that the company comes in above those numbers now with a strong impact in the fourth quarter from Apple's new releases. During the third quarter earnings call, Apple will be a hot topic during the question segment and perhaps we get some more clarity on the impact the Mophie deal will have for ZAGG overall.
Take a look at the categories ZAGG has dominance in:
#1 market share cell phone screen protectors (52%)
#1 market share battery cases (54%)
#1 market share portable battery packs (20%)
#2 market share folio keyboards (30%)
#5 market share stereo headphones
Back in 2005, screen protection made up 100% of ZAGG's revenue. Since then, through acquisitions and new products, the company has diversified. In 2016, revenue looked like this: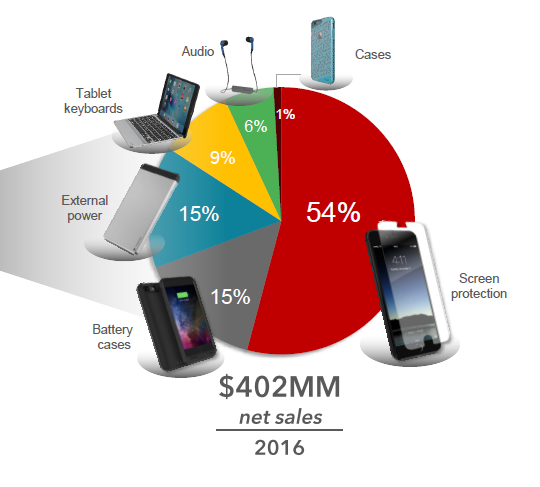 (Source: ZAGG Presentation)
Along with its diversification by product type, the company is highly diversified based on where its products are sold. This chart shows where ZAGG got its revenue from. The items in outlined circles are international sources that together made up 16% of revenue. You can see the Apple log in the major retail category (43% of sales).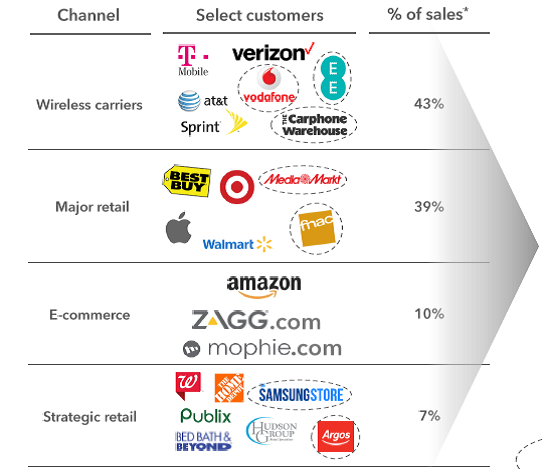 (Source: ZAGG Presentation)
ZAGG continues to get its products in more doors. Over the last three years, door count has grown 76% to 46,188 in 2016. I expect that number to continue to grow through 2017 and 2018. The Mophie acquisition certainly helped those growth numbers, but the continued advancement of ZAGG's technology will lead to more retailers carrying the products. ZAGG recently put a research and development team in place for the first time, which could end up creating even more products or expanding the company into new categories. This will in return lead to more retail doors.
With or without Apple and the iPhone 8, ZAGG is a great growth story here. The acquisition of Mophie has completely changed this company and given it a growth platform to grab on to. With cost synergies in place and a handle on inventory, Mophie will shine even brighter in the second half of this year and 2018. Going forward, ZAGG will continue to use these items for sustained growth:
New product development
Brand execution
Global distribution growth
Operational excellence
Several things could slow down ZAGG here. Some Apple users may wait to purchase the company's device in 2018 rather than buying a Mophie product. Others may seek cheaper alternatives to Belkin or Mophie. The fact that ZAGG trades at a 52-week high may mean some of the Apple news or high growth of Mophie is already baked in. Several of the areas ZAGG operates in are seeing increasing competition or are highly fragmented. New entrants can challenge ZAGG's market share leadership position, which could be a challenge for growth.
As I sat there watching the Apple presentation, I saw the Mophie name pop up and immediately looked to see where ZAGG shares sat. This is a name I have followed for several years and was very bullish on around the time of the Mophie acquisition. I even had an article in the works of ZAGG being a play on the success of Pokemon Go, but someone on Seeking Alpha provided a great storyline there that I couldn't add much to. In the end, I pulled the trigger this time and bought myself shares of ZAGG for under $12. I am looking for shares to steadily increase the rest of 2017 and even perhaps see the $18-20 range in 2018 with new products and the continued market share dominance in accessory categories that are needed with smartphones and devices.
Shares of ZAGG traded as high as $12.40 earlier Tuesday. By the end of the day, shares stood at $12.15, a gain of just over 4%. At the current price, shares are not that far off of their 52-week high of $13.00. Despite the high and gain on Tuesday, I think shares of ZAGG are headed much higher. The company is seeing phenomenal growth of Mophie, and this Apple shoutout and support is the icing on the cake. Current company guidance did not include Apple iPhone 8 figures and means the company should end the year beating estimates and also see a very bright 2018.
Disclosure: I am/we are long ZAGG.
I wrote this article myself, and it expresses my own opinions. I am not receiving compensation for it (other than from Seeking Alpha). I have no business relationship with any company whose stock is mentioned in this article.