With Hurricanes Harvey and Irma hitting the sun belt of the United States, natural disasters are taking a devastating toll on life and property. Our hearts go out to all those affected. In this post, we explore the economic effects of natural disasters.
Natural disasters of this scale are highly disruptive to local economies and often have spillover effects into the national or international community. For Hurricane Harvey, the Gulf Coast and Houston areas are a center for domestic refining and chemical production. As a result of the hurricane and subsequent flooding, many pipelines shut down. This contributed to a jump in gasoline prices, while 60% of ethylene production - a key input to plastics production - was also shuttered. Undoubtedly, economic value chains of all types were affected.
The latest estimate from risk-modeling company AIR Worldwide pins insured losses to Hurricane Harvey in a range between $25 to $35 billion. Early estimates for Hurricane Irma range from $20 to $40 billion for U.S. insured losses, not including additional damages in the Caribbean. For context, Hurricane Katrina had insured losses of $80.7 billion in 2005, while the next closest natural disaster was the 2011 Tōhoku earthquake and tsunami in Japan that destabilized three nuclear reactors.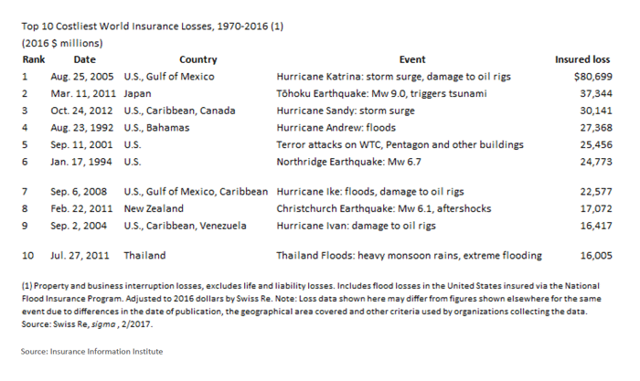 Funding for repairs after natural disasters comes from various sources, including the insurance industry specifically, and the financial markets indirectly. While many insurance brokers are on the hook for a specified amount of initial damages, many also pass off a large portion of their catastrophic risk to a reinsurer. For example, Allstate retains only the first $500 million in losses from a hurricane, along with 5% of losses thereafter, before reaching a maximum cap at $3.4 billion. Reinsurers assume the remaining balance.
Reinsurance firms can be other, larger insurance companies, hedge funds, private equity, or other financial organizations that are willing and capable of taking on catastrophic risk in exchange for premium payments. Going into 2017, reinsurers had experienced five consecutive years of positive underwriting results, meaning that premiums paid were greater than claims paid out. After a modest lull in natural disasters, for insurers and reinsurers, the Hurricane season of 2017 will be a swing back to the extreme.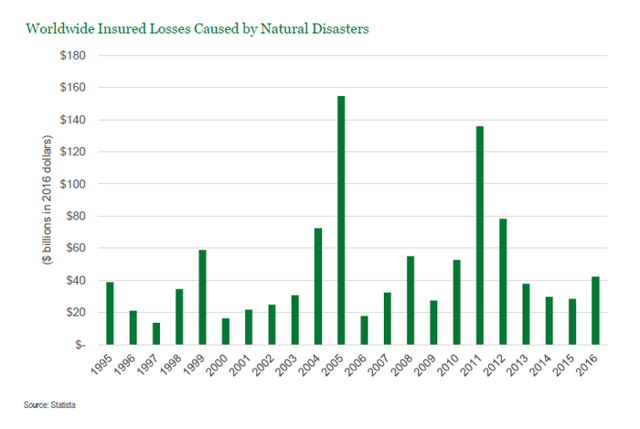 Although the strength and timing of these storms are unprecedented, there are fewer reasons for economic concern than it may seem. Broadly speaking, the flow of catastrophe risk to multiple participants in the financial industry helps disburse the economic burden of natural disasters and ensure that property owners receive the needed payouts. Along with government aid packages, the financial system provides the affected area the resources needed to begin the recovery process.
In many cases, the recovery process and rebuilding boom ensures that any economic effects are transitory. Indeed, a pooling of recent academic research by the World Economic Forum shows that, while natural disasters seem like a negative for the economy, the economic impact is actually mixed.
While the road to recovery will be long and challenging, we are hopeful that the impacted areas will recover in due time. Over the short term, there may be localized effects, but from a broad perspective, we believe the risk of meaningful contagion to the economy and rest of the financial system is negligible.