As expected, Wall Street staged a vigorous rally in the last 7 months, buoyed by strong corporate earnings and upbeat sentiment. If any conclusion can be drawn, it is that quantitative easing (QE) has taken stock indices into new high ground. Macro-investment analysis also has become a boring subject. With the Federal Reserve (Fed) in QE, the market is so predictable that there is nothing to write about, and making money is indeed nothing to write home about.
It has been my view that the only event that would trigger a market collapse is when Uncle Sam loses a war. That is because a loss of confidence in the country's "almighty" military power would damage the dollar's reserve currency status and deprive the Fed of its ability to print money. Otherwise, the central bank would just react to any market pullback by printing even more money. The amazing thing is, with liquidity in plentiful supply, investors would put a positive interpretation on everything and find any reason to buy into weakness. In such an environment, even an asteroid strike or alien attack may still be greeted positively by investors - because the former creates reconstruction opportunities while the latter carries the prospect of alien technology transfer.
I know what I just said may sound like heresy to those who hold to conventional wisdom. But the very fact is that the long period of ultra-loose monetary policy has distorted the market considerably and therefore, most of the old thinking does not hold up.
To illustrate: After an almost uninterrupted run since the depth of 2009, the stock market still does not appear overly stretched. In valuation terms (see chart 1 below), it remains nowhere near the extremes witnessed during the internet bubble, and even looks historically cheap compared to the low rates on bonds. By and large, this is because earnings have been inflated by QE, which also has artificially depressed bond yields. So while it is logical to think stocks are expensive after almost a decade of strong rally, so long as you think QE is economically justified, so are the buoyant equity prices.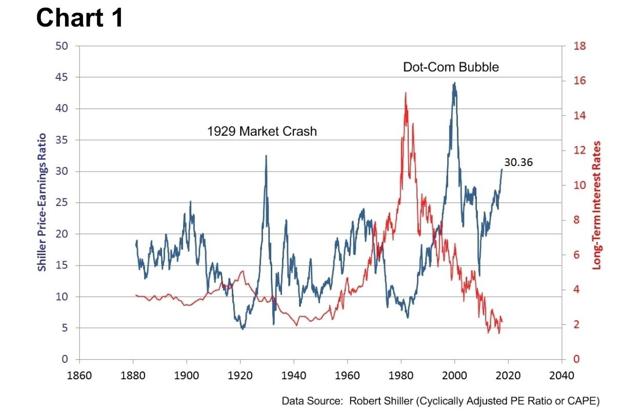 Let's be blunt here. I do believe that the whole world is in a gigantic asset bubble, and I also find the concept of negative interest rates absurd. Nevertheless, as a fund manager whose job is to make money in the market, I am more concerned about "what is" than "what ought to be". And here is what is happening: The Fed is hesitant to pull back on its QE stimulus and, as such, stocks will keep on going up despite numerous obstacles- be it a North Korean nuclear threat, an American debt-ceiling deadline or a Chinese trade war.
This means the historically high stock prices are always justifiable. It also tells you that free money is given out to everybody on the stock market. As a "rational" person, why not enjoy the free lunch?
To be sure, buying stocks at current lofty levels is a hard act to follow. For investors who do not want to chase the market higher, they may well consider the following strategies:
Buy-the-dips:
Investors can use any broad-based pullbacks to buy stocks of high quality companies at prices that they like. However, the snag is that the market has shown incredible resilience that there may be no dips to buy (see chart 2).
Turnaround play:
Investors can snap up shares of beaten down companies in the hope that things will improve in the future. The risks are high, but the potential rewards are enticing. Right now, there are plenty of dirt-cheap oil stocks and gold mining stocks for investors to consider. The fast food chain Chipotle Mexican Gill Inc. (CMG) is also a good bet. As illustrated in chart 3 below, this company was hard hit by an E.coli outbreak in late 2015 and its share price had plunged from a peak of $757 to a low of $360 in late 2016. Thereafter, the stock rebounded strongly to $496 on improved earnings, but quickly gave back all the gains and fell to a new low of $297 after some new food-safety concerns sparked a fresh wave of selling. Currently, pessimism is running high on whatever Chipotle does or announces, and this justifies a contrarian call on the company. I think $300 is an appealing entry point.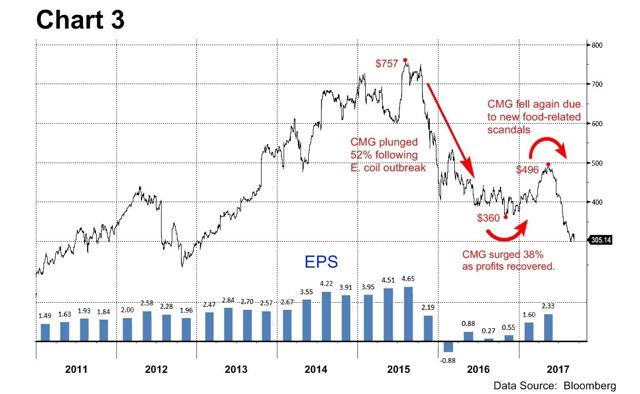 Here are my grounds for optimism:
I buy the management's explanation that recent health scandals were isolated occurrences; in that the norovirus incident in Virginia was due to the store not following the company's food-safety procedures and allowed someone to work while being sick, and that the rat-sighting incident in Texas was due to a structural gap in the historic building the restaurant occupied that let those rodents in. In any case, I am confident that, with activist investor Bill Ackman as a major shareholder, the management cannot afford to have one more health scandal, or else some heads will roll.
Investors should understand that customers have short memories, and foodborne illnesses are not at all uncommon in the food industry. In reality, even an airline fond of beating up passengers can still have full flights at all times. Also, you can get food poisoning even from food prepared by your mommy. So what's the big deal with Chipotle? (This may sound exaggerated, but I just want to stress my point.) As a matter of fact, the strong sales and profit growth figures of 2Q17 offered clear evidence that Chipotle was winning back lost customers. It was the recent health scandal that derailed the process, but the case for recovery is far from lost.
Chipotle has zero debt, positive earnings and sufficient cash on its balance sheet. This gives the company a huge financial cushion to ride out the current troubles.
Pessimists love to point out that Chipotle (Now at $305.14) has an expensive price-to-earnings ratio (P/E). Yet this is somewhat a self-fulfilling statement. If there is no hope for a profit turnaround, at the current trailing earnings per share (NYSEARCA:EPS) of $5.19, the stock is richly priced with a 58.74 multiple. But if EPS recovers to the FY15 level of $15.37, the stock is cheap with 19.85 forward multiple. The crucial point is whether Chipotle can make an earnings comeback. P/E is always high in a turnaround play because profits, invariably, must have plunged through the floor.
Interest rate normalization play:
Admittedly, the stock market has gone too long without a correction. Such an explosive rally will, no doubt, raise worries among Fed officials that they are keeping QE for too long. Even if inflation remains subdued, it is a matter of time before the central bank unwinds its massive balance sheet.
Thus, more than ever before, the Fed is willing (though not eager) to withdraw its monetary stimulus. The market consensus is that it will take a very cautious approach to normalizing its policy stance - meaning that while interest rates will rise eventually, they will do so only gradually.
Which brings me to my bottom line: The returns are modest, but betting on higher interest rates may look like a sure-fire thing if you are a patient investor with a time horizon over 2 years. The attractive thing is that, should inflation heat up, the gains would be enormous. That is because that would accelerate the Fed's timetable for hiking rates.
Of late, bond yields have tumbled as investors sought refuge in perceived safe-haven assets such as gold. If you buy the argument that the era of extraordinary monetary policy is over, and that inflation will accelerate one day, then it is probably a good time to bet against the bond market. Below are 3 popular exchange-traded funds (ETFs) that let investors profit from increasing Treasury yields.
Information Source: www.proshares.com
Inverse Bonds ETFs
Profile
ProShares UltraShort 20+ Year Treasury (TBT)
Seeks daily investment results, before fees and expenses, that correspond to 2 times the inverse (-2x) of the daily performance of the ICE U.S. Treasury 20+ Year Bond Index.
ProShares UltraPro Short 20+ Year Treasury
(TTT)
Seeks daily investment results, before fees and expenses, that correspond to 3 times the inverse (-3x) of the daily performance of the ICE U.S. Treasury 20+ Year Bond Index.
ProShares Short 20+ Year Treasury (TBF)
Seeks daily investment results, before fees and expenses, that correspond to the inverse (-1x) of the daily performance of the ICE U.S. Treasury 20+ Year Bond Index.
Buyers should be aware that these funds only provide the expected inverse performance on single days, and their expense ratios are quite lofty. So over time, there is a great divergence between the actual and expected returns (see chart 4).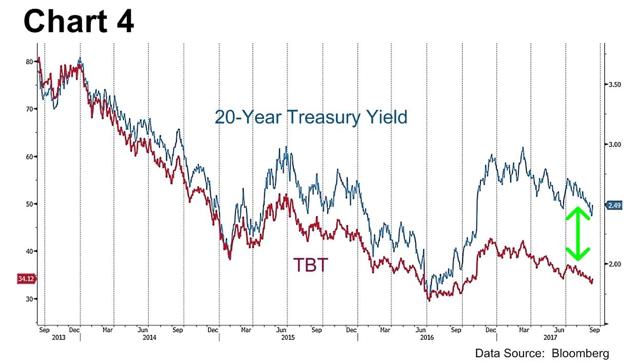 Disclosure: I am/we are long TBT, CMG. I wrote this article myself, and it expresses my own opinions. I am not receiving compensation for it (other than from Seeking Alpha). I have no business relationship with any company whose stock is mentioned in this article.