I have been trying to explain to investors a bout of the 1970s like stagflation is on deck for America the next 3-5 years, at a minimum. While most Wall Street prognosticators and newbie analysts are focused on rear view mirror predictions that the last 5-10 year period of low inflation will continue indefinitely, the conditions for rising inflation and interest rates are becoming harder to ignore. Don't take my word for it, Alan Greenspan, the long-time Federal Reserve Chairman during the 1980s-90s, has been making an effort to get investors ready for stagflation the last year. Basically, weak economic activity and spiking inflation/interest rates occur all the time overseas, and a similar stagflation scenario may appear in America soon.
The background components of stagflation are (1) a currency lacking hard money backing through a direct tie to gold/silver, (2) runaway government deficit spending, and (3) leadership that does not understand long-term economic policy. We now have all three in spades with the election of Donald Trump as President last November.
The parallels between President Nixon in the 1970s and Trump are uncanny, not just their ego driven, micromanaging personalities, but the economic backdrops existing when assuming power. Nixon slowly dropped the gold standard for U.S. dollars between 1969 and 1972; today we have no hard money check on the printing presses at the Federal Reserve. In fact, Trump is likely to replace most all FED bankers the next 12-24 months, and Washington talk of ending the debt ceiling requirement on Uncle Sam altogether is picking up steam.
The U.S. federal budget was near surplus in 1969, depending on data point and source. Then a funding deficit exploded the next few years with the help of slowing economic growth and tax collections, increased Great Society federal spending, and a never-ending Vietnam conflict. Under Nixon's administration, America nearly doubled the national debt from 1969 to 1976. Presently, eight years into an economic expansion, the annual deficit still stands at $700 billion in 2017, with Uncle Sam spending 20% more than he is collecting in taxes. We have a huge structural deficit problem yet to be addressed from outsized social spending programs. Plenty of military involvement in the Middle East and potentially Asia (North Korea for starters) could balloon U.S. war spending out-of-control quickly. Trump last week announced an expansion of involvement in Afghanistan and is threatening new wars against North Korea and Iran eventually. What happens to the U.S. deficit and debt in the next recession and/or when a major war requires additional outlays? Answer: they are set to rise astronomically beyond 2017's greatest sovereign debt mess in human history.
Grain prices ready to soar on a lower U.S. dollar?
After an initial bounce higher following the surprise November election victory for Trump and Congressional Republicans, the U.S. dollar has entered a downward spiral since January. You can review the chart below. Foreign investors seem to be fleeing American investments, as confidence in U.S. leadership is eroding both here and abroad.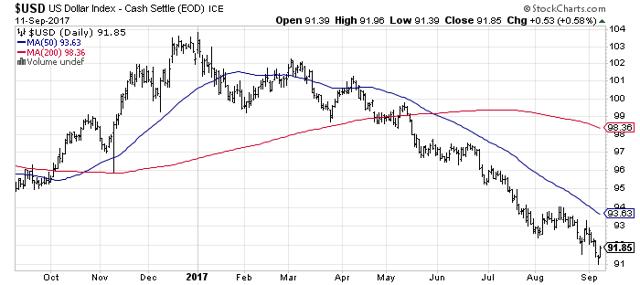 The lower dollar has started to provide some support to globally traded commodities priced in the U.S currency. The industrial commodities like iron ore, copper, lumber and energy bottomed in early 2016. I have written a number of Seeking Alpha articles in 2017 explaining the likelihood of a major rebound in crude oil and energy prices going forward. My latest oil story can be found here. Plus, the precious metals (hard money) appear to be ready to leave the long-term bottoming process measured in U.S. dollars the last several years drawn below.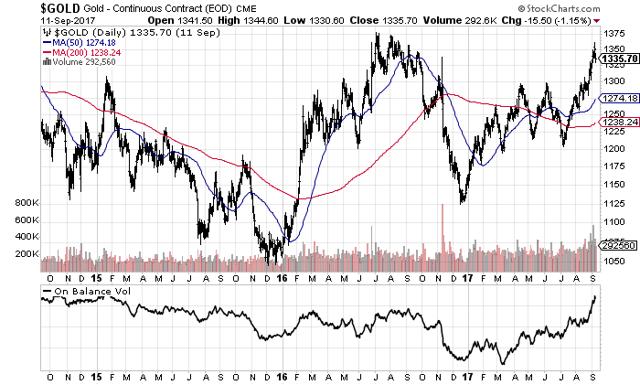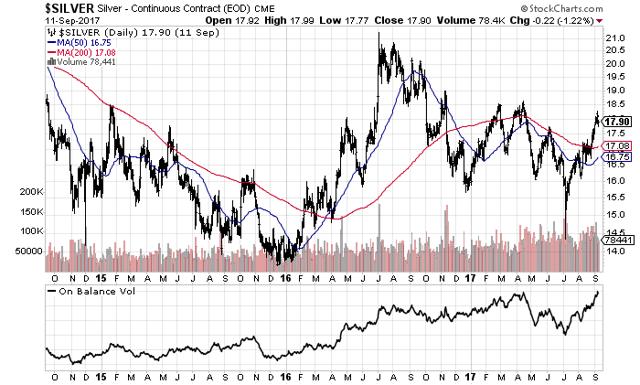 The biggest losers yet to turn higher in the commodity complex are the grains. They are incredibly depressed vs. every other asset class right now, and ripe to outperform for many years, in my opinion. Rising oil input prices to run a tractor in the fields and transport supply to market will add pressure for higher prices, as will a lower dollar value from this point forward. Any significant drought in a major growing area of the world will spike prices like the 1970s situation. Putting all the bullish arguments together, a contrarian-based, regression to the mean forecast says grains will move powerfully to the upside in coming years. Nixon's ghost told me so.
ADM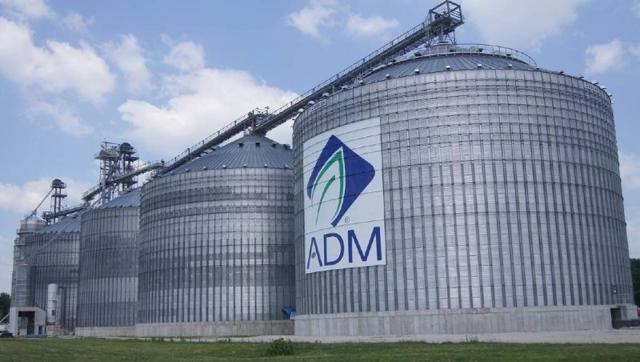 Archer Daniels Midland (ADM) is one of the oldest and most stable businesses listed on Wall Street. According to the company's website, ADM has been working hard for over one hundred years preparing, storing and transporting grains for customers as…
One of the world's largest agricultural processors and food ingredient providers, with more than 32,300 employees serving customers in more than 160 countries. With a global value chain that includes 428 crop procurement locations, 280 ingredient manufacturing facilities, 39 innovation centers and the world's premier crop transportation network, we connect the harvest to the home, making products for food, animal feed, industrial and energy uses.
Let's review what happened during the last U.S. stagflation experience in ADM's case. For context under Nixon, between 1969-73 the company outlined a 400% total return for investors. Between 1969 and 1976 ADM gained 700%! While business operations were much smaller than today, an explosion in commodity inflation now would likely be a tremendous boon for ADM shareholders. Sharply higher grain prices in U.S. dollars could theoretically turn this investment into one of the top Wall Street gainers the next 3-5 years, from the blue-chip universe of equities I follow.
The most important difference between the ADM of today and the early 1970s business is its exposure to ethanol, processing corn into biofuels for vehicles. The status of government subsidies and regulations on ethanol, alongside the input price changes in crude oil vs. corn, have more impact on overall profitability than the distant past. In general, low petroleum prices and declining U.S. government support of ethanol have held back the ADM stock quote the past 3-5 years, as margins have been extremely low. The company has branched out into the processing of food ingredients, and regular reinvestment of profits into new agriculture-focused assets over the decades has translated into much larger raw organization size than during the last U.S. experience with stagflation.
Strong balance sheet and low valuation
Archer Daniels has one of the most liquid, safest balance sheets of all the mega-capitalization corporations I computer sort weekly. It ranks in the top 5% for balance sheet strength of my search universe, as calculated by the Victory Formation proprietary ranking system. Priced at 1.7x tangible book value, with a huge cash, receivable and inventory current asset structure, ADM has unique worth in today's overvalued U.S. equity market. Total debt is just $6 billion vs. $3 billion in trailing annual cash flow generation, measured at the end of June.
Additionally, trading at 8x trailing cash flow, 18x trailing income for 2017, and 15x 2018 Wall Street analyst EPS estimates, the stock is a strong value proposition absent any increase in underlying grain prices and related sales dollars. The 10-year average ratios, cyclically adjusted for year to year economic changes, are price to cash flow of 9x trailing results and 15x earnings. The kicker is Wall Street may start discounting a substantial jump in future margins, cash flow and earnings on a weak dollar-induced climb in agriculture prices.
For income investors, ADM's 3.0% dividend yield is well above the S&P 500 average of 1.9%, and the entire Treasury yield curve under 2.8%. It represents less than 50% of profits in 2017-18 and should expand markedly in coming years as grain prices begin to zig-zag higher. A double in the dividend payout and EPS the next 3-5 years is likely if the dollar collapses in value and/or grains spike from a major drought. The 10-year average dividend yield is a little over 2.2%. Because of its longevity as a business and safe balance sheet, you might view ADM's stock as more akin to inflation protected bonds. For the small investor, ADM is the closest thing to getting rental income from a large dollar farmland holding.
Reviewing today's incredibly depressed "relative" pricing of agriculture commodities in September 2017 vs. the now rising trend in other commodities and years of advance in stocks and bonds overall, a rational investor can argue grains are "the" value trade going forward. Buying grain related investments when they are priced at, or near, record lows vs. every other asset class could prove a brilliant long-term idea. Mirroring ADM's revenue fall-off from $89 billion in 2013 to $60 billion currently as grain prices plummeted, a grain reversal higher could add tens of billions in revenues and billions in new annual income soon to its business operations.
Improving late summer technical momentum
Serious investors look to be moving capital into ADM the last few months, ahead of a meaningful turn higher in grain prices. You can review the one and two-month charts below comparing ADM to the S&P 500 index, large cap competitors Ingredion (INGR) and Bunge (BG), plus the Teucrium ETFs for Corn (CORN), Soybeans (SOYB) and Wheat (WEAT).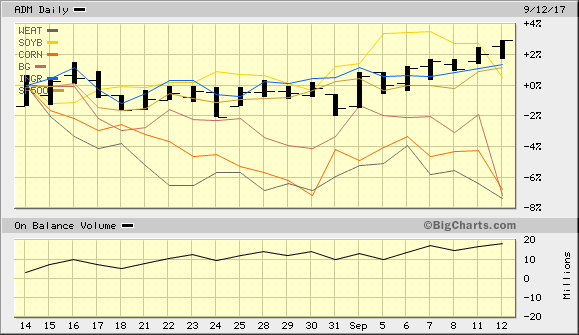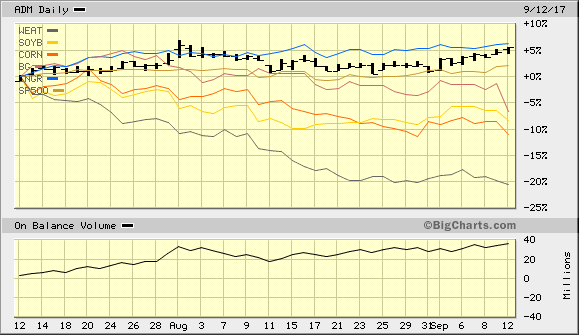 One point I would like to highlight in the ADM chart is the willingness of buyers to pay a higher price on big trading volume days. This situation is represented by the steadily increasing daily On Balance Volume [OBV] lines on the charts in this article. From my experience, ADM may be a coiled spring ready to leap higher when grain prices turn north.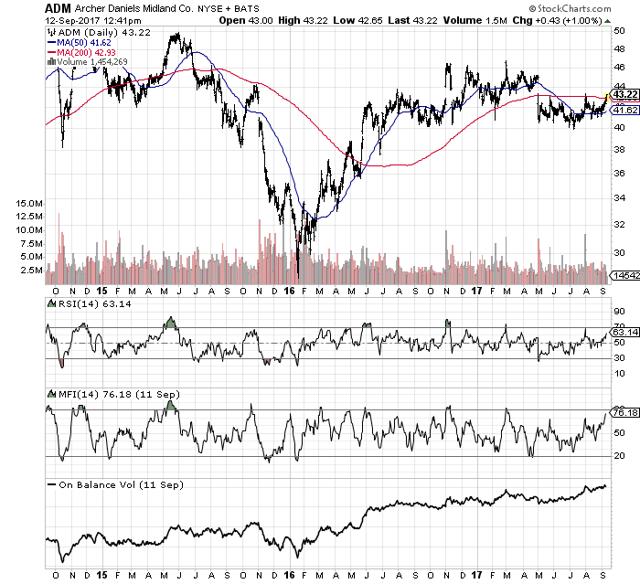 Conclusion
The last U.S. experience with stagflation, a weak dollar, and a spike in commodities during the 1970s may be a roadmap for America's future the next 5-10 years. Few investors are properly prepared for rising commodity prices, after decades of low inflation and disinflationary recessions. Structural federal deficits going unchecked, a new U.S. government demanding pro-growth policies at all costs, and the probability of major new military spending aggregately increase the likelihood of further declines in the U.S. dollar's currency exchange value.
Foreigners appear to be losing faith in American leadership, while we are in desperate need of their investment capital. Absent new foreign investment in our spiraling Treasury debt and the recycling of trade imbalances into the U.S economy, our standard of living could be directly and negatively impacted like we have not seen in recent history when commodities begin to rise.
Grain quotes rose 300%-400% between 1969 and 1974. ADM investors performed the same or better than actual grain changes, and ran circles around the flat to lower S&P 500 index return during this span. Is another major bump higher in grains possible? Don't say it can never happen again. The conditions for an explosion in grains are clearly present today. ADM has real potential to trade over $100 a share in 24-36 months, given a supply imbalance caused by drought and war.
Arguing inflation doesn't exist will become next to impossible once energy and grains turn higher in price. We will all notice meaningful jumps in gasoline fill-ups, grocery bills, and restaurant visits are stealing ever greater amounts of disposable income. The initial inflation effects on spending patterns, called a stealth tax by economists, will almost surely throw the U.S. into recession. If the federal deficit begins to soar, it will only serve to reinforce the lower dollar, higher import inflation trend just like the 1970s. Last summer, I moved my family into a house twice the value of the former, getting ready for a spike in inflation. The days of sub-2% inflation are coming to an end. Prepare your investments while you still can is my thinking.
Disclosure: I/we have no positions in any stocks mentioned, but may initiate a long position in ADM over the next 72 hours.
I wrote this article myself, and it expresses my own opinions. I am not receiving compensation for it (other than from Seeking Alpha). I have no business relationship with any company whose stock is mentioned in this article.