Earlier this week, I received a lot of criticism (and some angry insults) when talking about Apple's (AAPL) iPhone and other products launch as being a disappointment. From all of the comments I received, it was clear that a lot of people didn't understand what I was saying, or didn't take the time to read some of my most critical points both before and after the event. Today, I'd like to look at the situation in a little more depth to explain this narrative.
First: Keep history in perspective, and think about timing
If you haven't followed my Apple coverage over the past five or so years, as many of my new followers have, you may have thought I was an Apple bear. This isn't actually the case, as I've written about three times or so as many positive articles on the names as negative ones (TipRanks has me listed for 31 buy ratings and 7 sells on the stock itself). There also is a key difference between one's feeling about a company and how one feels about the stock, and let me bring up a particular chart again.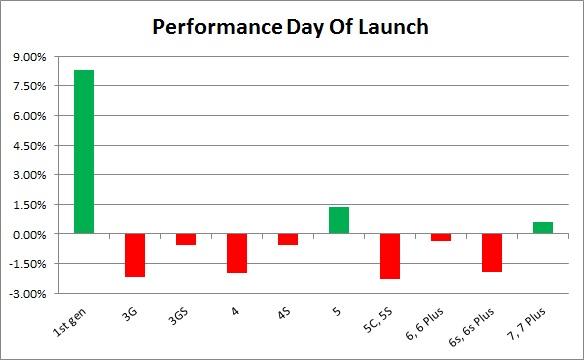 As I was saying in my event preview article, and discussed in previous coverage, Apple shares generally don't do well on these launch days. Expectations get way too high, since the stock is so widely followed, and thus the stock declines. Well, that happened again, with the stock declining 64 cents on the day, and down almost $3 from where it was trading when Apple management started talking about the newest iPhones. Let me just remind everyone what I finished that preview article with:
The disappointment surrounding these events is a main reason why the stock usually declines on this day, but that's a good thing for those who believe in the long-term story, because it allows you to buy the stock at a lower price (and higher dividend yield). Unfortunately, Apple cannot satisfy everyone, but that's not necessarily a bad thing.
Now I certainly understand that I have more of a short-term focus on Apple and other stocks than most. A few bucks here or there may not seem like much for someone who wants to hold Apple for years. However, there are people out there looking for short-term alpha, and wouldn't you have rather bought at $159 on the event day than at $163? That kind of difference adds up over time if you do it repeatedly, and provides you a lot more income in the end on dividend names like this. Again, I never said I was a long-term bear on the stock, I just wanted to show investors how the history surrounding these launches favors the negative side.
Second: Yes, someone will always be disappointed
When trying to look at this event overall, think about two crowds. The first is the anti-Apple group, the one that will laugh and tell you about the company being years behind in certain items. For instance, while it was nice for Apple to go to wireless charging, other phones have had it for years, and you still have to pay extra for it (whether now through a supported charger or by waiting for Apple's charging mat next year). Also, while the company talks about Super Retina display, it still lags in certain display resolution figures. These people will be out to trash Apple whenever they can.
In my preview article, however, I was more talking about the crowd that wants so much from Apple that the company would have to disappoint, especially when you have an event that's only going to last about two hours. I provided a list of expectations from certain street analysts and tech bloggers, and these were not necessarily all of my predictions (obviously I was looking for things like three new iPhones, Apple Watch 3, etc.).
Some readers, for instance, criticized me for wanting new AirPods, for example, when the current model still seems back-ordered, although that item wasn't on my list really. Take a look at this article, for instance, which talks about the possibility of a second generation AirPod with new features like fitness tracking and such. Someone like that would be disappointed that Apple did not update this product. Additionally, if the company had launched a newer version, it probably could have upped the price, as it seems that the first model could have still sold this well at a higher price, which would have helped margins.
Third: The stock does trade on expectations
I understand that many of you do not think highly of the sell-side analysts who follow Apple (and stocks in general). However, shares do trade on expectations, and these analysts are a lot closer and more tuned in to the company than the everyday investor. Thus, while not every analyst on the street is going to be perfect every time, there are certainly big investors and funds that follow the overall consensus of the sell-side community. As I've mentioned previously, estimates have risen quite substantially moving forward, primarily on the basis that these new iPhones would spark a super cycle of upgrades. Well, here is where the street was going into the event: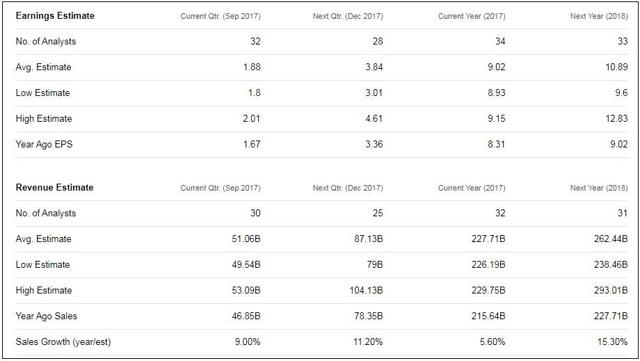 (Source: Yahoo Finance analyst estimates page)
If we go back to the August 1 earnings report, Apple management guided to current quarter ("Sep 2017" period above) revenues in a range of $49 billion to $52 billion. Going into the event, the street's midpoint was above the company's guidance midpoint, with most forecasts trending toward the high end of the range or even above it. At just over $51 billion for an average estimate, the street was looking for 9.0% growth over the prior-year period.
Now here's where analyst expectations come in, and in a big way. If we move forward to the holiday period ("Dec 2017" above), Apple's fiscal Q1 period, the street was expecting 11.2% year-over-year growth. That's an acceleration of 220 basis points from the September quarter, but there's a huge catch. Do not forget that last year's period had an extra week in it due to how the calendar fell. So here, analysts are expecting 11.2% growth on top of a period that had an extra say 4-6 normalized selling days in it, which boosted revenues by a couple of billion of dollars over what they would have been in a regular period.
Thus, when Apple announced this week that the new iPhone X wouldn't be available until early November, this was a big disappointment. We have known about potential supply issues for months, and most expected limited supplies at launch. However, there were still plenty of people/analysts/etc. who believed the X would launch alongside its eight counterparts, but just have a longer shipping time thanks to lower supplies upfront. By not launching the X until early November, it does give competitors some time to tout their devices (like the Samsung Galaxy Note 8), but it also means analysts must adjust their forecasts a bit.
Some will argue that the timing is no big deal, that Apple will generate those sales no matter what. That's certainly understandable, but the December quarter is Apple's biggest of the year. Taking away 3 million iPhone X units, for example, is more than $3 billion of revenues if you assume a portion will opt for the higher end storage version. That $3 billion, which I'm just hypothesizing for this argument, takes the quarterly revenue growth figure down to 7.4% over the 14-week period. It also takes away some earnings and cash flow, which potentially means less of a buyback. For growth investors, taking away a large chunk of expected revenue growth and reducing the buyback is a big deal. Since the stock trades on expectations, lower short-term expectations would in theory mean a lower stock, and we saw Apple shares sell off a bit when the November launch date was revealed. You wouldn't want Apple guiding to say $80 billion to $82 billion for the period, for example, with expectations at $87 billion. The stock would drop then.
Fourth: Remember where we were a year ago
If we go back to this time last year when Apple was getting ready to launch the iPhone 7, there were two big items investors were waiting for - the smartphone's next supercycle and favorable tax items like lower US corporate rates and perhaps a repatriation holiday. Well, we are still waiting for those items to materialize, especially on the tax front, yet there is one thing seen below that has changed in quite a big way.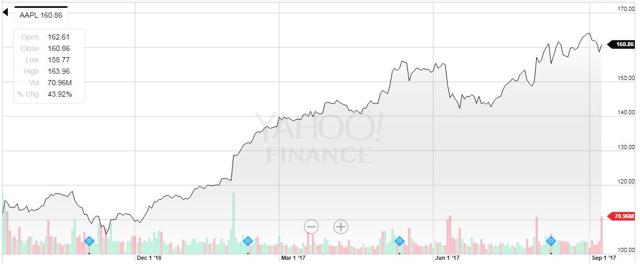 (Source: Yahoo Finance)
If Apple shares were at $120 right now, with the same projections for revenues and earnings, I'd be pounding the table and recommending investors buy the stock like crazy. But we're roughly at $160, with the stock running into new all-time highs almost every month recently, with expectations through the roof as well. A pullback wouldn't necessarily be a bad thing, as stocks don't always rise forever, and I'm sure a few investors wouldn't mind a chance to get in a little bit lower.
Final thoughts:
I wanted to come back today and clear things up a bit, because from many of the comments I received earlier this week it seems that many missed what I was saying. First, I was looking at Apple's negative history surrounding iPhone launch events, which is why I bought and then sold puts for a small gain. I'm not and likely will never be part of the crowd that actually shorts the stock, not for the long term anyway; so none of those 48 million shares short are mine. I was not calling for the stock to crater, I have not lost any money on the stock anytime recently, and I remain supportive of the name.
It all comes down to expectations, and with so many following the name, there were just too many analysts/tech bloggers/investors out there who pushed expectations to an unreasonable level, in my opinion. I was not one calling for new AirPods or a HomePod demo, but there were some that were. Also, with revenue estimates for the December quarter being so high, the launch schedule for the X was definitely seen as a disappointment, especially considering last year's period had an extra week. I'm certainly not an Apple bear, despite what some think, as I believe we'll see a strong fiscal 2018 period. For a stock that trades at less than 15 times expected earnings with a massive capital return plan, I'll reiterate what I said previously: that a decline in the stock is a good thing for those who believe in the long-term story.
Disclosure: I/we have no positions in any stocks mentioned, and no plans to initiate any positions within the next 72 hours.
I wrote this article myself, and it expresses my own opinions. I am not receiving compensation for it (other than from Seeking Alpha). I have no business relationship with any company whose stock is mentioned in this article.
Additional disclosure: Investors are always reminded that before making any investment, you should do your own proper due diligence on any name directly or indirectly mentioned in this article. Investors should also consider seeking advice from a broker or financial adviser before making any investment decisions. Any material in this article should be considered general information, and not relied on as a formal investment recommendation.