A few months ago, I wrote that the risk premium for oil would soon return. Everything I am seeing in the Middle East supports that. While rhetoric around and from Iran has taken a short break, Saudi Arabia's hawkish Crown Prince Mohammed bin Salman is making moves designed to confront Iran.
This week, it was reported that either a Saudi Prince, possibly Prince bin Salman himself, or a Qatari official had visited Israel to discuss Middle East peace and geopolitical alignment perhaps. In either case, it is a major event. Either Saudi Arabia paid a visit to a nation it has no official recognition or relations with, or Qatar is desperately trying to find a way out of their predicament with Saudi Arabia and its allies.
Iran's ambitions in the Middle East will be the ultimate flashpoint to greater confrontation soon. American President Trump, Prince bin Salman, Israeli Prime Minister Benjamin Netanyahu and Egypt are of no mind to accept anything less than Iran's complete retreat from the Arabian Peninsula. Iran has no mind to retreat.
American oil companies that survived the oil crash and cleaned up their balance sheets stand a chance to double or triple in the next five years. Some can do even better. It is time to buy U.S. oil stocks for effect.
Deep Divisions Coming to a Head
The standoff between Qatar and the rest of the Gulf Cooperation Council continues into month four with no signs of closure. Saudi Arabia, the UAE, Bahrain and Egypt are still imposing restrictions on trade, travel, communication and diplomatic ties with Doha over perceived softness on Iran and interference with the affairs of other Arab countries.
Two months ago, Qatar flat rejected a list of 13 demands made by the group, but the group responded with six principles to mediate around. The original demands included that Qatar restrict diplomatic relations with Iran and to "align itself with the other Gulf and Arab countries militarily, politically, socially, and economically" - clear signals about the underlying conflict and potential direction the region is headed.
Confronting Qatar about Iran is a serious move. It basically says that being neutral is not acceptable. For its part, it seems that Qatar would truly prefer to be a neutral party. However, at least the perception is that Qatar has acted as a base for Iranian-supported actors, and that doesn't really play well with the GCC, who see it as support of Iran. Qatar has embarked on an interesting outreach program to American Jews to cleanse their image.
As of September 9th, Saudi Arabia suspended talks with Qatar, accusing them of distorting facts of a phone call between Sheikh Tamim bin Hamad al-Thani of Qatar and Saudi Crown Prince Mohammed bin Salman, who is not giving an inch of his hawkishness on the matters. This appears to be in the nature of the Crown Prince. While I will not completely argue the efficacy of the behavior, it is a clearly observable trait.
Meanwhile, Iran, a couple months ago, accused the United States of not honoring the nuclear deal. I watched Iranian foreign minister Javad Zarif on Fareed Zakaria's GPS on CNN say: "The United States has failed to implement its part of the bargain..." and "President Trump used his presence in Hamburg during the G-20 meeting, in order to dissuade leaders from other countries to engage in business with Iran. That is violation of not the spirit but of the letter of the JCPOA, of the nuclear deal."
The rhetoric came as President Trump was deciding whether or not to certify that Iran is holding up its end of the nuclear deal. It seems to me that Iran is ready for the nuclear deal to end, and the rhetoric is designed to instigate the United States to end the deal. If we do, then Iran will try to claim that it is the U.S. that is instigating conflict.
Having watched the behavior of Iran since I was a child, remembering the hostage crisis, including studying their tactics while in college and as an analyst, I have no faith in the Ayatollah or mullah leaders of Iran. I do happen to believe that a conflict is not only imminent, but probably necessary to free the world of major supporters of terror and to free the Iranian people to govern themselves again. I discussed my views with Dale Pinkert of Forex Analytix in this interview posted to YouTube.
President Trump's statements on Iran, including the May appearance with Israeli President Rivlin, clearly demonstrate that the president wants to put pressure on Iran. Not renewing the nuclear deal would create that pressure by returning sanctions against Iran. This would put pressure on the oil markets, obviously. For now, President Trump has renewed the nuclear deal with Iran. We'll see what happens when it comes up every 90 days.
Despite that renewal, the Trump administration is putting considerable pressure on Iran and those who would invest in Iran. This is leading to a stall in potential investments from foreign partners. Total (TOT), which is attempting to partner with Iran on development, is among those companies facing difficult decisions on what commitments to make and follow through on.
This sort of pressure is not the type that is normally reserved for negotiation. President Trump's pressure is designed to provoke. So, we see both nations posturing for conflict and, in fact, possibly trying to incite it. Like Prince bin Salman, President Trump does not see Iran's leaders as being reasonably able to negotiate with over such matters as terrorism and regional incursions. As I noted above, I do not either.
The Risk to Oil Supply
Should a conflict involving Iran occur, the risk to oil supply is significant. SCS OTC Corp. penned an article for OilPrice.com which I found timely and with a simple to understand headline: "Beware of Supply Risks When the Whole World is Bearish." This comment, I think, sums up my view of the evolving risks to oil supply:
"Given the market's intensely negative sentiment we think that it would be wise to remind ourselves that oil prices and supply risks generally enjoy an inverse relationship and the market has lived without a supply shock for abnormally long period. Increased potential for supply stress alongside overwhelmingly bearish market sentiment is, in our judgment, an upside risk to be carefully monitored."
Stratfor laid out in a subscription piece that the risks to oil supply in the Middle East were varied, but seeing a sustained drop due to facilities destruction, 1mbd to 3mbd disruption was likely with any conflict. The total potential risk is much higher than 3mbd per day, however, if bombing becomes aggressive within Iran and Iraq, which would likely be a battle ground.
Here, we must consider Russia's motivations in the matters. It is presumed that Russia would spring to the aid of Iran. I am not sure that is true; in fact, I doubt it. Russian President Putin and the hierarchy in Russia are no fans of Islam, nor any religion really, but especially those with connections to Chechen rebels. They would also love to see oil prices move above $80 per barrel soon.
I believe that if a conflict occurs, and especially if it is orchestrated well by the CIA and military intelligence, then Iran will appear to have some violation egregious enough for Russia to change their stance. That could take the form of an Islamic Revolutionary Guard Corps infraction that offends the sensibilities of President Putin. There is no shortage of heinous actions to choose from. It is a matter of tactics on the part of Russia when to say "enough is enough."
If Russia stands down, then the Saudi and Israeli troops would decimate the Iranian military with U.S. tactical and missile support in short order. While I know that many are looking for a smoking gun with regard to the Trump administration's ties to Russia, I think it is very possible that the ties revolve around putting an end to the Iranian threat - and I say that as a loose Hillary Clinton supporter. You can read about my thoughts about President Trump's challenges in my annual letter to clients if you like.
We must also consider the temporary transportation risks related to the Straits of Hormuz. Up to 18mbd of oil goes through that chokepoint. During a conflict, especially with Iran's mining and missile capabilities, that source of supply could be disrupted for months, or longer, if a conflict was not won or ended quickly.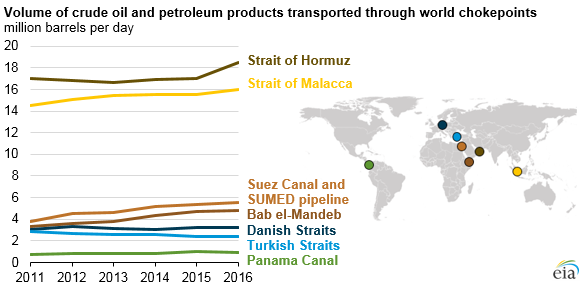 If there is an intermediate-term disruption of oil from Iran and Iraq, it is easy to see how quickly the oil market goes from balanced, which it is now, to significant shortfall eating quickly into global oil inventories, which are shrinking but still at the very high end of the 5-year average.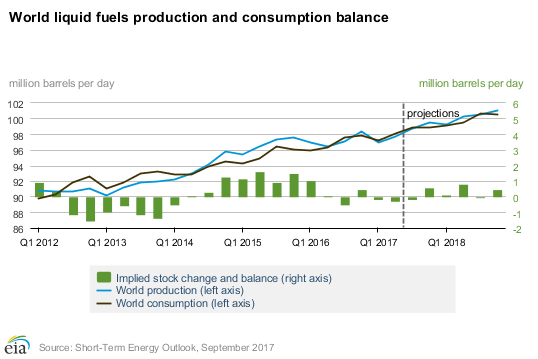 Investment Thesis
I believe a disruption to oil supply is coming. However, even if it isn't, the information I just provided about the oil markets being in balance, coupled with demand rising slightly above expectations, means that oil prices are slated to at least rise slowly. This set of scenarios presents the first win-win situation for those bullish on oil for the first time since very early 2014. Either you win a little slowly or a lot suddenly. I will take that equation on any sector anytime.
When considering investments in oil, it is important to consider the correlation to rising oil prices and the effectiveness of the investment vehicle. As I have told retail investors over and over, stay away from the United States Oil ETF (USO) and those like it, as the decay is fast and painful in many cases, leaving investors with a correct thesis without any gains, and often losses. If you truly want to invest directly in oil, then get a futures account.
Most people should not even get a futures account, as there are nearly as effective ways to gain leverage to rising oil prices without risking money on margin, which is required in a futures account. Buying the right stocks or ETFs is a better strategy.
A key takeaway of the SCS article linked above is that retail ETF flows are falling, just as spec shorts are petering out. In other words, the less sophisticated and more sophisticated are heading in different directions again. A word of caution to retail that they might be throwing in the towel at just the wrong time - again.
I, for one, have slowly been accumulating oil stocks as a hedge on my concerns regarding an oil supply shock in the Middle East. My favorite oil investment is the SPDR S&P Oil & Gas Equipment & Services ETF (NYSEARCA:XES), which I discussed extensively in a recent ETF File. Services stocks do particularly well when oil prices rise, as the correlation is actually a bit higher than with exploration and service stocks as a group.
The SPDR Oil & Gas Equipment and Services ETF has just started rebounding off of a major retracement from last year's highs and is a buy right now. As you can see, the trend line has just started moving up and is crossing the 50-day moving average that offers a large upside to the 200-day moving average, which is where new buyers often emerge during the curve up.
Here are three stocks I like particularly as well:
Buy Encana (ECA), as it has also entered its first leg up. I wrote extensively about Encana in this article a couple months ago and have been keeping Margin of Safety Investors (MOSI) up to date.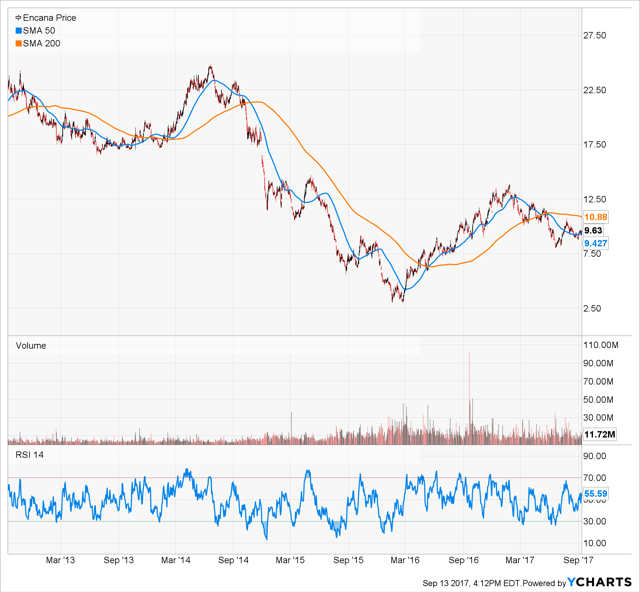 Buy Occidental Petroleum (OXY), which is among the largest drillers in the low-cost Permian Basin in Texas. Occidental has strategically positioned itself to do well with $50 oil, which I believe is imminent. The company has assets that it can still sell into an oil rally as well. The rumor recently was that Exxon Mobil (XOM), which is desperate for growth, was looking to acquire the company. I believe it is more likely that Occidental sells itself in pieces until it is much leaner, however, its strategic capabilities are deep and varied. I like company management to make strong decisions. The stock yields about a 5% dividend while we wait for higher oil prices.
I am providing more information for MOSI subscribers. Occidental Petroleum stock has just started to move up.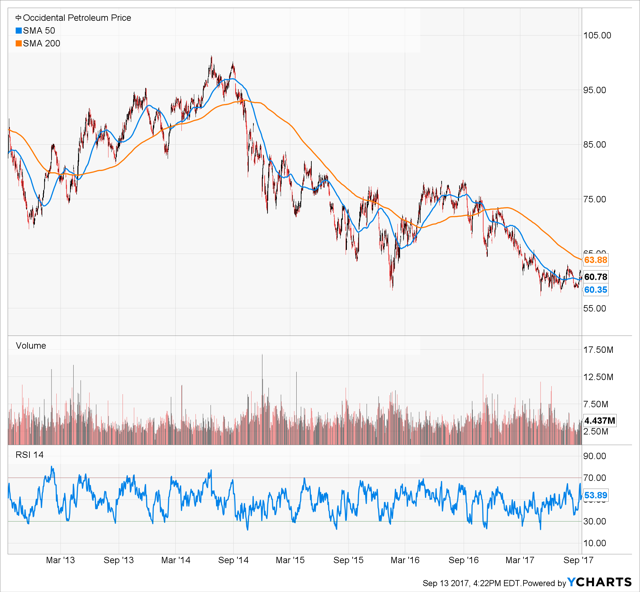 Buy Helmerich & Payne (HP), which is the largest land driller in the U.S. This company is on my "Dividend 30" stock list for MOSI subscribers, and I have been recommending it for several days already. Whether oil prices rise or not, Helmerich & Payne stands to do well. If oil prices rise, there is more demand, especially if there is a supply disruption in the Middle East.
The company has retrenched financially in recent years and still pays a 5% dividend, which appears safe. It is also just hitting a first price breakout.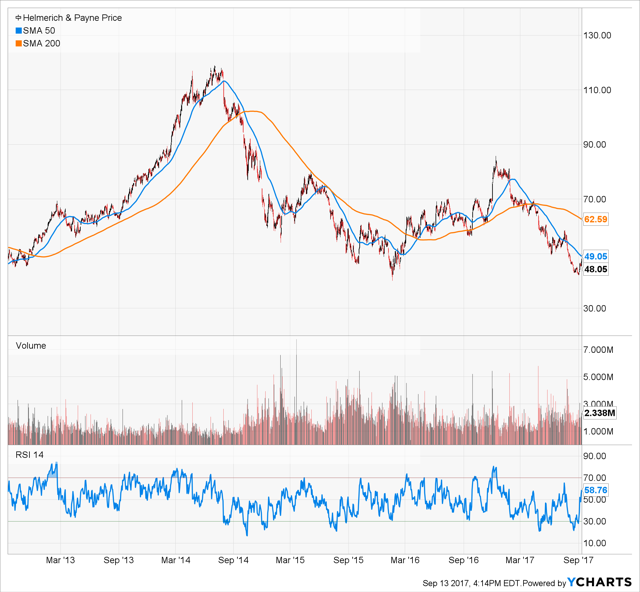 Through the end of September, Founders Pricing is being extended at Margin of Safety Investing. For only $250 per year, you can have my research, investment thoughts and access to me via chats and live monthly webinars. Those who sign up and become paid members by the end of September will also receive a $1 portfolio review, which is normally valued through my firm at $800 to $3200.