I follow many preferred shares in the mortgage REIT sector. On top of the preferred shares, there are a few baby bonds in the mix. Baby bonds work similar to preferred shares. One of the main differences is that preferred shares are subordinate to baby bonds.
Global Indemnity (GBLI) is an insurance company with two securities which are baby bonds, GBLIZ and GBLIL. Global Indemnity does not have major credit risk in the near future, in my opinion.
I have owned GBLIL in the past, but sold it as it climbed above my buy zone. GBLIL has come back into the target buy zone.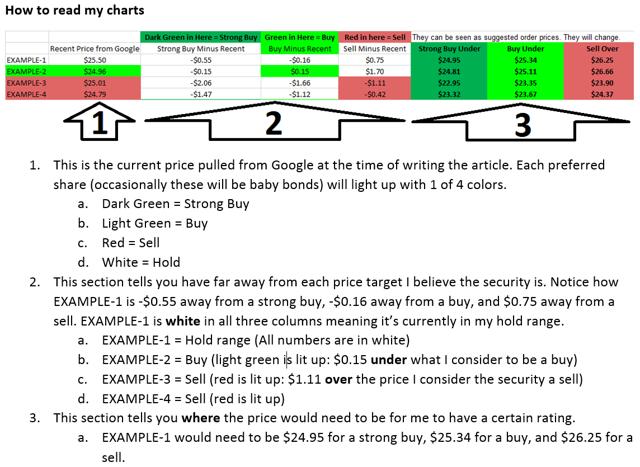 Treasury prices climbed but these baby bonds didn't move much. Both securities are selling at a material premium. The premium is essentially irrelevant given other strong metrics. GBLIL is the clear winner, but GBLIZ is also a good investment.
Here are the prices of the two securities from GBLI and my ratings:

GBLIZ is $0.15 above a buy and $0.68 below a sell.
GBLIL also has a wide hold range. GBLIL is $0.12 into my buy range. The price would have to go from $25.78 to $26.74 for the rating to become a sell. These wide ranges are a product of call protection:

GBLIZ has almost 3 years of call protection on the calendar.
GBLIL has about 4.5 years of call protection. On top of the massive call protection comes a great stripped yield:
7.63% for GBLIZ
7.76% for GBLIL
GBLIL has 1.5 years of call protection on GBLIZ. It also has an extra 13 basis points on the stripped yield. The cost is only $0.14 higher for GBLIL, which has materially better metrics. The worst-cash-to-call won't matter for a few years, but both securities are in the dark green. Worst-cash-to-call:
GBLIZ: $5.18
GBLIL: $8.58
Both securities offer a great yield and are a fine pick for an investor diversifying their risk by picking a company outside of the REIT space for a solid yield on a baby bond. GBLIL is the winner right now by a material margin.
The market capitalization over preferred liquidation ratio for GBLI at 3.07 is on the lower end. However, GBLI has a great credit rating and its common stock is doing well.
Conclusion
GBLIZ is a moderate investment right now with a few years of call protection. GBLIZ also comes with a nice stripped yield at 7.63%. It is outshined currently by GBLIL. GBLIL has significantly more call protection and comes with a higher yield at 7.76%. These two strong metrics justify a larger premium when compared to GBLIZ. GBLIL is in the buy zone. For investors outside the United States, the interest income may be preferential to the dividends on preferred shares.
Stripped yield
Here's additional information on the preferred share stripped yields:

Leave a note in the comment section
I was asked by a reader to put more information about the yields in the preferred share articles I've been writing. If there's anything you'd like to see, please leave a comment.
Broker and preferred share tickers
Almost every major broker in the United States has their own method for referring to preferred shares. I put together a spreadsheet that cross-references each of the major brokers along with the symbol they use for each preferred share. Here are the different tickers for the preferred shares by broker.
Click The Mortgage REIT Forum to sign up for:
Actionable buy and sell target prices
Best research on preferred shares and REITs
Best reviews on the site – 234/235 stars
Stable dividend yields over 7%
You get instant actionable SMS alerts.
Sign up before October 1st, 2017 to lock in at $360/year
Disclosure: I/we have no positions in any stocks mentioned, and no plans to initiate any positions within the next 72 hours.
I wrote this article myself, and it expresses my own opinions. I am not receiving compensation for it (other than from Seeking Alpha). I have no business relationship with any company whose stock is mentioned in this article.
Additional disclosure: No financial advice. Investors are expected to do their own due diligence and consult with a professional who knows their objectives and constraints. CWMF actively trades in preferred shares and may buy or sell anything in the sector without prior notice. Tipranks: No ratings in this article.