Note: This article is the eighth in a series of ten articles addressing the future of slow GDP growth, high Federal debt, and strained household finances.
RECORD HIGH $12.7 TRILLION IN CONSUMER DEBT
In an article dated June 4, 2017 at Marketwatch, total consumer debt set a new record at $12.7 trillion. Americans now have the highest credit-card debt in U.S. history.
"The New York Federal Reserve released a new report Wednesday that showed U.S. collective household debt balances totaled $12.73 trillion in March 2017, surpassing the 2008 peak of $12.68 trillion."

"Here's how the numbers stack up for indebted Americans in 2017: Housing-related debt is down nearly $1 trillion since the 2008 peak, but auto loan balances are $367 billion higher, and student loans are a whopping $671 billion higher, according to the Federal Reserve. (Credit card debt is still down from peak recession levels, and isn't expected to surpass them until the end of 2019)."
The following is from an article on consumer debt by Lance Roberts. (Note that the data was before we achieved the record $12.7T consumer debt.) The Conundrum Of Debt, Tax Cuts & The Economy.
FOUR MAJOR ELEVATED RISKS
Record high consumer debt elevates 4 major risks:
1) Higher interest rates (than the zero-bound) increase the amount that must be paid monthly on credit card and other floating-rate debt, and, makes it costlier to buy homes and autos.
From a Bloomberg article dated June 4, 2017: Trump's America Is Facing a $13 Trillion Consumer Debt Hangover
"And with economic optimism having lifted borrowing rates since the election and the Federal Reserve expected to hike further, it's getting more expensive for borrowers to refinance."
Juxtapose rising interest rates with the total outstanding credit card debt in the table above. For credit card debt of approximately $880B, a 1% interest rate increase takes another $8.8B of annual consumer dollars that would otherwise be available for spending (ignoring payment of principal or an increase in total credit card debt)
2) Record debt burdens increase the potential for delinquencies, particularly among sub-prime borrowers who may be squeezed financially.
Per the aforementioned Marketwatch article:
"About 10% of student loan balances are 90 days or more delinquent, according to the New York Federal Reserve's analysis."
From the Lance Roberts article mentioned above:
"In fact, just like in 2008, debts are going bad at a very alarming pace. In fact, things have already gotten so bad the IMF has issued a major warning about it…

"In America alone, bad debt held by companies could reach $4 trillion, or almost a quarter of corporate assets considered. That debt could undermine financial stability if mishandled.

The percentage of 'weak,' 'vulnerable' or 'challenged' debt held as assets by US firms has almost arrived at the same level it was right before the 2008 crisis."
Such can be clearly witnessed by low productivity, weakness in auto sales and most discretionary goods, and the rising delinquency rates, and fall in demand, across major loan types."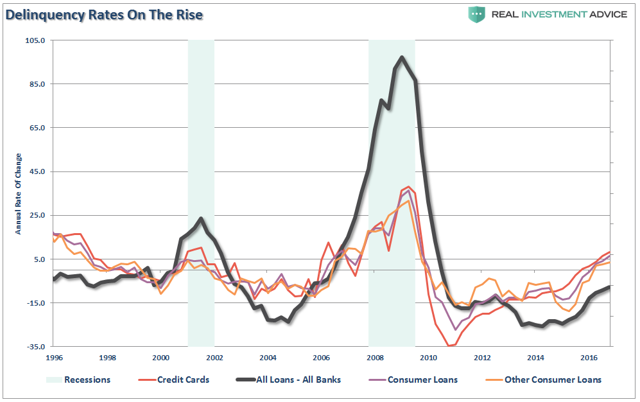 In a March 30, 2017 article, Lance Roberts reports on the growing auto-loan sub-prime debt problem: Markets Overlooking A Clear & Present Danger?
"Given the lack of wage growth, consumers are needing to get payments down to levels where they can afford them. Furthermore, about 1/3rd of the loans are going to individuals with credit scores averaging 550 which carry much higher rates up to 20%. In fact, since 2010, the share of sub-prime Auto ABS origination has come from deep subprime deals which have increased from just 5.1% in 2010 to 32.5% currently. That growth has been augmented by the emergence of new deep sub-prime lenders which are lenders who did not issue loans prior to 2012."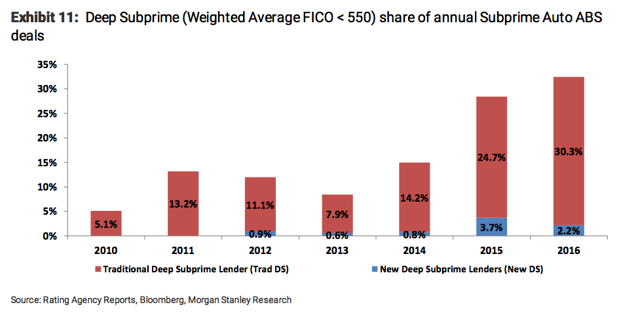 "The eventual issue is that since cars are typically turned over every 3-5 years on average, borrowers are typically upside down in their vehicle when it comes time to trade it in. Between the negative equity of their trade-in, along with title, taxes, and license fees, and a hefty dealer profit rolled into the original loan, there is going to be a substantial problem down the road. As noted by Reuters:

"Typically, car dealers tack on an amount equal to the negative equity to a loan for the consumers' next vehicle. To keep the monthly payments stable, the new credit is for a greater length of time.

Over the course of multiple trade-ins, negative equity accumulates. Moody's calls this the 'trade-in treadmill,' the result of which is 'increasing lender risk, with larger and larger loss-severity exposure.'""

"With more sub-prime auto loans outstanding currently than prior to the financial crisis, defaults rising rapidly and a large majority with negative equity in their vehicles, swapping out to a new car is becoming a near impossible option. Recently, Matt Turner cobbled together some interesting data from several sources on this issue."

"The 60-day delinquency rate for subprime auto loans is at the highest level in at least seven years according to Fitch. The jump in losses on sub-prime auto loans moved to 9.1% in January, up from 7.9% a year earlier. The data suggests there is notable deterioration in the performance of these loans and given there are roughly 6-million individuals at least 90-days late on payments suggests rising stress levels of the consumer."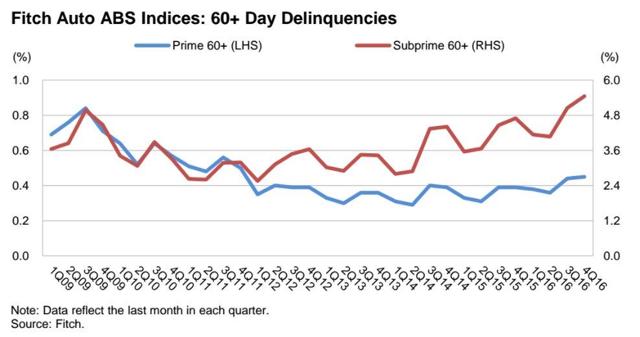 And it's not as if auto loans are the only delinquency problem. From the March 30, 2017 Lance Roberts article:
"Currently, 42.4 million Americans owe $1.3 trillion in federal student loans. More than 4.2 million borrowers were in default as of the end of 2016, up from 3.6 million in 2015. In all, 1.1 million more borrowers went into or re-entered default last year."
3) As incomes have stagnated and other household costs have increased (healthcare, rent/housing, college costs, for example), borrowing is on the increase for monthly living expenses.
From the Marketwatch article:
"Another trend: Older Americans are taking on a greater share of debt than in years past. Those ages 60 and older held 22.5% of total household debt in the fourth quarter of 2016, compared with 15.9% in 2008 and 12.6% in 2003." "... high levels of debt could mean older Americans don't have enough money saved for retirement."
A Bankrate article discusses a survey which reports that nearly one out of every four Americans have more credit card debt than emergency savings. Survey Finds 52% Have More In Savings Than Debt | Bankrate.com.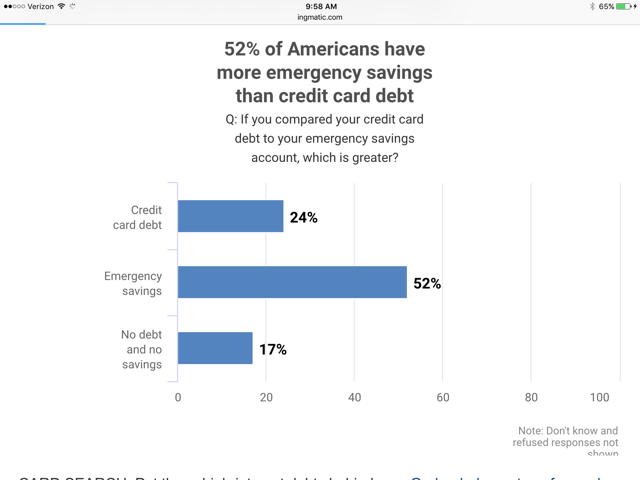 From the aforementioned Lance Roberts article:
"Of course, given that wage growth has been on the decline since the 1980s, it is no surprise debt has been used to supplant the differential between incomes and the 'expected' standard of living."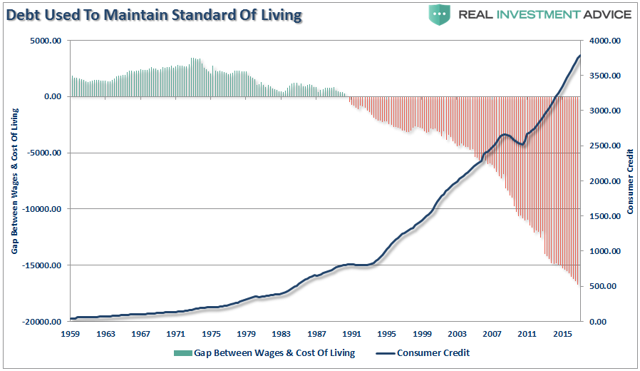 "Why debt has grown: The rise in the cost of living has outpaced income growth over the past 13 years. Median household income has grown 28% since 2003, but expenses have outpaced it significantly. Medical costs increased by 57% and food and beverage prices by 36% in that same span."
4) Record household borrowing may inhibit future borrowing capacity, hence the rate of GDP growth from consumer spending.
Debt is future income, spending, and GDP brought forward. Borrowings since the Great Recession will limit future borrowings and spending due to maxxed credit and money dedicated to repayments.
From the Marketwatch article:
"Nearly a quarter of the adults the Fed surveyed in 2016 said they or their spouse purchased or leased a new or used car or truck in the last year. About two-thirds of them took out a loan to do so. And 12% of those who used loans had a longer repayment period than the amount of time they even planned to own the vehicle."
More from the aforementioned Lance Roberts article:
"As shown in the chart below, total debt and leverage has surged to levels that have become a sustainable economic drag. (The dashed black line was the demarcation point where living beyond our means became the standard mentality.)"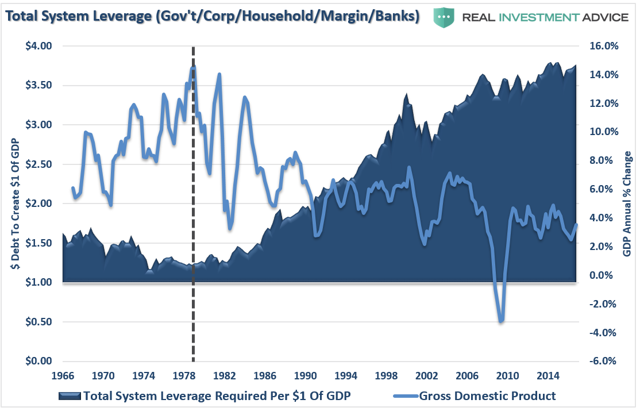 "We are clearly in a late stage expansion and, as I discussed recently, the pent-up demand for big-ticket items, like autos, has been exhausted."

"Combine replacement needs with low interest rates, easy financing, and extended terms and you get a sales cycle as shown below."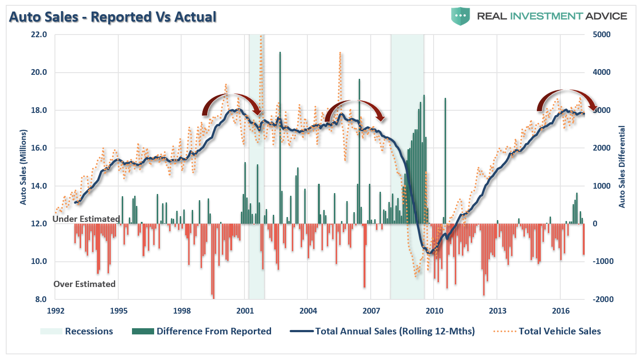 This information above clearly demonstrates that after reaching a new-record level, we may face a decreasing rate of demand for new autos (notwithstanding any near-term demand for replacements due to hurricanes Harvey and Irma).
This Marketwatch article dated April 30, 2017 addresses just how pinched some consumers are by high debts and monthly payments, making it clear that more borrowing and future discretionary spending for this group will be limited going forward. 40% of Americans spend up to half of their income servicing debt.
"Some 40% of Americans with debt are spending up to half of their monthly income paying it back. And that may not even be enough to cover how much they owe. That's according to a study on debt Thursday released by Northwestern Mutual, a life insurance and financial services company. The polling company Harris Poll surveyed more than 2,000 U.S. adults in February 2017 on behalf of Northwestern Mutual.

The survey found that nearly half of Americans are carrying at least $25,000 in debt, with an average debt of $37,000, excluding mortgage payments. About one in 10 surveyed said their debt was more than $100,000. "It becomes an ongoing cycle and really hard to get out of, given that people are not prioritizing debt and saving for their future as the first part of their budget," Rebekah Barsch, the vice-president of planning at Northwestern Mutual, said."
Let's reference the table at the beginning of this blog from the Federal Reserve on total debt outstanding. The average balance for credit card debt is nearly $17,000 and for student loan debt is nearly $50,000 for those carrying this type of debt. Repayment of this debt will crimp consumer discretionary funds in future years which would otherwise be available for additional monthly purchases.
SUMMARY
Putting together all this data on consumer debt, what's it mean going forward?
Per the Lance Roberts article:
"We are clearly in a late stage expansion and, as I discussed recently, the pent-up demand for big-ticket items, like autos, has been exhausted.

"Economic cycles do not last indefinitely. While fiscal and monetary policies can extend cycles by "pulling forward" future consumption, such actions create an eventual "void" that cannot be filled. In fact, there is mounting evidence the "event horizon" may have been reached as seen through the lens of auto sales." "

"With the current expansion now in its 83rd month, it is more than 20 months longer than the average since the end of World War II. Pent-up demand has been exhausted, and the future demand void created by the Fed's monetary interventionism the economy is in the opposite condition of what is found during... an early stage expansion."
In the quote above, Roberts is referring to the fact that while the Fed's injection of liquidity into the economy assisted the expansion, it may have run its course.
BOTTOM LINE
1) Pent-up demand has been satisfied to some degree in the eight years since the recession, and as it becomes further satisfied, it will result in reduced demand in the future. This is illustrated in the case of new autos (notwithstanding any demand in the near term for vehicles flooded by two hurricanes Harvey and Irma).
2) The average balance for credit card debt is nearly $17,000, and for student loan debt it is nearly $50,000, for those carrying these types of debt. At a record high of $12.7T, consumer borrowing capacity going forward will be diminished, limiting to some degree the rate of consumer spending from new debt GDP growth.
3) Interest rates have risen off the zero-bound, making borrowing more costly. For those with variable-rate debt, this will further tighten household budgets and displace money that would otherwise be available for monthly purchases. "Some 40% of Americans with debt are spending up to half of their monthly income paying it back. And that may not even be enough to cover how much they owe."
4) Delinquencies are on the rise. Also, August 2017 unemployment levels are at 4.4%, and we may be nearing peak employment. While this doesn't mean the expansion has ended, it may mean that we are nearer to the end than the beginning. (Note that I would expect the expansion to be extended somewhat by spending resulting from the two hurricanes). Hence, at some point, the economy will weaken first prior to moving into a recession, accelerating the rate of delinquencies and defaults given the record level of household debt.
Disclosure: I am/we are long EQIX, COR, CONE, MSFT, O, STWD, JCAP, HASI, UNIT, HD, LOW. I wrote this article myself, and it expresses my own opinions. I am not receiving compensation for it (other than from Seeking Alpha). I have no business relationship with any company whose stock is mentioned in this article.