Cost-Cutting Measures For An Auto Nano-Cap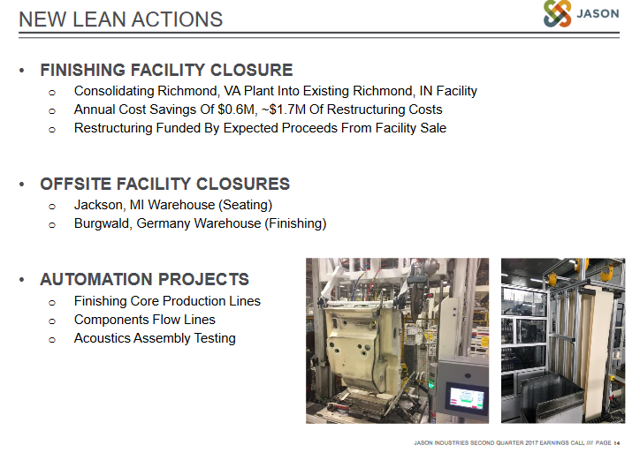 One nano-cap company is finding gains in operating income despite an overall decline in auto sales and other decreased revenue streams. Jason Industries, Inc. (NASDAQ:JASN) manufactures a wide array of automotive parts (even seats for lawnmowers) and has a market capital hovering around $31m. It is of larger size when one looks at its annual revenue of $705m (2016). The company headquarters is in Milwaukee, Wisconsin, and it has several other U.S locations too. Yet, for a small company, it is highly globalized. Of its four business segments, Finishing, Seating, Components and Automotive Acoustics, Finishing is primarily abroad with 17 of the 20 locations in foreign countries, including Mexico and China.
As seen in the Q2 2017 earnings slide above, a saving of up to $1.7m is expected to come from consolidating manufacturing plants. A separate facility consolidation is set to complete by Q4 2017 that will give another $1.5m in savings.
The Swift FCF Yield
A positive aspect for Jason Industries is that they are cash flow positive. Saurabh Kapadia of Corre Partners notes, "...$55 million in cash at the end of the quarter and another $7 million or so coming from the sale of the acoustics business and with another $45 million in availability..."
A swift computation of the free cash flow (FCF) yield shows the company's standing in relation to Ford Motor Co. (NYSE:F) and General Motors Co. (NYSE:GM).

One takeaway is that GM has negative cash flow while the other two are drastically superior. As mentioned earlier, the market capitalization places Jason Industries as a nano-cap stock, but that is misleading. Its size is better expressed by using enterprise value. In comparison to Ford Motor Co., the EV Yield is slightly lower, a 3.08% vs. 4.41%.
It is unusual for a company to have such a high FCF yield as 4.10%. This is due to how low the price per share of Jason Industries is trading at in comparison to the amount of cash flow it has. This could normalize as the stock price rebounds, which would be more likely than not.
The FCF has assisted in paying down debt. It has also improved its liquidity and debt relation as seen below in its last presentation.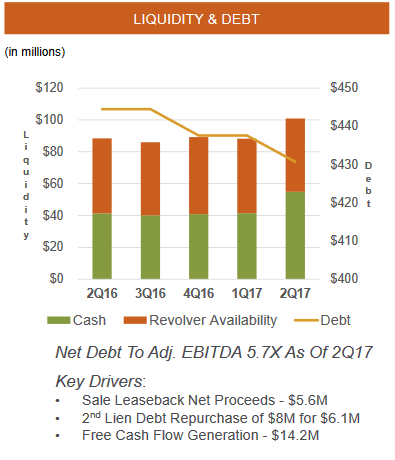 Jason Industries, Inc. Is Underfollowed
You know it's bad enough when a company of interest only trades 40k shares in a day. On top of that, ever since the 2014 M&A with Quinpario Acquisition Corp. (QPAC) certain entities didn't keep up with the changes. The M&A resulted in a company name change from Quinpario to Jason Industries. However, Google Finance still lists them as Quinpario Acquisition Corp., but with the proper ticker: JASN. This means popular blogs and analyst reviews on Jason Industries, Inc. are not detected by the Google bot webcrawler, properly listed or categorized for searches.
Worse than that is the SEC.gov quick search. If you try to look at the financial statements, a ticker search of JASN will produce "No matching Ticker Symbol."

Perhaps a few shareholders' correspondence to the respective organizations could fix these errors.
Further evidence of small coverage was the last earnings call; only one analyst participated, to which I can summarize.
Q: What are you going to do with your cash?
A: We plan on doing something good.
Possibly the biggest risk and concern for investing in this company is if there were to be growth and a good catalyst, no one would notice.
Jason Industries Chart Shows Forming Support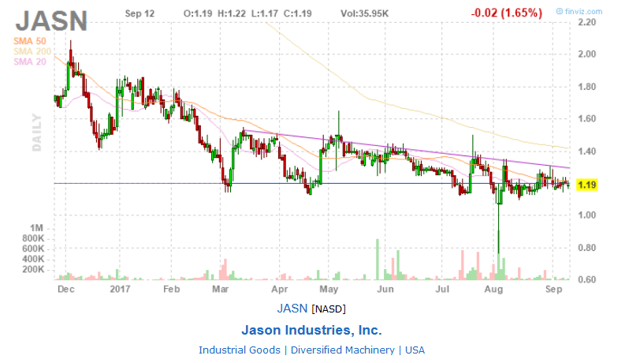 You can see the August 3rd dip which brought the low to $0.77. This was a reaction to a revenue miss on the last quarterly earnings report. That did not last long as it closed at $1.08 the same day. Since then, the price per share has continued to consolidate around $1.19.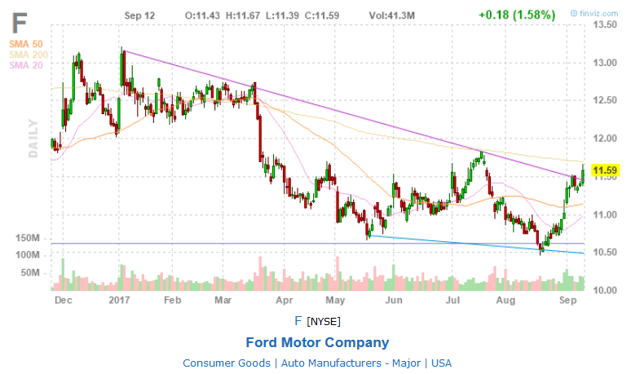 Ford Motor Co. has been the example of the auto industry's downward trend in market capitalization. Stock prices have steadily fallen since the beginning of 2017. Recently, sentiment has started to change, and the stock has risen in the last weeks of trading. The F-Series truck sales beat in August, and it's a likely choice for fleets in the reconstruction business for Hurricane Harvey and Hurricane Irma.
Overall, the early sentiment of fear for the auto industry was overdone. As it bounces back so to would the supporting companies that manufacture specialized parts.
At these yearly lows and a consolidating support, Jason Industry, Inc. is rated a buy.
Click the follow option at the top header next to author's name. The feature will alert you to new releases. The author's profile lists past articles.
Disclosure: I am/we are long F, JASN.
I wrote this article myself, and it expresses my own opinions. I am not receiving compensation for it (other than from Seeking Alpha). I have no business relationship with any company whose stock is mentioned in this article.