Dean Foods Co. (NYSE:DF) is a Dallas, Texas based food and beverage company and large direct-to-store distributor of dairy products in North America. The company processes fluid raw milk through pasteurization to produce bottled milk, butter, cheese, cottage cheese, yogurt, ice cream, and other cultured products.
While the dairy industry is essential, it is a highly competitive environment. Many firms compete to supply direct substitute goods. Recently, Wal-Mart Stores Inc. (WMT) ended a large contract with Dean Foods for private label products. Wal-Mart entered the milk processing business after opening their own dairy plant earlier this year, in Indiana. So far, the company's stock price has declined by 40% year to date, and there might be room for another 20% decline.
Despite steering away from margin-hurting private labels, and efforts to simplify the number of brands the company offers, Dean Foods is fighting a losing battle. Not only do they have to persuade consumers to buy more dairy, they need to defend their market share. As new competitors enter the market, the company must seek ways to lower prices in order to stay competitive. This natural economic force is counter-intuitive to company strategy of promoting their premium brands. For example, channel checks show that Dean's markup on "Dairy Pure" white milk retails at more than twice the average price of private label milk. Persuasion alone, is unlikely to boost top line growth or improve the company's financial performance. Furthermore, the company's ability to lower prices will not happen without capital investments into plant and distribution efficiency. This is where the competitors are winning.
This article challenges the company's ability grow without increasing their leverage position. To back this view, a summary of economic events in the dairy industry along with some interesting data will be presented. Additionally, a discussion about several events in the company's history will make you question the company's position. The adverse effect of some of these events, may not be fully priced into the stock. Finally, an average price to earnings multiple of comparable companies implies that the intrinsic value of the company is lower.
Dairy Industry Woes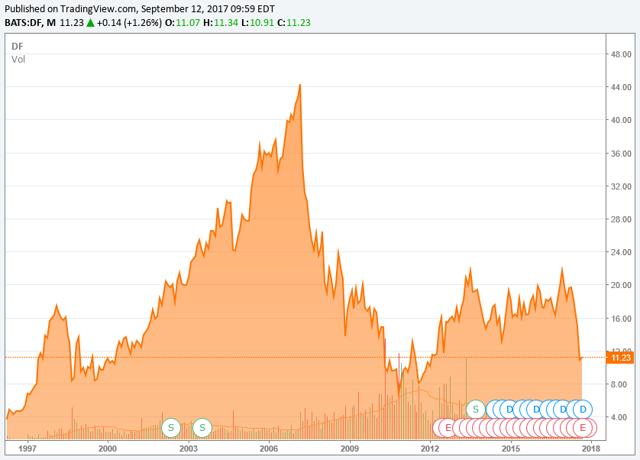 Four years ago, the dairy industry faced a supply shock in fluid raw milk and dry milk powder stemming from the Chinese milk scandal. The supply shock came after a major Chinese dairy producer, Sanlu Group, processed and shipped baby formula and dry milk powder that had been tainted with melamine. The Chinese government banned sales and purchases and shut down operations of several large dairy suppliers. During the same period, demand for dairy increased rapidly in China as the emerging economy was boosting growth of the middle class.
To add to this, a severe drought in North America stunted the growth rate of dairy herd in the region. The region is the world's second largest dairy exporter, after New Zealand. As a result of these problems, prices for fluid raw milk surged. Dairy companies which buy and process fluid raw milk into products, were adversely affected by this price surge. However, as prices increased, dairy farmers saw incentives to increase their herd of dairy cattle. As the drought in North America began to ease, the increased amount of rain improved the volume yields of the growing herds.
The supply shock quickly turned into a glut of fluid raw milk. With excess dairy in the market, dairy farmers started dumping their excess milk in fields and mixing it in with manure for fertilizer. This was their desperate attempt to support dairy prices.
But dairy producers faced another conflict in North America; dairy consumption had been declining for decades. In fact, economists estimate the market for dairy in the U.S. has contracted by 11 percent since 2000.
At Dean Foods, with demand for dairy in decline the company was fighting retail pricing pressures for years. When the fluid raw milk supply was tight, the company's margins were being squeezed by the rising costs of fluid raw milk. This was the case for several years, until raw milk prices peaked near the end of 2014. The following year, the declining prices of fluid raw milk finally started to relieve some of those margin pressures. (Bloomberg source here.)
Empirical Signals from Dairy Market Data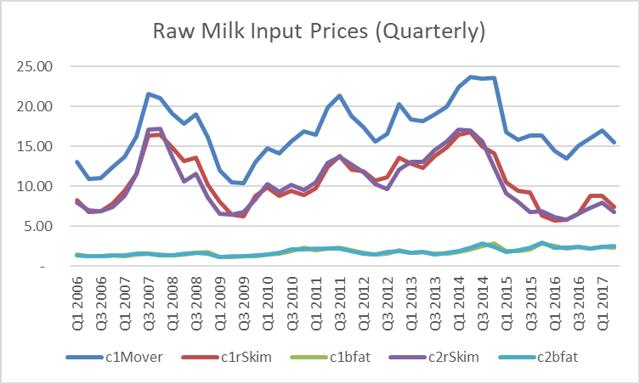 The graph pictured above depicts the prices for Class I "Mover" Raw Milk, Class I Raw Skim, Class I Butterfat, Class II Raw Skim, and Class II Butterfat. These are the main inputs which dairy companies buy and process into consumable goods. These inputs are also key drivers of cost of goods sold in Dean Foods' income statements. The company has published these figures in every 10-K and 10-Q since 2002. The U.S. Department of Agriculture (USDA) is a main regulator of the dairy industry and they set the monthly base prices for these categories. USDA publishes these prices in their monthly "Announcement of Advanced Prices and Pricing Factors" and "Announcement of Class and Component Prices." The data is available on the USDA website.
As a side note to the reader, it is helpful to monitor dairy market pricing data for empirical signals. Also, monitoring stock price changes relative to changes in dairy market prices may help time entering or exiting positions in the company's shares. The prices published in the company's SEC filings each quarter can be derived from a rolling window three-month average of the prices set by the USDA. The time lag between the USDA monthly price announcements and Dean's quarterly statements, is almost like taking a peek into the company's cost of goods sold, ahead of earnings.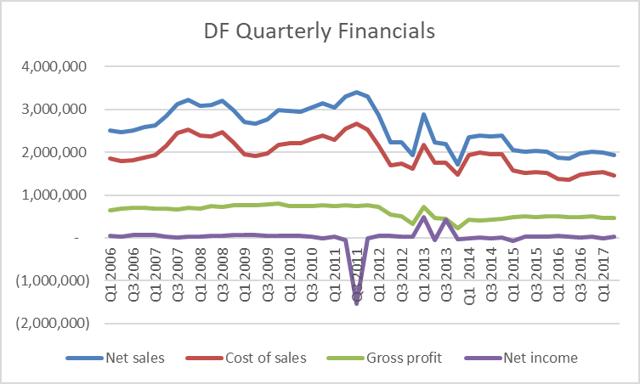 The graph above illustrates Dean Foods' financial performance over the same interval as the graph presented earlier, titled "Raw Milk Input Prices." Note that the spikes in Q3 2011, Q1 2013, and Q3 2013 net income are the result of asset impairments, and gains on asset disposals.
After normalizing earnings for one-time events, there happens to be a bit of an inverse correlation between Dean Foods' profitability and direction of these prices. Looking closely at both charts, one can see that financial performance becomes more volatile during periods where input costs are rising.
There are a few caveats, though. Dean Foods did not include "Class I Mover" prices until after 2005. Also, the dairy pricing data has only been made available in the company's 10K/Q statements since 2002. So, the sample size is quite small which makes the data slightly weak for modeling earnings. Moving forward, a larger data set should be far more helpful in predicting the direction of the company's financial performance. There are other useful data points as well, such as resin, diesel, and even crude oil prices. Including these other data categories appears to strengthen the econometric modeling power. Anyone interested should be able to collect this information from public domain and fit their own models. One may also use this data to test other dairy companies from the Dairy 100 list.
Even though supply side macroeconomics have improved, the demand side is still a problem. While the decline in fluid raw milk prices provided relief for the company's margins, the demand problem appears to be exacerbating. Milk sales in the U.S. declined by 14 percent in the first six months of 2017 alone.
The next discussion is about a series of events which may not be fully priced into the stock. Two of these events have held back organic growth. Additionally, asset sales and impairments have diminished value and may take years for investors to recover. These events and company missteps are presented next.
Value Destruction Through "Strategic Acquisitions"
Years of mismanagement at Dean Foods has downsized the company considerably in the last few years. Revenue is down to $7.7 billion, from its peak at $12.3 billion in 2008. The company started out as a packaged ice business and container manufacturer. After buying Suiza Dairy Corporation in 1993, the company become a diversified multinational food and beverage business. The ice and container businesses were sold off until only the core North American food and beverage businesses were left. Robust periods of growth through so-called "strategic acquisitions" were later offset by periods of downsizing. There is more, if you dig deep enough. Among the company's SEC filings there are some interesting documents, like this one. You will also find that impairments from discontinued operations, and losses on asset disposals appear to be part of the company's nature.
There are also litigation scandals. For instance, Dean Foods once held a joint venture with Dairy Farmers of America (DFA), the largest dairy farmers' cooperative in the country. Through which the DFA obtained a 34 percent interest in the company's Dairy Group. The DFA organization was later sued by dairy farmers themselves for allegedly colluding with Dean Foods to mislead U.S. regulators about the prices they charged for nonfat dry milk.
More recently, there was an insider trading scandal involving former chairman of the board Thomas C. Davis, professional golfer Phil Mickelson, and professional gambler William T. Walters.
During the time of the Chinese milk scandal, Dean Foods was burdened with interest payments on long term debt of roughly twice the market capitalization of the company. Attempting to reduce that debt burden, management decided to start raising cash by unloading assets. They once again started selling off business units, and discontinuing inefficient operations. A repeating pattern from the company's early history in the packaged ice and container businesses. The next section summarizes a few recent events that question the company's ability to grow.
Event Number One:
In October of 2012 the company held an IPO for a 13 percent stake in WhiteWave Foods. The unit produced organic and soy milk products, allowing Dean Foods to diversify into niche markets. Management noted that the spin would help WhiteWave grow independently from the company. At the same time, Dean Foods was looking to strip away non-dairy units to focus on managing core dairy businesses.
In December 2012, The Dallas Morning News reported that:
"as a result of the transaction, Dean Foods says it expects to see $887 million in net proceeds, which it expects to use to retire outstanding debt, "significantly lowering its leverage and increasing its financial flexibility."
Even if management was looking to raise cash and deleverage, spinning off WhiteWave was perhaps the worst idea of the business. WhiteWave gave Dean Foods the only exposure it had to an actual growing market. WhiteWave offered substitute goods to consumers looking to cut dairy out of their diet. WhiteWave's cash flow provided a much-needed contribution to the company's margins. The decision was not just a bad one, it was also poorly timed.
In late 2013, Dean Foods cashed out on the WhiteWave spin for small gain on sale. WhiteWave was only publicly traded for few years before being acquired by French consumer goods company Danone SA for $10.4 billion. Danone jumped on the opportunity to build up their position in organic products, and Dean Foods missed out on the deal. More importantly though, Dean missed the growth opportunity of this business unit. Along with a tighter SG&A budget, and skipping the dividend they now pay out, the company would have freed up sufficient cash to invest in operating efficiency.
Event Number Two:
In December of 2012, the company announce their decision to sell Morningstar Foods to Saputo Inc. (OTCPK:SAPIF). The company sold Morningstar for just $1.45 billion on sales of $1.34 billion the unit reported at the end of FY 2011. After the sale, Saputo became the third largest dairy processor in North America, as measured by the Dairy 100 list. Saputo is now only a few million in sales shy of overtaking Dean Foods, becoming number two on the list. In the sale announcement, the company mentioned they expected to use all proceeds to retire outstanding debt. According to the statement, the payoff would lower the company's leverage and increase their financial flexibility. The Dallas Morning News reported:
"the sale was part of a broader effort by Dean, long the nation's largest dairy producer, to dismantle itself."
The decision was another effort to raise cash, but efforts to work on improving margins did not seem to be important. Dallas Morning News also reported that the WhiteWave spin and Morningstar sale left Dean as just a producer of branded and private label milk. As the paper further notes:
"this portion of the business is perhaps the least sexy, with lower growth potential than the sold off sister segments."
Before the sale of Morningstar, the core dairy unit accounted for about 74 percent of Dean's consolidated net sales. Today, that same dairy unit is closer to 100 percent of total sales. In the most recent quarter Dean Foods netted sales of $1.92 billion, down from $2.2 billion in the same quarter the year after the sale. In 2014 the company started to pay out a dividend, and in 2016 increased their dividend further. Keep in mind, the dividend was announced the same year that fluid raw milk prices were pressuring margins. Why did the company start paying out a dividend right after they downsized? One way to look at it is that management was so bad at creating value, they thought it best to pay investors to hold their shares.
Event Number Three:
Perhaps in connection to the insider trading case, or just poor company performance, the company announced on September 2, 2016 that Mr. Ralph P. Scozzafava would be taking over for Mr. Gregg Tanner as the Chief Executive Officer effective January 1, 2017. Tanner had been the company's chief executive since October 31, 2012. The incoming CEO is Dean Foods former Chief Operations Officer, a role specifically involved in overseeing day to day operations and cost minimization. Normally, a CEO transition is not as much a misstep as it is a favor to investors. However, in this case Scozzafava simply picked up the agenda left behind by Tanner. In the most recent earnings call, the new chief executive even echoed Tanner's fearful tone which was heard before, in 2014. Company management has lowered their profit guidance for full-year financial performance.
The change in executive leadership is also interesting because of Ralph Scozzafava's history at a prior company. He was both Chairman and CEO of Furniture Brands International, (FBI) Inc. Per Bloomberg, the company filed for Ch. 11 liquidation bankruptcy on August 1, 2014. According to his Wikipedia page, Scozzafava had lead a two-year turnaround effort at FBI. The turnaround never happened, and the company was acquired by KPS Capital Partners L.P. in bankruptcy court. KPS is a private equity investment company known for investing in special situations. The firm makes controlling investments in companies that experience a period of transition or need to make restructurings changes. So, is the future of Dean Foods set in stone or is this all just mere coincidence?
Making Sense of These Events
The takeaway from all this is that Dean Foods has a knack for accepting a lower present value deals. The company preferred a one-time lump sum payment of $320 million in the WhiteWave spinoff. In doing so, the company gave up between $140 to $214 million per year in net income. This is the equivalent of $300 million in operating cash from the business unit, in exchange for paying down long-term debt. They made this decision at a time when they could have consolidated their debt and renegotiated terms in a low interest rate environment. In addition, the Morningstar and WhiteWave business units had ability to generate interest-free cash for the company. While the decision they made lowered their debt and interest payments for the company in the short run, it did so at the expense of long term future growth.
The company's vision is to be "the most admired and trusted provider of wholesome, great-tasting dairy products at every occasion." Rather than sell of important business units, their products could also have been re-branded under Dean Foods brands to further promote the company itself. In this manner, all products would have been under one advertising agenda, while the company preserved market share and remained diversified. Further, interest-free cash from these units along with slashing SG&A, would have allowed the company to invest into operational improvements, years ago.
To think the investor relations homepage reads: "At Dean Foods, we see the glass as half full. With a strong history of doing things right, and a commitment to responsible growth and sustainable business practices, Dean Foods is prepared to face the challenges ahead and welcome a future full of promise." History seems to disagree. The company is heading back to their old ways as they start to acquire businesses and lever up, again. In June of 2016, the company acquired Friendly's Ice Cream Holdings Corp. for $158.2 million. The acquisition was financed through a combination of cash and revolving credit facilities. To grow the top line, more acquisitions are to be expected, which again questions the sale of WhiteWave and Morningstar.
Dean Foods' Valuation Relative to Comps
Currently, the company has an Enterprise Value (EV) of $1.8 billion down from $2.5 billion in 2016. The market capitalization is $1 billion, down from $1.7 billion in 2016. Dean Foods has a price to earnings multiple of 17.3, up from 14.9 in 2016. The company trades at 6.7x enterprise value to EBITDA, 0.30x enterprise value to sales, 0.13x price to sales, and 1.68x price to book value. Though the valuation may seem cheap, it's not cheap enough relative to comps.

The table pictured above contains a list of diverse cheaply-valued produce and farming companies in the consumer goods sector of the economy. These companies were screened due to their similar inconsistent historical earnings. These are companies quite difficult to model out properly. For this reason, a price to earnings multiple approach was the preferred method to value Dean Foods' shares. The comp average P/E ratio implies that the shares should be valued between 13.8 and 14 times earnings. This means shares should be trading between $8 and $9 per share; or 20 percent lower.
With a market capitalization of less than one billion, in the medium to long run, the company would be an ideal private equity candidate. Considering the company's capital constraints and challenges ahead, a private equity buyout would benefit both Dean Foods and the buyer. An alternate event is an activist role to change management and board, and push for margin expansion. Activism is not prevented in the capital structure, debt covenants, or by protective measures. The last and final possibility is that Dean Foods could become a special situation. This last possibility would likely be preceded by elimination of the company's dividend.
Short Recommendation
A recap for the reader, the article discussed an insider trading scandal, asset impairments, accountancy errors, and amended statements. The company's history of aggressive growth through acquisitions was followed by divestitures and poorly timed asset sales. Lastly, the new chief executive previously attempted a turnaround effort at "Furniture Brands International Inc." Eventually FBI filed for bankruptcy and was sold to special situations investing firm, KPS Capital.
In late August of this year, the company unexpectedly announced the departure of CFO, Chris Bellairs. Still, the company has more than just a need for a permanent CFO. What the company needs is a well-defined strategy for creating value. Given the recent stream of analyst downgrades and the aftermath of Hurricanes Harvey and Irma, who knows what else will surprise investors at the end of the quarter. Considering the timing of Wal-Mart's entrance into the dairy industry, the company's near-term outlook is highly uncertain.
In conclusion, based on the information presented throughout this article, it is the writer's belief that after current quarter earnings are made public, the company's shares may decline further. The average P/E multiple of company peers implies that the stock should be priced near single digits. Facing continuous margin pressures, a robust period of growth is unlikely to happen any time soon. Unless the company can reassure investors that growth can come quickly, downside price action is likely to arise in the next few months. Investors looking to capture any downside should seek a hedged strategy using options contracts.
To keep track of any industry news related to Dean Foods, add the company to your Seeking Alpha 'alerts' list. The feature is pretty quick to reach your inbox.
Disclosure: I/we have no positions in any stocks mentioned, but may initiate a short position in DF over the next 72 hours.
I wrote this article myself, and it expresses my own opinions. I am not receiving compensation for it (other than from Seeking Alpha). I have no business relationship with any company whose stock is mentioned in this article.
Additional disclosure: Past performance is not an indicator of future performance. This post is illustrative and educational and is not a specific offer of products or services. Information in this article is not an offer to buy or sell, or a solicitation of any offer to buy or sell the securities mentioned herein. Information presented is believed to be factual and up-to-date, but I/We do not guarantee its accuracy and it should not be regarded as a complete analysis of the subjects discussed. All expressions of opinion reflect the judgment of the authors as of the date of publication and are subject to change. Please conduct your own due diligence prior to investing in any of the securities mentioned in this article.