Investment Thesis - Buy Carlyle Group (CG), earnings & dividend growth will drive stock up to $29 over the next 12 months - a 28% increase from current price of $22.80
Business Overview
Carlyle is a top tier U.S based private equity firm. They have $170B in assets under management - $54B in Corporate Private Equity, $39B in Real Assets (Real Estate & Natural Resources), $31B in Global Market Strategies, and $46B in Investment Solutions. Carlyle has 4 main categories of revenue- management fees, performance fees, investment income and other income. Management fees are recurring advisory fees (typically 1% to 2%) that are earned based on the total amount invested in its funds. Performance fees are earned based on the returns in its funds - typically 20% of gains once returns are over the 8% hurdle. Carlyle earns investment income when it invests in its own funds. The two main sources of revenue - management and performance fees account for 86% of total revenue.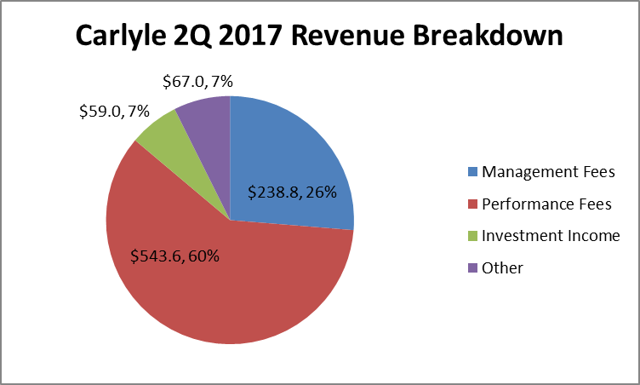 Unrealized appreciation in current funds will drive near term growth in dividends. Net Accrued Carry is the amount that existing funds have appreciated in value. Net Accrued Carry is a "paper gain" and hasn't been distributed to fund investors or to Carlyle shareholders. It is also a good indicator of future dividends. As funds mature, Carlyle is able to exit investments and turn the Net Accrued Carry from "paper gains" to Realized Performance Fees and distribute cash to investors and Carlyle Shareholders. On the 2Q 2017 Earnings Call, CFO Curtis Buser said that a good rule of thumb is that between 40% and 60% of the Net Accrued Carry balance is realized over the following 12 months. Carlyle currently has $1.6B in Net Accrued Carry, split as detailed in the 2Q Investor Presentation between older generation funds and latest generation funds. If we assume that 40% of the $1.6 B in net accrued carry is realized, this would equal $1.90 in dividends over the next 12 months. This is in line with the total projected dividends for Carlyle in 2018 of $2.04 or 38% growth over $1.48 projected 2017 dividends (per Credit Suisse model in their August 2nd 2017 Research Report).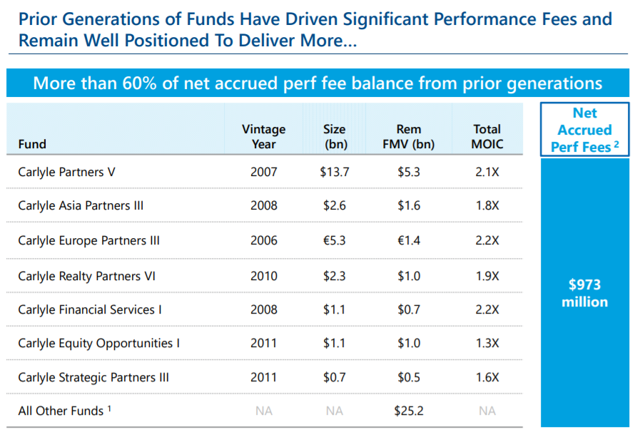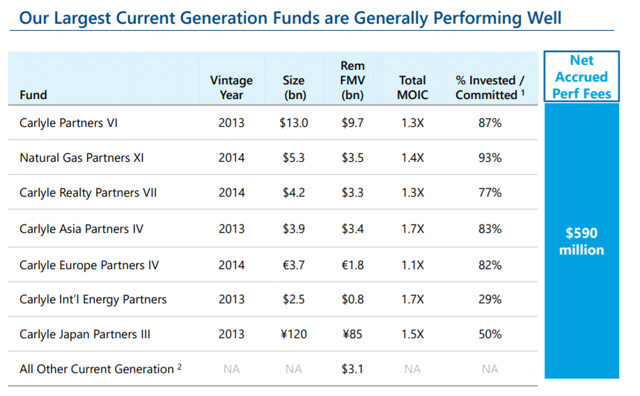 $54B in "dry powder" and $100B fund raising target will provide fuel for future growth. In their current funds, Carlyle has $54B of "dry powder" available to invest. They have a fund raising target of another $100B and are well on their way to achieving that target having already raised $25B. Carlyle is confident that they will hit the $100B target and believe they could exceed it if they wanted to - see comments below from CO-CEO David Rubenstein on 2Q 2017 Earnings Call.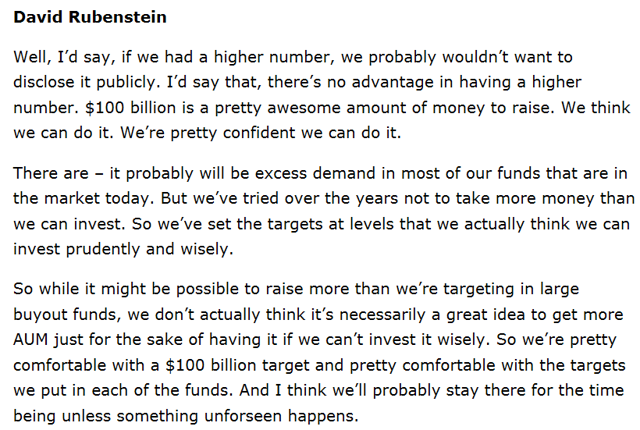 With the $100B target, Carlyle expects to grow its funds by 16% to 58% over the current generation of funds. See below from the 2Q Investor Presentation. This will set up Carlyle for long term growth as these funds are invested over the next 5 to 10 years.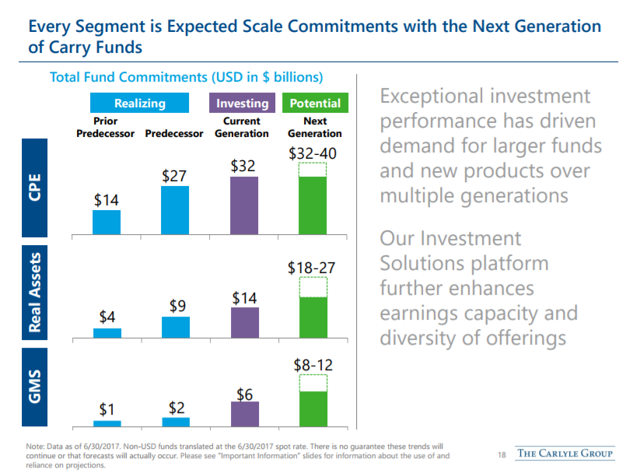 Lowest valuation and best growth prospects amongst its peers. Based on 2018 projected yield, Carlyle has the lowest valuation among its private equity peers. Carlyle also has the highest dividend growth rate.

Assuming that Carlyle will trade at a 7% projected 2018 yield, the stock will appreciate to $29 within the next 12 months - 28% appreciation over the current price of $22.80.
Key risks - competition for deals/lower returns & market decline
Competition for Deals/Lower Returns - due to the large amount of "dry powder" available to private equity firms and the large amount of capital being raised, there will be strong competition for deals. Carlyle may have to pay higher prices and may struggle to match past returns. Per McKinsey, this is a challenge the whole industry will face.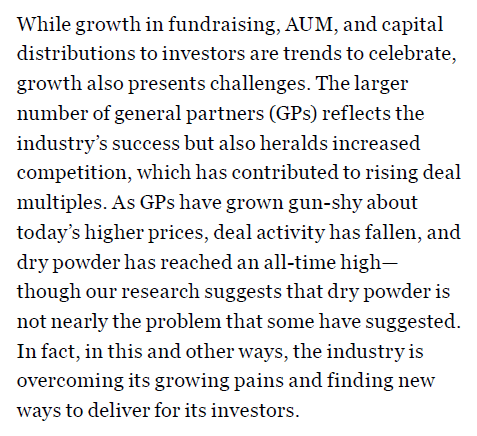 Market Decline - Carlyle is exposed to a market decline. The value of its investments will decline and both realized performance fees and accrued performance fees will decline. However, the silver lining in a market decline would be that Carlyle could put invest
Disclosure: I/we have no positions in any stocks mentioned, and no plans to initiate any positions within the next 72 hours. I wrote this article myself, and it expresses my own opinions. I am not receiving compensation for it (other than from Seeking Alpha). I have no business relationship with any company whose stock is mentioned in this article.