The name Tableau (NASDAQ: DATA) is almost synonymous with the service it provides, data visualization. It's the Kleenex of BI; the Band-Aid of data analytics. And like many other major brand names, Tableau has had to update its business model to fit into the times - and in this, it has succeeded.
Let's rewind for a minute back to February 2016, when Tableau unveiled 4Q15 earnings (which was fine) and initiated FY16 guidance (which was not). Guidance of $830-$850 million underwhelmed analysts expecting roughly $875 million (the company ended up achieving $827 million, still below the low end of the initial range).
In addition, the buzz on competition was just beginning to heat up - Microsoft (NASDAQ: MSFT) launched its much-awaited Power BI solution in late 2015, and SAP (NYSE: SAP) made updates to its Cognos BI. The weak guidance and competitive chatter in tandem pushed the stock down to $45, when it had once been software's favorite stock trading as high as $105.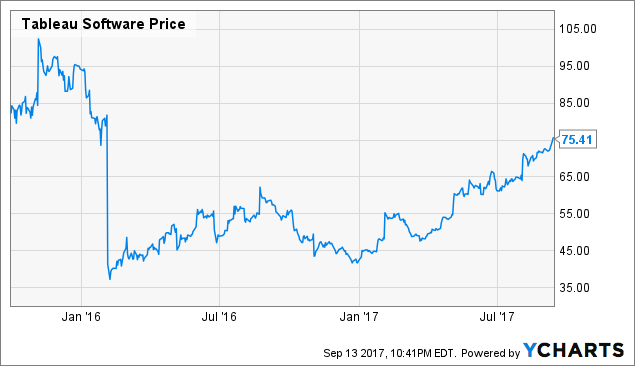 DATA
data by
YCharts
But underneath it all, Tableau was changing - away from the on-prem, perpetual license model toward a more stable SaaS subscription model, in accordance with the modern world's desire to consume all software in the cloud. Of course, revenues underperformed in the short term: A perpetual license for Tableau Desktop Professional costs $1,999/user, but that revenue is booked only one time - and upfront. When Tableau started shifting its sales pitch toward monthly subscriptions ($35/user/month), that model generates only a fifth of prior annual revenues. But in theory, that's revenue billable forever - not just for one year.
Great, old-school technology companies have all had to pivot toward subscription models to fit into the modern cloud world. Adobe (NYSE: ADBE) and Autodesk (NASDAQ: ADSK) are examples of companies whose cloud transitions are more than underway. Even Microsoft has shifted its consumer software strategy, focusing on Office 365 subscriptions versus the Office bundle packages we used to buy at Staples. These companies have all been rewarded for buffering their revenue bases with recurring subscriptions - and Tableau's transition is starting to look like a real winner.
Tableau's New Subscription Model (Pricing Updated April 2017)
Tableau posted Q2 results in early August, and from there we can see just how successful Tableau's cloud strategy has become in recent months.
Just to hammer home the point about recurring revenue subscriptions, see the chart below that notes Tableau's current pricing model (implemented in April 2017):
Figure 1. Tableau pricing


Tableau Desktop is the core application, allowing users to build data visualizations ("vizzes") and glean new insights from their data. Desktop essentially brings columns and rows of data "to life" on a screen, automatically turning raw data into images and charts.
Tableau Server allows for collaboration within Tableau across an organization, with individual users able to upload and share their visualizations with team members and pull data from a central repository. Customers can deploy Server in their own data centers or in their own public cloud domains (AWS, Azure, etc.). Tableau Online, at a slightly higher cost than Server, is the SaaS version of Tableau Server, hosted in Tableau's data centers.
Prior to Tableau's cloud transition, potential new customers would have seen a price tag of $1,000 to as much as $4,000 per user for a perpetual license, depending on the tier. For an IT buyer debating about whether or not to deploy Tableau, $35/month is a lot easier to swallow.
Therein lies the beauty of the SaaS model to software investors - while a user who deploys Tableau for 5+ years might actually pay more over time by paying a monthly subscription, it looks cheaper upfront. This change of optics can make all the difference in the world in snagging new clients and winning deals. Plus, it makes the SaaS company's revenues more predictable and allows the company to start each quarter with an existing revenue base, rather than beginning from scratch each time.
Subscription Growth
How well is this subscription model working out for Tableau?
We can slice the company's most current results in a number of ways. First, and most obviously, we turn to Tableau's annual recurring revenue (ARR), which represents the total value of the company's non-perpetual license revenue contracted on the books. Annual recurring revenue comprises of term licenses (licenses sold for a fixed-year term, not perpetually), recurring services, and subscriptions - which investors value most highly. As of Q2, this figure stands at $483.6 million - up an astounding 47% y/y from the prior year quarter.
Note that this figure represents roughly 60% of Tableau's 2016 revenue - meaning that in the year going forward, Tableau already has 60% of its revenue "locked in." Everything else is new business and incremental.
Tableau also separately reports its subscription growth figures - subscription annual recurring revenue (subscription ARR), as of Q2, stands at $103.5 million - up 175% from the prior year. This means that in just one year, Tableau has been able to nearly triple the value of its subscription business.
Lastly, Tableau discloses its ratable bookings mix for the quarter, and ratable bookings were 37% of Q2 bookings. This means that of all the deals Tableau booked in 2Q17, 37% were recurring deals. While this may not sound like a lot, ratable bookings was 16% in the prior year quarter - meaning that in just one year, Tableau has heavily leaned into its recurring revenue base in terms of its business mix, by more than doubling ratable bookings.
With the sales priority now clearly on cloud and subscription bookings, license revenues are declining (perpetual licenses are still available, they just aren't the front-running product anymore). However, the growth in subscription is able to offset the decline in license, with total revenues growing 7% in 2016. While 7% growth seems small for a software company (where growth in excess of 20-30% is ordinary), remember that weaning a company off big one-time licenses is going to produce some sort of deceleration, at least optically. The long-term picture for Tableau, however, is much brighter with subscription revenues in its belt.
Tableau's shift in focus is clear. Customers are responding well to Tableau's pricing changes, with optically smaller monthly subscription fees much less daunting to the eye than thousand-dollar license price tags. The growth numbers, especially the growth in subscription revenues, validates the wisdom of the company's model shift.
Cash Flow Story Is Heating Up
Not only is top line subscription growth exceeding expectations, Tableau is fulfilling its promise in the profitability realm as well.
Figure 2. Tableau operating margins

Tableau delivered 3% of operating margin improvement in 2Q17, most notably bringing down sales and marketing costs by 2 points - indicating a maturing sales force able to capture on sales efficiencies.
Cash flow also saw a meaningful uptick in response to revenue growth and margin improvement: OCF in the first half of 2017 grew 120% to $134 million, driven also by strong collections from customers.
Figure 3. Tableau cash flow

In the trailing twelve months, Tableau generated $248.5 million of operating cash flow (and roughly $179 million of free cash flow).
With Tableau's current market cap around $6 billion and enterprise value of $5 billion (netting out its significant ~$1b of net cash balances), Tableau is trading around 20x LTM OCF - a very reasonable multiple, considering its cash flow growth. Compare this to Adobe and Autodesk (the two other mid-cloud-transition companies), which are trading at OCF multiples of ~29x and ~149x, respectively.
Tableau's valuation is no longer hinging on its revenue - it's getting some support from its cash flow as well, which is a status very few software companies reach.
Valuation
Quite naturally, we turn from here to valuation, which we'll look at in two ways: revenue and cash flow, versus the two peers mentioned above.
First, on a revenue basis: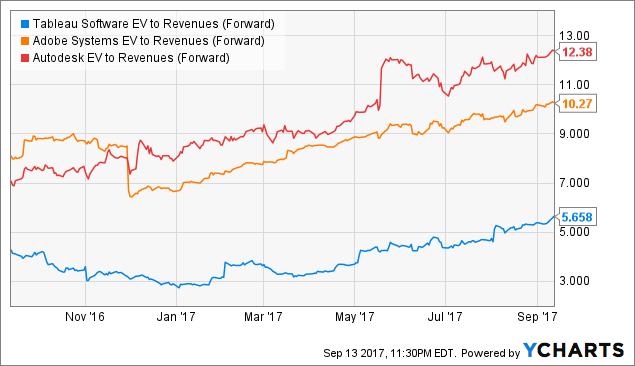 DATA EV to Revenues (Forward)
data by
YCharts
From this chart, it's pretty obvious Tableau is the most cheaply valued of the three companies undergoing cloud transitions. Also note that Adobe's transition to cloud is nearly complete (roughly 80% of its revenues are subscription-based now), so its transition has less juice in its engine. Tableau is just getting started, with ratable bookings (the most comparable metric, though not apples-to-apples) at only 37% of its business.
Tableau, at its high point, reached >8x forward revenues. With shares trading at 5.7x today, even after its recent rally, Tableau is inexpensive.
Now let's look at it from a cash flow basis: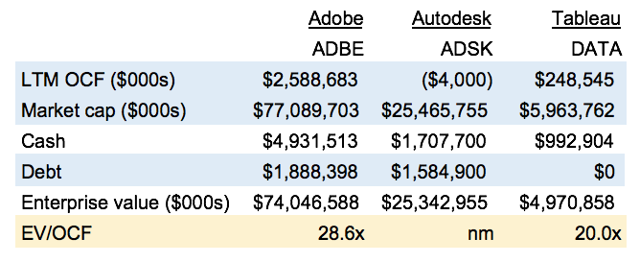 Note: Market cap based on close of trading on September 13; balance sheet and cash flow figures taken from most recent quarter
Tableau trades at the cheapest OCF multiple between all three companies as well, at a very reasonable 20x LTM OCF. Note that Autodesk generated -$4 million in OCF in the trailing twelve months, due to cash flow deterioration in 1H17 - but even taking Autodesk's full-year 2016 cash flow of $169.7 million instead of LTM cash flow, Autodesk's OCF multiple would be 149x - far greater than Tableau's.
Whether you're looking at Tableau from a revenue standpoint or a cash flow standpoint, it still trades at reasonable values relative to peers, even despite its recent run-up. There's valuation support in both metrics. Also note that this peer set was not cherry-picked to produce favorable analysis: the great majority of Tableau's software peers trade at >6x revenues, and typical software cash flow multiples are off the charts or negative (seeing as most growth software companies produce cash flow losses).
Final thoughts
I'll leave you with one last, brief comment. Tableau stock sank in early 2016 due to a combination of bad guidance and competition fears. Tableau's subscription growth metrics, the primary focus of this article, have made pretty clear that the former issue is one of the past.
The second, competition, revolves primarily around Microsoft Power BI's entry into the market in late 2015. Power BI is bundled along with Office subscriptions, or available standalone starting at $10/user/month, significantly lower than Tableau at $35/user/month. Investors originally thought Microsoft's lowball entry would wipe Tableau out of existence.
This didn't happen. Tableau was still named a Leader in Gartner's 2017 edition of the Business Intelligence Magic Quadrant, right alongside Microsoft. In addition, reviews on G2Crowd (a dominant software reviews engine) indicate in a side-by-side comparison of Tableau Desktop vs. Power BI that Tableau wins over Microsoft in many categories.
Among them: Tableau is ranked as easier to use and set up, and has better reviews in features and functionality (better charting and dashboards) - see chart below from G2Crowd, with Tableau's logo on the right:
Figure 4. Microsoft Power BI (left) vs. Tableau Desktop (right)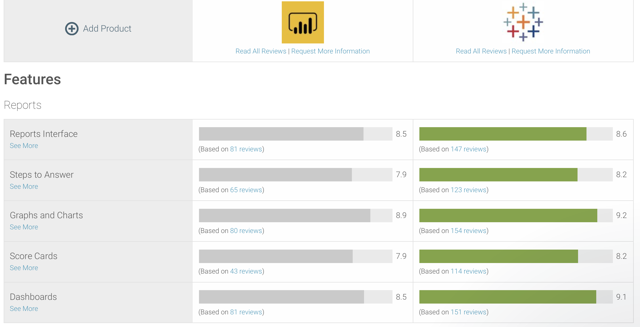 In addition, Tableau ranks much higher in advanced data analytics and visualization, and customers like the speed and intuitiveness with which they can build custom visualizations of their data.
Tableau, after all, is marketed as being "BI for the masses" - one that everyone can learn how to use. Microsoft is ranked higher primarily in its platform capabilities - or its ability to connect Power BI to third party and Office applications, which is to be expected, as Microsoft is the owner of a large suite of applications.
But Tableau is still standing well on its own. The competition is there, but Tableau still has a strong foothold in the market - and with subscription revenues and cash flows both growing at rapid clips, this is a stock to get in on while it's at the beginning of its recovery.
Disclosure: I/we have no positions in any stocks mentioned, and no plans to initiate any positions within the next 72 hours. I wrote this article myself, and it expresses my own opinions. I am not receiving compensation for it (other than from Seeking Alpha). I have no business relationship with any company whose stock is mentioned in this article.