The Hurricane season, why Sarasota escaped the worst
It has been a crazy last few weeks tracking the most active hurricane season since 2005 and there are new kids on the block. Tropical storm Jose (once a cat 5 hurricane) and a tropical depression in the central Atlantic, will be playing the games twister and riding the meteorological merry-go round (remember those games when we were kids?) as they curve and spin their way through the Atlantic. Jose has about a 60% chance of brushing the Northeast or New England coast early next week as some models are getting close to Long Island or eastern Mass. I still see threats to the eastern United States in coming weeks, as the active hurricane season will remain as I have been forecasting since June.
Speaking of kids, you either have to be a passionate meteorological nut like me or a child to subject yourself to go into the heart of a hurricane. Here is what I did outside in Sarasota, during the height of Irma and why it was not as bad as the media and some others, hyped up.
Here in Florida, there was still massive destruction, especially in the Florida Keys, but Irma originally nipped Cuba before heading north. This weakened the storm considerably as well as shear in the eastern Gulf of Mexico. Otherwise, the situation could have been a lot worse. For an interesting article we wrote that went viral on the Internet about why Sarasota, in particular has been safe from hurricanes for more than 500 years, please go here Sarasota has been safe from hurricanes for years. Why and what about Irma? - Jim Roemer's Best Weather This was actually written several days before Irma hit western Florida
Trading hurricane related markets. Which have been impacted the most?
We have seen one of the most incredible commodity energy spread plays since hurricane Sandy in 2010. First, gasoline soared vs. crude oil as Harvey shut down refineries causing a short-term spike and squeeze in gasoline prices ahead of a busy holiday driving weekend. But the over-reaction of long-term refinery damage from Harvey, was just that. The last 10-12 days since Harvey, a massive "unwinding" of those gasoline-crude spreads, in part as Hurricane Irma has the opposite effect, while Gulf coast refinery capacity went back online.
These kind of recommendations, plus trade suggestions in some commodity ETF's and even equities related to the weather, will be the sort of detailed weather trading analysis I will soon be offering "paid customers" on Seeking Alpha's "Market Place" segment. Due to the overwhelming demand, both on SA and from my web site Jim Roemer's Best Weather forecasting profits for business and individuals the service will offer a bi-monthly weather and investment newsletter combined with occasional weekly flash updates when something big changes. It will not be cheap however, about $250/month, but one successful trade can easily pay for the service. Hedge funds pay a lot more money for this kind of information.
For example, what are some of the equities affected by Hurricanes Harvey and Irma the past three weeks? Listed below are just a very few of the dozens that have been the beneficiary of what might be a $200 billion hit to the U.S. economy. This is some of the insight you will receive on market-place. How to trade weather and climate change.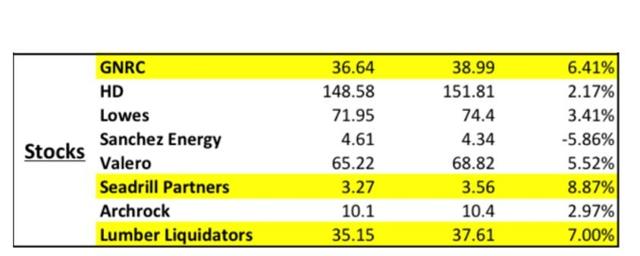 (above) As of September 13th, these stocks have had some pretty nice runs in the market with only Sanchez Energy (NYSE:SN) falling in price. Many insurance stocks which initially took a hit, also have rallied back. Even the bond market can be affected by hurricanes. For an interesting article about the aftermath of Hurricane and Irma and how severe weather can affect the U.S. economy and the bond market, I suggest you check out Cumberland Advisers in Sarasota, Florida.
Buy on hurricane rumor, sell on hurricane fact. Which markets are going up vs. down? What next?
The biggest commodity winner on the psychology of Hurricane Irma was cotton ETF BAL and orange juice which rallied about 10% and 15%, respectively. However, the U.S. cotton crop continues to be a record, and very often after hurricanes cotton is a classic "sell the fact" market. Indeed prices have come tumbling down. Whereas, Orange juice is keeping some of its risk premium in the market. Natural gas prices (UNG), which initially took a hit on demand destruction worries with Irma have been rallying in the face of hot fall weather. However, demand destruction from various tropical storms and hurricanes may well out weigh short-term hot weather demand in the east, so I cannot say the weather is wildly bullish natural gas for now
For the meantime, Jose may come closer to the New Jersey coast-line, if so, it may inspire more buying again in gasoline due to some east coast refineries. However, it appears eastern Mass. may be the more likely spot for some tropical storm force winds next week.
The one "non" hurricane weather market that is developing right now is in coffee (JO). Dry weather in Brazil is beginning to get noticed in the soybean market (SOYB), but planting does not really begin in earnest for another few weeks. However, for Brazil coffee it is getting dry and without ample October and November rains, prices could explode. What's our forecast? Unfortunately, this will only be reserved, again, for subscribers to our newsletter available on Market Place soon.
USDA corn and soybean crop report bearish, so why are grains rallying?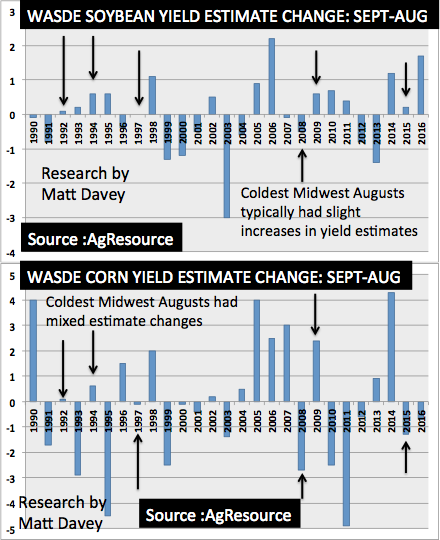 The chart above shows our prediction, weeks ago of why we felt the recent USDA crop report would be a bearish one, particularly for soybeans. The arrows above show how historically during cool August Midwest weather (even in years with scattered drought conditions, like this year) that the USDA tends to hold steady or increase soybean production in September. This indeed happened. However, currently, there is tremendous demand from China and worries that a warm, dry September in the Midwest might cause test weights for soybeans to fall more than the USDA feels. Combine this with psychology worries about a possible La Nina, and at least for now grain prices have bottomed. Midwest harvest weather next month and what happens for Brazil planting will be keys to the grain market in the coming weeks.
Disclosure: I/we have no positions in any stocks mentioned, and no plans to initiate any positions within the next 72 hours.
I wrote this article myself, and it expresses my own opinions. I am not receiving compensation for it. I have no business relationship with any company whose stock is mentioned in this article.