Now that the U.S. has steered clear of economic slowdown and worries about recession, the automotive industry is generally on an upward trend. In general, when we talk about the automotive industry on this website, the debate is usually about Teslas and Fords and Chevys; however, there are segments in the industry that benefit whenever a car is sold regardless of the make. We have such examples in the shape of Denso in Japan, Bosch in Germany, Magneti Marelli in Italy – and Adient Plc. (ADNT), which operates in 33 countries. As auto sales continue to grow year on year, I cannot think of a reason why more people do not invest their hard-earned money in suppliers with such diversified risk. It doesn't matter if the car industry is moving towards electrics and hybrids – Adient has got you covered.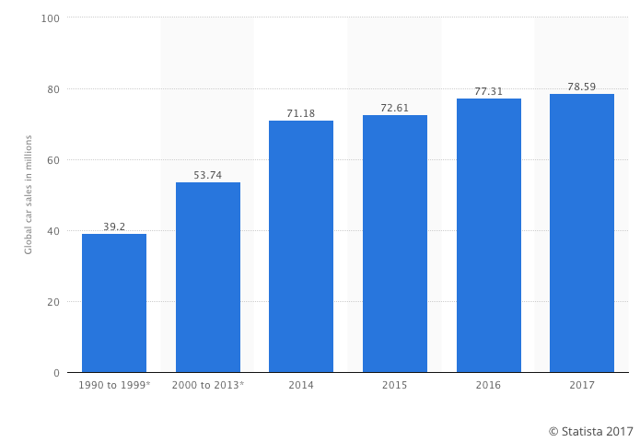 Company Background
Adient Plc. specializes in production of high quality automotive seats and other OEMs (original equipment manufacturer). The company was a spin-off venture from Johnson Controls and was listed on NYSE on 31st October, 2016. It enjoys a major 34% market share in car-seat manufacturing through various subsidiaries and controlled entities like; Adient US LLC, Adient Global Holdings Ltd., Hoover Universal, Inc., Erste JCI Holding Gmbh, Yanfeng Canada Automotive Interior Systems Ulc and Johnson Controls Automotriz México, S De R.L. De C.V., to name a few.
The company growth has been swaging in terms of revenue, gross income (G.I) and net income (N.I.) on a year on year basis, which is depicted by the 4-year revenue chart below: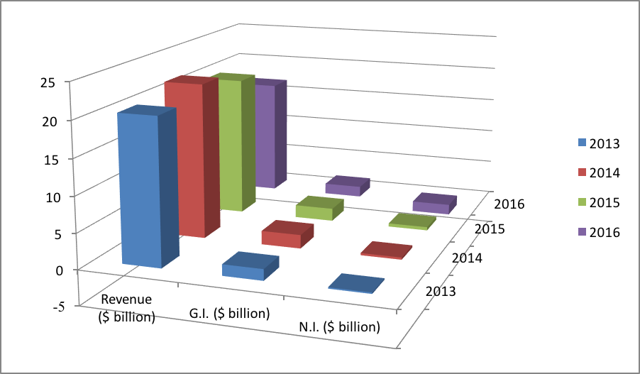 Financial Outlook:
The last 3 year financial data shows average performance metrics for the company without any growth in net income compared to last year. Moreover, the annual sales have declined by 7.91% (volume) whilst the EBITDA (Earnings before interest and tax, depreciation and amortization) has increased by approximately $295 million. Although the recent performance is not outstanding, the company can easily survive due to durable and reliable products and huge market share. Furthermore, following balance sheet figures indicate the company strategy for growth:
| | | | |
| --- | --- | --- | --- |
| Indicator | 2014 | 2015 | 2016 |
| | $2.41B | $2.14B | $2.20B |
| Intangible Assets (IA) | $2.50B | $2.29B | $2.29B |
| Total current assets (CA) | $4.50B | $3.81B | $5.69B |
| Total current liabilities (CL) | ($4.94B) | ($4.01B) | ($4.26B) |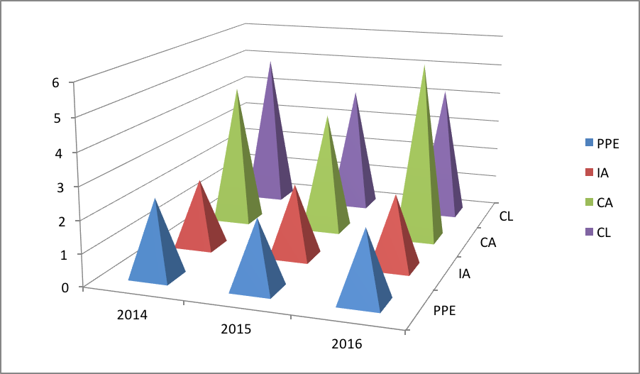 The graph above clearly depicts that in 2016 the company has improved its liquidity position in terms of excess current assets compared to current liabilities. However, the current ratio was roughly equal (1:1) in the years 2014 and 2015.
It is important to gauge the company's performance in comparison to other companies in the same industry. A brief comparison between performance of Adient Plc. and industry peers, is provided below:
| | | | | |
| --- | --- | --- | --- | --- |
| Indicator | | Faurecia SA | Magna International | Lear Corp |
| P/E ratio | N/A | 13.02 | 8.88 | 10.33 |
| Price/Book | 1.46 | 2.43 | 1.69 | 2.92 |
| Dividend Yield (%) | 0.74 | 1.68 | 2.18 | 1.16 |
| PEG Ratio-5 year expected (%) | | N/A | | |
Major industry peers for ADNT are Faurecia SA (EO.PA), Magna International Inc. (MGA) and Lear Corp (LEA).
ADNT has a relatively comparable P/B ratio with peers denoting mature stock, as share's market value is relatively equal to book value per share. This represents sustainable performance over a period of time.
Dividend Yield has been lagging behind with industry peers. The company's strategic position on DY indicates that future expected DY is not likely to increase significantly, despite strong financial outlook. The 5-year expected PEG ratio exceeds the competitors - a positive growth indicator.
Stock Performance (and comparison with peers):
The company scrip is in infancy and its listing on New York Stock Exchange in 2016 has revealed abundant investor confidence, as the share price has almost doubled in the 12-month period. The share commenced trading at $49.34, took the lowest dip to $44.75 and increased consistently to a current trade price of $72.51. The sharp hike in share price suggests bright future outlook for the scrip, despite the fact that the current financial results are struggling. The scrip has witnessed bullish sentiments and trend is expected to continue.

The past 5 days performance of company scrip has seen upward movement of approximately $2 (from $69.74 to $72.49).

Over the past 12 months, ADNT price has witnessed stable increments with few fluctuations as compared to other competitors, namely; Faurecia SA (EO.PA), Magna International Inc. (MGA) and Lear Corp (LEA). Once again, it is an indicator of company performance and investor confidence in it that stimulated such constant results.
Future Prospects of Auto Industry:
Over the past few decades, auto industry has gain ever increasing significance due to growing world population, consumer satisfaction and increase in worldwide transportation needs.
The last 3 years have seen exceptional results for the automobile sector with the majority sales being made to the US markets. The European and Chinese markets were next in line to see high sales volumes for automobile sales. It is expected that in 2017, cumulative worldwide automobile sales would soar record high and reach approximately 93.5 million units. The pros for the sector are low fuel prices, easily available financing options and impressive new technology. On the contrary, default in repayment of auto finance loan, warranty claims and safety requisites are the cons for the sector.
Conclusion:
ADNT has empirically evidenced growth and with the passage of time; furthermore, it has also established strong footprints in the industry due to advancements in technology. Readers that have access to Bloomberg terminals can look up car companies that have ADNT listed as one of their suppliers to appease their nerves. I believe it has a very strong future outlook and is a phenomenal stock to hold and reap the rewards. Due diligence and caution is always advised since the auto industry is saturated in the developed world, but with growth coming from eastern Europe and China, the sooner this stock is added to your portfolio the better.
Disclosure: I/we have no positions in any stocks mentioned, and no plans to initiate any positions within the next 72 hours.
I wrote this article myself, and it expresses my own opinions. I am not receiving compensation for it (other than from Seeking Alpha). I have no business relationship with any company whose stock is mentioned in this article.