At this point everyone is well aware of the main bull thesis for social media stocks. Consumers, especially young ones, are spending more of their time on social media sites and less time consuming traditional media. As a consequence advertising dollars are flocking to digital sources as the chart below from the WSJ shows.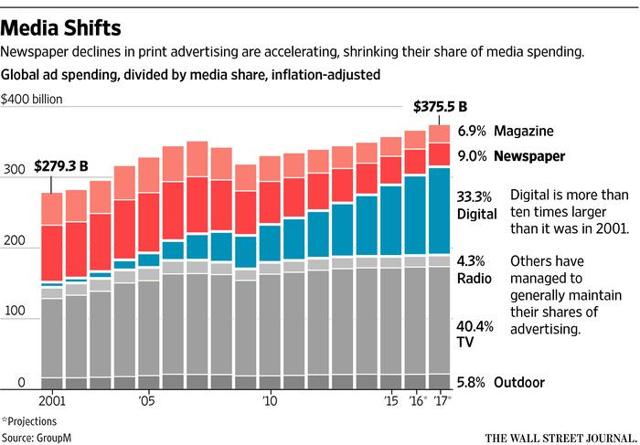 However, we think investors need to exercise some caution when accepting social media company user metrics at face value. In particular, we think investors in Twitter (TWTR) and Facebook (FB) should be concerned about the accuracy of company provided data.
Twitter's Fake Account Problem
Twitter's fake account problem is fairly well known. After all, the company admits to investors about 5% of its accounts are fake. However, we think the problem runs deeper than that. The 5% figure the company claims is from 2014. A recent study done in 2016 by USC and Indiana University found that between 29M and 48M accounts on Twitter are fake (or bots). That is a 9% to 15% fake account rate. Almost double or triple what Twitter claimed in 2014.
The fake account issue is probably most vividly illustrated by President Trump's personal Twitter account. Researchers have estimated roughly half of his followers are fake accounts. This article from the BBC about researchers who uncovered two bot-nets with 300,000 and 500,000 fake accounts, respectively, also helps illustrate the fake account issue at Twitter.
As the fake account issue continues to ferment, we question what will happen to advertising rates and growth at Twitter. After all, Twitter's growth rate has slowed to a crawl.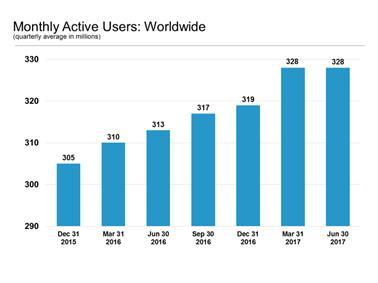 If we take Twitter's assertion that the fake account rate in 2014 was 5% that would mean that, if the research from USC and Indiana University is correct, that a huge portion of Twitter's user growth has come from fake accounts.
At the end of fiscal 2014 the company had 288M monthly active users. A 5% fake rate would give the company 273.6M legitimate accounts. If the USC study is correct then Twitter had between 271.2M to 290.3M legitimate accounts at the end of 2016. It may be that Twitter hasn't even grown since 2014.
Facebook's User Data Problems
While Facebook has a fake account issue it seems much less severe than Twitter. Anecdotally, I've received about 10 friend requests from fake accounts (generally scantily clad attractive female model-types who I have never met). However, Facebook seems diligent in deleting the fake accounts with most disappearing after only a few days. Indeed, in April Facebook purged tens of thousands of accounts to dismantle a spam ring. Because of Facebook's better level of oversight their fake account problem seems minimal. Instead, the major issue seems to be correctly calculating important user metrics for advertisers.
Back in September of 2016, the company admitted it had incorrectly calculated several ad metrics. It had overstated time users spent viewing videos and inflated the seven-day viewership of videos by 33% and the 28-day viewership numbers by 55%. Later in November the company admitted it had messed up even more ad metrics. The company said it overstated the time users spent on "instant articles" by 7-8% since August 2015 and double counted visitors to business posts.
This year there were discrepancies discovered in Facebook's Ads Manager claims about the reach of the platform. In the United States, the company claimed to reach 41M 18 to 24 year olds, 60M 25 to 35 year olds, and 61M 35 to 49 year olds. The problem is that according to US Census data there are only 31M 18 to 24 year olds and 45M 25 to 35 year olds in the US. The 35 to 49 year old number could be accurate provided every person in that demographic had a Facebook account since the 61M claimed users exactly matches the number of 35 to 49 year olds in the US as reported by the US Census Bureau.
What Does this Mean to Advertisers?
The big question for investors is what does this mean to advertisers and the stocks of social media companies. We want to be very clear that what we are pointing out is that the issues with user metrics may make it hard for investors to properly value the companies. We are certainly in agreement that the general trends in media and advertising are moving toward digital platforms. Advertising revenue for social media companies will still grow, but the question is at what rate?
Investors should remember what happened and is happening with Google's YouTube platform when advertisers pulled spending because ads appeared next to content that advertisers did not want to be associated with.
As advertisers find out Facebook's reach may not be as great as it claimed or advertising campaigns may not be performing as well as they thought what kind of adjustments will be made? This is even more critical for Twitter as that company's main issue appears to be fake users. What value are advertisers going to place on content that may be reaching 30M less people than originally thought?
There's also evidence that companies, organization, and countries are already using Facebook and Twitter for nefarious purposes by creating fake accounts and pages as well as purchasing ads to spread certain political messages. For example, a Russian company was recently found to have purchased $100,000 worth of ads as well as created 470 fake accounts or pages to spread certain political views. How widespread are these practices and as they are uncovered and shut down what effect will that have on reported growth rates?
With Facebook trading at 26 times forward earnings and Twitter trading at 50 times forward earnings both stocks, Twitter in particular, may be very sensitive to any changes in advertising growth rates that result from ongoing fake account and incorrectly calculated user metric issues. When projecting future ad growth rates we'd suggest investors err on the more conservative side.
Disclosure: I/we have no positions in any stocks mentioned, and no plans to initiate any positions within the next 72 hours. I wrote this article myself, and it expresses my own opinions. I am not receiving compensation for it (other than from Seeking Alpha). I have no business relationship with any company whose stock is mentioned in this article.