The South African current account data for the quarter just gone has been released and we can take this new data and enter it into our macro fiscal flows sectoral model to assess the fiscal impact on investment markets.
A positive macro picture for a land one is looking at investing in is a real prerequisite, and the purpose of this report is to assess if South Africa has a positive macro environment within which to invest.
One can summarize the national accounts in the following formulae:
Private Sector [P] = Government Sector [G] + External Sector [X]
and
GDP = Private Sector [P] + Government Sector [G] + External Sector [X]
These are accounting entities and are true by definition.
See the methodology section below for more detail on this formula.
The private sector is where the stock market is and we as investors want the stock market to go up. The stock market can only go up if the flows into it are positive. The private sector derives income from three sources:
Credit creation from banks. - Banks lend more than is repaid in loans.

Externally from overseas commerce.- Exports bring in more than imports cost.

Government spending. - More is spent than taxed.
In an ideal scenario, the private sector would receive large, and growing income flows from all three sources, and at the very least, the overall impact should be a positive flow even if one or two of the three flows are negative.
The stock market in the private sector, as well as all other private financial assets, should rise if the overall income flow into the private sector is positive. Certainly, the stock market would be unlikely to rise if the income flows were negative. Even in a shrinking economy, some sectors can grow while the rest of the pie shrinks such as defensive sectors like consumer staples and utilities.
We will look at each inflow in turn and start with the private sector, all the while updating our forecast result based on the latest data.
Private Sector
The chart below shows the level of private credit creation entering the private sector through commercial banks.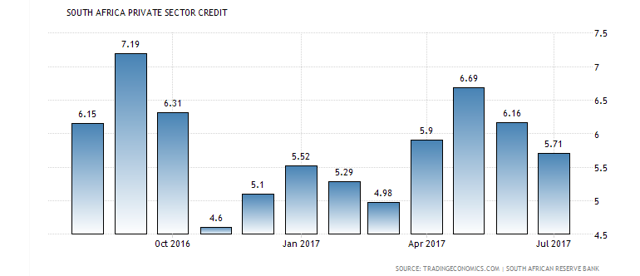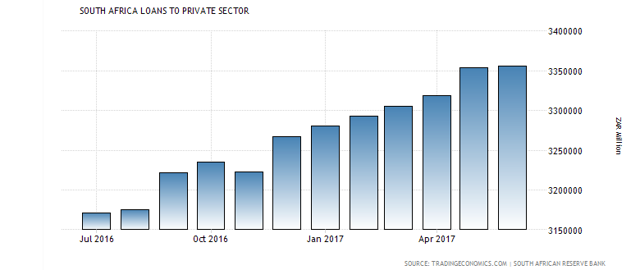 The chart shows private credit creation growing. Credit growth in 2017 is tracking to be the same level as 2016.
This is positive for the private sector and shows optimism in the economy.
Private sector debt to income is 74.4% so there is some capacity to take on more debt. Similar exporting nations to South African such as Canada and Australia have debt levels nearly double this figure or more.
External Sector
The external sector captures trade and commerce with other countries and is best captured by the current account. The current account is exports minus imports, and it also captures capital flows in and out of the country from financial transactions and investments. A positive overall result is best.
This is the new data we have and can add to our model.
The chart below shows the current account balance. South Africa has a poor current account balance with more funds flowing out than in. This is very typical for raw material exporting lands which tend to export primary materials and then import finished goods containing those same basic materials.
Dependence theory also applies in that the former colonial powers have set up the economy to provide cheap basic materials to them but not develop further where it might use those raw materials itself. The former colony remains dependent on the old colonial powers for advanced manufactured goods and technology and finance. Finance that as currency sovereigns they could have provided themselves.
So far this year the current account balance is improving and draining less from the economy each year. The longer term trend is the same, and since 2013 the current account balance has steadily improved and is tracking to maintain this trend.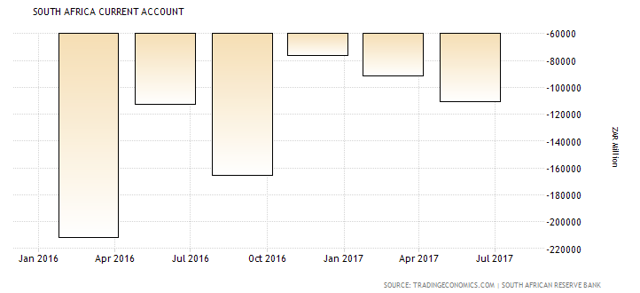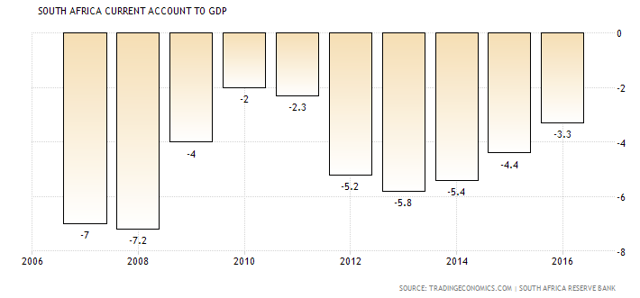 Government Sector
The government budget is shown in the chart below.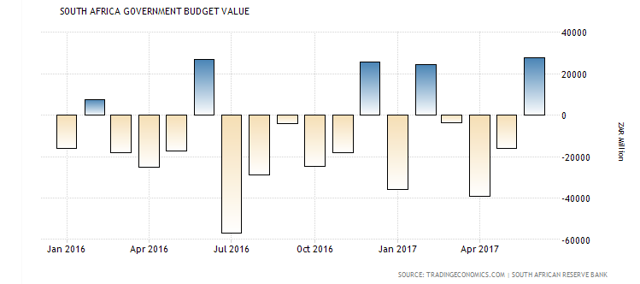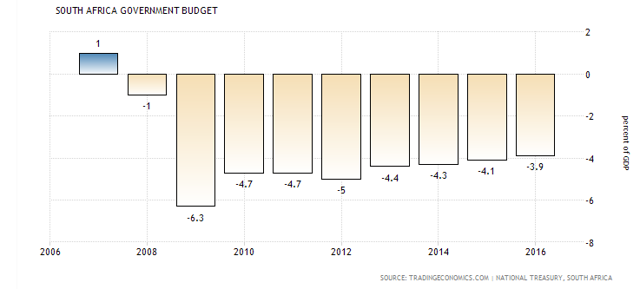 Overall the picture is positive since 2007 with a net add from the government to the private sector.
One detects a gradual decline in spending, and so far this year the spending has not been as much as for 2016.
At present, there is 27.7% general unemployment, 55.9% youth unemployment and capacity utilization is at 81.7%. So there are a lot of idle resources in the economy the private sector has no use for. Government spending has room to rise to make use of these resources.
This would then start a virtuous cycle of rising employment and aggregate demand.
The inflation rate is 4.6% and falling where a stock of unemployed people is being used to bring inflation down in line with standard IMF and World Bank neoliberal economic doctrine.
Sectoral Analysis Methodology
Each nation state is composed of three essential components:
The private sector

The government sector

The external sector
The private sector comprises the people, business and community, and most importantly, the stock market. For the stock market to move upwards, this sector needs to be growing. This sector by itself is an engine for growth and innovation; however, it needs income from one or both of the other two sectors to grow.
The government through its Treasury sets the prevailing interest rate and provides the medium of exchange. Too much is inflationary and too little is deflationary. It puts the oil in the economic engine and can put in as much as its target inflation rate allows. It is not financially constrained. For a sovereign government with a freely floating exchange rate, any financial constraint such as matching a bond issue to deficit spending is a self-imposed restriction. A debt ceiling is also a self-imposed restriction as is a fiscal brake.
The external sector is commerce and trade with other countries. This sector can provide income from a positive trade balance, or it can drain funds from a negative trade balance.
For the stock market in the private sector to prosper and keep moving upwards, income is required to be put into the flow. Otherwise, the sector can only circulate existing funds or is in decline from a drainage of funds.
The ideal situation is that the private sector has a net inflow of funds and is always growing, thus giving the stock market headroom within which to expand in value. For this to happen, one or both of the other sectors have to be adding funds to the circular flow of income.
The following formula can express this relationship:
Private Sector = Government Sector + External Sector
and
GDP = Private Sector + Government Sector + External Sector
These are accounting entities.
For the best investing outcome, one looks for countries with stock markets located in private sectors that are receiving positive income flows overall. Top marks come where private credit creation, the government sector, and external sector are all in plus and trending upwards.
Conclusion, Summary, and Recommendation
When we take our inputs and place them in our formula, we can calculate the following sectoral flow result based as a percentage of GDP.
Private Sector Credit Creation

[P]

Government Sector

[G]

External Sector

[X]

TOTAL

[P]+[X]+[G]

2016

4.2%
3.9%
-3.3
5.1%

NOW

4.2%

3.5%

-3

4.7%
(Source: Trading Economics and Author calculations based on same)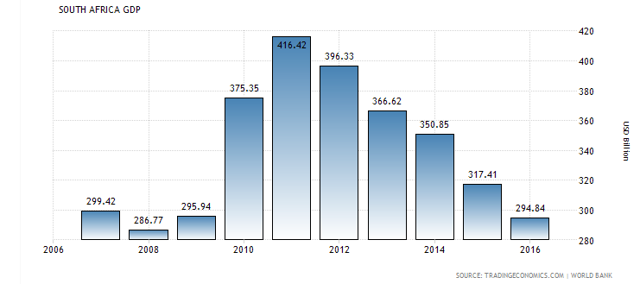 South African sectoral flows are positive and healthy at 4.7%. The bad news is that the flows are weakening from last year due to less government spending.
There is some scope for financial assets such as stocks, bonds, and real estate to rise given that the private sector is receiving a positive inflow of funds.
An investor wishing to have exposure to the South African stock exchange can do so through the following ETFs:
ISHARES III PLC ISHRS MSCI SOUTH AFRICA ETF USD (SRSA)
iShares MSCI South Africa ETF (EZA)
iSHARES III PLC ISHRS MSCI SOUTH AFRICA ETF USD (IRSA)
HSBC ETFS PLC HSBC MSCI SOUTH AFRICA UCITS ETF (HZAR)
LYXOR INTERNATIONAL ASSET MANAGEMENT LYXOR ETF SOUTH AFRICA (FTSE JSE TOP 40) (AFSL)
ISHARES VII PLC ISHARES MSCI SOUTH AFRICA B UCITS ETF (CSZA)
HSBC ETFS PLC HSBC MSCI SOUTH AFRICA UCITS ETF $ (HZAD)
ISHARES VII PLC ISHARES MSCI SOUTH AFRICA B UCITS ETF (CZA1)
LYXOR INTERNATIONAL ASSET MANAGEMENT LYXOR ETF SOUTH AFRICA FTSE JSE $ (AFSU)
HSBC MSCI SOUTH AFRICA UCITS (HZAR)
Lyxor SOUTH AFRICA (LYAFS)
iShares MSCI South Africa UCITS ETF (SRSA)
I first recommended a position in South Africa in this article in January 2017, and since that time the above ETF has risen in value by 50% and paid a modest 1.63% dividend income as the chart below shows.
Despite the continuing political upheaval surrounding the Zuma government the stock market remains unperturbed and motors resolutely on. The Zuma government has the sort of corrupt public-private partnership arrangement that is common in the developing world, that coupled with dependency theory is one of the key reasons they remain "developing" despite their vast natural assets and large populations with which to exploit them and sell them to.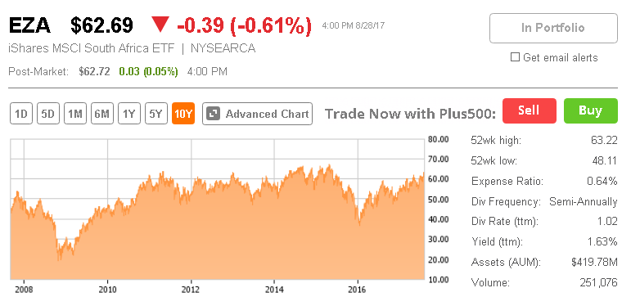 The fiscal flows are still strong, even if weakening, and South Africa is still a buy. The thing to watch with developing lands is the volatility in both the stock exchange and the currency and note that the corruption rank for SA is 64 where one is good, and 100 is bad. The Zuma controversy is a case in point. It has not had much effect on the stock market though.
Disclosure: I/we have no positions in any stocks mentioned, and no plans to initiate any positions within the next 72 hours. I wrote this article myself, and it expresses my own opinions. I am not receiving compensation for it (other than from Seeking Alpha). I have no business relationship with any company whose stock is mentioned in this article.