August felt like a big summer sale to me as I invested a record $3,911 in fresh capital but also exited 3 positions and trimmed another amounting to $1,114 in cash inflow. This all came unprecedented but with so many buying opportunities presenting themselves throughout the months I just had to pull the trigger wherever and whenever I could. August also saw a record 13 articles published and with dividend income topping that of August 2016 by 91% it was a great month.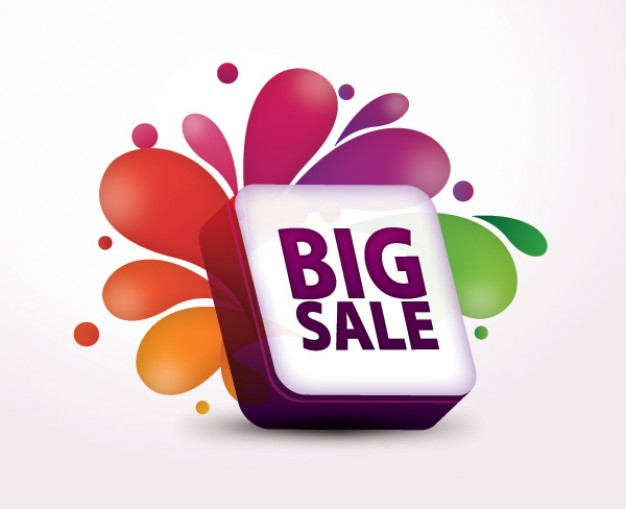 Source: freepik
Portfolio Changes: 8 new stocks, 3 exits, and 15 repurchases
Opening positions in 8 new stocks came unexpected and unplanned and saw a couple of low-key purchases to diversify my portfolio with more speculative growth stocks. I also used that opportunity to structure my portfolio in V (Value) - G (Growth) - S (Speculative) clusters. A new concise overview of portfolio composition can be found further below.
Right now let me show you what and why I purchased/sold.
New stocks
Exits
Care Capital Properties (CCP): sold out in order to reduce REIT exposure
Adding to existing holdings
Continue ongoing monthly stock savings plans: These are routine investments between $50-115 each into Wells Fargo (WFC), Visa (V), McDonald's (MCD), Johnson & Johnson (JNJ), Apple (AAPL) and the lesser known Commonwealth Bank of Australia (OTCPK:CBAUF).
Buying stocks which have been punished: Following notable selloffs in several of these three stocks, I added to my positions in Cisco (CSCO), AT&T (T), Altria (MO), Southern Company (SO), Omega Healthcare Investors (OHI) and Target (TGT).
Invest in growth stocks: Before Gilead completed its fairy-tale comeback followings its announced acquisition of Kite Pharmaceuticals (KITE) I added to my holdings and once news broke I did the same. The reasoning is very simple and driven by three main factors:
The belief returns
Being down as much as 10% at one point during 2017, it already looked like Gilead would have another disastrous year. However, prior to much better than expected Q2 earnings, the stock's downward movement reversed and Gilead left the 60s. Now, with some delay, Gilead stock is experimenting leaving the 70s behind and heading into higher spheres.
The Kite acquisition, although it won't help Gilead's earnings for 3 years (actually it is expected to adversely affect earnings until year three), will help foster belief that Gilead's stock's already strong turnaround is stable and going to last. In fact, with the markets trading the future (at least they should be), a potential blockbuster to Gilead's oncology function should point to a brighter future.
It is only the beginning
By end of Q2, Gilead's liquidity amounted to a whopping $36.6B and its total debt amounted to $26.5B. The Kite transaction is an all-cash deal and will be financed via a combination of cash on hand, bank debt and senior unsecured notes. Although no actual distribution is provided, it is fair to assume that Gilead' remaining cash on hand will still exceed its pre-acquisition debt level. In an all-cash deal financed entirely by cash on hand, Gilead would still have a massive $25B left which could be used for even more acquisitions.
One of these is Galapagos (GLPG), currently valued just below $5B. Last year Gilead had already paid more than $700M for Filgotinib split into a license payment of $300M and an equity investment of $425M raising Gilead's share to 14.71%. At the end of 2017, the lock-up period to buy or sell shares ends and Gilead could start to increase its stake further or acquire it in total.
Assuming Gilead doubles its stake in Galapagos by paying around $1B, which would bring it above the critical 25% ownership threshold, total liquidity would still be in the mid-to-high $25B range. In the last earnings call, CEO John C. Milligan mentioned the following:
So we have been very, very active, as we always are. We have beefed up our groups, as you're aware, so that we can evaluate more different kinds of opportunities. And so we are working very hard behind the scenes here on a number of things, but I certainly can't direct you to anything specific, other than to say that we're very, very active. And when the things are right for us, we'll announce them. That's all I can say.
Source: Gilead Q2/2017 Earnings Call
A new catalyst for Gilead's business
While Gilead's main revenue driver, its HCV segment, may have stabilized in Q2 already, it is also not unrealistic that declines will continue. However, the narrative and focus as to how Gilead's upcoming earnings will be viewed, could really change now. Now there is finally something in Gilead's business, which can really grow. It is something new. It is exciting and it could be the future of cancer research and therapy. I am not expecting wild euphoria or the sky-is-the-limit thinking but certainly more optimism.
And for Kite shareholders, as they will not be left with any stock after the takeout, their only way to go if they believe in CAR-T and Kite is to invest into Gilead. Gilead itself, sporting a P/E ratio of below 10, buys a company with much higher growth prospects but Gilead investors get this growth at a much lower price. Paired with Gilead's above-average dividend yield of above 2.5%, the stock remains a compelling buy to me for both growth and income.
All purchases in August can be found below: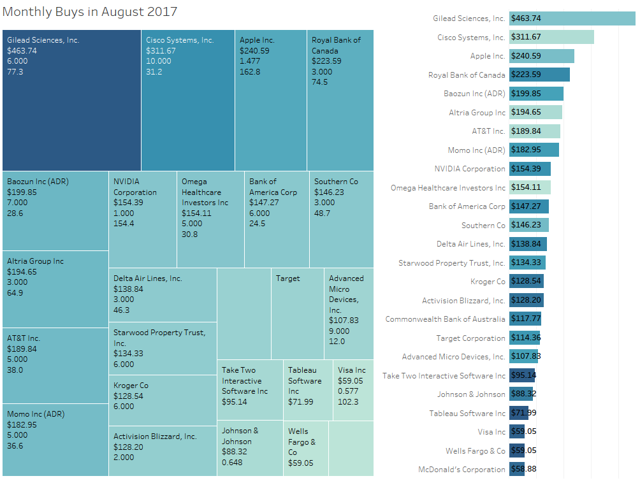 Dividend Income: What happened on the dividend side?
My income from 22 corporations amounted to $164.44 in dividends, up +91% YoY.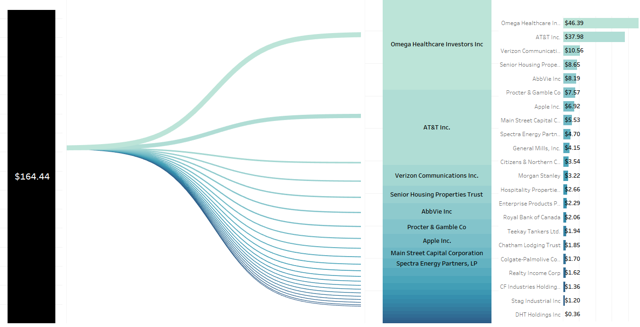 This dashboard shows how the monthly dividend income of $166 breaks down into the individual stocks.
The top 5 companies are bringing in 67% of total income in August mainly driven by Omega Healthcare Investors and AT&T. Here we can truly see how the regular purchases have fueled income.
Here is a look at my favorite chart, the net dividend income development by month over time between 2015 and 2017, where you can easily see the development of my dividend income as well as the average annual dividend in a given year: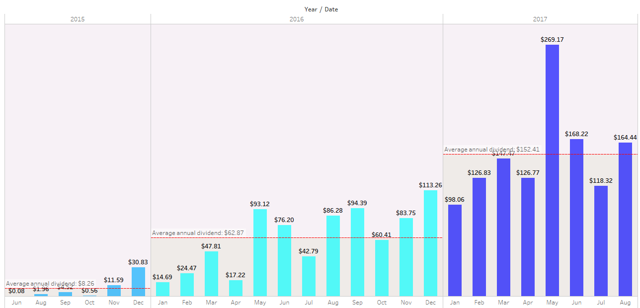 Next, I have scattered all the individual dividend payments I have ever received and colored them by year: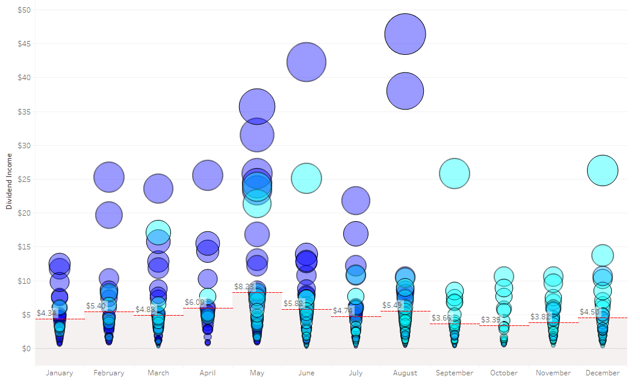 For August we can clearly see that there are two big outliers in the form of OHI and T. We can also see that these circles have grown bigger and bigger, quarter by quarter and month by month. The average dividend payment amounts to $5.49.
It will be fascinating to watch how all these metrics develop over time. Right now, as I am still in the early stages, these metrics are not that impressive but the growth is truly striking and all these instruments help me measure it and provide meaning to it.
Speaking in terms of meaning, another way to express the monthly dividend income is in terms of Gifted Working Time (GWT). I am assuming an average hourly rate of $20 here.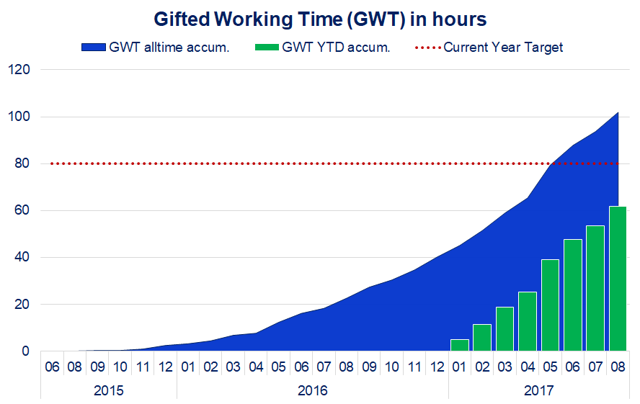 What this shows is the following:
All-time (blue area): Around 102 hours or almost 12 days of active work have been replaced with passive income since the start of my dividend journey.
YTD (green bars): Around 62 hours or 8 full days of active work have been replaced with passive income.
Monthly (delta between final two green bars): Around 8 hours of active work have been replaced with passive income.
12-Month Forward Dividend Income
Due to ongoing investment activities in August and in particular by the soaring euro, my projected forward income has now increased to $2,500, which is $100 above the last projection at end of July.
Upcoming August Dividends
Above snapshot is taken from the newly released Dividend Calendar and Dashboard Tool and shows expected dividend payments of around $150 in August.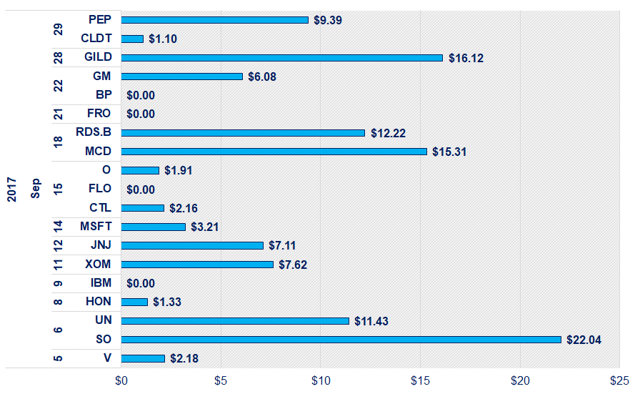 I use that tool basically every day and I would be happy if you give it a try as well, for free of course. I am also very interested in your ongoing feedback regarding this as it continues to be popular across the community. In case of any problems I am more than happy to assist you in setting up everything.
My portfolio composition
As of end of August, based on cost basis and previously mentioned clustering, my portfolio is composed as follows: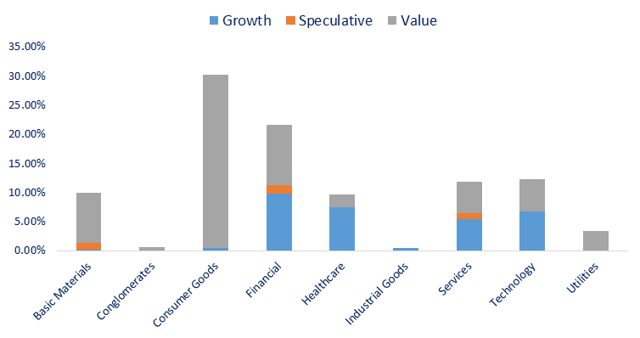 As of end of August, based on cost basis, my portfolio is composed as follows:
| | | |
| --- | --- | --- |
| AT&T Inc. | (T) | 6.56% |
| Altria Group Inc | (MO) | 6.26% |
| Gilead Sciences, Inc. | (GILD) | 4.97% |
| Omega Healthcare Investors Inc | (OHI) | 4.35% |
| Royal Dutch Shell Plc | (RDS.B) | 4.19% |
| Cisco Systems, Inc. | (CSCO) | 3.70% |
| McDonald's Corporation | (MCD) | 3.41% |
| Southern Co | (SO) | 3.14% |
| Apple Inc. | (AAPL) | 2.87% |
| Unilever NV (ADR) | (UN) | 2.42% |
| Main Street Capital Corporation | (MAIN) | 2.04% |
| PepsiCo, Inc. | (PEP) | 1.99% |
| B&G Foods, Inc. | (BGS) | 1.99% |
| Wells Fargo & Co | (WFC) | 1.94% |
| Visa Inc | (V) | 1.94% |
| Verizon Communications Inc. | (VZ) | 1.76% |
| Bank of Nova Scotia | (BNS) | 1.67% |
| Philip Morris International Inc. | (PM) | 1.65% |
| Daimler | (OTCPK:OTCPK:DDAIF) | 1.63% |
| Johnson & Johnson | (JNJ) | 1.60% |
| Procter & Gamble Co | (PG) | 1.55% |
| Bayerische Motoren Werke AG | (OTCPK:OTCPK:BMWYY) | 1.55% |
| The Coca-Cola Co | (KO) | 1.48% |
| AbbVie Inc | (ABBV) | 1.48% |
| Commonwealth Bank of Australia | (OTCPK:OTCPK:CBAUF) | 1.48% |
| BASF | (OTCQX:OTCQX:BASFY) | 1.45% |
| Exxon Mobil Corporation | (XOM) | 1.35% |
| Toronto-Dominion Bank | (TD) | 1.34% |
| Walt Disney Co | (DIS) | 1.22% |
| General Motors Company | (GM) | 1.17% |
| General Mills, Inc. | (GIS) | 0.99% |
| DuPont Fabros Technology, Inc. | (DFT) | 0.98% |
| Microsoft Corporation | (MSFT) | 0.92% |
| Allianz SE | (OTCQX:OTCPK:AZSEY) | 0.91% |
| Senior Housing Properties Trust | (SNH) | 0.90% |
| Spectra Energy Partners, LP | (SEP) | 0.90% |
| Drillisch | (OTC:OTC:DRHKF) | 0.90% |
| Total SA (ADR) | (TOT) | 0.89% |
| Realty Income Corp | (O) | 0.85% |
| Morgan Stanley | (MS) | 0.80% |
| Target Corporation | (TGT) | 0.78% |
| Royal Bank of Canada | (RY) | 0.77% |
| BP | (BP.L) | 0.76% |
| Fresenius SE | (OTCQX:OTCQX:FSNUF) | 0.69% |
| Pebblebrook Hotel Trust | (PEB) | 0.69% |
| Bayer AG | (OTCPK:OTCPK:BAYZF) | 0.65% |
| 3M Co | (MMM) | 0.64% |
| CoreSite Realty Corp | (COR) | 0.60% |
| Canadian Imperial Bank of Commerce (USA) | (CM) | 0.56% |
| Starwood Property Trust, Inc. | (STWD) | 0.56% |
| Citizens & Northern Corporation | (CZNC) | 0.54% |
| FedEx Corporation | (FDX) | 0.53% |
| Colgate-Palmolive Company | (CL) | 0.52% |
| JPMorgan Chase & Co. | (JPM) | 0.48% |
| Stag Industrial Inc | (STAG) | 0.45% |
| Advanced Micro Devices, Inc. | (AMD) | 0.44% |
| Enterprise Products Partners L.P. | (EPD) | 0.43% |
| Nike Inc | (NKE) | 0.43% |
| Fortress Investment Group LLC | (FIG) | 0.40% |
| Honeywell International Inc. | (HON) | 0.38% |
| Teekay Tankers Ltd. | (TNK) | 0.36% |
| Chatham Lodging Trust | (CLDT) | 0.34% |
| Baozun Inc (ADR) | (BZUN) | 0.31% |
| Momo Inc (ADR) | (MOMO) | 0.29% |
| Fresenius Medial Care | (FMS) | 0.28% |
| Frontline Ltd. | (FRO) | 0.27% |
| Hospitality Properties Trust | (HPT) | 0.26% |
| Costco Wholesale Corporation | (COST) | 0.26% |
| Dominion Energy Inc | (D) | 0.26% |
| Facebook Inc | (FB) | 0.25% |
| Wal-Mart Stores Inc | (WMT) | 0.25% |
| NVIDIA Corporation | (NVDA) | 0.24% |
| Bank of America Corp | (BAC) | 0.23% |
| CF Industries Holdings, Inc. | (CF) | 0.23% |
| Delta Air Lines, Inc. | (DAL) | 0.22% |
| Apollo Commercial Real Est. Finance Inc | (ARI) | 0.21% |
| Activision Blizzard, Inc. | (ATVI) | 0.20% |
| Apollo Investment Corp. | (AINV) | 0.20% |
| DHT Holdings Inc | (DHT) | 0.19% |
| Albemarle Corporation | (ALB) | 0.19% |
| Centurylink Inc | (CTL) | 0.18% |
| Take Two Interactive Software Inc | (TTWO) | 0.15% |
| Tableau Software Inc | (DATA) | 0.11% |

As always, I hope that you find this update interesting and relevant. The biggest inspiration for me are reading these updates from other authors and following their progress over the years. Compared to them, I am still really at the beginning of my journey, and I would appreciate if you want to follow/continue to follow my journey as well. I hope to inspire many more readers to also start and share their journey.
Author's note: If you enjoyed this article, the only favor I ask for is to click the "follow" button next my name at the top of this article. This allows me to develop my readership so I can offer my opinion and experiences to interested readers who may not have received them otherwise. Happy investing.
Disclosure: I am/we are long AAPL, BP, CSCO, KO, CL, XOM, GILD, JNJ, MCD, PM, PG, RDS.B, UN, DIS, PEP, VZ, V, WFC, GIS, BGS, SEP, MSFT, MAIN, CTL, TNK, HCP, ABBV, FIG, CLDT, RY, EPD, QTS, DFT, GM, CZNC, OHI, CM, T, JPM, STAG, HPT, FDX, AINV, SNH, DHT, FRO, HON, STWD, PEB, MS, CF, SO, RAI, FLO, CCP, BNS, MO, PFE, CVS, TWX, O, COR, HCN, TOT, TD, ARI, D, FB, ALB, TGT, WMT, AMD, 3M.
I wrote this article myself, and it expresses my own opinions. I am not receiving compensation for it (other than from Seeking Alpha). I have no business relationship with any company whose stock is mentioned in this article.
Editor's Note: This article discusses one or more securities that do not trade on a major U.S. exchange. Please be aware of the risks associated with these stocks.