For Many Perception is Reality
Very often in investing, individuals exhibit their biases, which have a significant effect over how they build a portfolio. In essence, people see what they want to see. There are very few financial professionals that can disconnect their political biases, economic biases of what should happen, and business biases of what they want to happen to honestly analyze the economy, and attempt to arrive at a reasonable assessment of equity valuations, and where bond yields really could go.
I think that for the vast majority of Wall Street professionals, there is a constant bias towards what they would like to see. They would like to see rates rise, wages rise, GDP rise, and inflation rise to that 2% target, largely because this would make them correct in owning financials and, in some cases, shorting the 10-year Treasury.
I am contrarian not simply to stimulate an argument but because when you get information from outside the U.S., you begin to view the market as the global mechanism that it is, responding to information from around the globe. When I look around the world right now, I see a world saturated in debt. I see very serious employment problems in many parts of Europe and the U.S., and I see a very serious inflation problem in the developed world. I don't think anyone is doing investors a service by assuming that the U.S. has decoupled from the rest of the world, and we should prepare for rising rates and continue to buy more financial stocks.
Why would the Fed raise rates in an economy where central bankers around the world are trying to stimulate economic activity, and using unprecedented means to do so? In a world with the challenges we have from Japan to Europe to the U.S., I continue to believe that long-term zero coupon U.S. Treasuries make sense here.
The recent backup in yields only puts us back to where we were at the beginning of September. A 30-year zero sitting at 2.85% is a gift when a 30-year German bund is sitting at 1.21%. A 10-year Treasury zero sitting at 2.29% is a great return when a 10-year Swiss Government bond is yielding -0.12%. Yields will back up on you, at times significantly, but the trend towards lower rates remains intact.
The Bond Bears Have Been Consistently Wrong
The mantra that "this time is different" is a line I hear far too often from those who believe the great bull market in U.S. Treasury bonds is over, and the only asset that should be in an investor's portfolio is equities. Treasuries continue to do what they have always done, which is provide a part of a portfolio that is absolutely secure. Whether bonds are yielding 2% or 10%, they continue to deliver a dependable rate of return in a world that is increasingly uncertain, and where negative returns continue to be a reality in the global fixed income market.
As the call for rising rates continues on the street, rates for long-term U.S. Treasuries continue to move lower, defying the long held consensus that rates will rise. While it has been a contrarian call for some time, I have been right about U.S. Treasuries for years now, and while I am humbled by the reality that any great idea can quickly turn on you in the world of investing, and rates have certainly backed up on me more than once over this multi-year period, the economic fundamentals continue to support my call that rates will continue to grind lower to 1% on the 10 year and 2% on the 30 year. In fact, economic data continues to strengthen the case that we may go even lower than that.
Economic Data is Weak
Economic fundamentals remain very weak across the globe, a recent Bloomberg piece, entitled "ECB Holds Rates Steady With No Hints of QE Changes" states:
"The European Central Bank left the main refinancing rate unchanged at zero percent and said that quantitative easing will run until the inflation path has sustainably adjusted."
I am not sure why a major central bank for 28 countries lowering the deposit facility rate to -0.04% and keeping it there is an indication that everything is great and we should put more and more money into stock indexes. Even more pertinent, how does this indicate to anyone that Europe is in recovery? The reality remains that the ECB, the Fed, and the BOJ continue to try to stimulate the economy enough to create some level of inflation. But no matter how much they stimulate, there is still the issue of demand. All the liquidity in the world is not going to do anything for the real economy if there is no real demand for money, and that is what we are seeing around the world, a severe lack of velocity.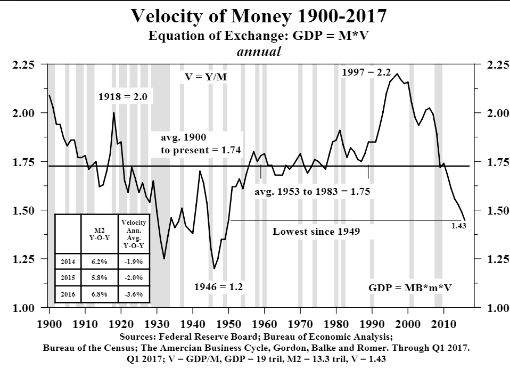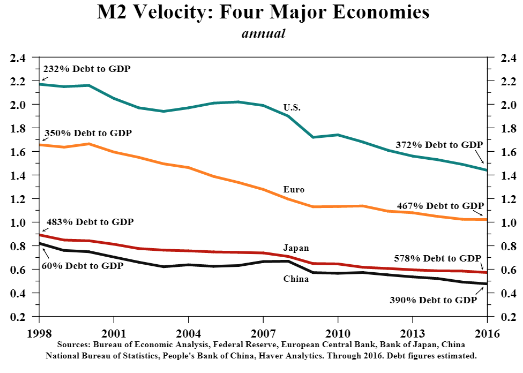 Don't Buy the Hype: The U.S. Economy Remains Weak
Everyone has gotten very excited recently about the near 3% GDP print for the second quarter. Yet, if you take the average of Q1 and Q2, you come to a GDP number of 2.1% for the year, about the same as what we have been doing since the beginning of the recovery in 2009. This is the slowest recovery in the post WWII period.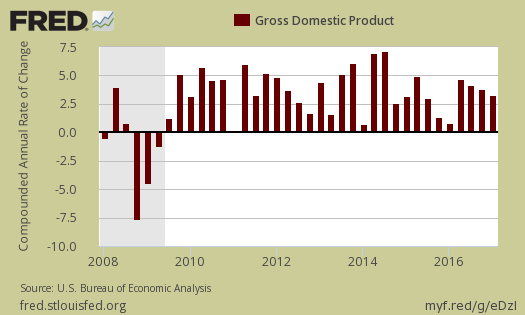 From 1790 to 1999, we had real per capita GDP growth at 1.9%; from 2000 to 2016, it has been only 1.0%. This is due to ever expanding debt burdens. I do not understand how market participants think that this strangling debt will not have a serious effect on economic growth rates, earnings, and eventually stock prices. Additionally, the current administration has discussed its affection for low rate debt, with talks of even creating an ultra long-term debt note. If trends continue, that means that we will see a steady climb in the level of debt, which will have a greater and greater negative impact on the level of GDP growth.
The U.S. National Debt Has Hit $20T and Growing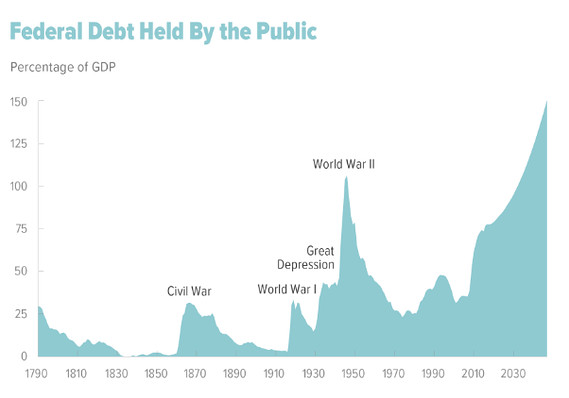 Our national debt is no secret, it has been written about by myself and many other writers on and off of SA. Yet no one seems to want to do anything about it. Nor am I hearing much about the findings of academic research, which clearly show a deleterious effect on GDP growth for over-indebted economies. We hear a great deal out of the Trump Administration that 4% GDP growth is possible; I disagree.
The CBO released a report last year in which it laid out the grim financial situation of the United States. It reviews the structural mismatch between expenses and income, which will lead to rising deficits for the next decade and beyond. Federal deficits will exceed $1 trillion in 2022, and total $9.4 trillion over the next decade. Interest on the growing national debt will hit $5.8 trillion over the next decade. The debt level is staggering in the U.S., especially when you include off balance sheet items. As if the $20 trillion in national debt was not enough, we are now sitting with over $70 trillion in off balance sheet unfunded liabilities. Now, there is talk of eliminating the debt ceiling. Jeffrey Gundlach, CEO of Doubline Capital put it perfectly:

Aggregate (Public + Private) Debt sits above the threshold median of 267.5% of GDP, which academics have concluded, based on academic studies, results in a negative material impact to economic growth. Currently, the debt overhangs of the developed world are higher than they were before the financial crisis. Aggregate debt to GDP is 372% for the U.S., 467% for the Eurozone, 390% for China, and 578% for Japan, indicating that economic growth rates may be subdued going forward for an extended period until de-leveraging takes place. Households are in even worse shape.
The Real Reason We Cannot Get Meaningful GDP Growth: Aggregate Debt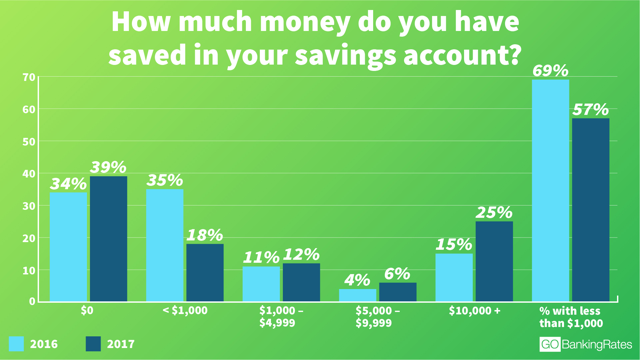 Americans are not saving. In fact, 39% have nothing at all saved, and another 18% have less than $1,000. Presently, the savings rate sits at 3.5%, one of the lowest readings on record. We are repeating the same pattern again, in my opinion, of engaging in overconsumption brought on by low interest rates, easy credit, and under-saving. With consumers already overly indebted, it would seem that there is little capacity to meaningfully fund current consumption with credit, especially after many banks have tightened their lending standards for everything from credit cards to mortgages. Yet credit balances continue to grow, as lending standards are relaxed, and consumers look to fund consumption with ever more debt.
Additionally, with wage growth virtually nonexistent, there is also little reason for us to believe that consumption will be meaningfully pursued through income gains either. Debt held by households continues to be a serious concern. We will move along towards the bang point where consumer credit is tapped out, and a disproportionate level of individual income is going to debt payments that it can no longer grease the wheels of an economy that depends on consumer spending.
Student loans are of particular concern, 44 million prime age borrowers have over $1.45 trillion in student loan debt. If they do not get serious to pay off this debt in a short period of time, their ability to save for a home, participate in the economy, or retire with dignity will be severely affected. The challenge with the student loan crisis in America is that we have removed the free market mechanisms that allow true price discovery to take place.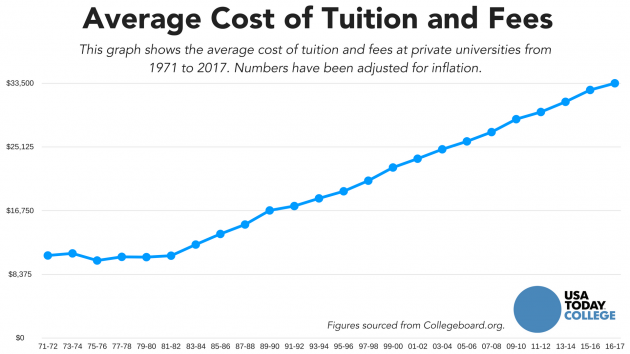 Because the government issues the majority of student loans, the universities have no impetus to reduce costs because the government is the indirect "single payer" in many respects, of student college costs through the student loan program.
The current student loan crisis continues to be a severe barrier to continued economic growth, and household savings, and represents a disproportionate level of debt held by households.
Wage Growth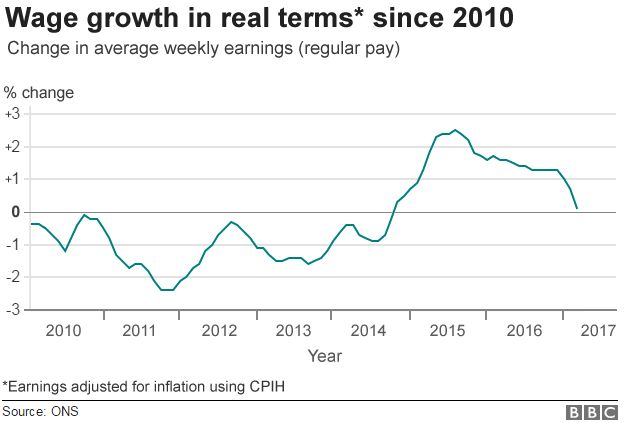 Wage growth also continues to be a serious concern not only in the U.S. but also in nations around the world. Australia is dealing with low wage growth, so is Japan and the Eurozone. In the U.S., the data continues to tell the story of a stagnating economy dealing with the malaise brought on by decades of debt.
Unemployment/Participation Rate
Currently, the unemployment rate is artificially low at 4.4% because of the drastically low participation rate of 62.9. Many will say that this is due to the baby boomers retiring. But the key demographic is the prime age labor force participation rate, which has also been continually declining, sitting at 81.5.

What is particularly distressing is the number of men that are out of the labor force. Men of prime working age being out of the workforce have been on the rise for decades. This is a major red flag that the economy is structurally in trouble.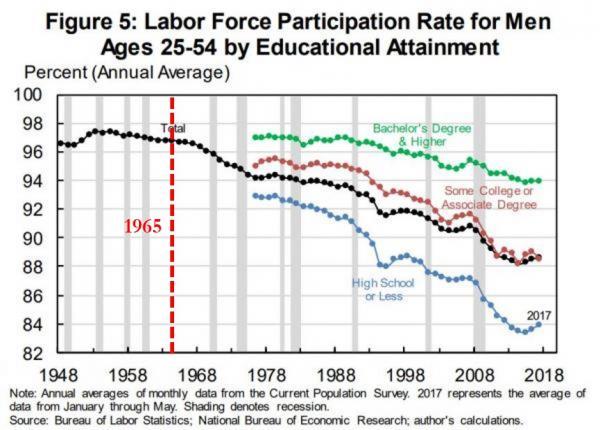 European unemployment is over 7%, with areas of the Eurozone showing unemployment over 20% as you can see in the following chart.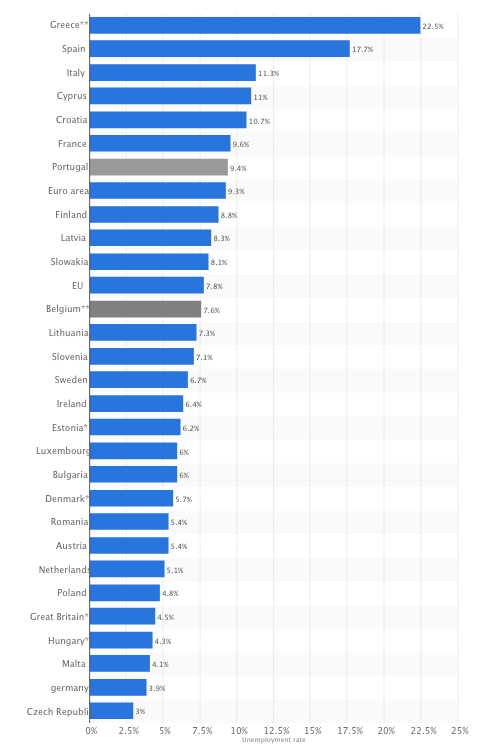 Inflation Continues to Remain Weak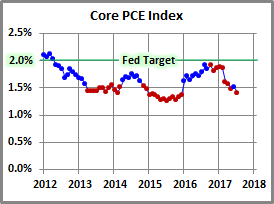 In the most recent release at the end of August, we saw that the PCE rose just 0.1%, to end at 1.4%, far below the 2% Fed stated target rate. Even worse inflation readings are headed in the wrong direction. The PCE continues to show inflation moving away from the 2% target and while variations persist the trend remains lower.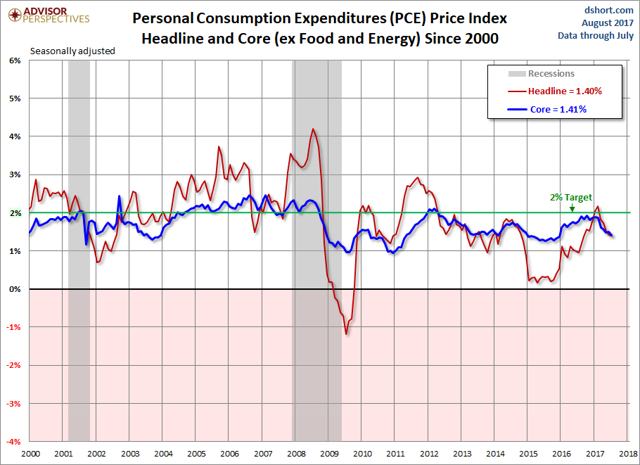 "Consumer spending slowed in June as income growth turned in the weakest performance in seven months. Spending edged up a tiny 0.1% compared to a 0.2% rise in May, the Commerce Department reported Tuesday. It was the weakest showing since spending increased a similar 0.1% in February. Incomes were flat in June following a 0.3% rise in May. It was the worst reading since incomes fell 0.1% in November. Spending is closely watched because it accounts for 70% of economic activity."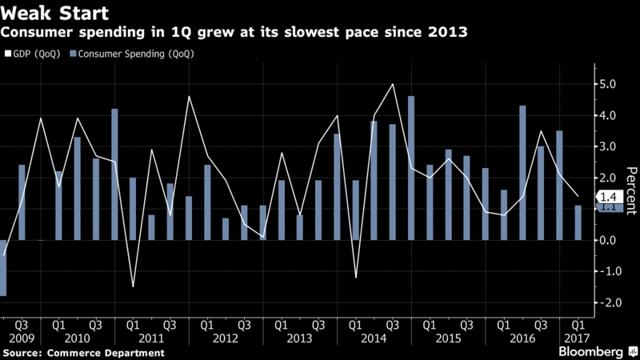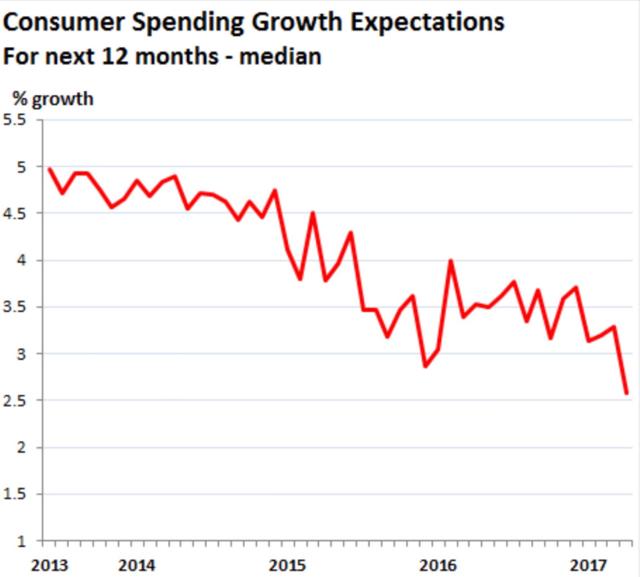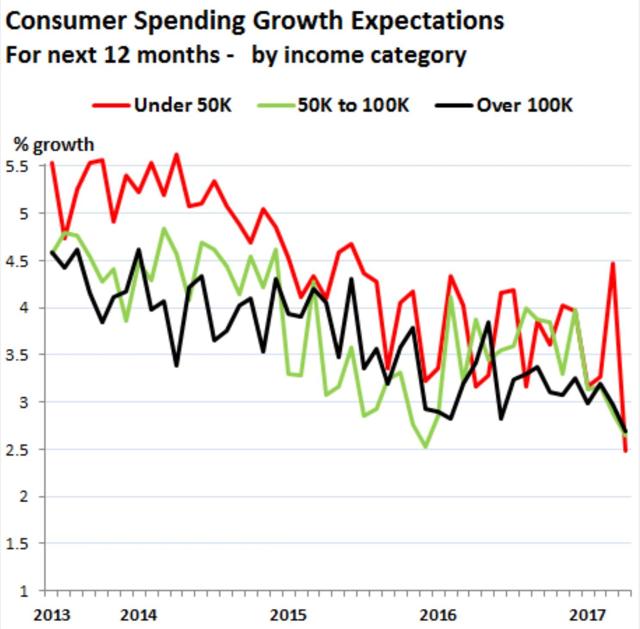 U.K consumer spending continues to move lower, and its economy continues to struggle. Including the effects of Brexit only makes a very difficult environment worse.
"U.K. consumer spending barely grew in the second quarter...The 0.1 percent increase in household expenditure was the weakest since 2014 and is a further sign of how support from the consumers is waning...the economy has, in the words of the statistics office, "slowed markedly." Economists surveyed by Bloomberg see expansion cooling to 1.5 percent this year and 1.3 percent in 2018, down from 1.8 percent in 2016.

"We expect the economy to continue to struggle," said Samuel Tombs, an economist at Pantheon Macroeconomics in London. "Meanwhile, we expect Brexit risk to increasingly bear down on business investment as the U.K.'s exit date draws nearer.""
Recent, China data has disappointed, showing continuous weakness even in this emerging market country.
"China's factory output grew 6.0 percent in August from a year earlier, while fixed-asset investment expanded 7.8 percent in the first eight months, both well below economists' forecasts, data showed on Thursday. Analysts polled by Reuters had predicted factory output would grow 6.6 percent in August, up from 6.4 percent in the previous month. Outbound non-financial investment between January and August sunk 41.8 percent year on year..."
Conclusion
The totality of the evidence from around the world tells me that the risks are significant and rising. Investors have been trained to believe that the markets have no risk, and the Fed will always be there to backstop equities. When investors build their portfolio, they need to think about how many Treasuries they own that will go up when everything else is going down. Unfortunately, my conversations with individual investors indicate that the vast majority of them have 0% of their portfolio in Treasuries, leaving them completely exposed to the ups and downs of the market. After a nearly nine-year bull market run, it seems many have forgotten that markets go up and down.
"investors should remember that the 2000-2002 market collapse wiped out the entire total return of the S&P 500, in excess of risk-free Treasury bill returns, all the way back to May 1996. Likewise, the 2007-2009 market collapse wiped out the entire total return of the S&P 500, in excess of risk-free Treasury bill returns, all the way to June 1995. By the time that a market cycle is completed, a value-conscious, full-cycle investment discipline tends to be enormously forgiving of early exit, particularly when one exits at historically rich valuations. At present, the debt burdens of non-financial companies have never been higher relative to their gross value-added. Meanwhile, the market value of non-financial stocks is also near the 2000 extreme relative to their gross value-added. The sum of equity and debt is known as "enterprise value." The chart below presents enterprise value as a fraction of corporate gross value-added...which illustrates the extreme value of financial claims on corporations, relative to the revenues needed to serve them. Present levels are within a breath of the 2000 extreme." Dr. John Hussman
U.S. Treasury securities remain a store of value in a world where everything seems to be moving in the wrong direction and serious problems remain, with no known solutions being implemented. Central bankers' experimentation with extraordinary monetary policy has thus far only served to exacerbate the problems we already had. Now, we have more debt than before the financial crisis. We have very serious employment problems, despite the main stream statistics we all hear in the u-3 unemployment rate. The u-6 sits at 8.6%, and the participation rate remains low for prime age workers.
We are seeing inflation continue to lag, as velocity on M2 remains at a low not seen since 1949. Our friends in the Eurozone are doing even worse, with very severe unemployment, in some areas above 20%, severe debt burdens, and a severe lack of inflationary pressure. Japan continues to battle the forces of deflation, and this does not even take into consideration the vast geopolitical risk that exists in the world right now.
I continue to believe that with market valuations at extreme levels, and a growing list of challenges around the world that confound central bankers and governments alike, the long-term zero coupon U.S. Treasury bond remains a store of value in the rough and stormy seas that may lie ahead, pushing the 30 year to 2% and the 10 year to 1%, and once again confounding the bond bears who say this time is different.
Disclosure: I am/we are long ZERO COUPON U.S. TREASURY SECURITIES.
I wrote this article myself, and it expresses my own opinions. I am not receiving compensation for it (other than from Seeking Alpha). I have no business relationship with any company whose stock is mentioned in this article.
Additional disclosure: This article is for informational purposes only and is not an offer to buy or sell any security. It is not intended to be financial advice, and it is not financial advice. Before acting on any information contained herein, be sure to consult your own financial advisor.