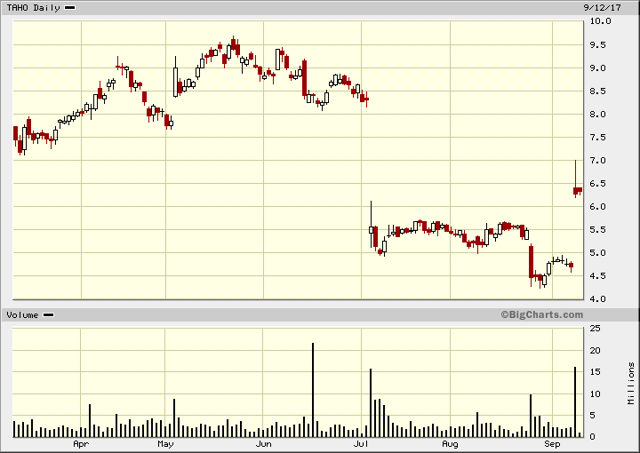 My last update on Gold (NYSEARCA:GLD) was about the break out above $1,300 in late August. I commented then - that I believed the next target was the $1,360 to $1,400 area where resistance would be encountered. There was a test of $1,360 last week, and since my call of a bottom in early July, Gold moved up nearly $150 to reach $1,360. Now is the time to make some adjustments to our stock positions bought back in June and July, raising stops and taking some part profits.
This is a chart of December Comex Gold and is the most active trading month. If we can break above $1,375, we could see a very big move in the Gold stocks. We have to consider the down side here too because an almost $150 run to the upside is significant. We will soon arrive at the time of annual weakness or take down in Gold prices during November/December. Therefore, we will likely see the best prices here in September or October. I also note the managed money long position and commercial short position are around levels where we often see price corrections.
Currently, Gold still has upside momentum, and the longs are in control. There are a few bullish factors at play in the Gold market that could result in further upside in the next two months.
North Korea tensions, Kim Jong-Un seems determined to provoke the U.S. into something. Sanction issues may also prompt China to sell US$ for Gold.
General equity markets are over-priced and seeing some weakness, Gold often moves higher as money flows out of stocks into alternative investments.
The US$ has broken down technically and further weakness is likely.
The US$ Index broke down to a new low of 91.32 last Friday. I expect the 93 area will now be resistance on the upside, and technically, there is little support for the US$ until around 80 on the index. I have been bearish on the US$ since March, and this is a chart I used then, outlining a possible top with the green arrow highlighting direction since then. I was concerned and watching for a break below 100 to signal a violation of the bottom of uptrend line, and after that, it was key for the 93 area to hold - it did not. Recently, I have nick named the rise since the election as the 'Trump bump', and after, the 'Trump thump'.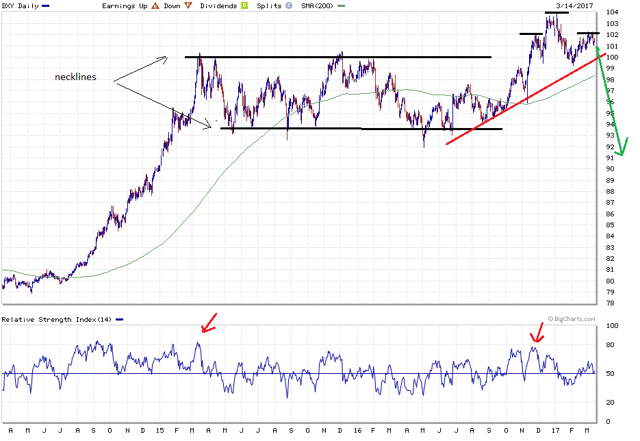 There are several bearish factors that could plague the US$ with more weakness. As I have been commenting, the Trump honey moon is over, and he is becoming a 'lame duck' president. The old establishment and media are so focused on stopping and hindering anything he tries to do that little will get done. Although they will co-operate with any of the dirty deeds like renegotiating NAFT, of course, the elite will be fine with their tax rates being lowered. The market is losing faith in his election promises that were perceived to strengthen the economy and US$.
Further increases in interest rates will be a lot later than was expected if at all. Fed members have been hawkish, commenting about their concern with the inflation rate falling steadily this year. In July, Fed Chair Janet Yellen reiterated statements that Fed Governor Lael Brainard gave, namely that rates are close to a "neutral" level and not in need of rising much more. Recent economic numbers have been weaker as well, supporting no further rate increases.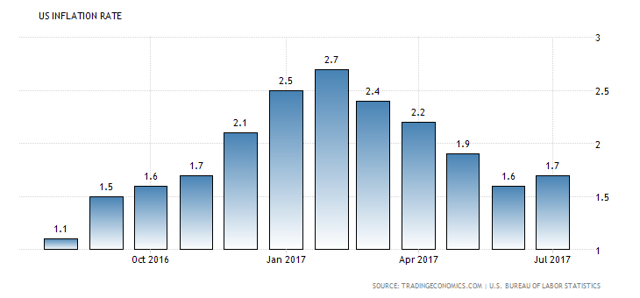 Employment numbers have been missing expectations and generally so-so under the Trump administration, averaging just over 170,000 per month since last October. Retail sales have been weak all year except for the 0.6% last reported for July. Sales of new cars and trucks fell 2 percent in August, according to Autodata Corp., making it eight monthly declines in a row. The only positive point is about half a million flooded cars from Harvey will get replaced.
The Debt ceiling issue has only been put off until December 15th, and Trump's tax cuts and budget is another issue of uncertainty for the markets, especially with U.S debt now climbing over $20 trillion.
The Eurozone has been the surprise on the economic front this year. The Eurozone's growth spurt sped up in Q2, with the economy growing at the fastest pace in over two years. Good growth is expected to continue, and a stronger Euro makes for a weaker US$. Some of my Canadian readers have been commenting that the Gold stocks have not done that well, considering the move up in Gold prices. In some cases that is correct but a factor at play here is the drop in the US$. The loonie has gained about 11% on the US$ since June, so Canadians have lost 11% of Gold's gain and same with Gold stocks.
For these reasons above, I doubt the US$ will be able to get back over 93 on the index and is a key reason why I believe Gold will remain in a new higher trading range.
With the HUI (Gold Bugs Index), I pointed out the wedge formation in late June and that I expected a breakout to the upside. We have seen that breakout in July and, by late August, a higher high on the index. The recent move to 220 was my next target. That 220 level is about 22% up from the July low, and I see a new support level roughly between 200 and 210.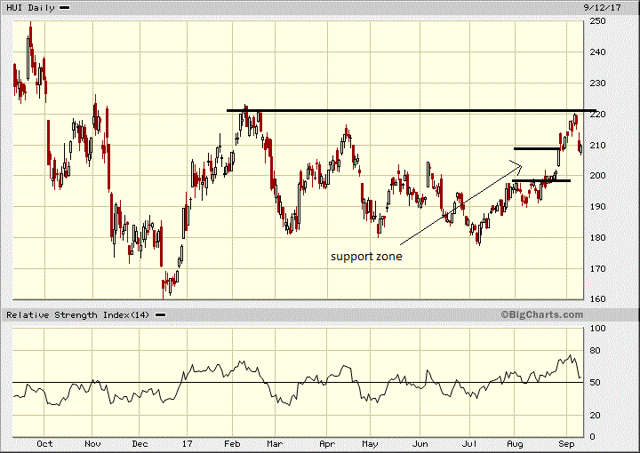 ****************** Updates *********************
Also in my July article, I suggested Call options
Goldcorp (NYSE:GG) Jan. 17 Call C$1.47 - recently $1.44
Yamana (NYSE:AUY) Jan. $3 Call C$0.47 - recently $0.95
Goldcorp has not done much but Yamana has seen a decent move, up about 100%, and if you bought on the US$ side, you did much better. There is still lots more time on these Calls, but I would consider booking half profits. I sold half my Yamana January Calls last Friday.
I also suggested McEwen Mining (NYSE:MUX).
2nd quarter results were within my expectations as their El Gallo mine is reaching end of life. I am bullish on McEwen for its future growth that should begin late 2018. It is always a challenge to anticipate when the market starts pricing in that future growth and so far that has not happened yet.
On August 29th, further progress was made on McEwen's growth strategy as they signed a definitive agreement with Primero Mining Corp., for the purchase of their Black Fox complex in the world-famous gold mining region of Timmins, Canada. The agreed purchase price is $35 million, subject to closing adjustments. Closing of the transaction is anticipated in late September.
This is a strategic acquisition as it compliments their previous acquisition of Lexam VG Gold's (OTCQX:LEXVF) assets in the same vicinity. The Primero transaction establishes a base of operations with an experienced and skilled site management and work force to operate and advance development of these assets and the Lexam VG assets.
This is a producing mine so will increase McEwen's gold production by 50,000 ounces in 2018 and significantly increases their gold resources in the Timmins region. Furthermore, excess mill and tailings capacity provide the capability to increase future production. Primero listed resources at Black Fox of 554,000 ounces measured and indicated and the Grey Fox development project at 668,000 ounces.
Exploration potential
The property is located along a prime 4.5-mile section (seven kilometres) of the Destor-Porcupine fault, which is host to many world-class gold deposits. It is already well endowed with the Black Fox mine, and the Grey Fox and Froome deposits, and has geologic traits that make it prospective to grow the existing deposits and for additional discoveries.
On Silver, in my Feb. 28th article, I suggested Tahoe Resources (NYSE:TAHO).
Things were going along fine as the stock moved from around $8 to $9.50 but then plunged down to $5.50 on news that their mining licence was suspended for their Escobal mine in Guatemala. The Supreme Court suspended the license while an action brought forth by anti-mining organization CALAS was brought against the Guatemala's Ministry of Energy and Mines. It did not directly involve Tahoe but nevertheless, they and their shareholders took the blunt of it. Tahoe believed the licence would get reinstated and started their own legal actions but uncertainties abounded.
They reported $33.48 million profit in the 2nd quarter but suspended the dividend because of the Escobal mine uncertainty. Escobal is a world-class mine producing 18-21 million ounces of silver per year and reserves of 267 million ounces, so is very significant to Tahoe's operations that also include three other Gold mines in Peru and Canada.
The stock recently popped back up on news September 11th that the Supreme Court has reinstated its Escobal mining licence. This decision reverses the court's preliminary decision to suspend MSR's licence in connection with an action brought by the anti-mining organization, CALAS, against Guatemala's Ministry of Energy and Mines (MEM). CALAS alleges that MEM violated the Xinca indigenous people's right of consultation in advance of granting the Escobal mining licence to MSR.
As part of its decision, the court ordered MEM to conduct a consultation under ILO Convention 169. Per the ruling, MEM has been ordered to consult with the Xinca indigenous communities within a certain geographic area and report results of the consultation to the satisfaction of the court within 12 months. Although Tahoe believes that MEM complied with ILO Convention 169 before it issued the Escobal licence, it will fully support MEM in any of its future indigenous engagement and will encourage MEM to involve independent ILO 169 experts to assist in this process.
There is still uncertainty as outlined in the news release here:
The company expects that CALAS, the Xinca Parliament and other interested parties may appeal the Supreme Court's ruling to the Constitutional Court. The Constitutional Court is expected to rule on all appeals by the end of the year.
While the Supreme Court ruling allows Escobal operations to commence immediately, the illegal roadblock at Casillas is continuing, preventing an immediate restart of operations at this time. The company continues to work with the government, community leaders, and international mediation experts to resolve the roadblock situation peacefully and expeditiously. Upon a resolution of the blockade, the company expects to resume production at Escobal within a week.
As reported previously, until operations begin, the company is only able to access $75 million of the $300 million capacity of its revolving credit facility entered on July 18, 2017, and may continue to be subject to events of default. Upon resumption of operations, the company expects to provide an update on Escobal production that has been deferred to future periods. The company expects to update previously suspended guidance for the gold operations, including exploration, later in the month.
Ron Clayton, Tahoe Resources president and chief executive officer, commented:
"We are pleased that the Supreme Court of Guatemala has abided by legal precedent and restored MSR's licence to operate the Escobal mine. The company respects the rights of indigenous people in all jurisdictions in which we operate and are always willing to engage with any community members in those jurisdictions. We remain focused on peacefully resolving the blockade at Casillas. While we support the rights of all peoples to peacefully protest, we do not support the illegal blockage of public highway by non-locals which has had a devastating economic impact on our employees, contractors and communities. Once the road is reopened at Casillas, we will resume full operations without disruption and put our valued employees and vendors back to work, support the economy of our local communities and return value to our shareholders."
This is what I find often occurs with a stock when you see a big gap in trading. In the not too distant future, it comes back and trades to fill that gap. The bigger question with Tahoe is, will it move to fill the gap between $6.5 and $8.00 first or the one between $4.75 and $6? Most likely, trading will be all over the map, depending on news. If we see news that the road block has been moved and production can start, we should see the stock move higher. That could provide a decent exit price as I now believe this could be a blemish on the stock performance for a year or more. It will take smooth operations for an extended period to restore investor confidence.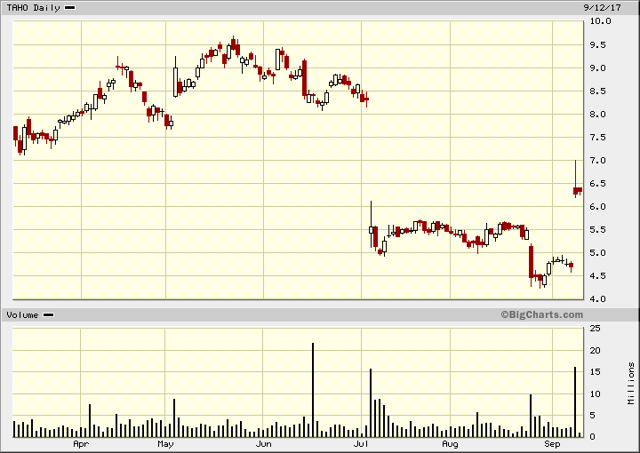 If you bought New Gold (NYSEMKT:NGD) from my Feb. 9th article on the dip down to $2.80 area, I would either take part profits here or at least move a stop/loss up to $3.60. After a number of difficulties, the market is finally starting to anticipate a successful start up at their Rainy River project in the coming weeks. This will have a very major impact on New Gold as Rainy River's annual production is forecast at 350,000 ounces per year. New Gold's current annual Gold production is around 400,000 ounces per year so Rainy River is close to doubling the company's Gold production and at low all-in sustaining costs of $710 per ounce.
Here are Rainy River August highlights from, September 6, news release
The process plant underwent a successful closed loop mill test run with low-grade ore.
The ball mill and SAG mill tested successfully up to nameplate capacity.
The mining rate during July averaged over 125,000 tonnes per day and accelerated to an average of over 135,000 tonnes per day in August.
Water management pond is complete.
All process facilities are mechanically complete.
Ball mill, SAG mill and the leach carbon-in-pulp process circuits are fully commissioned.
Water, tails and air systems in the plant are fully operational.
The refining portion of the process circuit is to be commissioned in mid-September.
Construction of the tailings management area (TMA) start-up cell is complete.
Earthworks are 90 percent complete.
Approval for design and construction of creek closures using sheet pile was received from the Ontario Ministry of Natural Resources and Forestry in August 2017.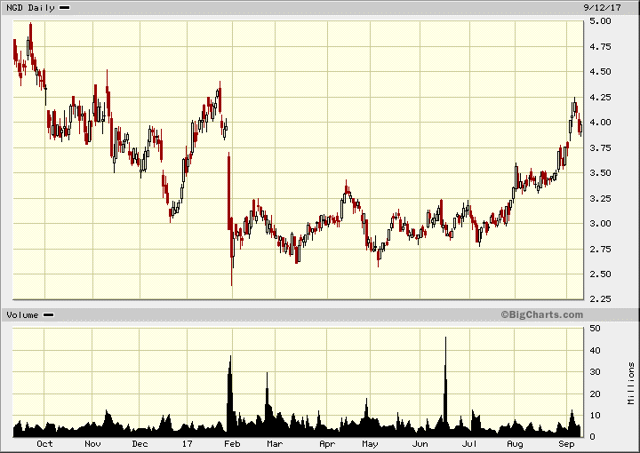 I see some resistance on the chart between $4.25 and $4.50, but if the Rainy River startup runs fairly smooth, the stock should be able to overcome that resistance and go much higher. This assumes Gold prices remain over $1,300.
A brief update on the Yukon - Victoria Gold (OTCPK:VITFF) and Zonte Metals (OTC:EREPF)
Victoria Gold has been releasing drill results, with the latest released September 11.
Highlighted results from exploration drilling at the Olive target this year include
33.3 metres of 1.54 grams per tonne gold returned from drill hole DG17-849C;
9.1 m of 3.14 g/t gold in drill hole DG17-856C;
13.9 m of 1.56 g/t gold in drill hole DG17-889C.
At Olive, 2017 diamond drilling activities totalled 2,428 metres from seven drill holes and were designed to target areas south and west of the Main Olive zone, areas that had received limited or no previous exploration drilling.
Zonte Metals has completed their drill program on the adjacent McConnells Jest property, and it is about 10 kilometers east of where Victoria was drilling. Victoria's results might give an idea what we could see from Zonte.
I did a more detailed update last week on the Yukon explorers here.
Disclosure: I am/we are long MUX, NGD, AUY, VITFF, GLD, EREPF.
I wrote this article myself, and it expresses my own opinions. I am not receiving compensation for it (other than from Seeking Alpha). I have no business relationship with any company whose stock is mentioned in this article.
Editor's Note: This article covers one or more microcap stocks. Please be aware of the risks associated with these stocks.