When I was a child a person could store cash in the bank and get paid seven, eight even ten percent for doing so. With interest rates like that, there wasn't much motivation for people to buy stocks.
It isn't surprising then to find out that in the early 1980s when interest rates were extremely high, stock valuations were extremely low.
When it comes to stock valuations interest rates matter!
The chart below shows the trailing twelve month S&P 500 PE ratio or price-to-earnings ratio back to 1926. You can clearly see the low price-to earnings ratio of the market that existed in the early 1980s.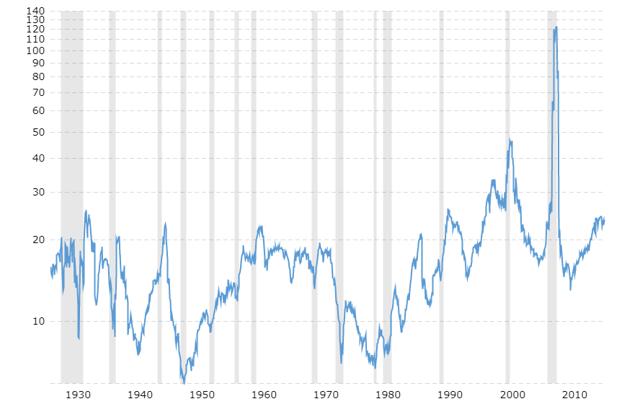 Source: Macrotrends.com
Not surprisingly, when nobody wanted to buy stocks (or bonds for that matter) in the early 1980s was exactly when people should have been buying stocks (and bonds).
Of course it is easy for me to sit here today and say that locking in 1980s interest rates was an easy decision and that buying stocks at low price to earnings ratios was too. I don't have inflation skyrocketing all around me like investors did back then, so today with the benefit of hindsight it feels like a no-brainer.
How about then I step to the plate and make a forward looking observation instead?
I think that today is a lousy time to be investing in the S&P 500. Investors buying an index fund (SPY) today are going to do very poorly over the next 5 or 10 years. Valuation multiples are high and interest rates can't really be much lower so we can't on a tailwind there going forward.
I'm not saying negative returns over ten years, although I believe that is possible. But I do think that sub five percent is possible from the current level.
Now I will also say that I believe that it isn't all stocks that are expensive. My belief (and I base that based on the opinions of the world's top investors which we gather at the Superinvestor Bulletin) is that there is indeed a passive investing bubble that has inflated the largest constituents of the S&P 500.
The market is very expensive, but the market is dominated by a few stocks.
This week I was reading the June 30, 2017 report from Pure Value Capital. In the report the firm confirmed my belief that the S&P 500 is dangerously expensive relative to history. Pure Value referenced the fact that the market had only been more expensive twice before. Once in 1929 and once in 2000.
Good grief, those are some concerning dates.
What Pure Value also did which was something I hadn't seen clearly defined before is how expensive each market around the world is relative to history. I think what they have put together is quite useful for investors which is why I wanted to share it with you.
For approximately twenty countries in the world Pure Value assessed current valuations from a historical perspective. The firm's analysis resulted in a historical percentile valuation for each country that quantifies the relative cheapness or expensiveness of each market currently.
Here is what Pure Value found: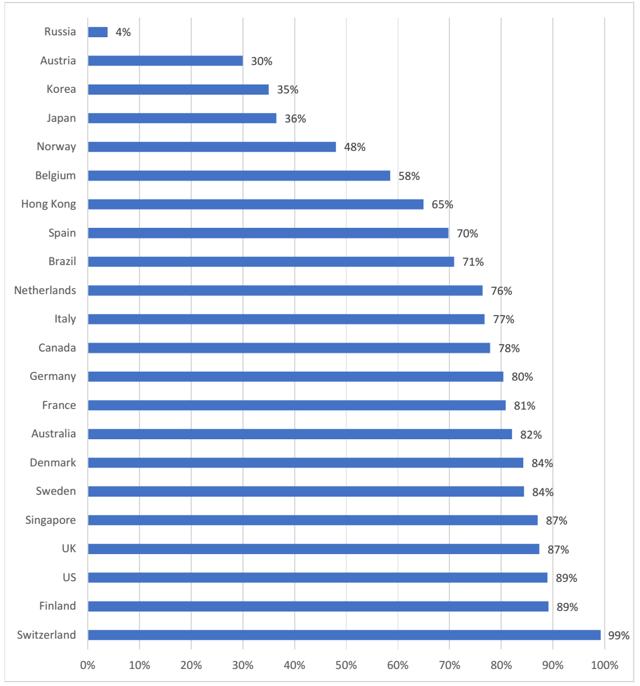 I'll break this down in my own way.
Group 1 – Screaming Bargain Relative To Historical Valuations
One country – Russia
Group 2 – Clear Bargain Relative To Historical Valuations
Three countries – Austria, Korea and Japan
Group 3 – Average Valuations Relative To Historical Valuations
Three Countries – Norway, Belgium and Hong Kong
Group 4 – Clearly Expensive Relative to Historical Valuations
Six Countries – Spain, Brazil, Netherlands, Italy, Canada, Germany
Group 5 – Just Stay Away Relative To Historical Valuations
Nine Countries – France, Australia, Denmark, Sweden, Singapore, UK, US, Finland, Switzerland
What I believe that investors should take away from this is that once again we have very clear confirmation that the American market (as well as others) is very expensive. I believe that attractive stocks can be found by looking outside the big caps that dominant the index, but I believe the index itself should be avoided.
Yes, you can buy and index fund today and generate some meager returns over time, but why not hold your cash and wait for a better opportunity to come around? Or better still roll up your sleeves and look for better value outside the popular names.
Also, Pure Value offers up four places to look for bargains. Those are Russia, Korea, Austria and Japan. You aren't going to want to go hog wild with exposure to these countries, but I think it well worth considering some exposure given the superior value that they offer. That appears to be especially true for Russia which almost never been cheaper.
I'll have more to come on that and can hopefully provide some ideas that you find interesting.
Thanks for reading.
Please consider using the "follow" option at the top of this article so I can keep you up to date with more views from the world's greatest investors.
About The Superinvestor Bulletin
We are building a portfolio selected exclusively from the highest conviction positions of the world's top investors. The result of our process is a diversified portfolio of stocks stolen investors who as a group have soundly beaten the market over time.
Come take a free trial of our service that has a track record since inception that we are very proud of.
Today we are focused on stocks that we believe will outperform when this bull-run inevitably ends. Our latest portfolio addition is the focus of an activist investor who is determined to unlock value.
Click here for a free trial and get a look at our existing portfolio and comprehensive company reports.
Disclosure: I/we have no positions in any stocks mentioned, and no plans to initiate any positions within the next 72 hours.
I wrote this article myself, and it expresses my own opinions. I am not receiving compensation for it (other than from Seeking Alpha). I have no business relationship with any company whose stock is mentioned in this article.