Empire Manufacturing Bucks The Trend
Includes:
CRF, DDM, DIA, DOG, DXD, EEH, EPS, EQL, FEX, FWDD, HUSV, IVV, IWL, IWM, JHML, JKD, OTPIX, PPLC, PPSC, PSQ, QID, QLD, QQEW, QQQ, QQQE, QQXT, RSP, RWL-OLD, RWM, RYARX, RYRSX, SBUS, SCAP, SCHX, SDOW, SDS, SFLA, SH, SMLL, SPDN, SPLX, SPSM, SPUU, SPXE, SPXL, SPXN, SPXS, SPXT, SPXU, SPXV, SPY, SQQQ, SRTY, SSO, SYE, TNA, TQQQ, TWM, TZA, UDOW, UDPIX, UPRO, URTY, USSD, USWD, UWM, VFINX, VOO, VTWO, VV
by: Bespoke Investment Group
Although a number of economic reports disappointed compared to expectations today (9/15), the Empire Manufacturing report bucked the trend and handily surpassed consensus expectations. While economists were expecting the September reading to come in at 18.0, the actual reading showed a much smaller decline relative to last month's reading of 25.2 and came in at 24.4. Given it's a regional report far removed from Texas and Florida, the damage of Hurricanes Harvey and Irma had little impact. While current business conditions saw little in the way of a change this month, expectations for the next six months took more of a hit (although still small). Overall plans for Cap Ex and Technology Spending saw nice rebounds this month and are both either at or near their highs of the year.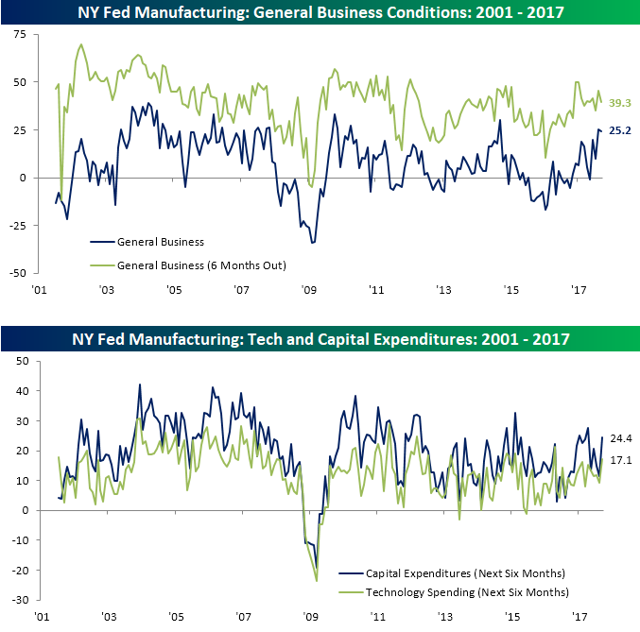 The table below breaks out this month's report by each of its components. While the headline General Business Conditions Index declined this month, the only sub-sector to see a decline was the average workweek. Likewise, looking out over the next six months, not a single sub-sector saw as large of a m/m decline has the headline index, and most actually increased.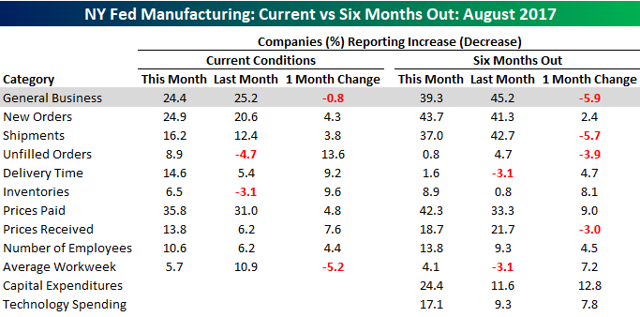 Finally, one sub-sector we wanted to specifically highlight this month was the New Orders component of the report. At a level of 24.90 this month, the current conditions for New Orders reached its highest point since October 2009! Where weather wasn't an issue this month, it appears as though economic activity remained solid.