Fresh Del Monte Produce Hits 52-Week Lows
With shares of Fresh Del Monte Produce (NYSE:FDP) hitting 52-week lows this month, I decided to take a look at the business and see if there was an investment opportunity. The company is on sound financial footing, and due to recent weakness in banana prices, is trading at low valuations. With long-term trends supporting fresh produce, Fresh Del Monte Produce could be a good buying opportunity.
A Conservative Company And Investment
Fresh Del Monte Produce is a producer, marketer, and distributer of fresh fruits and vegetables. The company has grown from being primarily a commodity producer into a vertically integrated company that operates globally, owns its own fleet for transporting produce, and has 38,000 employees.
In 1996, 75% of global sales were bananas. Today, bananas make up only 45% of sales, with other products that include pineapples, avocados, melons, tomatoes, and vegetables. While half of the company's sales are in North America, the rest is divided fairly evenly between Asia, Europe, and Africa & the Middle East. It is actively diversifying across products and markets.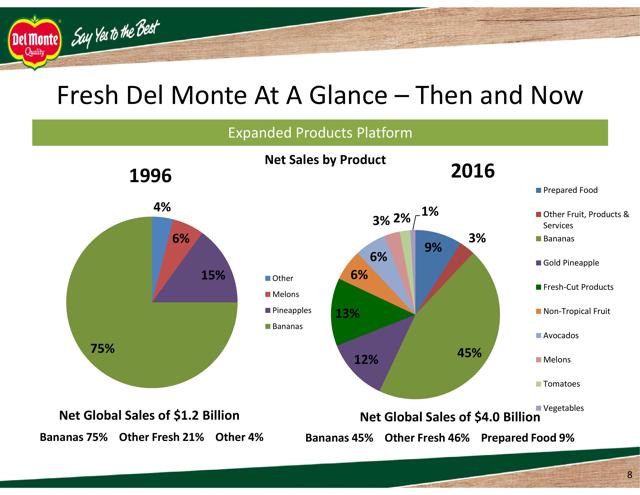 Source: Q2 Investor Presentation
The company is conservative with its capital structure. With total debt of $226 million, shareholder equity of $1.8 billion, and total assets of $2.7 billion, the company has an incredibly low debt/equity ratio of 0.13 and debt/assets ratio of 0.08.
Inexpensive In An Expensive World
According to the latest data from Research Affiliates, U.S. large caps are trading at a CAPE of 29.9 and U.S. small caps are trading at a CAPE of 55.9.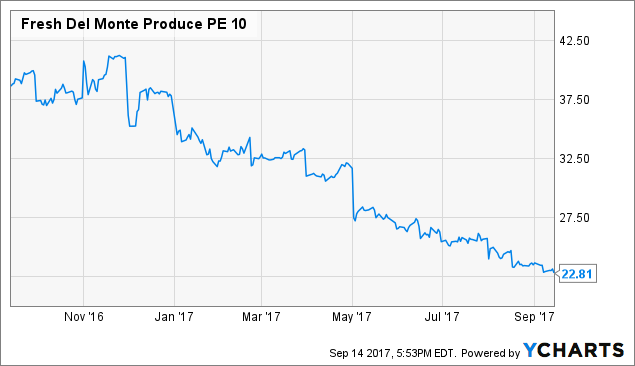 FDP PE 10 data by YCharts
Fresh Del Monte Produce's CAPE of 22.81 is not cheap by historical standards, but it is fairly valued in an overvalued market. The average PE 10 for U.S. large caps over the past 10 years is 23. So while Fresh Del Monte Produce is trading roughly in line with the 10-year average for the stock market, the rest of the market is trading at a 30% premium.
If one looks at other metrics, Fresh Del Monte Produce looks even more attractive.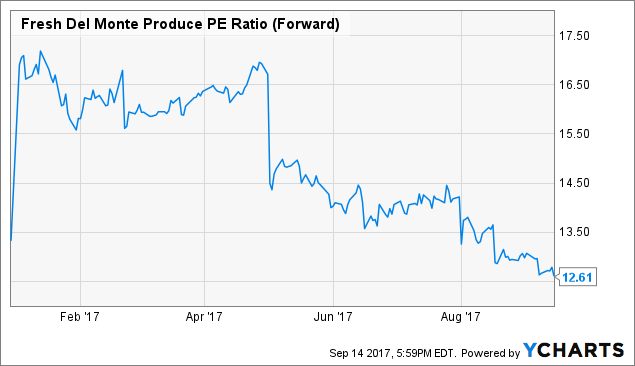 FDP PE Ratio (Forward) data by YCharts
With a forward PE of 12.61, Fresh Del Monte starts to look downright cheap instead of simply fairly valued. According to the latest update from Yardeni Research, the S&P 500/400/600 trade at forward PE ratios of 17.4, 17.3, and 18.7. A PE of 12.61 is over a 25% discount to the broader market.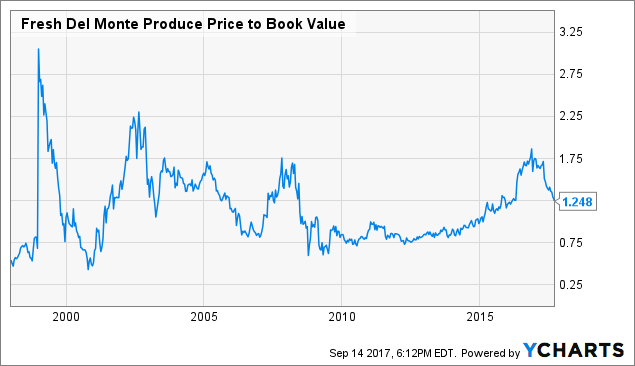 FDP Price to Book Value data by YCharts
Price to book value tells an even more dramatic story. Our best proxies for the U.S. stock market, the iShares Core S&P Total U.S. Stock Market ETF (ITOT), Vanguard Total Stock Market ETF (VTI), and Schwab U.S. Broad Market ETF (SCHB) trade at price to book values of 2.84, 2.87, and 2.86. Fresh Del Monte Produce's price to book of 1.25 places it at a 56% discount to the total market.
The stock currently pays a dividend of 15c per quarter, which results in a dividend yield of 1.3%. While not high enough to entice yield seekers, it is a nice perk to have in an undervalued stock.
It Could Get Worse Before It Gets Better
Fresh Del Monte Produce hit a new 52-week low of $45.31 on September 8th, and it continues to flirt with the low. The technicals of the stock are not good, and the price could get worse before it gets better. It is difficult to call a bottom in any stock.
Produce is not a high margin business to begin with, and the recent gross margin compression is the primary driver behind the dip in the stock price. The CEO, Mohammad Abu-Ghazaleh, describes the reason in the Q2 conference call:
...to be honest with you, we haven't seen worse markets than what we have seen in many, many years as far as banana supplies and banana pricing specially in Asian market and in the Middle East. Europe wasn't bad during the last few months. It just started getting bad since I would say early July. North America is contract pricing, so it's more or less stable. But as we speak for the first time that I have in many, many years that I haven't seen that Ecuador is selling fruit today at almost $4.50 a box, FOB, which is unheard of, never in the last 10, 15 years.
While the CEO is optimistic that the oversupply situation will improve, there is no guarantee that it will happen quickly.
Food, more broadly, has just experienced one of the longest periods of deflation in recent memory. It has impacted grocery stores as well as producers. While food prices appear to be bottoming out, producers may still be pressured by retailers on price as the grocery wars heat up between Amazon (NASDAQ:AMZN), Wal-Mart (NYSE:WMT), Kroger (NYSE:KR), and other competitors.
Long-Term Trends Support Fresh Produce
While oversupply and food deflation explain some of the recent weakness in share price for Fresh Del Monte Produce, the outlook is improving. According to the latest release by the USDA, they predict price stabilization in 2017 and a 2-3% increase in prices for fresh fruits in 2018. Data from grocery stores supports the idea that the recent period of food deflation is at an end.
In the medium term, there is a growing trend in the developed world away from packaged food and towards fresh foods that has shown now signs of slowing down. This can be seen in the languishing stock prices of packaged food makers like Kellogg (NYSE:K) and General Mills (NYSE:GIS), the growth of organic and fresh offerings at grocery stores across the US, and even a switch to fresh beef in some burgers at McDonald's (NYSE:MCD). You can't look anywhere without seeing signs of this trend towards fresh food.
In the long term, a growing world population and a limited supply of arable land and irrigation should lead to increasing food prices. Numerous world agencies have come to the same conclusion. While the latest study on the topic by the UN is several years old, the long-term trend has not changed:
The United Nations has completed the first global assessment of the state of the planet's land resources, finding in a report that a quarter of all farmland is highly degraded and warning the trend must be reversed if the world's growing population is to be fed.

The UN Food and Agriculture Organisation, FAO, estimates that farmers will have to produce 70% more food by 2050 to meet the needs of the world's expected 9-billion-strong population.
Any of these trends individually, the end of recent food deflation, the change in consumer habits to fresh food, and the growing world population, could take years to play out and could have varying impacts on the price of produce along the way. Taken together, they point to higher commodity prices in the long run.
Generally speaking, the time to buy stocks that benefit from higher commodity prices is when commodities are experiencing a cyclical downturn but the long-term secular trend is higher.
Get Rich Slowly
Fresh Del Monte Produce is the opposite of the high flying tech stocks that have captured the market's attention lately. But with low valuations, a cyclical trough in commodity prices, and improving long-term fundamentals, Fresh Del Monte Produce looks like a good investment for the long run. I recently bought shares of FDP and intend to buy more if the stock price experiences significant additional weakness.
Disclosure: I am/we are long FDP. I wrote this article myself, and it expresses my own opinions. I am not receiving compensation for it (other than from Seeking Alpha). I have no business relationship with any company whose stock is mentioned in this article.