Over the past few months, readers have been asking me where and how to scan and find ideas. From busted IPOs to insider buys, technical breakouts to unusual volume, there are plenty of ways to find interesting ideas that would take much longer than this piece can cover. Instead, I chose just a small sampling to give readers an idea - chances are I will continue to add a few more screens as long as feedback continues to be positive.
The objective is to supply just a few stocks of interest for further discussion, of which readers can do due diligence on any that stick out to them. Appearing on this post is by no means an endorsement of the stocks below, as they require full vetting prior to purchase or appearing in a full article on their own (weighing risk, seeing if thesis is actionable, searching for red flags, etc.).
Indices in Review
Past Week
Action this week continued to be subdued. Biotech appears to be consolidating after the recent move higher.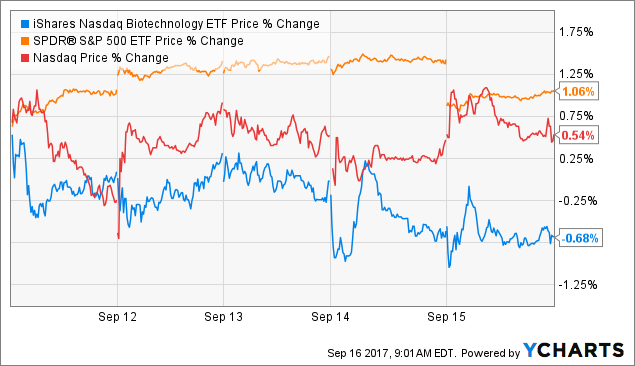 Year-to-Date

For 2017 the biotech sector continues to outperform considerably, with the past month aided by tailwinds from M&A action.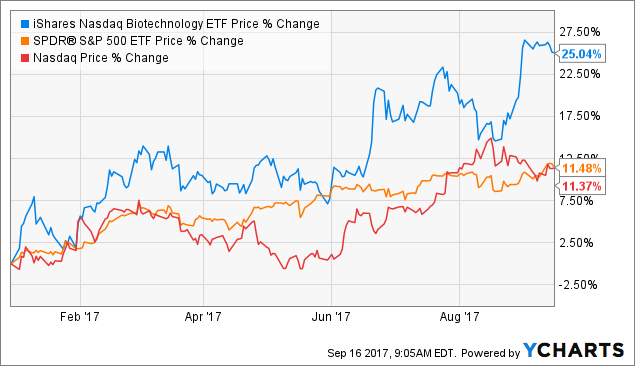 Analyst Calls of Interest
While lots of upgrades are tossed around by analysts on Wall Street each week, those with a significant gap between the projected price target and current share price typically are worth looking deeper at. Readers should take into account factors like track record (TipRanks helps) and past recommendations to find out whether they tend to be objective or constant cheerleaders. At times unbelievable or overly optimistic price targets and projections could be a subtle indicator that a secondary offering is on the way.
Neos Therapeutics (NEOS)- The stock received a $14 price target from BMO as a result of FDA approval of Adzenys ER approval to treat ADHD.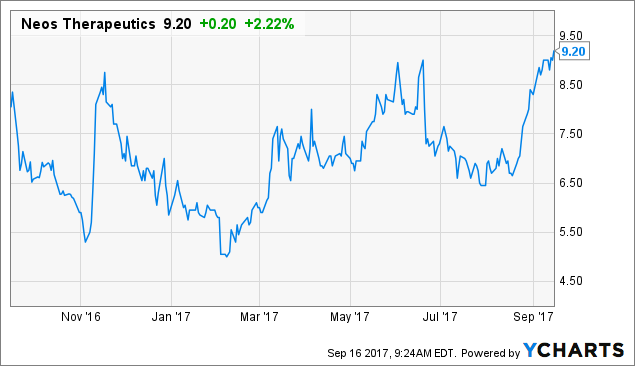 Galapagos (GLPG)- Stifel raised their price target to $120, citing optimism from physicians on GLPG1690 in IPF.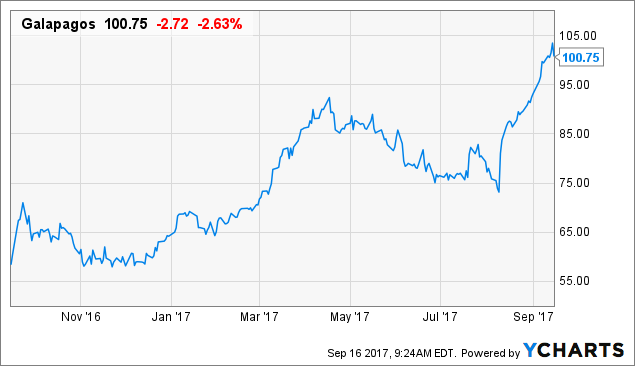 NewLink Genetics (NLNK)- The stock received support from two analysts at Cantor and Stifel, setting price targets of $26 and $29, respectively. Cantor stated that the stock sell-off was related to concerns on non-evaluable patients not being included, but that this was already known. The analyst at Stifel points out that there is slightly better efficacy in healthier patients as compared to Incyte's epacadostat.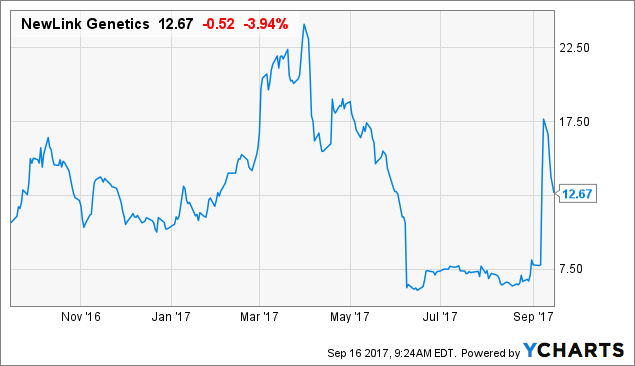 Collegium Pharmaceutical (COLL)- HC Wainwright has a $21 price target on shares, noting that Xtampza ER has a highly differentiated label with abuse-deterrence claims across three categories and calling the treatment a best-in-class ADF opioid.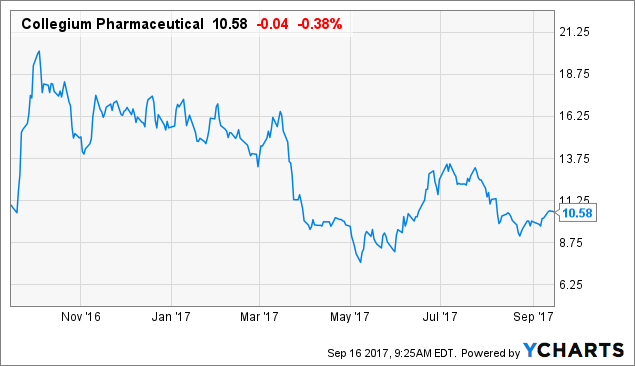 Hedge Fund Stakes
Kamada (KMDA)- Brosh Capital Partners reported a 6.2% stake, calling shares undervalued.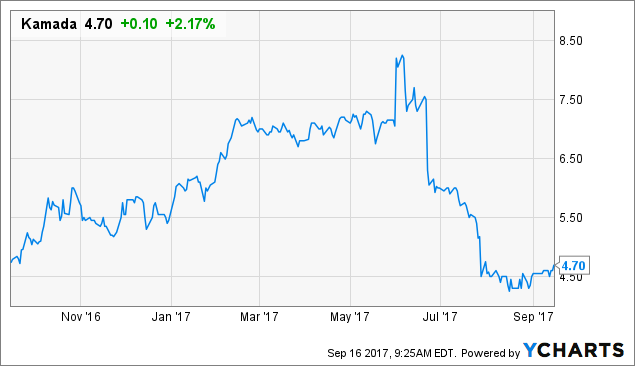 Array BioPharma (ARRY)- Point72 Asset Management reported a 5.4% passive stake. See my recent write-up on the company.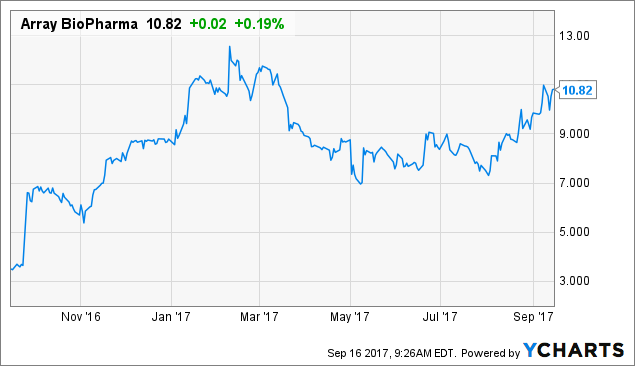 Neurocrine Biosciences (NBIX)- Perceptive Advisors has been adding aggressively to their position. It looks like I need to update my last piece on the company.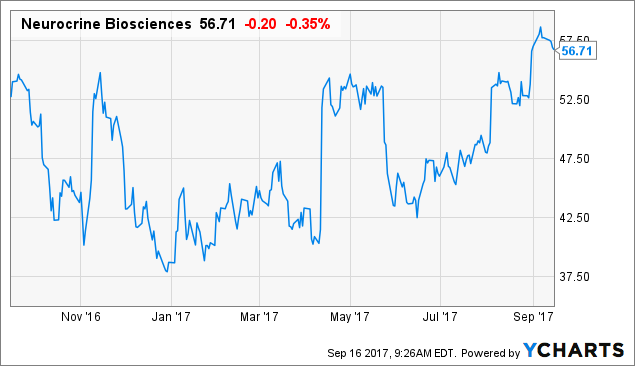 Ignyta (RXDX)- Cormorant Asset Management reported 5.3% passive stake and RA Capital has more than doubled its position recently. I've revisited this one a couple times, most recently on September 13th noting they have a key catalyst in the form of presenting updated data in mid-October.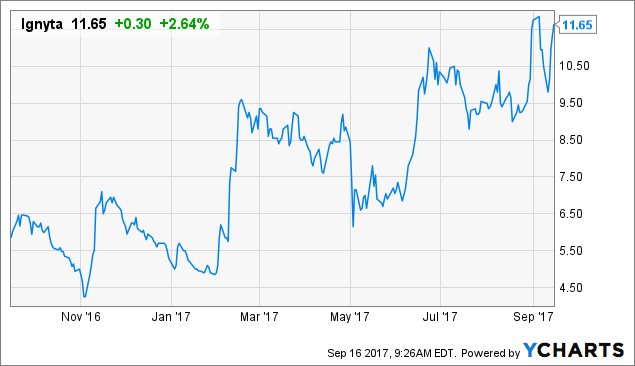 Stocks Crossing 50 Day Moving Average
Conatus Pharmaceuticals (CNAT)- In August enrollment was completed for their phase 2b clinical trial, ENCORE-NF, assessing emricasan for the treatment of patients with nonalcoholic steatohepatitis (NASH) and stage 1 - 3 fibrosis.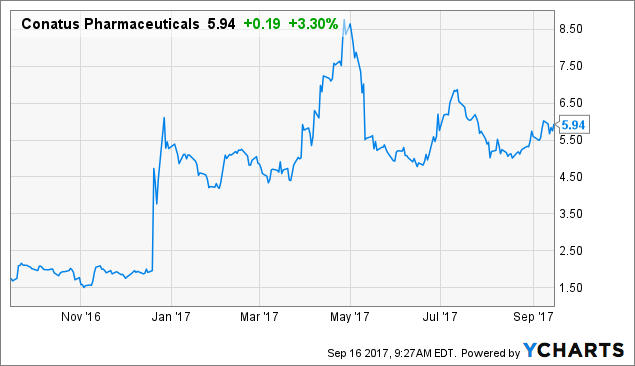 Relative Volume Screen

Halozyme Therapeutics (HALO)- The company signed a deal to out-license their ENHANZ tech to Roche and Bristol-Myers Squibb.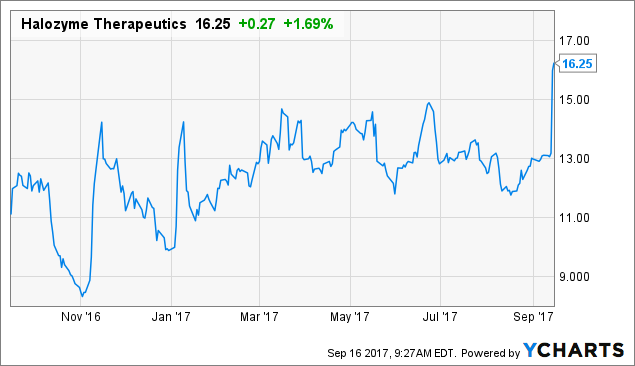 aTyr Pharma (LIFE)- Several well-known institutional funds along with members of the company's Board of Directors participated in a recent financing.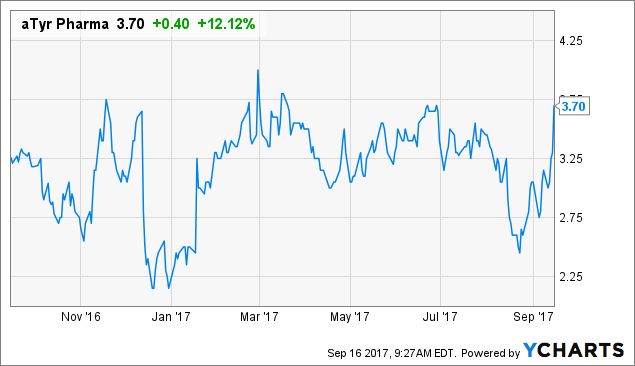 New Highs of Interest
Arbutus Biopharma (ABUS)- I believe there's a bull market (and potential bubble) forming in Hepatitis B stocks. Our ROTY pick Spring Bank Pharma (SBPH) is acting strong and other related tickers are showing high relative strength. Data is expected this month from their phase two study of ARB-1467.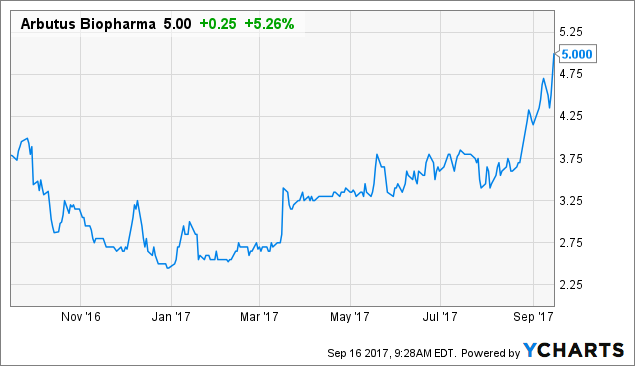 Assembly Biosciences (ASMB)- The company recently inked a licensing agreement with Allergan for their microbiome gastrointestinal development programs.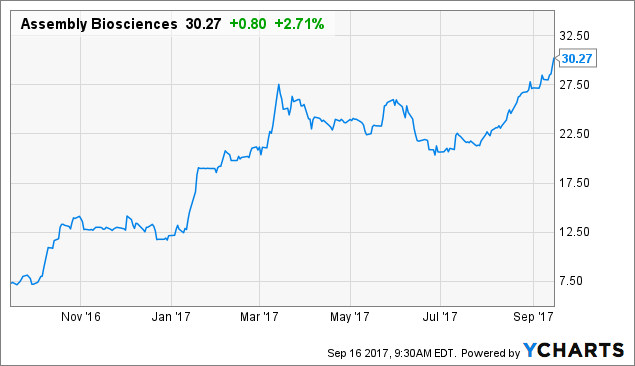 New Lows of Interest

None at the moment.

Actionable News of Interest
Mirati Therapeutics (MRTX)- I had this one on my near-term research list but it got away from me before I had time to fully research. A 77% tumor reduction in the first evaluable NSCLC patient with a CBL inactivating mutation bodes well for their targeted approach (think Loxo Oncology and Ignyta with TRK).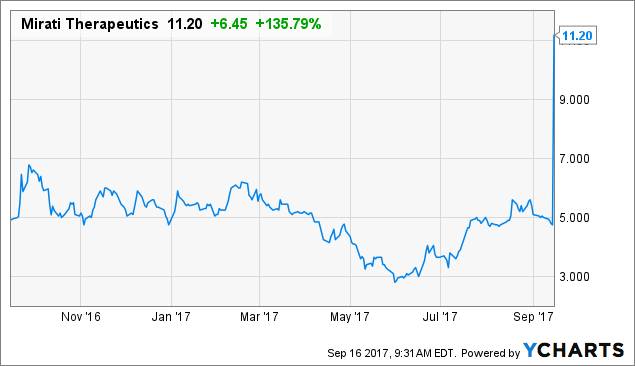 Aldeyra Therapeutics (ALDX)- The stock has received several analyst upgrades after releasing encouraging top-line Phase 2a results of ADX-102 in dry eye disease. I will revisit soon to see if the move is overdone or if there is still an opportunity to take advantage of.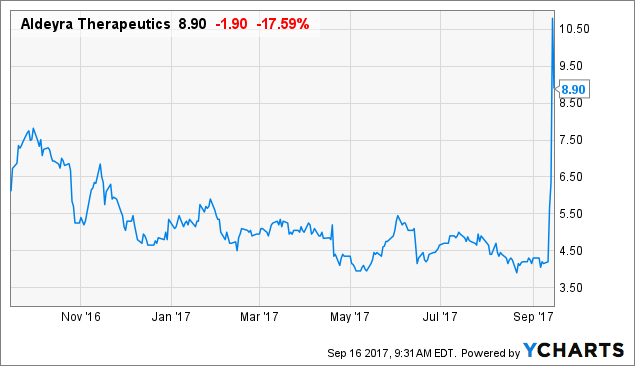 Managing Risk
It goes without saying that each stock above has its own unique risks in addition to those that go along with the biotech sector in general. These general risks include competition, clinical setbacks, disappointing data, regulatory downthumb and dilution. Some of the above stocks are at new highs and thus more prone to volatility while others have lower floats and are more prone to manipulation.
Author's note: My goal is to bring to readers' attention to undervalued stocks with catalysts that could propel shares higher, as well as provide a fresh perspective on stocks you may already be aware of. I also touch on planning trades and risk management, as those are two areas I feel are often neglected. If you found value in the above article, consider clicking the orange "follow" button and getting email alerts to receive my latest content. My sincere appreciation for readers who add value and join the discussion in the comments section, as well as those who share my work with others who could benefit from it.

Disclaimer: Commentary presented is not individualized investment advice. Opinions offered here are not personalized recommendations. Readers are expected to do their own due diligence or consult an investment professional if needed prior to making trades. Strategies discussed should not be mistaken for recommendations, and past performance may not be indicative of future results. Although I do my best to present factual research, I do not in any way guarantee the accuracy of information I post. Investing in common stock can result in partial or total loss of capital. In other words, readers are expected to (and encouraged) form their own trading plan, do their own research and take responsibility for their own actions. If they are not able or willing to do so, better to buy index funds or find a thoroughly vetted fee-only financial advisor to handle your account.
Disclosure: I/we have no positions in any stocks mentioned, and no plans to initiate any positions within the next 72 hours.
I wrote this article myself, and it expresses my own opinions. I am not receiving compensation for it (other than from Seeking Alpha). I have no business relationship with any company whose stock is mentioned in this article.
Editor's Note: This article covers one or more stocks trading at less than $1 per share and/or with less than a $100 million market cap. Please be aware of the risks associated with these stocks.