Analysis
Colgate-Palmolive (NYSE:CL) has been long-time favorite among dividend investors. It's hard not to be when a company has a history of increasing the dividend for 54 consecutive years. Recently however, there have been concerns raised on the sustainability of Colgate's dividends on account of a perceived weakness in its recent top line and bottom line performance.
We believe there is basis for these concerns, given the negative growth in Colgate's net sales since 2014. However, the company is continuing to post profits, which we believe will continue to fund the dividend into the foreseeable future. That doesn't mean we'd recommend it, though. We believe Colgate shares aren't cheap, and we don't see much room for sizable dividend increases.
Macro Challenges, FEX, and Slow Category Growth Continue to be Headwinds
Colgate delivered another uninspired performance in 2016. Although organic sales increased by 4%, net sales saw a continued decrease of 5% vs. 2015, which the company attributed to macroeconomic challenges, foreign exchange volatility and slowing category growth.
Thanks to an increase in its gross margin and improvements in its operating efficiency, the company was still able to register net earnings of $2.44 billion. On a per share basis, this equates to $2.72 EPS for 2016, in contrast to diluted EPS of $1.52 in 2015. On the surface, these make look like a significant improvement. But that is because in 2015, Colgate had not yet discontinued Venezuelan operations, so the company included the loss from the unit.
The better comparison is on a non-GAAP basis, which basically excludes the loss from Venezuelan operations. In that scenario, the 2016 EPS is flat vs 2015 EPS, at $2.81.
Net, in 2016, dollars sales were in fact down, and earnings were flat.
Turning to 2017, year-to-date results were basically flat with slight declines registered in net sales, operating profits and net income compared to the same period in 2016. Net income for the six-month period was $1.09 billion, slightly lower than the 2016 level; on a per-share basis the first six months of 2017 registered an EPS of $1.23, as against $1.26 in 2016.
Looking forward, it doesn't seem like the headwinds are going to end for Colgate anytime soon. The company expects a challenging environment with uncertainty in global markets and slowing category growth worldwide. Colgate anticipates a low, single-digit net sales increase for full year 2017 with low, single-digit organic sales growth. Per usual, the company did not issue earnings guidance, however the best consensus estimates are looking at an EPS of $2.89 for full year 2017.

Despite the Headwinds, Colgate Isn't Cheap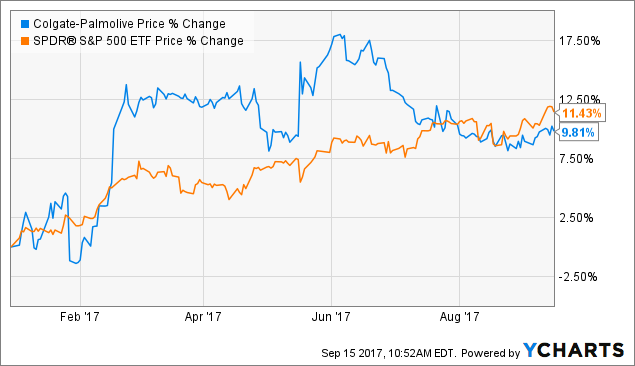 CL data by YCharts
As of writing, Colgate's stock price has increased by 9.8% from the start of the year, below the S&P 500 Index which has posted a 11.4% increase.
It's current P/E multiple is about 27X; while slightly lower than it's 5-yr of 29X, Colgate is still higher than industry leader Procter & Gamble (PG) which trades at 17X P/E, and the industry average 20X P/E.
Using dividend yields, Colgate's modest 2.2% is on par with industry leader Procter & Gamble, and slightly below the industry's 2.5% dividend yield.
Can Colgate sustain the dividend? And if so, how much do we expect it to grow in the next 3-5 years?
The annualized dividend for 2017 is $1.59/share. The company pays its cash dividend quarterly with the next dividend payment expected by November 2017. The cash flow impact of the projected quarterly dividend is about $358 million.
Colgate's cash flow generation has so far proved more than adequate to support its dividend payments, as well as fund share buybacks, which have been more or less equal in amount to the annual dividend during the last three years.
For the first six months of 2017, the company's free cash flow before dividends (net cash provided by operations less capex) was $1.08 billion; dividends paid during that period amounted to $716 million. Not to mention, cash and cash equivalents at the end of the period were $1.2 billion.
Long story short, Colgate is going to have no problems continuing its history of dividend payments. Dividend increases maybe more difficult.
Reviewing its dividend record from 2011 to 2016, we see that dividend payments have increased by 36%, from $1.14/share in 2011 to $1.55/share by 2016, a compounded annual growth of 6.3%. If Colgate can maintain this rate of growth, dividends can foreseeably be at $1.86 by 2019.
However, that is a big if. As shown above, sales and earnings have been less than stellar. Couple that with company's current payout ratio of 58%, and there isn't much room for significant improvement. Unless the company can get sales and earnings growing again, they aren't going to be able to continue to increase the dividend, unless they want to bring the payout ratio beyond historical levels.
Conclusions
Colgate has acknowledged the challenging economic conditions it faces in 2017, which so far has resulted in flat topline growth during the first six months. Like the rest of the industry, it has taken initiatives to improve its operating efficiency, targeting better gross and operating margins, to compensate for possible lower sales growth and organic growth.
Still, the negative revenue growth and relatively flat earnings in the past three years is a cause of concern, and raises questions as to whether the P/E premium which the company now enjoys is warranted.
Colgate's long track record of continuing dividend payments does provide a degree of comfort to the dividend investor. Its 58% payout ratio leaves the company with some leeway to manage its dividend policy. With a 121-consecutive year history of dividend payments, we do not expect the company to readily abandon a dividend tradition that it has nurtured over the years, on account of a few headwinds in the business horizon.
The current dividend yield however does not provide sufficient incentive to buy the stock on this basis alone.
Bottom line, as much as we love Colgate-Palmolive, we just can't recommend buying it. We recommend a HOLD on Colgate-Palmolive, and don't expect it to move into the SELL territory unless there is a more significant decline in the company revenue or earnings.