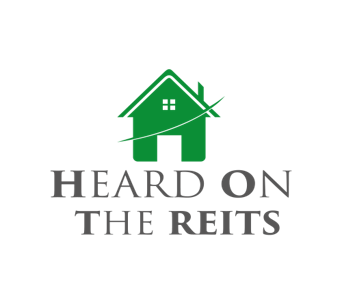 Hurricane Irma
We survived Hurricane Irma, although the storm has certainly left a fair share of challenges and inconveniences for the residents of Florida. In Miami, we were bracing for the strongest and largest storm to ever hit the city but were spared with minimal tree damages and the challenging situation of not having power or gasoline to go about our business comfortably.
Those of you that follow our weekly update probably realized we didn't sent it out last week. We apologize, but we were busy preparing for the storm. Now that we are ALMOST up and running, we are resuming our weekly updates and have a list of both premium and free articles in store.
Since we didn't send an update last week, this week's edition will have quite a bit of information since it will include what we thought were some of the most important points from the week before – in addition to this week's full coverage. Thanks for reading and apologies for missing last week.
The Weekly
As of 3PM on Friday September 15, 2017, the MSCI REIT Index (RMZ) was up just 0.1% on the week, trailing the SPDR S&P 500 ETF (SPY), with a price return of 1.3%.
Regional Malls are up 2.8% for the week, led by CBL & Associates (CBL) and Pennsylvania Real Estate (PEI) with 5% and 4.4% price increases, respectively. The market must have looked favorably on CBL's payoff of two mortgages totaling $200M.
Lodging/Resorts were also up strongly, averaging a 2.6% increase with RLJ Lodging (RLJ) and Ashford Hospitality Prime (AHP) leading the way. RLJ has all of its Texas hotels in operation and of those in Florida, 8 out of 20 were closed due to evacuations but sustained no material damage.
To the downside, Manufactured Homes were hardest hit, both physically and by the markets. The sub-sector was down 1.8% after Hurricane Irma pummeled the Florida Keys. As of today, the companies have not reported the extent of damage to properties located in areas that remain inaccessible.
Data centers were also punished this week after a speech that called for the end of the data center model. (see news section below) Lastly, Self-Storage REITs, which declined 1.7% on the week, actually recovered strongly after damages from Irma were confirmed to be less than anticipated. Post-Irma, we believe Self-Storage REITs may benefit from homeowners looking to store belongings while their homes are being repaired.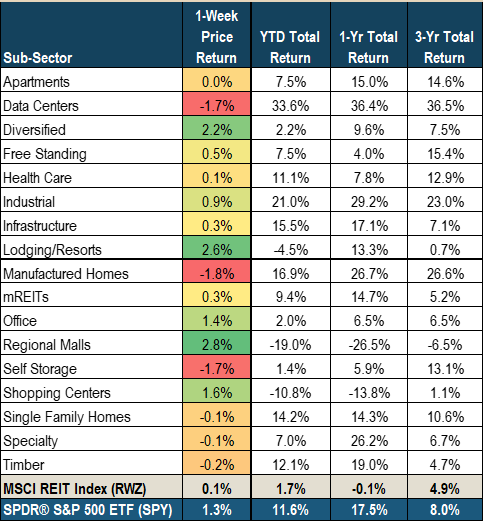 Note: 1-Week Price Returns are based on the average returns all REITs within each sector. Not market-weighted.
Below are the results for a select group of REIT ETFs. We have added fund flows for 1, 3, and 6 month periods.


News
Public Storage (PSA) reopened its Houston facilities and announced the opening of its 116 th location in the city. With so much damage to homes both in Houston and Florida, we think self-storage could get an additional boost. PSA also announced a $1B debt offering in two tranches.Life Storage (LSI) still has 8 properties closed due mainly to power outages.Gladstone Land (LAND) is getting into the wine business with a $5.4M purchase of White Hawk vineyard, a 361 acre plot of land in Santa Barbara. It also acquired a 746-acre form located in Walla Walla. It also announced a share raise, which caused the stock to decline by 4.4% after-hours on the day of the announcement. Turns out the share raise was for 1M shares at $12.25 each. Net proceeds were $13.3M. When one COO is not enough, hire two! Crown Castle International (CCI) rearranged its leadership team to facilitate the integration with Lightower. James Young will lead the Fiber unit as it works to expand its fiber solutions, while Robert Ackerman will lead the Towers and Small Cells division.Urstadt Biddle Properties (UBA) beats revenue estimates by $2.7M, which is 12.7% Y/Y growth.Equinix (EQIX) is purchasing Itconic and CloudMas in Spain and Portugal.Investors Real Estate Trust (IRET) beats on revenue by $1.98M, a 6.3% Y/Y increase.Jernigan Capital (JCAP) had several projects delayed due to Hurricanes Harvey and Irma. Most projects suffered minimal damage but work was delayed due to power outages. Expect bad news from manufactured housing REITs Sun Communities (SUI) and Equity Lifestyle Properties (ELS). While both companies say most of their properties sustained minimal damage, neither had been able to access properties in the Florida Keys. As of Friday, much of the lower keys remained inaccessible. Data center REITs declined on the back of a speech of Social Capital's Chamath Palihapitiya, who says that eventually you will be able to drive a data center in an RV and park it beside a data center due to the shrinking of chips. Digital Realty (DLR) and others in the sector were down over 3%.Ashford Prime (AHP) said that its Ritz-Carlton resort sustained some damage, which is currently being assessed along with insurers. The resort is currently taking reservations for January and has about 80% of guest rooms open for those helping the recovery effort. Good luck guys!!iStar (STAR) was upgraded by Fitch to BB- after the company launched an $800M offering and a separate $250M private offering – to pay down notes due in November, February 2018, and two Preferred stock issues.Host Hotels (HST), which closed 7 of its 10 Florida properties as Hurricane Irma approached, will have all of them open by Monday, September 18 th, except for one in Miami and one in Naples. Those should be open by the following week.
Upgrades/Downgrades
Upgrades
Sabra Health (SBRA) upgraded to market perform by JMP securities and Mizuho with a price target of $23 and $24, respectively.Mid-America Apartment (MAA) upgraded to buy from neutral at BTIGAvalon Bay (AVB) price target raised ro $215 from $200 at BTIGCamden Property Trust (CPT) price target raised to $106 from $90 at BTIG
Downgrades
Avalon Bay (AVB) gets downgraded by Goldman Sachs (GS) to Neutral from Buy. Equity Lifestyle (ELS) downgraded to neutral at Baird due to valuation Regency Centers (REG), Ramco-Gershenson Properties (RPT) and Retail Opportunity Investments (ROIC) were downgraded to Hold due to risks posed by headline risk related to grocery anchored tenants.
Dividends this Week and Next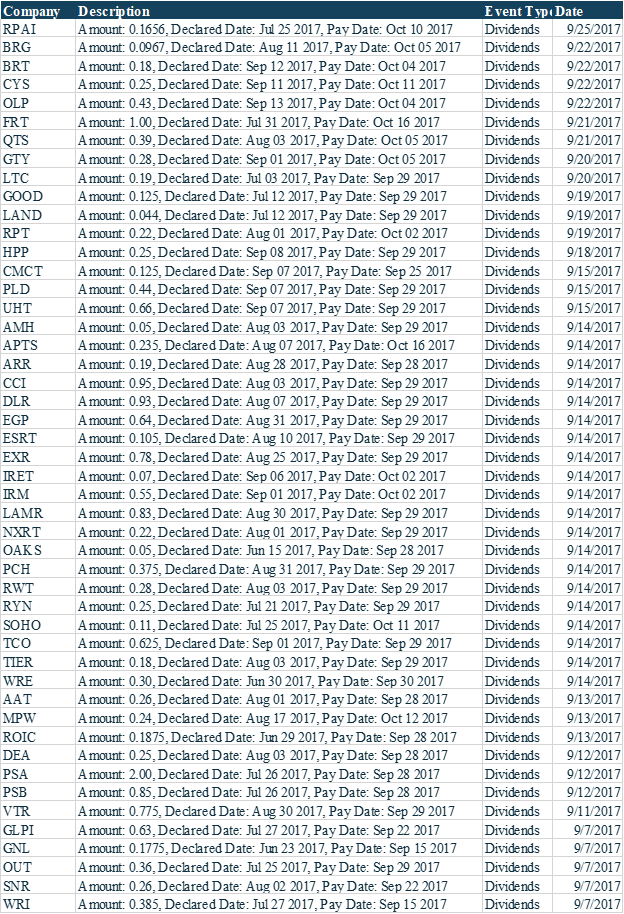 REITonomics This Week
We have tons of data this week after skipping our last edition due to Hurricane Irma. The following are key economic data points released this week and last week.
ISM Non-Manufacturing PMI
The ISM Non-Manufacturing Index was up slightly from last month to 55.3, which is good news considering any result above 50 indicates expansion. As the Fed weighs the economic data to map out its interest rate increases, this result indicates the economy is still doing well.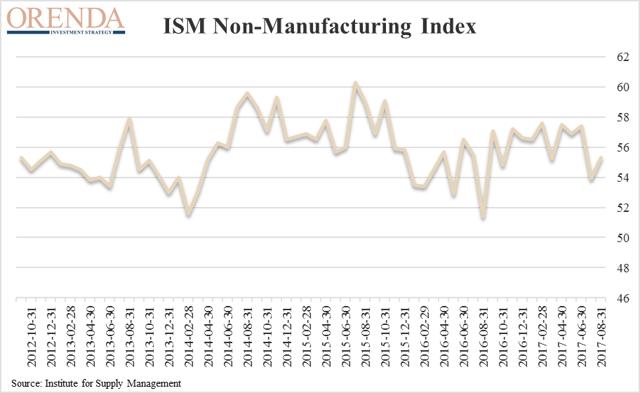 Initial Jobless Claims
If things weren't confusing enough regarding the direction of the economy, the Initial Claims this week did nothing to help the cause. Initial claims spiked to 298,000, way above the consensus forecast of 241,000. Whether this is a harbinger of an exhausted 8-year labor market run, we don't know, but it certainly makes for some cloudy economic forecasts, including potential Fed rate hikes.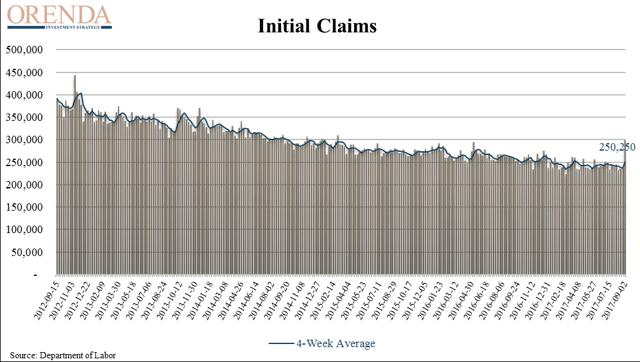 Non-Farm Productivity
One way to keep the pace of economic growth without driving inflation is to increase productivity. We have yet to return to the glory days of the internet boom or the initial quarters of 8% productivity levels reached at the beginning of the current recovery. However, the recent 1.5% productivity improvement is good news for continued economic growth, even if still at modest levels. In our opinion, the longer economic data points avoid extreme levels (to either the upside or downside), this bull market could continue.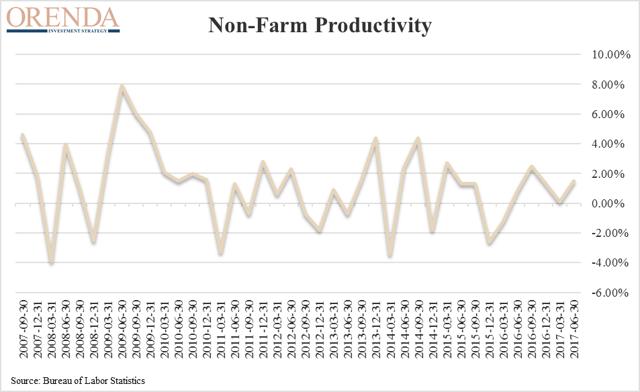 Unit Labor Costs
If there is any indicator that gives us comfort that the Fed will continue to delay or cautiously raise rates, its Unit Labor Costs. So long as businesses aren't paying higher and higher wages, inflation should remain tame. That's not to say that we don't want some kind of wage growth. We haven't witnessed wage growth in quite some time due perhaps to robotics, increased productivity, or a combination of factors. In many industries, wages have actually declined – which is not fun if your mortgage doesn't decline also. In any case Unit Labor Costs rose slightly from the prior quarter – just 0.2% but much slower than the previous quarters change of 4.8%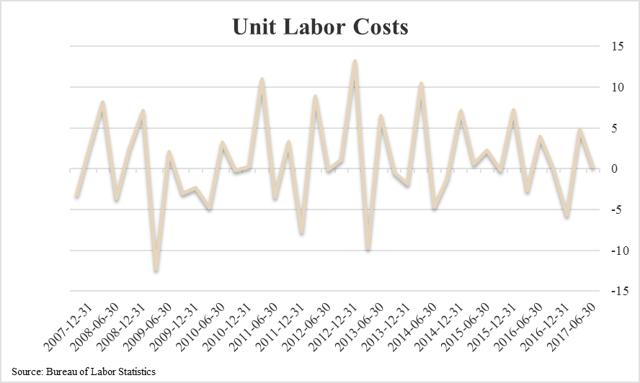 NFIB Small Business Optimism
Small businesses continue to remain optimistic, driving the NFIB Small Business Optimism Index to 105.3, slightly below its 2017 high of 105.9 reached in January. More importantly, the outlook for expansion – the percentage of respondents that feel that the next three months is a good time to expand – reached 27 – the highest level this year.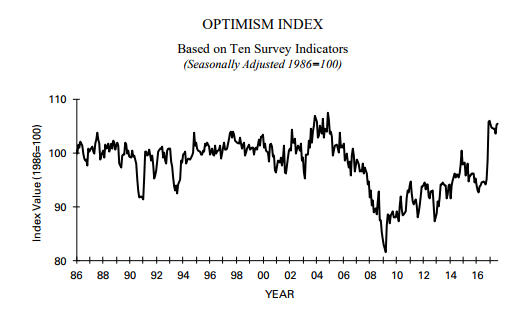 Inflation Data
Inflation data was quite tame leading us to believe that the Fed will continue to tread lightly on rate increases. Core CPI was slightly above expectations but at 1.7% Y/Y, we don't see inflation as a near-term risk.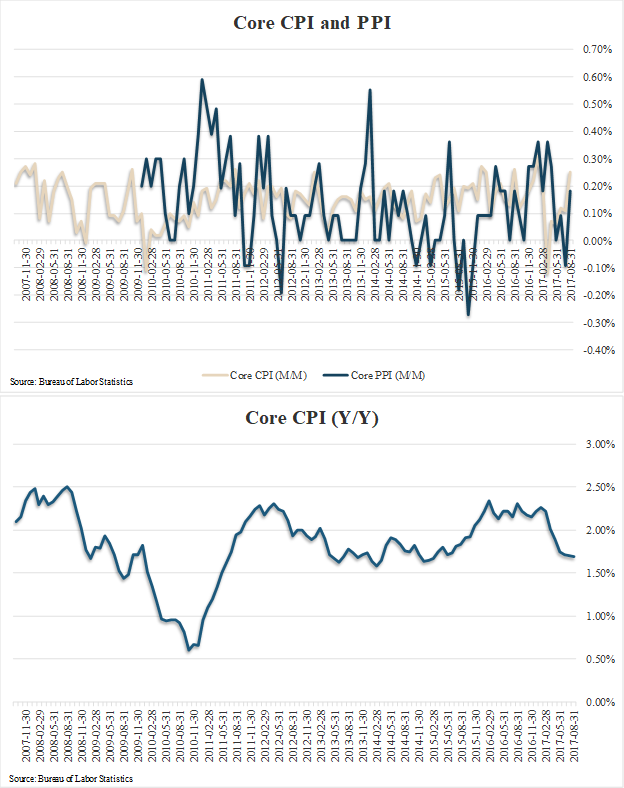 Continuing Claims
Continuing claims remained below the 2M mark and points to resiliency in the labor market.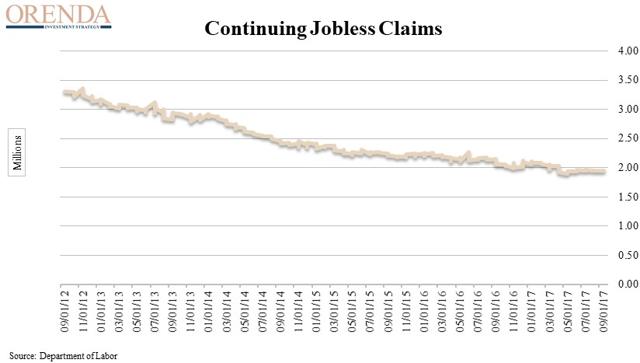 Initial Jobless Claims
On the other hand, initial claims remained elevated despite the decline from the prior month. The 4-week average jumped to 263,250 after two straight weeks of claims above 250K. Initial claims had only breached the 250K mark 8 times this year. Something to watch closely in coming weeks.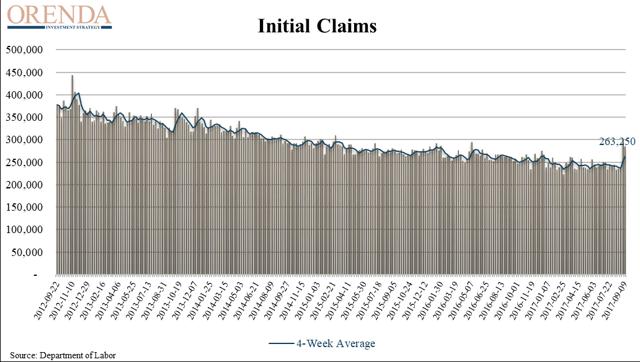 Core Retail Sales
Core retail sales ex-auto came in at a disappointing 0.2% - below the consensus forecast of 0.5%. Looking at the details reveals some bifurcation by category. Gasoline station sales were up 2.5% and miscellaneous store retailers posted an increase of 1.4%. While not a great number, it doesn't necessarily signal the end of consumer spending nor or brick and mortar retail. NEWSFLASH – non store retailers were down 1.1%.
Total retail sales were actually down 0.2% driven by a decline of 1.6% in the auto sector.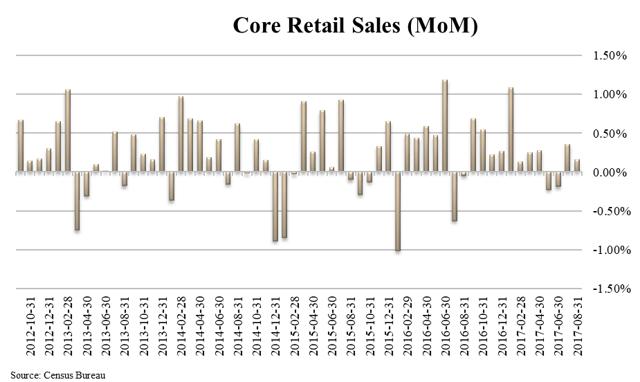 Michigan Consumer Sentiment
All seems to be well with the consumer, which feeds into the previously mentioned retail sales figures. With continued stability in the labor force and minimal imminent exogenous risks, we could, surprisingly, see this recovery go into year number 9.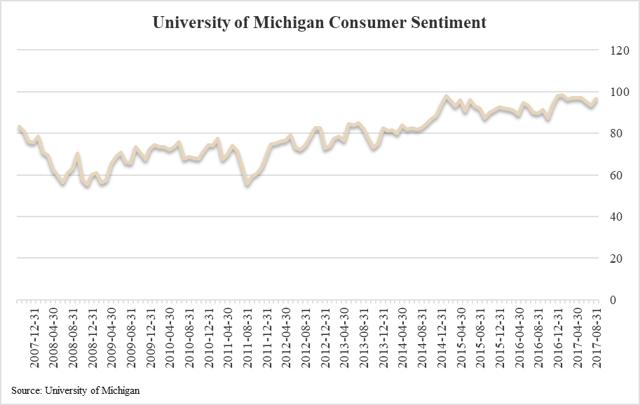 REIT Data
We have changed the format of our Dividend Yield/Payout Ratio chart to better reflect attractive dividend payers with dividend growth potential. Based on the new format, sectors located to the top/left are attractive based on current dividend yields and low payout ratios that could lead to potential dividend boosts.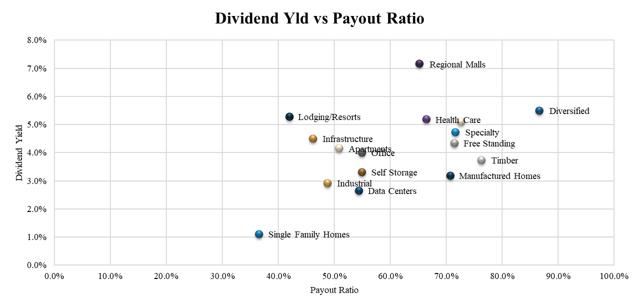 Comparing price multiples to potential returns based on analyst estimates, Regional Malls also look attractive with a P/FFO multiple of 11.2 - and a potential return of 14.6% (down from 20.6%). The sector with the highest potential return based on analyst estimates continues to be Infrastructure REITs with a target return of 24.9%. Their P/FFO multiple of 15.7x is much higher than the Regional Malls but still reasonable in our view.
Industrial REITs, with YTD returns of 21%, now seem to be fairly valued and aren't expected to have much upside according to the consensus estimates.
Manufactured Homes, on the other hand, have returned 26.7% to shareholders over the past year even after recent declines and the valuations seem to have reached extreme levels – ditto for single family homes but fundamentals are still there for more upside.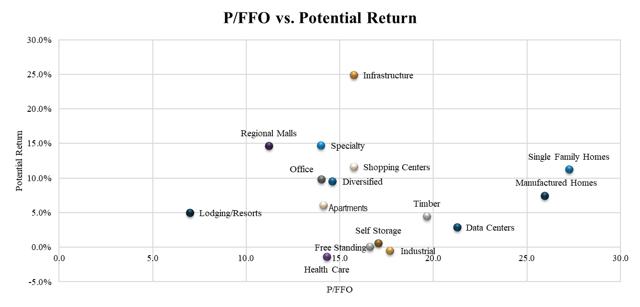 Note: some adjustments were made to normalize the average numbers such as removing data points where P/FFO was negative due to negative FFO/share or where a low FFO would lead to an abnormally high P/FFO in a small population size.
As we continue to refine our offering, we will provide AFFO when it is viewed as a better indication of a company's current cash flow.
Market Cap Breakdown of REIT Sector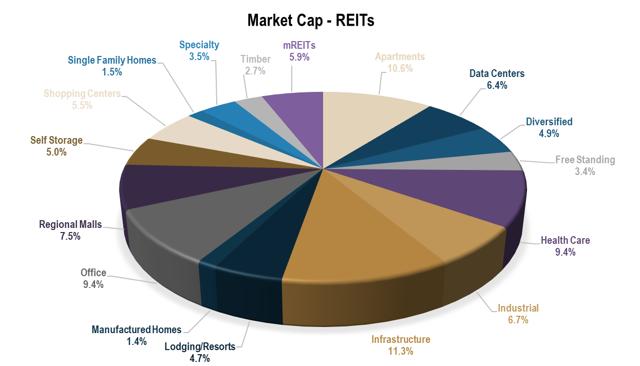 Due to Hurricane Irma, we will be extending our annual discount pricing for the Heard on the REITs premium service until mid-October to allow us to catch up on the reports and publications we had planned on producing before the end of September. That deadline will be tough to meet after almost 10 days of inactivity due to the Hurricane.
So until mid-October (Deadline TBD), we are offering an annual price of $500. That's $100 off the regular annual price and a $400 savings to the monthly subscription price. This is limited time offer, so consider subscribing today.
The following samples were published for free, but these highly analytical reports will only be available in the Premium service from now on.
Sample Premium Research Report
Disclosure: I am/we are long BXP. I wrote this article myself, and it expresses my own opinions. I am not receiving compensation for it (other than from Seeking Alpha). I have no business relationship with any company whose stock is mentioned in this article.
Additional disclosure: Long
BXP
SLG
DRE
MNR
KIM
REG
SPG
GGP
SRC
O
ACC
EDR
UMH
AMH
AAT
HPT
CUBE
HTA
SNR
WY
AMT
UNIT
CCI
DLR
QTS
CXW
BXMT