Baker Hughes, A GE Company (BHGE) is the byproduct of the merger between Baker Hughes and General Electric's (GE) oil and gas operations, and the merger was recently called the "most transformative deal in the oil services space in decades" by Evercore ISI. While I am not as bullish as Evercore, I do believe that this newly formed oil services company is worth a look, of course, if you are an investor with a long-term time horizon.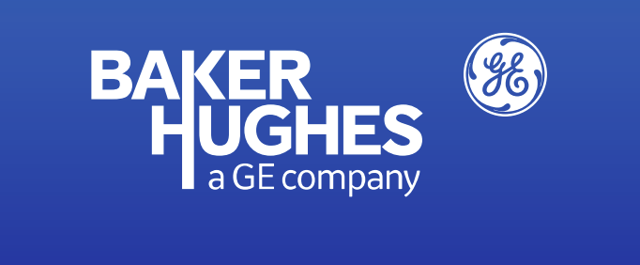 The New(ish) Company
Management calls the newly formed company, "the world's first and only fullstream provider of integrated oilfield products, services and digital solutions". BHGE is lead by Lorenzo Simonelli, formerly the leader of GE Oil & Gas, and the company's management team has a wealth of knowledge in industries that matter.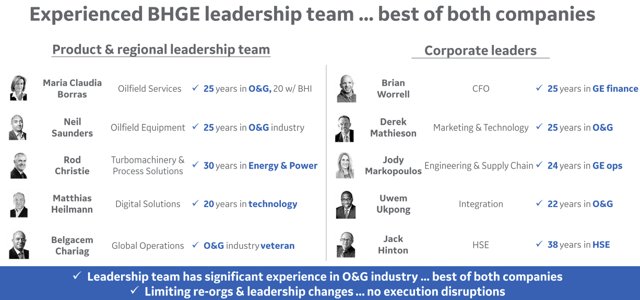 (Source: Barclays 2017 CEO Energy-Power Conference)
The new Baker Hughes has a one-of-a-kind portfolio of businesses with several franchises that are market leaders in their respective industries. Additionally, management anticipates for the combination to create a great deal of value by allowing for the company to offer its customers a differentiated mix of products and services.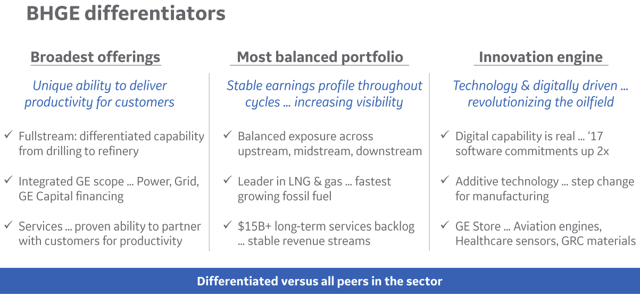 (Source: Barclays 2017 CEO Energy-Power Conference)
It also helps that management anticipates for the deal to create significant synergies over the next few years.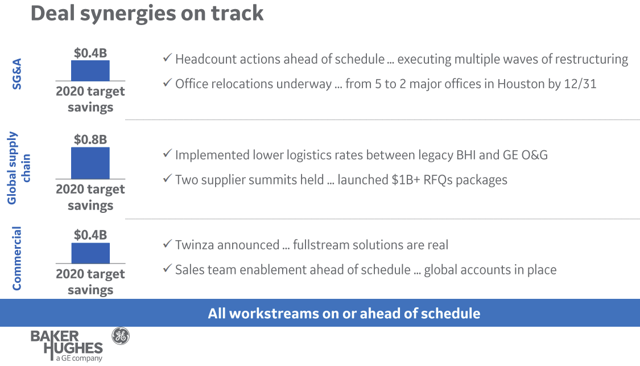 There is no denying the fact that the oil and gas industry has faced significant headwinds since mid-2014, but, in my opinion, the Baker Hughes-GE Oil & Gas tie-up is exactly the type of deal that needs to happen in this environment. Customers will be looking for their business partners to offer products and services that will help them save money and operate more efficiently and I believe that Baker Hughes, A GE company is positioned to offer just that.
What Have You Done For Me Lately?
Since the merger was completed, BHGE shares are down 1% while the S&P 500 is up 3%.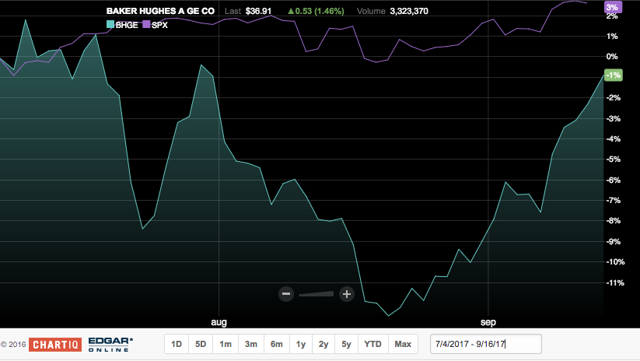 (Source: Nasdaq)
On July 28, 2017, the company reported better-than-expected Q2 2017 adjusted EPS (-$0.11 compared to estimate of -$0.12) on revenues of $2.4B (up 6%). The top-line growth was a result of improved activity in the U.S. market and the quarterly loss of $0.11 was a significant improvement from what was reported in the same period of the prior year.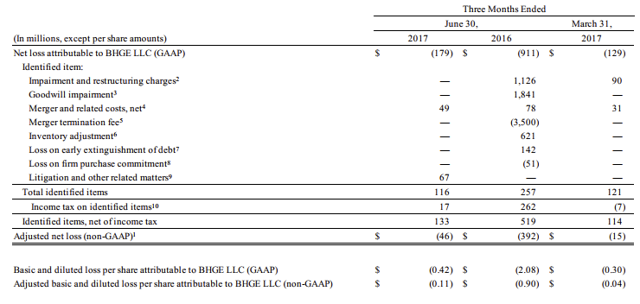 (Source: Q2 2017 Earnings Presentation)
It is also important to note that BHGE has a strong balance sheet, as the company is sitting on $4.1B in cash and has only ~$6.2B of total liabilities on the books.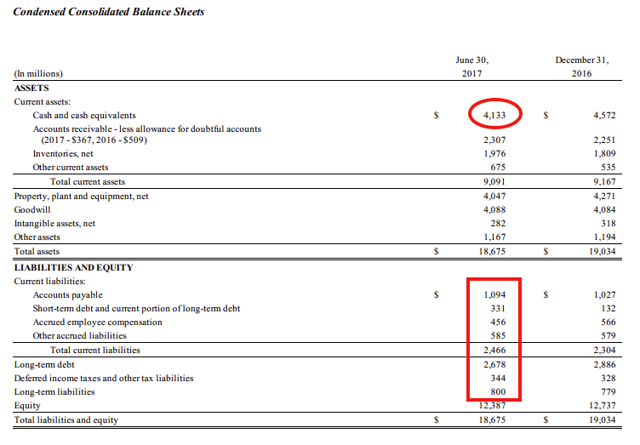 (Source: Q2 2017 Earnings Presentation)
It is hard to get too excited about the company's near-term business prospects at this point in time but, in my opinion, BHGE has the balance sheet strength to more than weather the storm of a prolonged downturn in the oil and gas market.

Word From The Street
According to Yahoo! Finance, the Street is largely bullish on BHGE.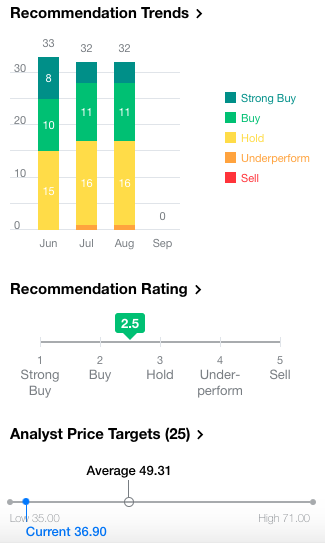 Recently, BHGE coverage was initiated at Argus with a "buy" rating and a $43 price target. Additionally, Barclays initiated coverage on BHGE with an "overweight" rating and a $41 price target. Based on these price targets, investors today are looking at a stock that has upside potential of either 16% or 11%. Not bad, right?
I am the first to admit that investors should not blindly follow the "experts" into a stock, but I do believe that the Street's ratings/recommendations should be factored into your stock analysis. As such, it is encouraging that the big boys have a positive view of BHGE's short-to-medium term business prospects.
Bottom Line
With oil and gas prices at depressed levels, now may be a great time to start a position in this newly formed entity. While I am not a big long-term bull on the oil and gas industry, I do believe that Baker Hughes, a GE Company is well-positioned to prosper over the next few decades.
There are still uncertainties as it relates to this company's near-term business prospects and management will indeed need to prove to the market that BHGE is worthy of investment dollars, but I believe that investors should seriously consider adding BHGE shares at current levels because this company has great long-term business prospects. As such, BHGE is a great long-term investment and any dips should be considered buying opportunities.
Full Disclosure: GE still owns a majority stake in BHGE (~67%). I have a small BHGE position in my R.I.P. portfolio and I plan to add to this holding on any dips.
If you found this article to be informative and would like to hear more about this company or any other company that I analyze, please consider hitting the "Follow" button above.
Disclaimer: This article is not a recommendation to buy or sell any stock mentioned. These are only my personal opinions. Every investor must do his/her own due diligence before making any investment decision.