Welcome to the weekly oil markets recap edition of Oil Markets Daily!
WTI finished the week up 5.08%.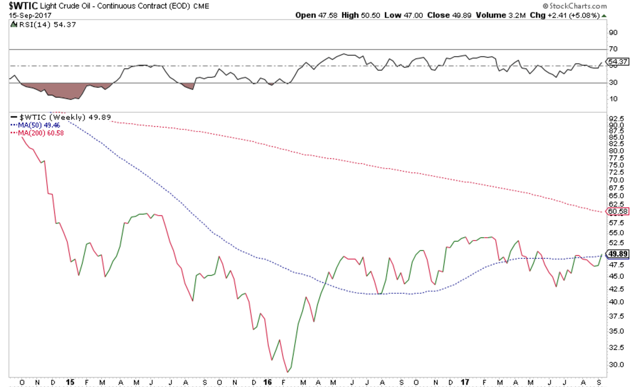 This time, energy stocks didn't fall behind and XOP, the S&P oil and gas producer ETF, had one of the best weeks this year.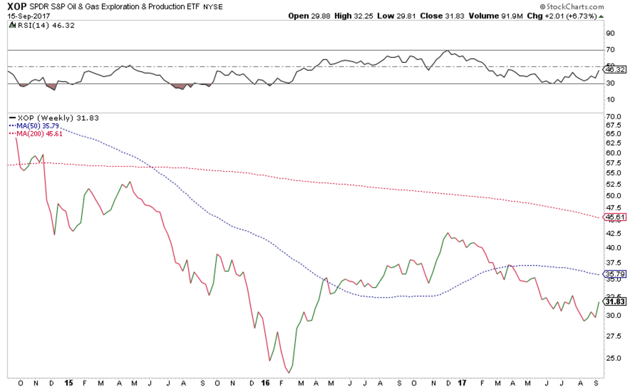 In our weekly oil markets recap last week, we noted that it wasn't the first time energy stocks underperformed oil. We also pointed out a chart readers should follow closely which was the XOP to S&P 500 relative performance chart. We said:
Another chart that could be of interest to readers is the XOP to S&P 500 (NYSEARCA:SPY) chart.

Not once this year has the XOP to SPY chart broken through the 50-day moving average and held. This week's earlier gains saw this relative performance chart approach the critical 50-day again, only to have failed.
That wasn't the case this week.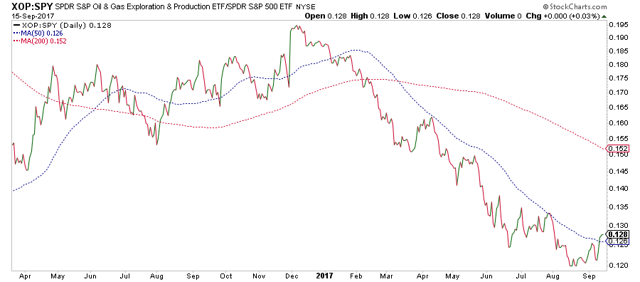 Don't look at WTI for guidance, look at Brent...
A common mistake most energy readers and investors are making is paying attention to WTI, while ignoring bullish developments in Brent.
Why?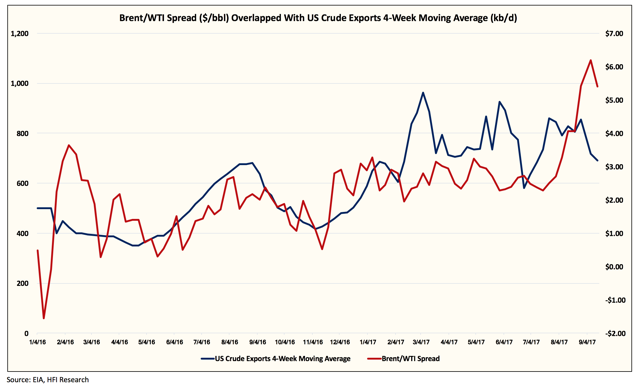 Because the Brent/WTI spread remains wide. As you can see in the chart above, for most of 2017, the spread has traded between $2 and $3/bbl. But anytime the spread got close to $3/bbl, US crude exports spiked to 1 million b/d. The 4-week moving average in US crude exports highlight this, and the spread remains wide only because of the impact Hurricane Harvey had on US's export figures, but that is already recovering.
Last week, we saw an increase in US crude exports from 153k b/d to 774k b/d. We expect this to surge higher and the Brent/WTI spread to narrow.
With Brent trading at $55.30/bbl, we think as the spread tightens, WTI can easily trade to $53/bbl or ~$3/bbl higher than where it is today. But that's not all of it.
Global sweet crude spreads are priced off of Brent. These physical spreads highlight either market tightness or weakness. If these spreads are trading at a big premium to Brent, then it signals that the physical market is especially tight. Vice versa is also true. What we are seeing on the physical side points to a very tight physical market. The physical market has been signaling Brent to trade high $50s for some time now, and as we said in this OMD:
The physical market usually leads the financial market, and with Brent well supported, it's only a matter of time before WTI follows along.
EIA revised lower US oil production as the narrative slowly changes...
This week also saw EIA's latest STEO revise lower US oil production for 2017 and 2018. The 2017 average moved lower by 100k b/d to 9.25 million b/d and 2018 production moved lower by 70k b/d to 9.84 million b/d.
We said in this OMD that the lower revision was still not enough, but this was a good start. We explained in the article why we believe EIA's latest STEO is still overestimating US oil production growth, and here's what we said:
The reason why the latest EIA STEO still has aggressive shale growth assumptions embedded is simply due to the fact that EIA wants to collect "more data" to see if Eagle Ford is truly dragging overall Texas oil production. With Hurricane Harvey impacting some Eagle Ford production, EIA analysts have told us that they will wait for data to clear-up post Harvey to make better adjustments to the STEO. But the latest indications on Eagle Ford is that its oil production is lower than what EIA had on DPR.
We think if Permian can get through its completion bottleneck issues, its oil production will carry most of the growth in US, but Eagle Ford given its close proximity to the Permian for service provider capacity is going to lag. Not to mention that the production per well figures have disappointed thus far.
This was especially true in June as EIA noted to us, and while more data is needed to come to a more conclusive decision, we think Eagle Ford will ultimately be blamed for the lower-than-expected US oil production growth.
Concluding Thoughts
Technical and fundamentals both point to higher oil prices and higher energy equity prices in the coming weeks. Brent/WTI spread should start to narrow as US refineries increase throughput and US crude exports increase. EIA has also revised lower US oil production growth, and we think the EIA 914 report at the end of the month will once again illustrate the lackluster US production growth (note: EIA's STEO noted July production at 9.24 million b/d).
We think if you are bullish on oil prices in the long term, now is the time to get long and positioned properly.
Here's a name we are currently long: California Resources (CRC). We wrote on August 24 in an article titled, "We Bought More California Resources - Here's Why." We said:
For us, when we look at a company like California Resources [CRC], we see a much more promising future than implied by the market. The debt is the biggest overhang on the equity, but the fundamentals of the business are far better than what people realize.
Since then, with the rise in other energy stocks, CRC has moved up 22%. We think there are more gains ahead. In an exclusive report published to HFI Research subscribers on 9/2, we explained why CRC is an asymmetric trade set-up for investors. Although the risks are well known (high levels of debt), we think investors are pricing in 10 to 1 odds, when we think it is closer to 2 to 1.
For readers that have found our public articles insightful, we think you will find more value in our exclusive HFI Research reports. Our deep dive into individual names and the energy markets will provide the clarity you need to navigate through the uncertainty. Sign up here today!
Disclosure: I am/we are long CRC.
I wrote this article myself, and it expresses my own opinions. I am not receiving compensation for it (other than from Seeking Alpha). I have no business relationship with any company whose stock is mentioned in this article.