Nitrogen fertilizer manufacturer and distributor CF Industries Holdings, Inc. (CF) has been a stock that has been trading around the $30 range for all of 2016 and all of 2017 up to this point, its lowest point over the past five years.

The reasons for this relatively low price are two-fold: first, the decline in prices for ammonia; and the investment in new production facilities.
There has been a global oversupply of nitrogen fertilizer which has put pressure on the price of ammonia, which is used to make ammonium nitrate, or AN, granular urea, and urea ammonium nitrate, or UAN. The net sales figures over the past three years show the impact that this pricing pressure has had on CF Industries.
| | | | | | | |
| --- | --- | --- | --- | --- | --- | --- |
| Nitrogen Product Segments | 2016 Tons | 2016 Net Sales ($) | 2015 Tons | 2015 Net Sales ($) | 2014 Tons | 2014 Net Sales ($) |
| Ammonia | 2,874 | 981 | 2,995 | 1,523 | 2,969 | 1,576 |
| Granular area | 3,597 | 831 | 2,460 | 788 | 2,459 | 915 |
| UAN | 6,681 | 1,196 | 5,865 | 1,480 | 6,092 | 1,670 |
| AN | 2,151 | 411 | 1,290 | 294 | 958 | 243 |
| Other | 1,654 | 266 | 1,108 | 223 | 798 | 171 |
| Total | 16,957 | 3,685 | 13,718 | 4,308 | 13,276 | 4,575 |
The second reason is the fact that CF Industries has been investing heavily in their new production facilities. In 2012, the firm announced a capital expansion program of $3.8 billion. This program encompassed two projects: the development of new ammonia, urea and UAN plants at the Donaldsonville Nitrogen Complex in Louisiana; and the building of new ammonia and urea plants at the Port Neal Nitrogen Complex in Iowa. Needless to say, the capital-intensive nature of such a program has also made CF Industries seem a less attractive proposition for many investors.
So, short term the company has been struggling. Long term, however, there is an opportunity to be seized here. As an agricultural firm, CF Industries will benefit from growing demand for food and improved crop yields that will come from emerging economies and from global population growth. By 2020, over half of global GDP growth is expected to come from outside the OECD, and over half of the world's urban population will be based in emerging economies. Such factors ensure that demand for calories, protein and processed foods will rise going forward.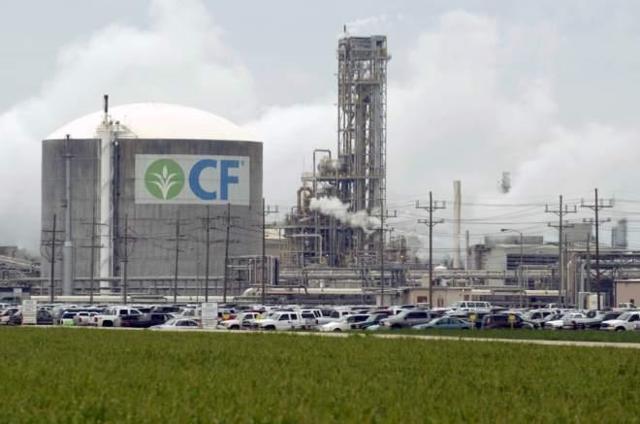 Furthermore, in 2016 CF Industries completed their projects in Donaldsonville and Port Neal respectively. Production has already started, and these facilities are projected to increase the company's marketable nitrogen nutrient volume by 25%. In short, the projects have stopped having cash invested into them and will begin generating cash for CF Industries, which will benefit shareholders going forward.
In summary, long term CF Industries Holdings seems like an attractive proposition. The issues that have weighed down on the firm in recent times - low ammonia prices and project investments - are transient, and going forward the company looks poised to benefit from its completed facilities and from global consumer trends. Right now, investors are being offered a 3.71% dividend yield which they can lock in and benefit from the company's prospects going forward.
DISCLAIMER: The author is not a financial professional and accepts no responsibility for any investment decisions a reader makes. This article is presented for information purposes only. Furthermore, the figures cited are the product of the author's own research and may differ from those of other analysts. Always do your own due diligence when researching prospective investments.
Disclosure: I/we have no positions in any stocks mentioned, and no plans to initiate any positions within the next 72 hours.
I wrote this article myself, and it expresses my own opinions. I am not receiving compensation for it (other than from Seeking Alpha). I have no business relationship with any company whose stock is mentioned in this article.