Summary
Four years of investing and a cumulative return of 116%.
You cannot beat the market and be the market at the same time.
The portfolio going forward.
Summary
This investment account was opened with the goal of accumulating wealth and getting returns. Four years later the portfolio has grown beyond expectations and has accomplished all its goals which were set four years ago. This is the first public evaluation of the performance and hopefully gives readers some investment ideas.
Investment returns
In four years the cumulative returns recorded by my broker are 116% compared to 66% for the S&P 500 (SPX), 27% for the developed world excluding the US and Canada (EFA) and 46% for the total world index (VT).

Much of the outperformance can be attributed to a couple decisions.
When the portfolio started I focused on buying classical value and out of favor companies. In addition I decided to take management quality into account.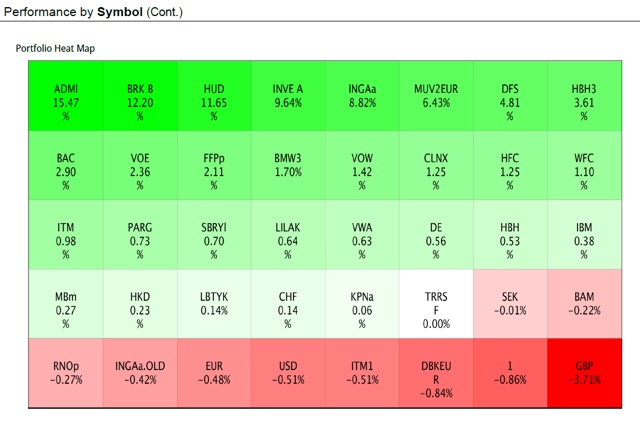 Looking at the heat map it becomes even clearer that actually the great businesses are responsible for most of the performance paying a bit more for quality is usually worth it. Berkshire Hathaway (BRK.B) is the best example of quality which bought at reasonable valuation can keep compounding at a nice clip.
Current positions
My portfolio currently has 13 holdings which are all at least 3% of the total. In this article I will shortly describe the reasoning behind the largest five positions.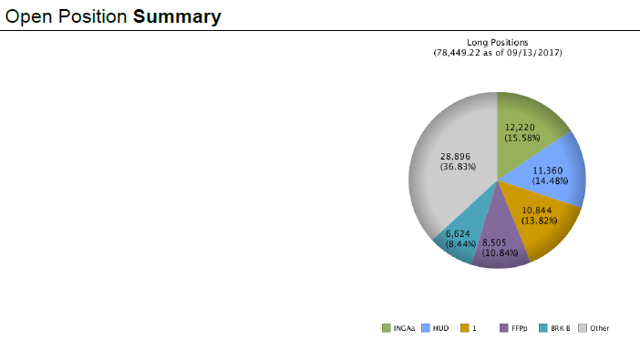 My largest position is ING, a Dutch bank, at 15.5% of the portfolio. This position was built in two steps one late 2015 and the rest directly after Brexit when European financials were getting clobbered out of fear without any real justification. ING currently pays a nice 4.4% dividend while it is expanding profitable in new geographies. I have recently written about ING and am still positive but might cut the position some given its share of the portfolio and the strong increase in value it has seen after Brexit while operationally not that much has changed.
CK Hutchison (OTCPK:CKHUY) is a conglomerate run by Li Ka-Shing with large investments in utilities and Telecom. It pays a 2.71% dividend but keeps most of its profits to invest and acquire other companies. With a P/E of only 11.4 it is much cheaper than comparable European utilities or Telecom companies while having a much stronger balance sheet. For more details on CK Hutchison look here. CK Hutchison is a large 13.8% recent position which has not delivered much so far but is cheap and has become even cheaper through the strengthening of the euro I consider increasing the position even further.
Groupe FFP, a French holding company of the Peugeot family, is the fourth largest holding and consists of shares in Peugeot (OTCPK:PEUGF), on which you can find more here and other investments in predominantly French companies. Among others SEB SA (OTC:SEBYF), Zodiac Aerospace (OTCPK:ZODFF), Lisi (OTCPK:LSIIF) and recent addition Spie (OTC:SPIWF). I like it because of the steep discount to net asset value and because my positive view on European car manufacturers in general.
Other investments include Pargesa (OTCPK:PRGAF), BMW preferred, Cellnex Telecom (OTC:CLNXF), Italmobiliare (OTCPK:ITSMF), MedioBanca (OTC:MDIBF), Renault (OTC:RNSDF), Brookfield Asset Management (BAM) and Liberty Global (LBTYK) (LILAK). For more information on those holdings you can look at the respective articles on my profile.
Risk
Given the high concentration one can argue that the outperformance is mostly due to risk. While it is hard to factually contradict such reasoning I think the reactions to shocks in the stock market like around Brexit at least show that I did not panic in those circumstances.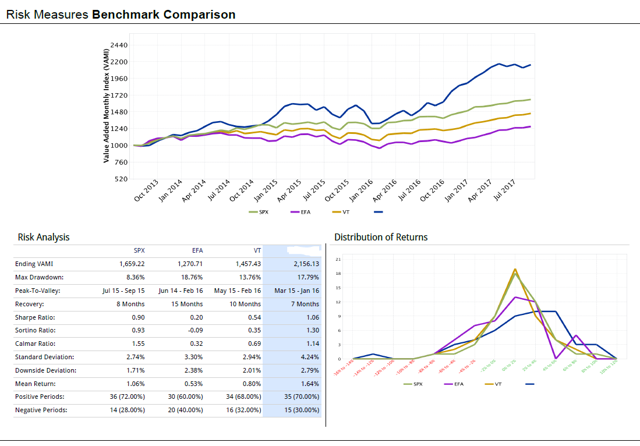 Using common risk analysis ratios to test for risk the portfolio comes out reasonably good. The Sharpe, Sortino and Calmar ratios are all acceptable but one can clearly see that the portfolio had a higher standard deviation and fairly high downside deviation. This can be explained by the relatively concentrated bets. Defining volatility as risk however is one of the greatest misconceptions in finance since risk should be defined as permanent and not temporary loss of capital.
Lessons learned
This four year journey had some nice lessons which I think are applicable for other investors. The most important thing is that you have to stay humble in investing. You will be presented with discomforting evidence and you should be able to change your opinion and admit your mistakes rather quickly. Even better is recognizing the mistakes before you commit but nobody is perfect.
In general investors focus too much on what is visible and finding great investments. A significant part of the outperformance over the last four years has come from the fact that I deliberately underweighted certain sectors which I deemed to be overvalued. The decisions that investors not make like not investing in Aggreko (OTCPK:ARGKF) or more popular names like Kinder Morgan (KMI) or Valeant (VRX) are just as important for your investment returns. Avoiding stupid stuff is more important than doing great and a lot easier as well.
Conclusion
The result over the past four years have been surprisingly good. While some has to be attributed to sheer luck the next years will hopefully be profitable as well. High valuations in the US have pushed most of my capital back to Europe. Past result are no guarantee of future performance but should be rather a sign of caution given the elevated nature of the market.
Note: To get these types of articles as soon as they are published, just click on the "Follow" button next to my profile and choose the "Real-time alerts" option. You are also strongly encouraged to read my previous work and comment in the comment section.
Disclosure: I am/we are long BAM, BRK.B, BMWYY, CLNXF, PRGAF, HDUGF, ING, ITSMF, MDIBF, RNSDF, CKHUF, LBTYK, LILAK. I wrote this article myself, and it expresses my own opinions. I am not receiving compensation for it (other than from Seeking Alpha). I have no business relationship with any company whose stock is mentioned in this article.
Editor's Note: This article discusses one or more securities that do not trade on a major U.S. exchange. Please be aware of the risks associated with these stocks.