Stretched Valuation
The broad Indian equity market index, Nifty 501, has risen 23% YTD. In the same time a midcap index, Nifty Mid100 Free Float, rose a whopping 31%.
Is this stupendous ascent backed by underlying performance? As of the close of the first trading day of the year, Nifty 50 EPS stood at Rs.370.45 which rose by a puny 3.75% to Rs.384.35 as of last trading day. EPS of the said midcap index fared better at 9.5% growth YTD, still a far cry from the market performance of the index.
This disproportionate rise in Indian indices implies that valuation, captured by Price-to-Earnings ratio (PE), has swelled to unusually high levels. As can be seen from the chart below, it's a rare occasion when trailing PE rises above 26. Now is one such occasion. Nifty valuation is evidently stretched.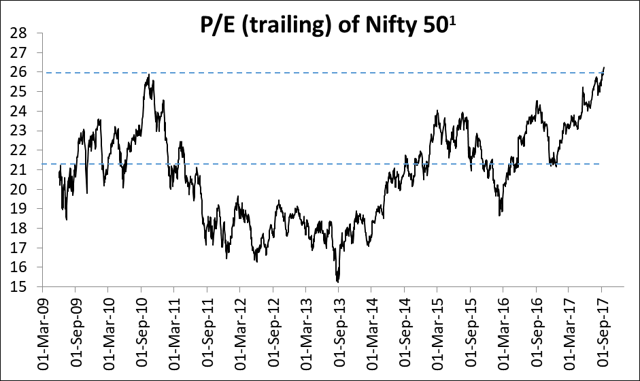 Such a high PE ratio can result from either or both of the following:
High demand for equity shares arising from expectations of high earnings growth rate.
Excessive liquidity chasing assets, thereby inflating asset prices.
As I will talk about later in this article, EPS has remained stagnated for about 3 years and that there are enough headwinds ahead of us that would prevent any meaningful earnings growth going forward. With little hope of earnings growth, it is not hard to imagine that the cause of the ever rising index is liquidity.
Let's look at the sources of excess liquidity currently driving up Indian equity –
FII (Foreign Institutional Investors) – With bond purchases under Quantitative Easing (QE) still on unabated in the US, Europe and Japan, it is no surprise that a part of the easy money has found its way into equity. This is, of course, a global phenomenon, India being only one of the beneficiaries. As QE programs are withdrawn, sharp pullout from equity is a no-brainer. EMs like India will suffer more because of the heavy participation of FIIs in the free float. Remember prices are set by marginal demand and supply, not aggregate demand and supply.
Demonetization

2

– India went ahead with demonetization of its higher denomination bills (500 and 1000) in November 2016 leading to a massive amount of hard cash (paper bills) coming into the banking system . A WSJ blog puts this number at $73 billion. It is worth noting that most of this money got deposited into checking accounts which offer among the lowest interest of all money-parking instruments. Just as any other source of excess liquidity, it is easy to imagine that once the dust settled, such idle money lying in checking accounts started flowing into asset markets like equity.
Participation of retail investors – Mutual Funds are enjoying high rates of fresh inflows coming into their kitty. I would attribute this to the typical behavior of retail investors of getting attracted to stocks when they rise. Retail interest in equity is considered to be directly proportional to valuations. Such retail interest has brought in further liquidity. It might be noted that high retail participation is considered a harbinger of market tops, so is deluge of IPOs that India is witnessing now.
To sum up, there is too much liquidity right now which has led to inflated valuations.
What Lies Ahead
Corporate earnings growth in India will likely remain muted for some time to come. Many headwinds are brewing.
GDP growth is slowing – Many institutions have lowered India's GDP growth projections recently. In June 2017, World Bank revised downward India's GDP growth rates for financial years (FY) 2017, 2018, 2019 and 2020, from its projections in January 2017. For FY2018, the forecast lowered from 7.6% to 7.2%. Reserve Bank of India (RBI), the central bank, lowered its forecast of GDP growth for FY2018 to 7.3%. CRISIL, an Indian credit rating agency and a subsidiary of S&P, lowered its forecast GDP growth rate for FY2018 from 7.4% to 7%. More recently, Nomura puts India's GDP growth for FY2018 at 7.1%. While UBS revised downward its estimate for FY2018 from 7.2% to 6.6%.
The recently implemented tax reforms, including implementation of nation-wide GST (Goods and Services Tax) replacing scores of legacy indirect taxes and the simultaneous onerous tightening of business regulatory reporting, will lead to supply disruptions in the short term. India is a country of small unorganized businesses many of which derive their profitability largely from tax avoidance. It means that if they are forced to pay taxes, they will lose a large chunk of their profitability. To make up for it, they would need to raise selling prices. That would lead to general inflation and lower consumption which is a clear negative for GDP growth. Further, they will need time to adapt to the tighter regulations on reporting requirements which are being strictly implemented. The interim turmoil would cause supply-side disruptions leading to further slowing down of GDP growth.
Having said that, the long term GDP growth story is intact. Let's understand the source of economic growth in India. Starting from a low base, Indian rural populace is embracing basic education like never before. With workers getting more capable, naturally, labor productivity continues to improve. This coincides with favorable demographic changes leading to a rise in young workforce. Couple these with corporate managers getting younger, more professional and more enterprising, with better access to capital and technology, little wonder the GDP of India continues its upward march at a 5%+ pace. This is sustainable and will be resilient. Government policies, whether positive or otherwise, will only impact a little.
Now the big question - Will GDP growth translate into corporate earnings? It hasn't in the last few years. EPS has been stagnant since late 2014. That's right, there has been no growth in EPS for 3 years!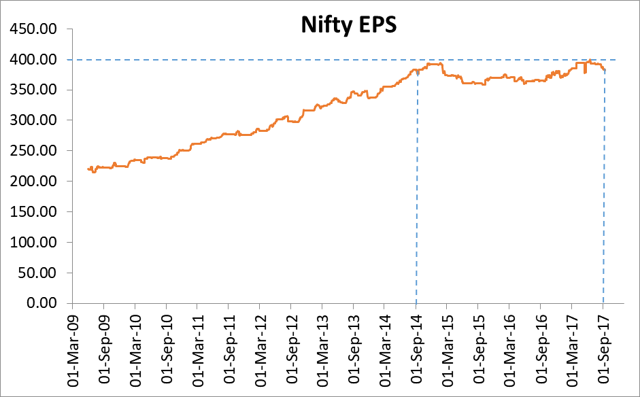 Source: NSE India website
Inflation – India has had a history of high inflation. The recent respite seems to be giving way. Nomura foresees inflation accelerating to 4.4% in the second half of 2017. Food and fuel inflation, two key metrics of inflation in India, is already showing signs of bottoming out.
Stress in the banking sector – Indian banks are said to be holding over $125 billion of bad loans which is estimated to be a staggering 11% of their total assets, mostly stashed in the books of the government owned banks. Include the restructured loans, and this number will look much bigger. Bad loans in Indian banking simply refuse to abate. The issue has been "rolled down the road" until now. The bullet has to be bitten. The good news is that the government has expressed a strong will to cleanse the banking system of its past sins. Laws are being enacted to address the need for time bound resolution of known insolvency situations and containment of potentially new ones.
Technological change – India is no hotbed of innovation. There are already signs that some industry sectors in India are grappling with large-scale disruption brought by technological change. The most obvious impact has been on the $150 billion IT industry.
Protectionism – Indian exports are suffering from rising protectionism, particularly in the US. Of notable mention is India's pharmaceutical exports. Nifty Pharma index fell 9% YTD whereas the broader Nifty 50 rose 23% in the same time. Rising protectionism in key export markets is often cited as one of main reasons of loss of profitability and consequent under performance.
How long will excess liquidity sustain? With most major central banks talking about curtailing bond purchases starting 2018 or even earlier, forward-looking equity markets should already take heed. I would not talk much of it here.
Geopolitical risks – Last but certainly not the least, geopolitical risks are rising. Blessed with neighbors like China and Pakistan, India has a lot to worry, generally. As the world remained focused on North Korea, there was a real tension developing in Bhutan, a direct military standoff between China and India. Although the two countries have agreed to disengage and avoid escalation into full-blown military confrontation, similar situations are likely to get more frequent in the future as distrust between the two powers deepens.
In the short term, any untoward development in the Korean peninsula could lead to a massive crash in Indian equity thanks to the already stretched valuation.
Recommendation
Short Nifty for a minimum 5% downside.
--
1 Nifty 50 is the flagship equity index of India composed of a diverse set of 50 large cap stocks from 12 industry sectors of the economy
2 Demonetization is rendering illegal cash bills of certain denomination. India demonetized bills of Rupees 500 and 1000. Small businesses regularly under reported income in order to evade taxes and such incomes used to be held in hard cash, mostly high denomination bill. Demonetization compelled the small businesses to deposit cash in bank accounts thereby creating excessive medium term liquidity
Disclosure: I am/we are short INDY. I wrote this article myself, and it expresses my own opinions. I am not receiving compensation for it (other than from Seeking Alpha). I have no business relationship with any company whose stock is mentioned in this article.