My first Seeking Alpha article detailed my general investment criteria, and identified the first 5 stocks added to my portfolio. Cisco (CSCO) is one of my first 5 stock picks, primarily because of its great dividend growth rate and potential to join to the list of Dividend Contenders.
Cisco is currently considered to be a Dividend Challenger, having raised its dividend for 7 consecutive years. This relatively short term consistency, when combined with Cisco's spectacular dividend growth numbers (annualized dividend growth of 24.7% over the last 3 years), and current yield of 3.6%, presents a potential DGI opportunity. Current or potential investors should consider that continued dividend increases, particularly increases anywhere near recent historical levels, are far from certain. This is particularly true now that Cisco has had three years of stagnant revenue and must successfully switch into its new subscription service model in order to show future growth.
As shown below, the past 3 years have not been good for Cisco in terms of revenue growth.

| | | | | |
| --- | --- | --- | --- | --- |
| CSCO Annual Revenue Growth | 2017 | 2016 | 2015 | 2014 |
| Y/ Y Annual Revenue Change | -2.52% | 0.17% | 4.28% | -3.01% |
| Annual Revenue (in millions $) | $48,005 | $49,247 | $49,161 | $47,142 |
Note: information for table taken from CSImarket.com.
While Cisco's net income picture over the same time frame is slightly better, showing three year growth of just under 7%, the recent lack of consistency in revenue growth is concerning.
Cisco seems to be getting dragged down by its two largest businesses, switching and routing hardware sales, which have been declining for the past few years. Further, margins have been declining due to increased competition in this area.
There Are Some Questions About Cisco's Ability to Pay Dividends During Down Markets
Another big unknown that cannot be avoided is Cisco's relatively short history of increasing its dividend, impressive as the increases have been. After all, since Cisco began paying dividends to shareholders in 2011, the market has done nothing but go up.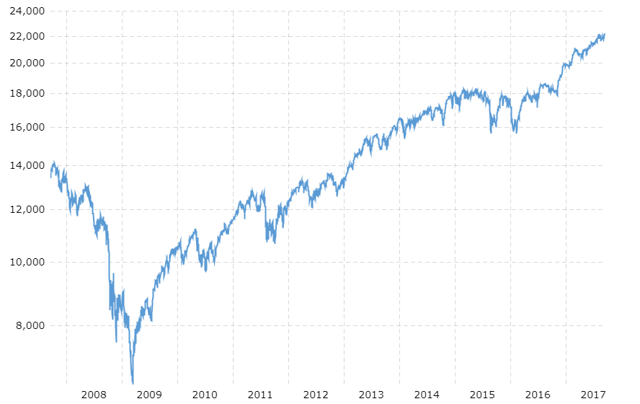 Note: source of graph is Macrotrends.
We know absolutely nothing, to give one example, of what Cisco's Board of Directors decided to do with dividend payments during the pictured down years from roughly 2008-2010, which would be a helpful tool in assessing how strong Cisco's commitment is to consistent dividend raises.
Cisco Is Currently Transforming Its Business Model
Cisco has been trying to offset its hardware weaknesses by shifting toward security-based software, as well as in other high-growth subscription based services such as Cloud services and the Internet of Things. These areas are expected to provide a consistent source of cash at a time when the legacy hardware business is struggling, and will likely continue further decline.
The switch from sales of hardware to subscription services is taking longer than many would like, particularly those trading with an eye for short-term profit. Another source of potential windfall for Cisco, according to a number of analysts and this article in the Wall Street Journal, is the over $65 billion in overseas money that could be brought home if new tax legislation passes. For those who are banking on Cisco getting to repatriate billions of dollars in the event of a new tax reform bill, this would be speculating about future legislation, something I am not looking to perform at all. First, I have zero ability to predict whether a tax bill might actually pass through Congress. Second, my personal goal is to invest in dividend stocks for the long term (I have a 25-year horizon for my DGI stocks), and so a single infusion of cash, big as it may be, is not all that relevant for such a long-term investment.
Emerging Businesses, Including Cyber Security, Appear Poised for Growth—But Are Not Delivering Just Yet
The recent Equifax and WannaCry breaches demonstrate the importance for companies to provide increasing internet security to networks across the globe. Looking at the potential market, there is great demand for companies like Cisco to increase security subscription services, and Cisco has asserted its intention to do just that, most recently stating that security subscriptions continue to grow over 30% per year according to Cisco's latest technology conference presentation.
But don't get too carried away just yet. After all, internet security only makes up around 4% of Cisco's business, and even when combined with the other subscription services, it still pales in comparison to Cisco's revenue from hardware sales, which make up 60% of the business.
Key Takeaway: New Emerging Businesses Are Offsetting Revenue Loss From Hardware
While Cisco's emerging subscription model segments are still currently outweighed by the lagging hardware divisions, the excellent growth shown for subscription services are showing their ability to offset declines in hardware. For instance, in its most recent earnings presentation Cisco disclosed that software and subscriptions now make up over half of its revenue growth.
There also appears to be a bit of "bait and switch" at play (but in a good way). While revenue and net income have looked stagnant, at best, for the past three years, the most important numbers to analyze for subscription services companies is deferred revenue. The recent Seeking Alpha article by Chuck Walston does a great job of explaining this.
Essentially, Cisco's subscription deferred revenue makes its way to the balance sheet in the form of an increase in Cash From Operations. As shown by the chart below, Cisco's free cash flow shows growth of over 1.3 billion over the past three years.
| | | | |
| --- | --- | --- | --- |
| Net Operating Cash Flow | 2015 | 2016 | 2017 |
| | 12.55B | 13.57B | 13.88B |
Note: information for table comes from Marketwatch.
For comparison to these numbers, Cisco's dividend costs the company around $5.8 billion each each year.

The overall takeaway here is that, at least for the short term, the increased deferred revenue appears to be enough to sustain Cisco's declining hardware sales. At a minimum, considering the year-over-year increases in free cash flow, the dividend appears safe. Cisco has in fact raised its dividend 10% this year. Also, Cisco's large amount of free cash flow and relatively low payout ratio (54.31%) give the company a variety of ways to keep its DGI investors happy while they look to grow their earnings.
Conclusion
My personal portfolio criteria for DGI is for my stocks to show a payout ratio of under 60%. You can see my other stock criteria for dividend stocks by reading my article "Replacing My Paycheck With Dividends" (article link above). Cisco's current payout ratio of around 54% is reasonably below this threshold, leaving room for a potential increase, while keeping the ratio at relatively modest levels.
I have recently invested in Cisco in my personal portfolio of Dividend Growth Stocks. The recent history of dividend increases and sustainable earnings from new subscription services lead me to believe Cisco is a good buy for the long term. For others looking to invest for the long term in dividend stocks, Cisco is worth a look.
FOLLOW ME: If you found this article helpful in any way, or would like to continue to receive updates on this portfolio, please click the "Follow" button.
Disclosure: I am/we are long CSCO.
I wrote this article myself, and it expresses my own opinions. I am not receiving compensation for it (other than from Seeking Alpha). I have no business relationship with any company whose stock is mentioned in this article.